Efforts to capture an alligator in the Humboldt Park Lagoon continued for the fourth day on Friday. (Alex Ruppenthal / WTTW News)
Dozens of people lined a wall overlooking the Humboldt Park Lagoon on Friday waiting for a glimpse of an elusive alligator that continues to evade authorities' efforts to capture it.
Animal control officers and police have been on site since Tuesday, when reports of the gator first surfaced on social media. Although several traps have been set, the 4- to 5-foot-long creature has not yet taken the bait, with authorities' search now in its fourth day. The effort is being aided by a man who has become known as "Alligator Bob," a volunteer animal catcher who has been seen paddling through the lagoon over the past few days. 
Officials have not been able to say how the creature got into the lagoon, but the prevailing theory is that someone was raising the alligator as a pet and released it once it got too big to care for.
Read: Why Alligators Don't Make Good Pets (and 9 Other Fun Gator Facts)
Among the onlookers Friday were Alex Shields and Joel Pagan, who stopped by the lagoon for about a half-hour but said they had not spotted the alligator. Both said they were glad that the gator had brought so many people together at the park, though they were concerned about the animal's well-being.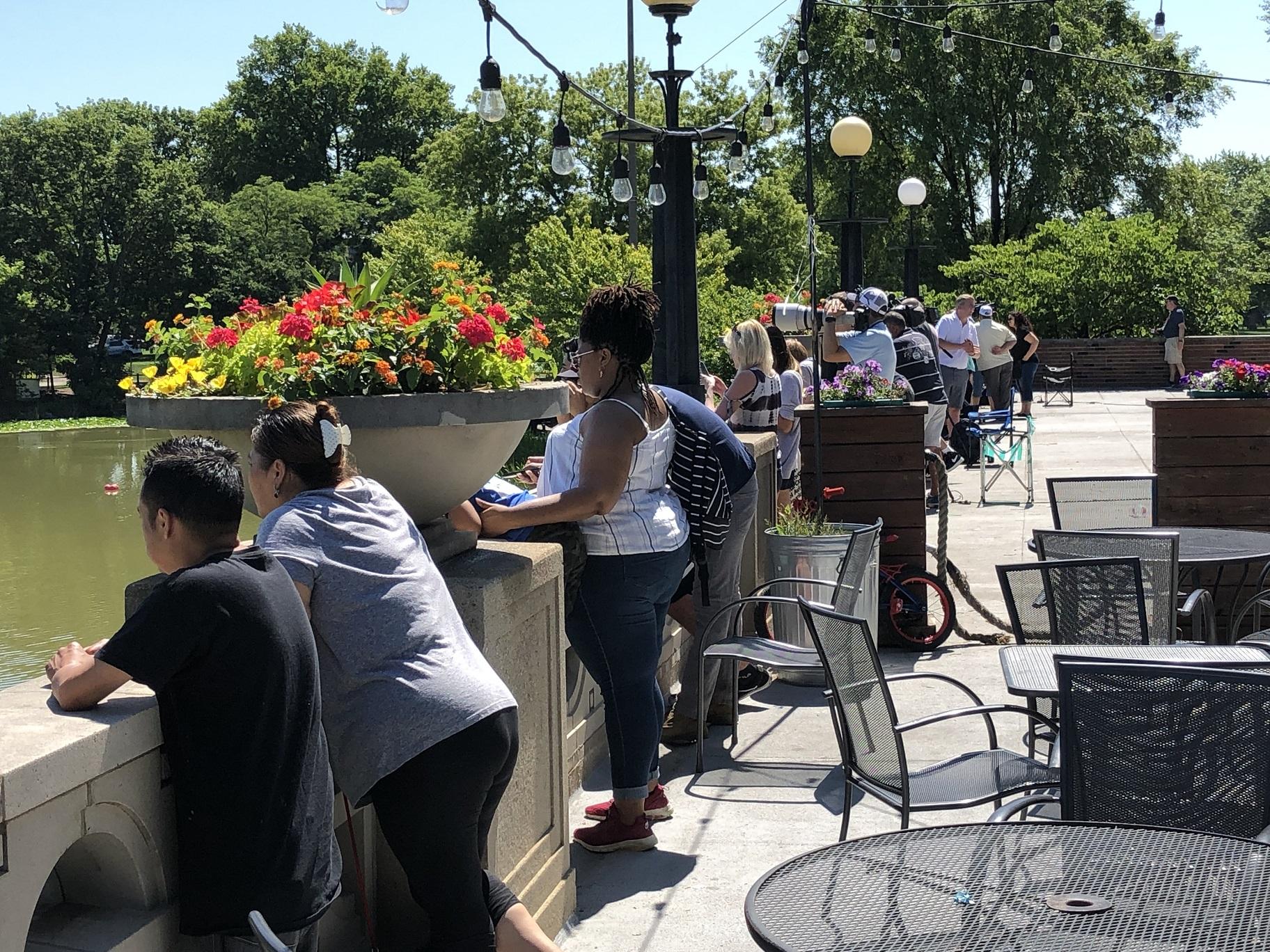 Onlookers try to spot the alligator that was identified earlier this week in the Humboldt Park Lagoon. (Alex Ruppenthal / WTTW News)
"I hate that it's not in its natural environment and it's probably in a situation where it's struggling to find food," said Shields, of Logan Square.
Alex Pietri was out for a bike ride on Friday and decided to stop by to see how the search was going.
"Today I haven't seen anything," he said. "I'm not sure if he's just shy."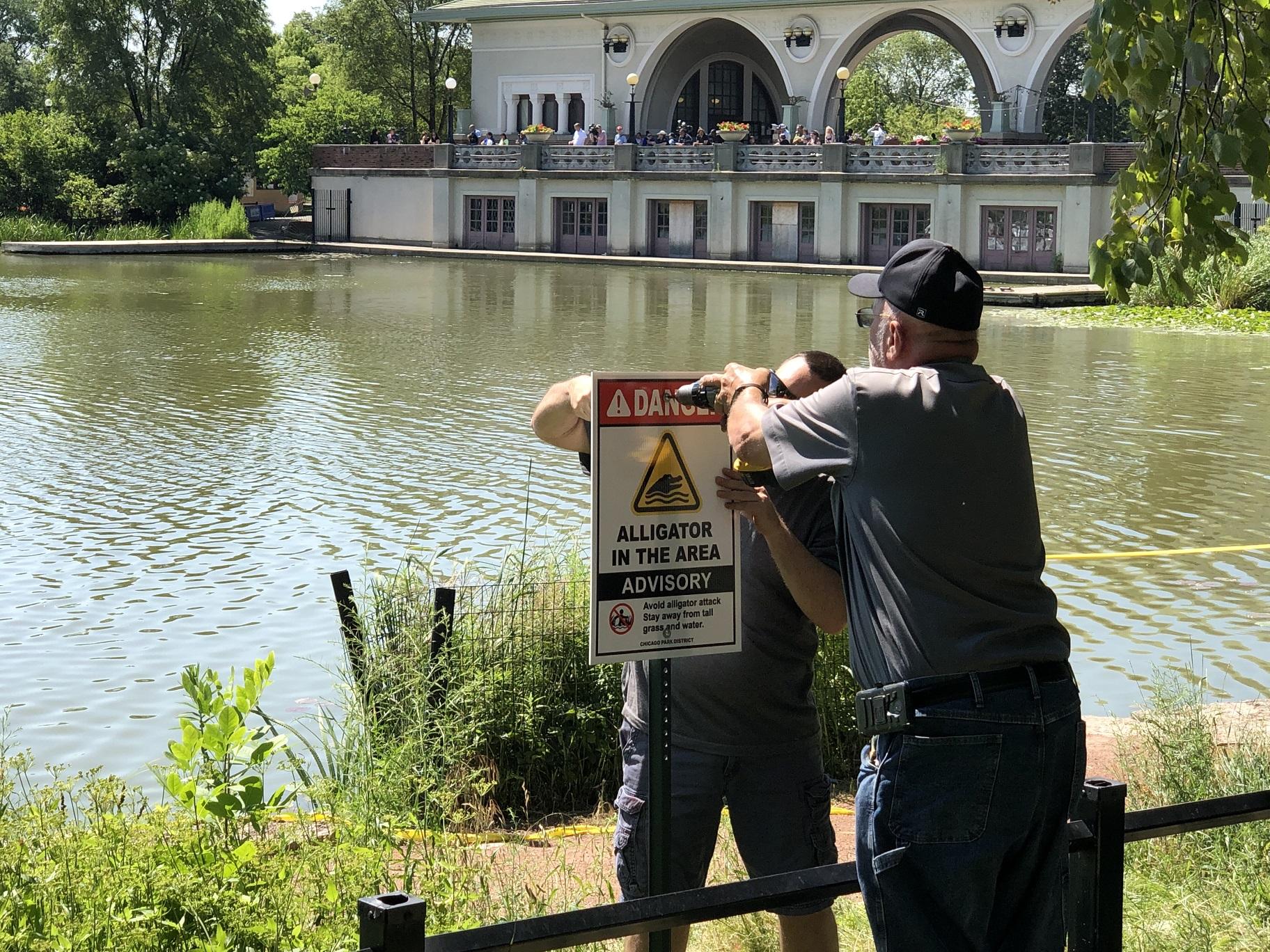 Chicago Park District officials adjust a sign warning visitors about the alligator living in the Humboldt Park Lagoon. (Alex Ruppenthal / WTTW News)
Pietri looked on as Chicago Park District staff adjusted a sign on the edge of the lagoon warning visitors about the alligator's presence.
"I find it kind of funny that it's become such a spectacle," said Pietri, of Logan Square. "Me and my wife, we go to New Orleans a lot. So out there, when they see gators, they usually catch them and turn them into food. Out here, besides the zoo, you don't really see wild animals like that.
"Everyone's just kind of marveling at something that has no business being in the city," he said.
Contact Alex Ruppenthal: @arupp | (773) 509-5623 | [email protected] 
---
Related stories:
Chicago Police Investigators Confirm Alligator in Lagoon
Why Alligators Don't Make Good Pets (and 9 Other Fun Gator Facts)
Rare Albino Alligator Arrives at Brookfield Zoo
Animals to See at Chicago Zoos and Aquariums This Summer
---