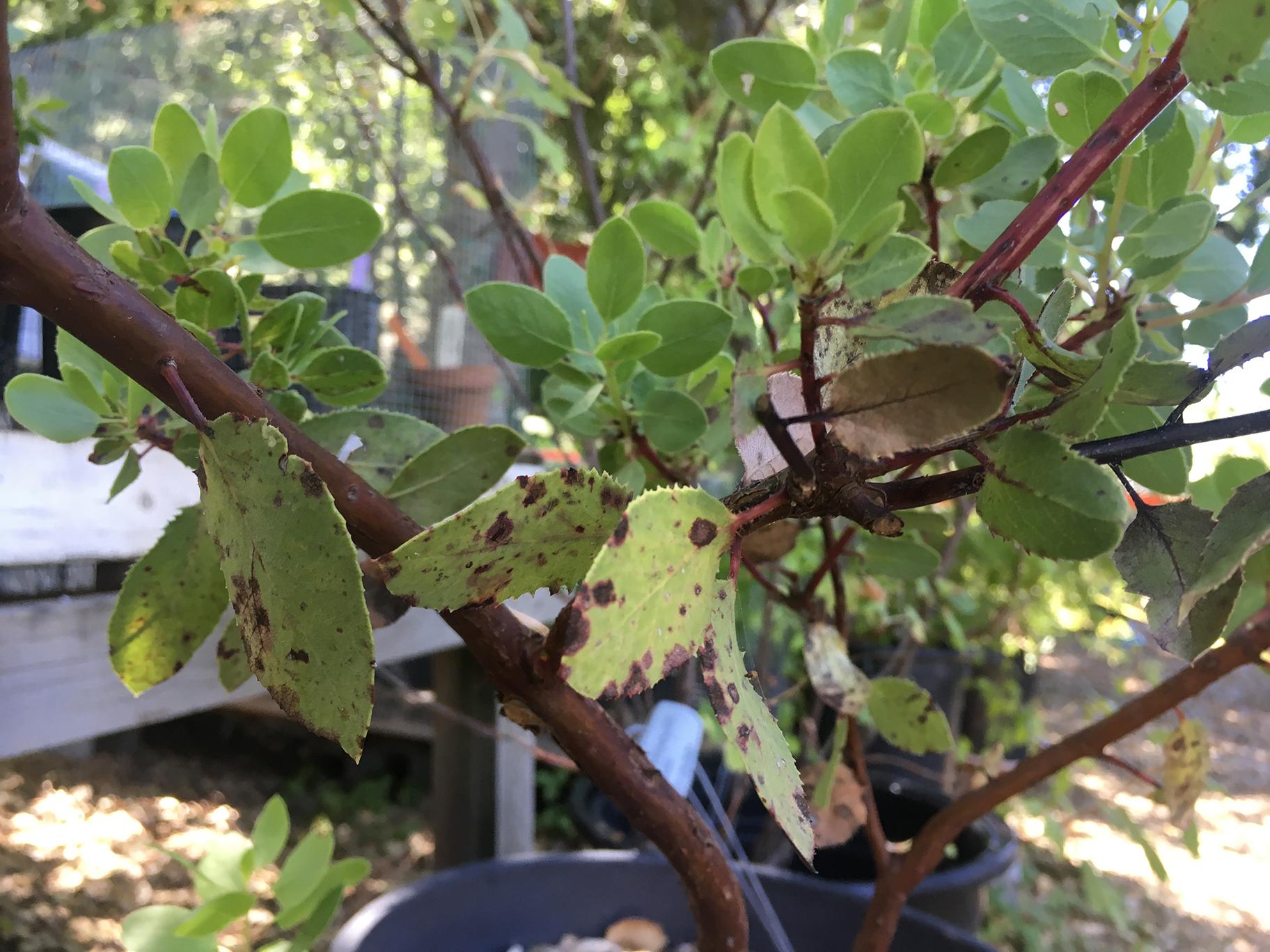 Leaves on a tree affected with sudden oak death (Courtesy California Oak Mortality Task Force)
The pathogen behind a plant disease that has killed large numbers of oak trees and native plant species in California, Oregon and Europe has now been identified in Illinois.
Phytophthora ramorum, the causal agent of a disease known as sudden oak death, has been found in ornamental plants at 10 Walmart locations in nine different Illinois counties, including Cook and Will, according to a press release issued Tuesday by the Illinois Department of Agriculture. The pathogen has also been identified at a Hy-Vee store in McDonough County in West Central Illinois.
The issue surfaced in late May when the pathogen was found on rhododendron plants at a Walmart store in Indiana. The rhododendrons came from a nursery in Oklahoma that sourced the plants from nurseries in Washington and British Columbia.
In Illinois, the P. ramorum pathogen has thus far been found on rhododendron and lilac plants, but not on oak trees. The disease can infect more than 100 different species but is often fatal for oaks.
"The pathogen can cause both a blight and sudden death, depending on the host," said Diane Plewa, a diagnostician at the University of Illinois Plant Clinic, in a statement. "Currently, there is no evidence that any oak trees in Illinois are infected at this point."
Symptoms of the disease include browning or wilting leaves and brown or black discoloration of stems and/or trunks.
Because the disease is incurable, Illinois residents who purchased rhododendron plants from retailers Walmart, Hy-Vee or Rural King since April should contact the IDOA or their local University of Illinois Extension office for further guidance, according to IDOA.
Residents should not destroy or dispose of infected plants without guidance from state or federal officials, according to IDOA.
For more information about sudden oak death, including photos to help identify the disease, visit the website of the California Oak Mortality Task Force. 
Contact Alex Ruppenthal: @arupp | [email protected] | (773) 509-5623
---
Related stories:
Chicago Group Gets $1M to Plant Trees, Combat Climate Change
New Guide Helps Identify Native Trees, Shrubs for Your Garden
Study: Chicago's Forests Threatened by Climate Change
---