The University of Chicago announced Tuesday that it will create a new school dedicated to molecular engineering – the first of its kind at a U.S. university – thanks to a $100 million commitment from the Pritzker Foundation.
The Pritzker School of Molecular Engineering will become the university's first new school in three decades and will be its first school in engineering.
In a statement, the university said the new school would take an interdisciplinary approach and "be distinct from other engineering programs, with an organizational structure that transcends traditional boundaries and focuses on societal problems primed for new solutions."
Among the areas of focus for the new school will be quantum engineering, biotechnology and immuno-engineering, advanced materials, energy storage and ensuring a global supply of clean water.
The school will build on the work of the Institute for Molecular Engineering, a partnership that began in 2011 between the university and Argonne National Laboratory.
"Molecular engineering has been critical to expanding the university's capacity to contribute to science, engineering and technology development," said university president Robert J. Zimmer. "The Pritzker School of Molecular Engineering will have a major impact on the city of Chicago, its capabilities in technology development, and the university's outreach initiatives across the city."
Tom Pritzker said that the foundation wanted to help the university build a new field of study that would be a catalyst in making Chicago a center of scientific innovation. "Molecular engineering could provide a disruptive approach to translational science," he said in a statement.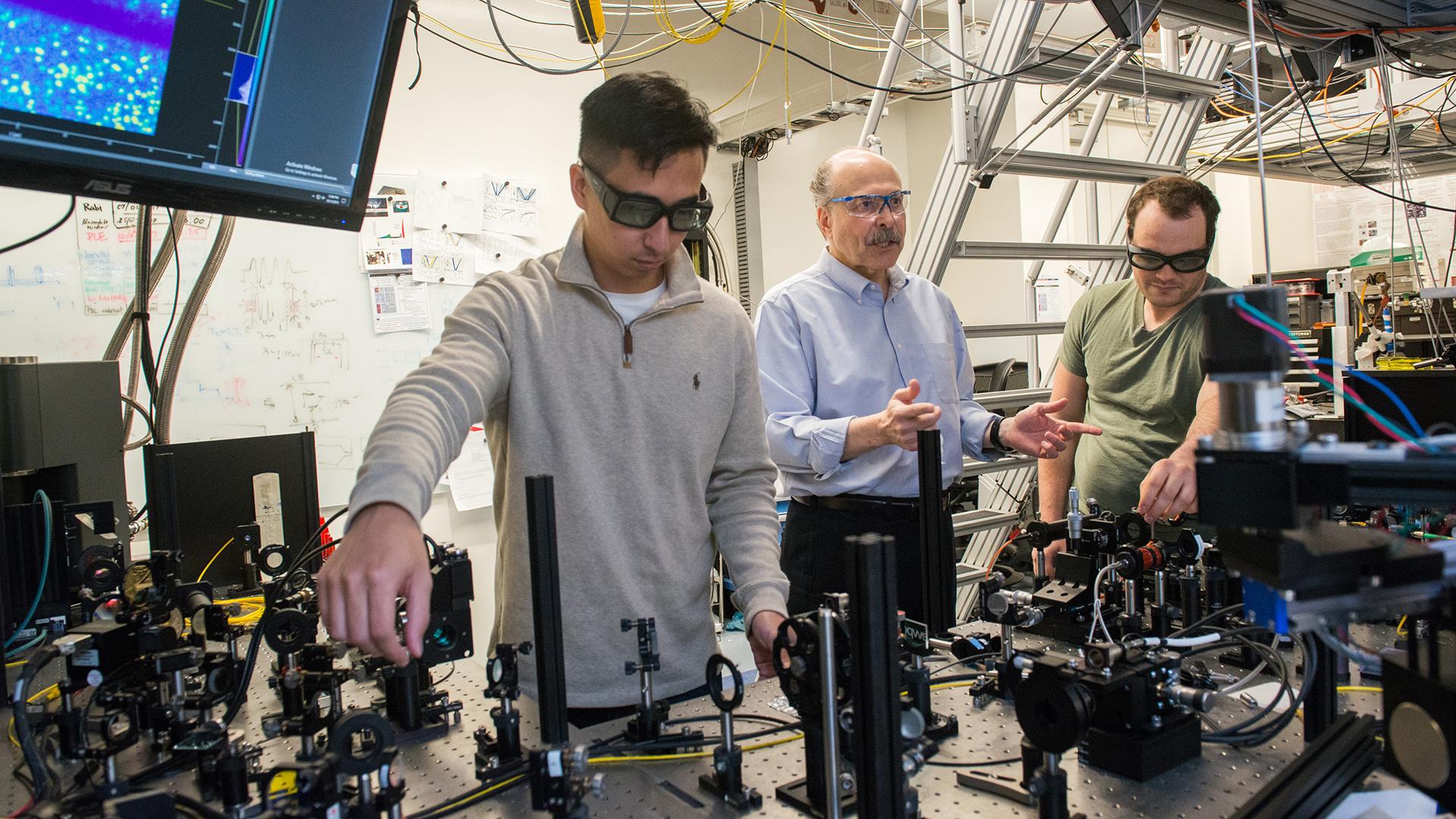 University of Chicago researcher David D. Awschalom in his lab with Ph.D. students Kevin Miao, left, and Alexandre Bourassa, on Oct. 15, 2018. (Photo by Jean Lachat)
Part of the school's mission will be to prepare young students in Chicago for 21st century technology and engineering jobs through a partnership with the City Colleges of Chicago. The multiyear program will be piloted at Truman and Kennedy-King colleges and will allow students to access the new school's faculty and labs while also providing college admissions counseling.
Chicago Mayor Lori Lightfoot welcomed the announcement.
"Chicago's future rests on ensuring access to high-quality education and developing jobs for the next generation of new businesses," Lightfoot said. "By creating the nation's first school of molecular engineering, the University of Chicago will transform the opportunities available for our young people while helping our city lead the 21st century in technology and innovation."
The university said it hopes to pioneer new solutions for global challenges, including immunotherapy-based approaches to cancer treatment and advanced communications networks that are "unhackable."
Matthew Tirrell will serve as the founding director of the new school, which encompasses 28 faculty and roughly 300 people total including students and researchers. Tirrell has been director of the university's Pritzker Institute of Molecular Engineering since 2011 and is a pioneering researcher in bio-molecular engineering and nanotechnology.
Tirrell says the new school would be built around four core themes: quantum engineering, immuno-engineering, energy and water, and advanced materials.
In short, that means creating devices for future computing and communications applications using quantum mechanics; modulating a body's immune system through bio-engineering; creating solutions that would secure clean water for all; and building advanced materials at the molecular level.
"We are not just interested in discovery but also invention," said Tirrell, who noted that 28 new "invention disclosures" and six new companies have emerged from the university's molecular engineering program.
"Our mission is to develop solutions to problems that have a profound effect on humanity and quality of life," Tirrell said. "This gift provides critical support to address the spectrum of areas where we can make a difference."
---
Related stories:
SAT 'Adversity Score' Draws Praise and Criticism
City Colleges of Chicago Staffers End Strike, Announce New Contract
The Report From Court? Too Few Court Reporters
---