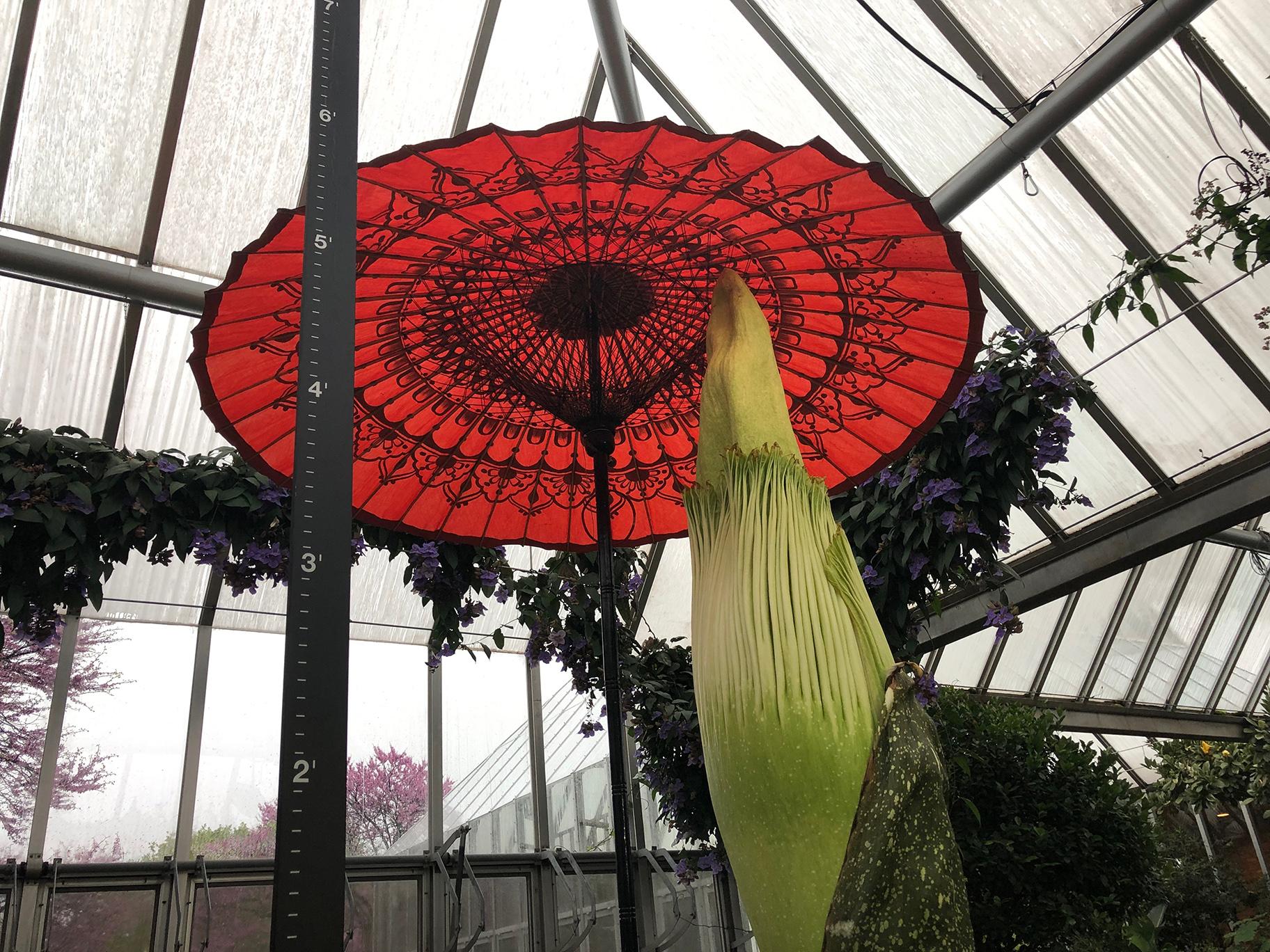 Java the corpse flower is on bloom watch at the Chicago Botanic Garden. (Alex Ruppenthal / WTTW News)
After flowering for the first time in June 2017, Java went through the normal post-bloom steps for titan arum plants, nicknamed corpse flowers because of the rancid stench they release upon flowering.
Java, one of the dozen or so corpse flowers housed at the Chicago Botanic Garden in Glencoe, went dormant for a period and then put up a leaf, which produced sugars that were stored as starch in the plant's bulb below ground.
What happened next was not normal, however.
"Usually it takes three, four, five years in between flowering events," said Patrick Herendeen, the Botanic Garden's senior director of systematics and evolutionary biology. "We were not expecting Java to flower again after just two years."
At 73.5 inches tall as of Friday, Java has nearly tripled in size over the past two weeks and is on special "bloom watch," drawing visitors to the Garden's Semitropical Greenhouse, where it's currently on display.
When – or if – it blooms, Java's leafy sheath will peel away and expose its giant spadix, the inner spike of the plant, which attracts beetles, flesh flies and other pollinators. During the following 24 to 48 hours, the spadix will release a stench of rotting flesh, which, coupled with the red color of the inner spathe and flowers, tricks pollinators into thinking the plant is decaying meat.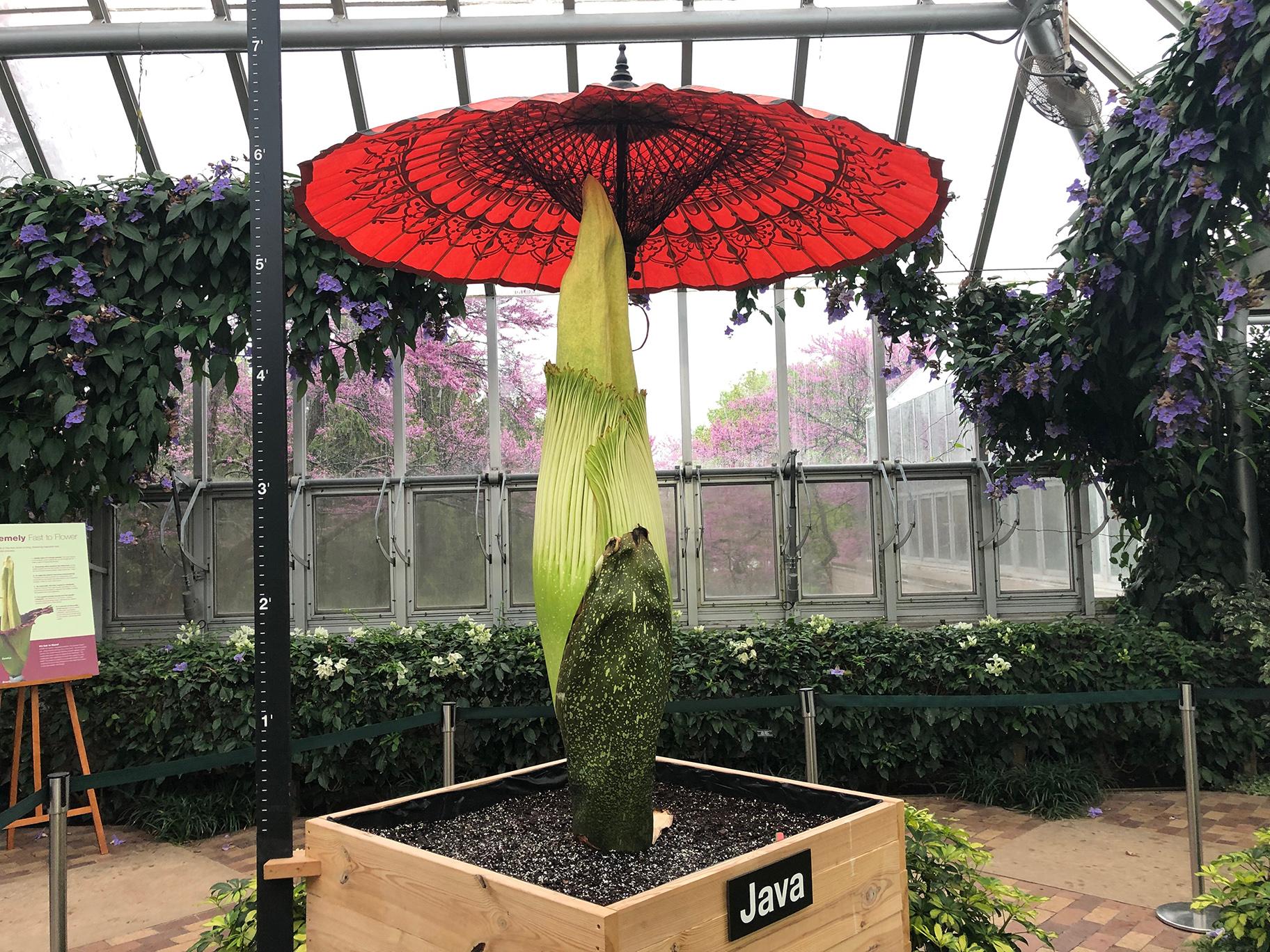 Java the corpse flower is covered by an umbrella at Chicago Botanic Garden. Corpse flowers are native to the underbrush of tropical rainforest in Indonesia and therefore can get sunburnt when exposed directly to the sun. (Alex Ruppenthal / WTTW News)
Based on data from the handful of titan arum blooms at the Botanic Garden in recent years, Herendeen predicts that Java will flower on Monday, give or take a day.
"There's no reason to think it wouldn't [flower]," he said, but added a caveat: "Plants, you know, they're unpredictable just like people are."
Herendeen said he doubts that Java 2.0 will match Spike, another corpse flower that grew to 82 inches before blooming last summer, setting a record for the garden. When Java first bloomed in 2017, it reached 81 inches.
Even if the plant stops growing soon, it has already proved itself a heavy force.
Last year, Java put up a leaf that Herendeen said was "absolutely massive" at more than 20 feet tall. After generating sugars through photosynthesis, Java packed away so much starch in reserves that it broke the wooden crate that held the plant, Herendeen said.
Staff had to build a new, bigger crate to hold Java while it continued to grow inside one the garden's new plant production greenhouses, where it collected energy from the sun to begin another bloom cycle. The new greenhouses allow for more precise climate control: The temperature inside is kept at about 80 degrees or warmer for corpse flowers, which are native to the tropical forest of Sumatra, a large Indonesian island.
After Java first showed signs of flowering about five weeks ago, Java began to sprout up and last week was approaching 4 feet in height. At that time, it took a forklift and a handful of staff to move Java from the production greenhouse to its display location.
"They have to get moved up fairly soon before they get too big because when they get big, they're very unwieldy, and it could easily damage [the flower]," said Herendeen, who estimates that Java's plant, soil and crate weigh about 500 pounds. "We couldn't move this now – the stalk would snap."
Seven titan arums, including Java, have been nurtured by the garden's horticultural team since 2003. Over the past four years, a handful of the plants have bloomed, drawing hundreds of thousands of visitors to see the smelly, colorful flowers up close.
Although interest has tapered a bit since the initial flowerings, "people are still very interested," Herendeen said. "And a lot of people make a special trip."
Keep track of Java's status via the Botanic Garden's website, which features daily updates on the plant's height and a live webcam.
Contact Alex Ruppenthal: @arupp | [email protected] | (773) 509-5623
---
Related stories:
Alice the Corpse Flower on 'Bloom Watch' at Chicago Botanic Garden
At Nearly 7 Feet, Corpse Flower Spike Sets Botanic Garden Record
Corpse Flower Sprout Blooms at Chicago Botanic Garden