Legal sports betting could soon be coming to Illinois.
Last year, the Supreme Court struck down a law that banned sports betting outside the state of Nevada. As a result, legal sports betting has quickly spread. Nine states now have it and many others are considering it.
One of those is Illinois.
Gov. J.B. Pritzker hopes to raise some $200 million in revenue from licenses and fees related to sports betting for this year's budget, but lawmakers in Springfield have yet to settle on a plan.
And with so many competing gaming interests, is there any plan that will satisfy them all?
"If you look at the history of this type of legislation it is really, really difficult to pass this stuff because there are so many different interests and stakeholders," said Paul Gaynor, an attorney who represents Chicago-based Rush Street Gaming which operates the Rivers Casino in Des Plaines.
"We have a new governor and a new mayor, there are a lot of balls in the air right now and a lot of unpredictability and basically what we are doing is just trying to work through the process to come to an agreement on something that can pass," he said.
Prior to entering private practice Gaynor was chief of the public interest division for Illinois Attorney General Lisa Madigan for 10 years and was the lead attorney representing the Illinois Gaming Board when they successfully revoked the Emerald Casino license.
According to Gaynor, one of the biggest points of contention is how to handle fantasy sports gaming sites like FanDuel, which has been operating in the state illegally and gobbling up market share.
"In New Jersey where sports betting has become is legal they were able to capture 80 percent of the market by doing daily fantasy sports while waiting for the state to legalize and as a result they had a leg up on the market," said Gaynor.
"My client has paid $125 million at an auction for a casino license. My client has paid $1.6 billion of revenue – legal tax revenue – to the state. Meantime, the illegal operators who have been operating daily fantasy sports in violation of our criminal laws, they have not been paying a dime," said Gaynor. "We're dubious that the state will get the kind of revenue they are projecting if the entities that have been operating illegally for all these years will get the benefit of their ill-gotten gains."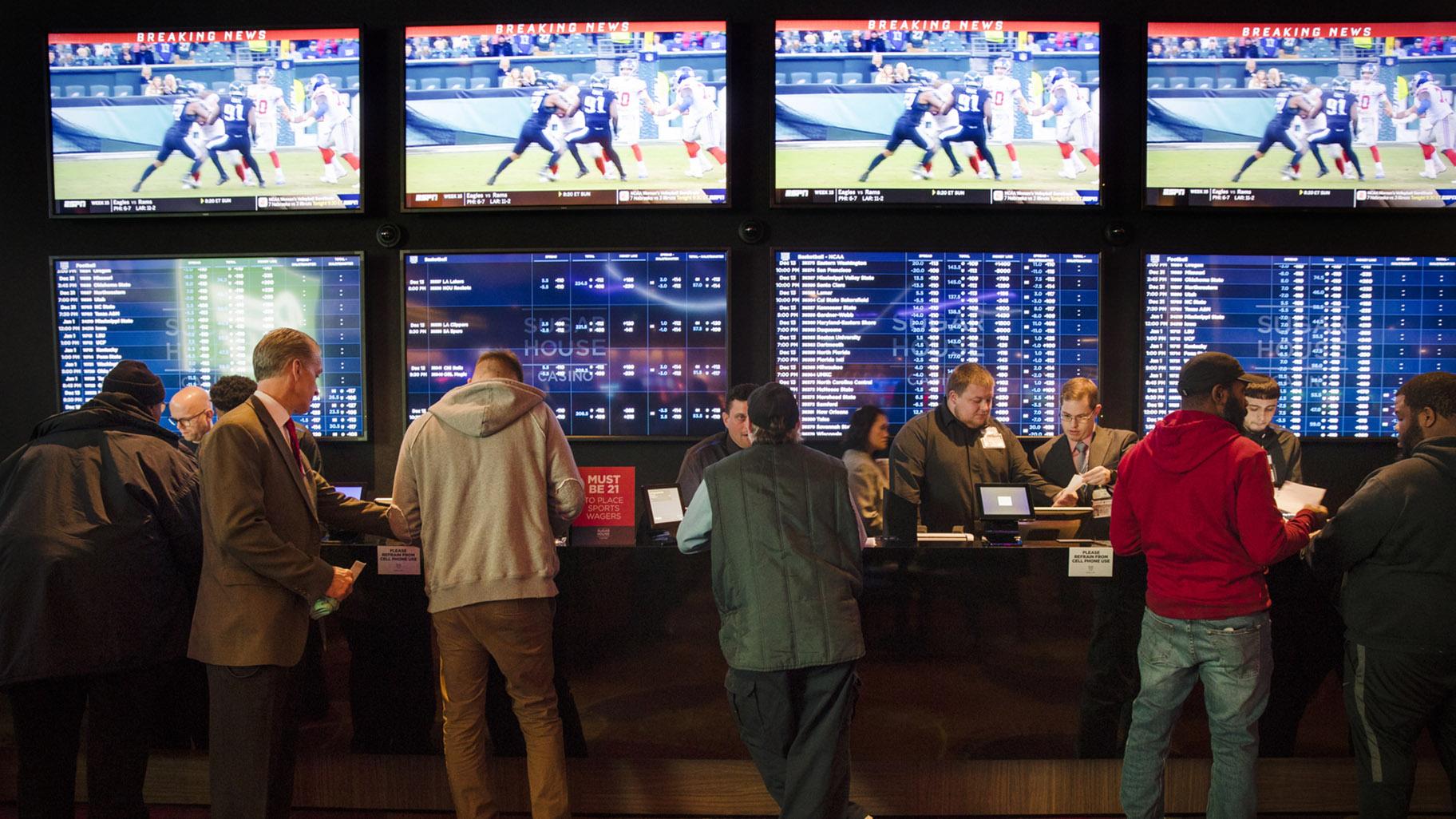 In this Thursday, Dec. 13, 2018, file photo, gamblers place bets in the temporary sports betting area at the SugarHouse Casino in Philadelphia. (AP Photo / Matt Rourke, File)
Aside from figuring out who should benefit from legalizing sports gambling and how much the state might make from it, lawmakers also need to weigh the social costs of increased gambling addiction.
Elizabeth Thielen, senior director at Nicasa, a nonprofit that provides behavioral health services, estimates that there are roughly 250,000 Illinoisans with gambling addictions.
"Unfortunately there can be a lot of social costs that result and the financial impact of those tend to fall on the taxpayers," said Thielen. "When you look at bankruptcy and home foreclosures, mental health problems, crime and even suicides – these are all things that can develop when people have a gambling problem."
Thielen said that one study has estimated the annual social cost to Illinois families and communities from gambling-related bankruptcy, divorce, crime and job loss is about $218 million.
Different types of gambling attract different types of people.
In the case of sports betting, according to Thielen, it is young adult white males who are at the greatest risk of developing a problem.
But Thielen said the state, with enough thought, could mitigate the problems associated with gambling addiction.
"It is possible to expand gambling without expanding problem gambling if it is done very thoughtfully and that would really include some very responsible policy making on the front end."
But she said that based on the proposed legislation she has seen there does not appear to be any emphasis on funding addiction prevention and treatment.
Gaynor, Thielen and sports business consultant Marc Ganis join Carol Marin to discuss the possibility of legalized sports betting in Illinois.
---
Related stories:
What Would Sports Betting Look Like in Illinois?
Why Chicago's Hedging on a City-Owned Casino
Chicago Casino's Bad Odds: Lawmakers Reject Gambling Bill
---