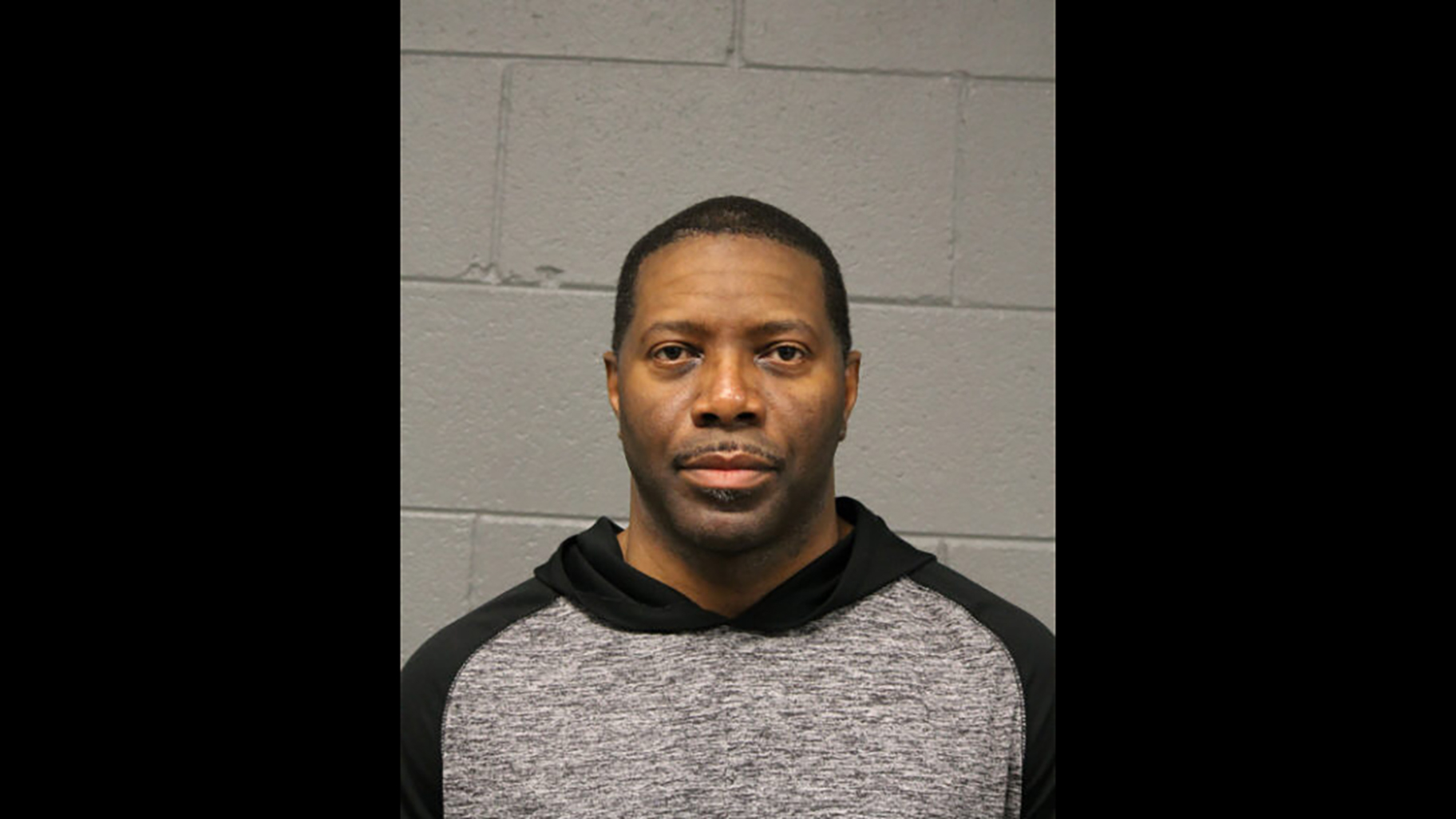 Corey Deanes (Chicago Police Department)
A Chicago police officer has been arrested and charged with multiple felony and misdemeanor counts after he allegedly had inappropriate contact with three women while on duty on separate occasions.
Corey Deanes, 47, was charged in Cook County court Wednesday with two misdemeanor counts of battery, a felony count of aggravated battery in a public place and three felony charges of official misconduct. Deanes was taken into custody Tuesday. A Cook County judge on Wednesday reportedly set his bail at $200,000.
Chicago police say Deanes made "inappropriate physical contact" with three separate women without their consent on three separate occasions between Aug. 28, 2017 and July 13, 2018. The department did not specify what that contact entailed.
"The allegations against Corey Deanes are egregious and if proven, they are an insult to everyone (sic) of us that dedicates our lives to public service," Chicago Police Superintendent Eddie Johnson said in a statement. "There is no place in this department for illegal activity and I won't stand for it."
Johnson said victims cooperated fully with the department's Bureau of Internal Affairs, and called the investigation "a testament to our ability to police ourselves."
Civilian Office of Police Accountability spokesman Ephraim Eaddy said in a statement Wednesday they are "pleased" with the decision to charge Deanes.
COPA said it began receiving complaints of the officer's alleged unwanted sexual advances in July 2018 and promptly contacted the Bureau of Internal Affairs, recommending that Deanes be stripped of his policing power and that criminal charges should be filed.
"The public trusts COPA to conduct thorough, fair and objective investigations but as the administrative investigative agency we are also entrusted to alert law enforcement when criminal acts have been committed by an officer and have an obligation to refer those matters to BIA or the Cook County State's Attorney Office when such events occur," COPA Chief Administrator Sydney Roberts said in a statement.
"I believe this is an example of each of the respective agencies working to protect the rights of the citizens of the city of Chicago, rights that every person deserves."
Contact Matt Masterson: @ByMattMasterson | [email protected] | (773) 509-5431
---
Related stories:
Ex-Chicago Police Sergeant Charged With Felonies After Bar Attack
Chicago Police Sergeant Implicated in Beating of 2 Men Outside Bar
Suburban Police Chief Charged With Distributing Sexual Recordings
Wrongfully Convicted Man Claims Chicago Police Framed Him for 2000 Murder
UChicago Student Shot By Campus Police Now Facing Criminal Charges