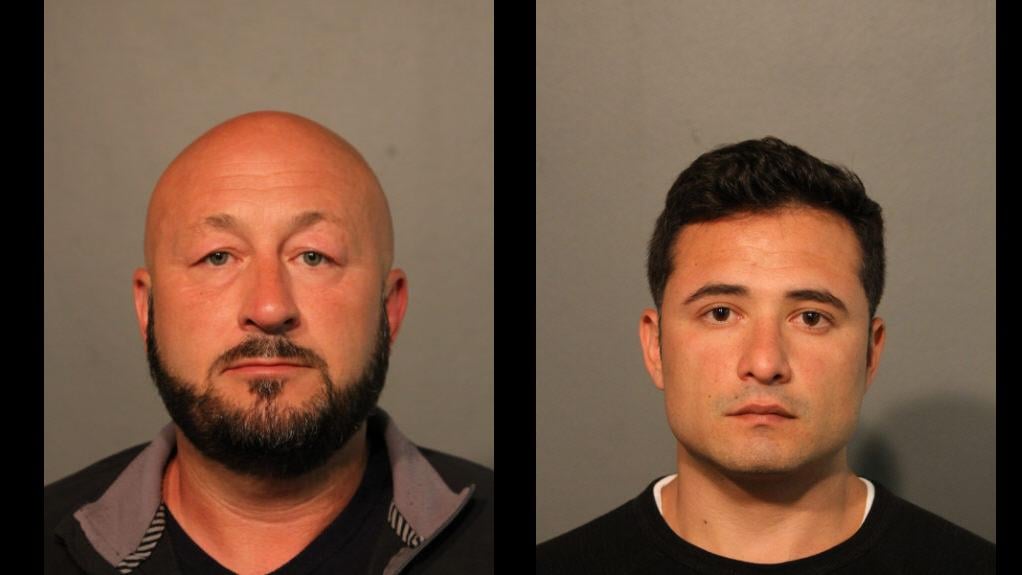 Former Chicago police Sergeant Eric Elkins, left, and Giovanni Rodriguez both face multiple felony charges. (Chicago Police Department)
A former Chicago police sergeant is facing felony battery charges more than seven months after he and others allegedly beat several men outside a North Side gay bar in a brutal attack that left three victims hospitalized.
Eric Elkins, 45, was charged Tuesday with two felony counts of aggravated battery causing great bodily harm following the Sept. 29, 2018 attack. Another man, Giovanni Rodriguez, 34, was also charged with three felony battery counts stemming from the attack. The charges are each punishable by up to five years in prison.
Both were taken into custody after turning themselves in to police Monday. A judge set Elkins' bond at $250,000 during his initial appearance Tuesday.
Two of the victims, John Sherwood and his partner Tomasz Stacha, told their side of the story when they filed a civil lawsuit late last year alleging Elkins, who was off-duty at the time, and another man were responsible for the beating following an encounter in @mosphere, a gay bar in Andersonville.
Following a brief scuffle inside the bar between the victims and another group that allegedly included Elkins and Rodriguez, a bouncer kicked all parties out of the bar.
Sherwood told media last year he recalled being attacked seconds later.
"When he was coming out of the bar, his eyes were just crazy," Sherwood said of Elkins during a press conference last November. "I honestly was in shock that someone can act that way because I had never been a part of anything like this before."
Sherwood claimed his leg was kicked and broken while he was still standing. Once he fell, the assailants turned to Stacha, who they allegedly kicked repeatedly as he lay on the ground. He suffered fractures to both cheekbones and damage to his trachea.
Chicago police said Tuesday a third victim was also hospitalized after the incident.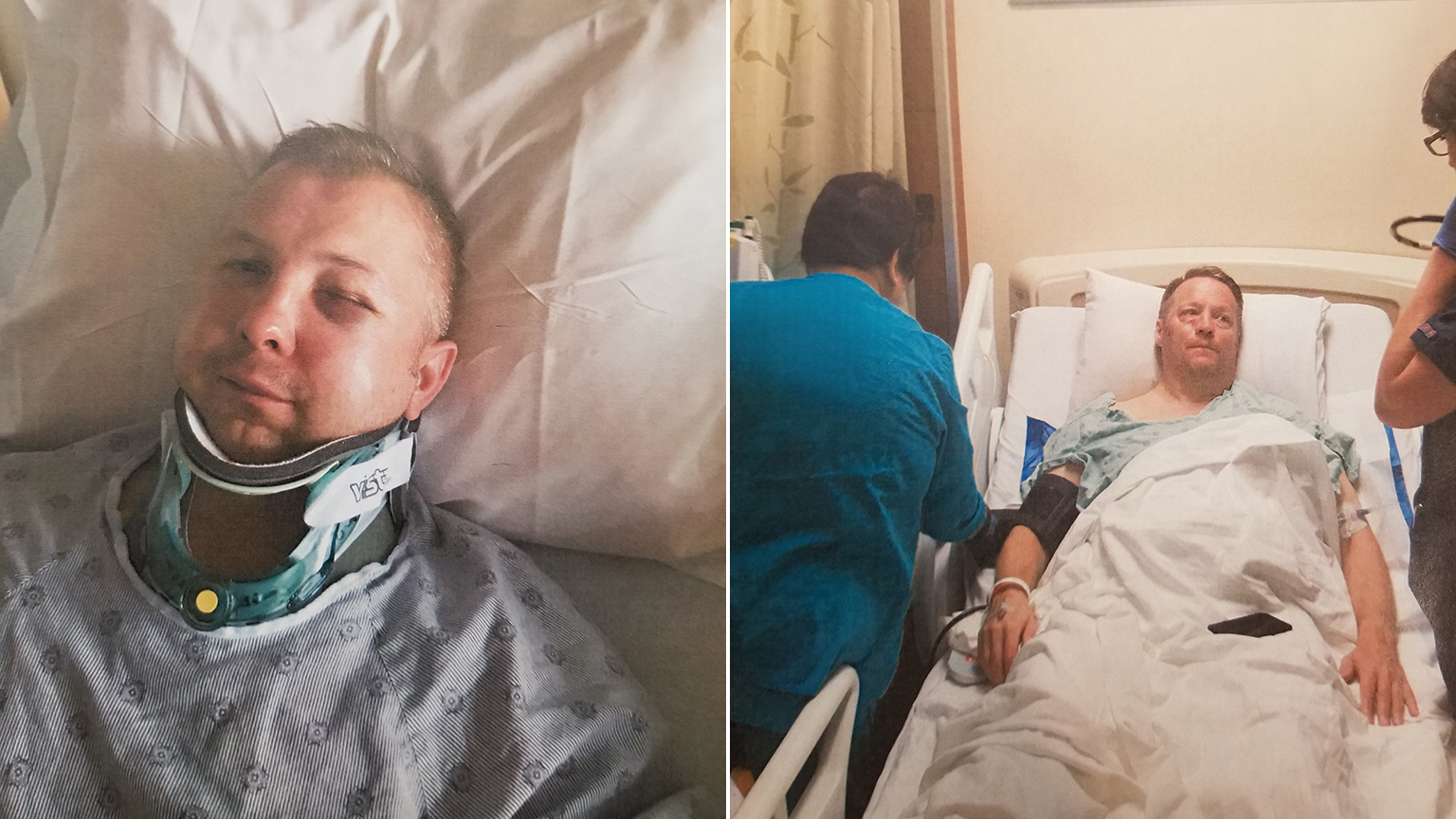 Tomasz Stacha, left, and John Sherwood after the attack outside @mosphere.
Two men who were with Elkins that night implicated him in the attack to police, according to the victims' lawsuit. This was captured on police dashcam video after one of those men was taken into custody and body camera footage was recorded during his interrogation.
A day later, a friend of Sherwood and Stacha picked Elkins out of a photo lineup, identifying him as "the drunk guy that was kicking John outside," according to a police report.
Sherwood on Tuesday said hearing about the charges made him feel like he was reliving the attack all over again. But he told reporters he's happy the case is moving forward.
"It's been a tough seven months," he said. "I have to be honest with you."
Sherwood said his tibia and fibula were broken during the attack. He remained confined to a wheelchair for months after the attack and still struggles with walking. Beyond the physical pain, Sherwood said he and Stacha – who are partners and live together – also struggled emotionally after the attack.
"We were scared in the beginning," Sherwood said. "We walked out of our house every day, we'd leave and it was dark, it was winter, and we were going to work we made sure we walked out together. We didn't know what to expect. We were nervous about it."
Tim Cavanagh, an attorney representing the two victims in their lawsuit, said last fall he believed Elkins had "acted with impunity" believing the police department's so-called code of silence would protect him. He reiterated that Tuesday, saying it's time for the CPD to weed out the "bad apples."
"The code of silence, it's time for it to end," Cavanagh said. "The code of silence has empowered too many officers to commit bad actions and John and Tom were victims of that last year."
The fight was not Elkins only alleged transgression while with the police department. He also twice faced criminal charges involving alleged sexual encounters with teenage boys. He was found not guilty on one charge, but reportedly pleaded guilty to a lesser charge following an incident in Michigan.
Elkins also received 35 citizen complaints throughout his career, including several for battery, before resigning earlier this year. Cavanagh said the fact he was able to keep his job and leave on his own terms speaks to the power of the code of silence.
"It tells me … that the CPD protected its own," he said, "protected their officers in their careers for criminal acts."
Contact Matt Masterson: @ByMattMasterson | [email protected] | (773) 509-5431
---
Related stories:
Chicago Police Sergeant Implicated in Beating of 2 Men Outside Bar
Suburban Police Chief Charged With Distributing Sexual Recordings
Wrongfully Convicted Man Claims Chicago Police Framed Him for 2000 Murder
UChicago Student Shot By Campus Police Now Facing Criminal Charges