"No collusion. No obstruction … Game Over."
That was President Donald Trump's spin on the redacted version of special counsel Robert Mueller's report, released Thursday.
Titled "Report On The Investigation Into Russian Interference In The 2016 Presidential Election," the 448-page document sheds light on the Russian government's "sweeping and systemic" effects on the 2016 U.S. presidential election; the Trump campaign's interactions with Russian officials; and whether or not Trump obstructed justice by attempting to influence the FBI and Mueller's investigations.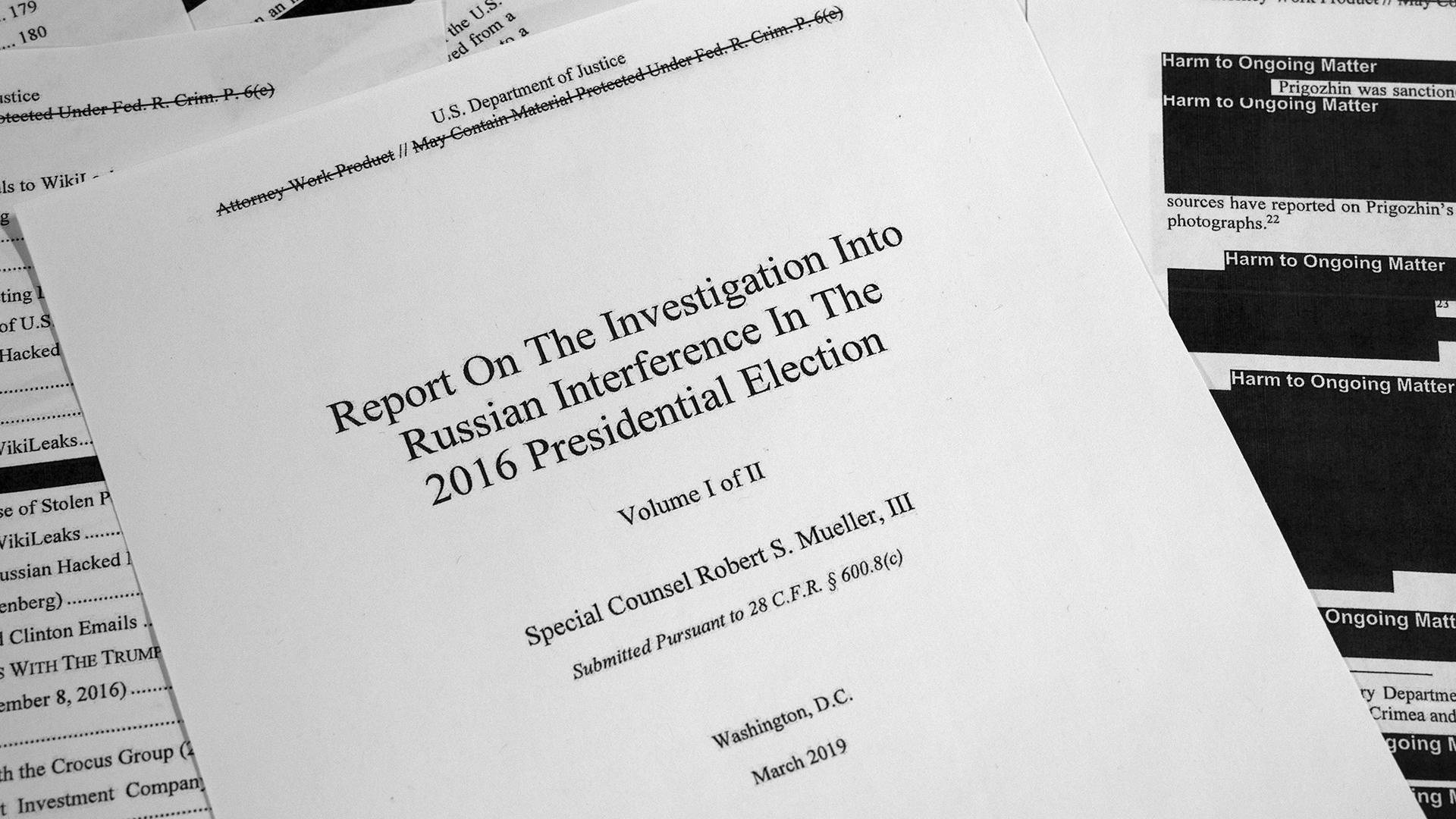 The Mueller Report: Download a copy of the redacted report or scroll down to read it in this story. (AP Photo / Jon Elswick)
---
"As the special counsel's report makes clear, the Russian government sought to interfere in our election process. But thanks to the special counsel's thorough investigation, we now know that the Russian operatives who perpetrated these schemes did not have the cooperation of President Trump or the Trump campaign, or the knowing assistance of any other American for that matter," said Attorney General William Barr during a press conference Thursday morning ahead of the release.
"[The press conference] seemed responsible and adult – seemed to be an accurate depiction of what was to follow and what it was following," said Joseph Morris, a partner at the law firm Morris & De La Rosa.
Morris, a former assistant attorney general under President Ronald Reagan, said from what he's read of the report thus far, he finds "absolutely nothing surprising."
"It's consisted with what Attorney General Barr told everybody a couple weeks ago in the four-page summary," he said.
Patrick Cotter, a longtime white-collar criminal defense attorney at the law firm Greensfelder, also said he found nothing surprising from the report.
"It's a very well put together report, very well written, very clear," said Cotter, who is a former federal prosecutor and assistant U.S. attorney.
But he said he holds a different opinion about Barr's summary and press conference.
"He completely left out the most important part of the entire report, in my opinion," Cotter said. "I think the most important thing that I got out of the report that I didn't know before was that the Mueller team identified at least six, arguably seven, instances of where the president engaged in obstruction of justice. And they were very explicit about it."
Cotter and Morris join us in discussion.
---
Related stories:
'A Good Day': Trump Claims Victory With Mueller Report Out
Trump Tried to Seize Control of Mueller Probe, Report Says
America About to See Mueller Report; Barr Gets in First Word
---