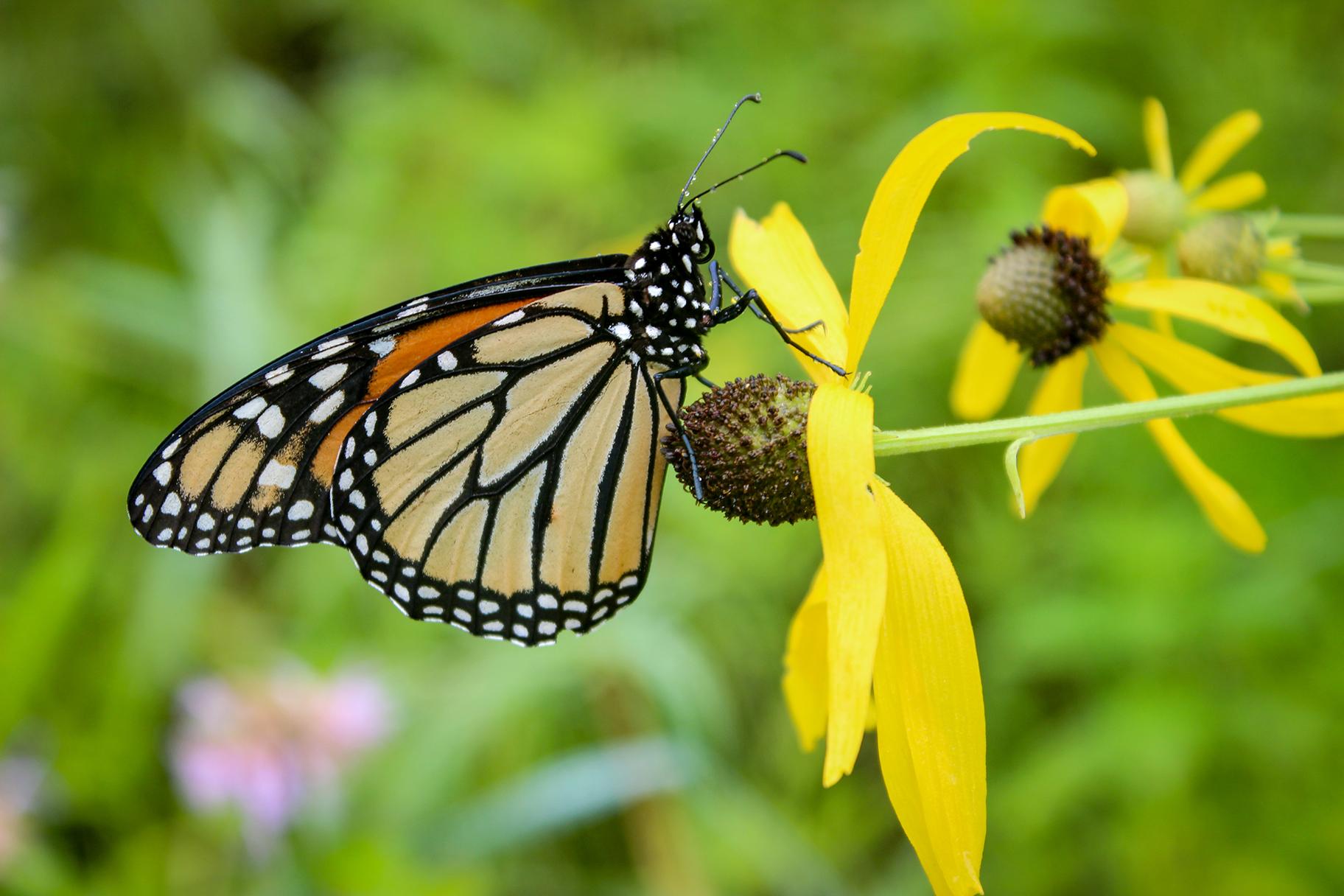 Conservation advocates worry that proposed legislation in Illinois could make it harder to protect vulnerable populations of monarch butterflies, which face a number of threats in the state. (Patrick Williams / Openlands)
A pair of bills under consideration by lawmakers in Springfield would strip the state of its authority to regulate endangered species that are protected at the federal level but that might require further protections within Illinois.
Farming advocates say the legislation would eliminate unnecessary permits, allowing landowners to focus on implementing conservation measures spelled out under federal guidelines for endangered species. But environmental advocates say the proposals would hurt Illinois' ability to protect vulnerable species as the Trump administration chips away at the Endangered Species Act.
Under state law today, landowners must obtain approval from the Illinois Department of Natural Resources when their actions could result in harm to an endangered or threatened animal or plant species by, for example, farming previously untouched land. The process requires applicants to submit a conservation plan identifying steps they will take to mitigate damage to the species, such as restoring habitat or contributing research about the species.
Two bills under review in the state House and Senate would eliminate that requirement in cases where federal conservation agreements are already in place. In some cases, those agreements might not include protections specific to a species' habitat or conditions within Illinois. 
Bill Bodine, associate director of state legislation with the Illinois Farm Bureau, said the federal agreements require landowners to ensure a "net benefit" to species by implementing a variety of conservation measures.
"Landowners are proactively trying to do the right thing," said Bodine, whose organization has been pushing the proposed bills. "We don't think it's undermining DNR's ability to do what they need to do. It's actually trying to be proactive to take steps to keep the species off the [endangered] list."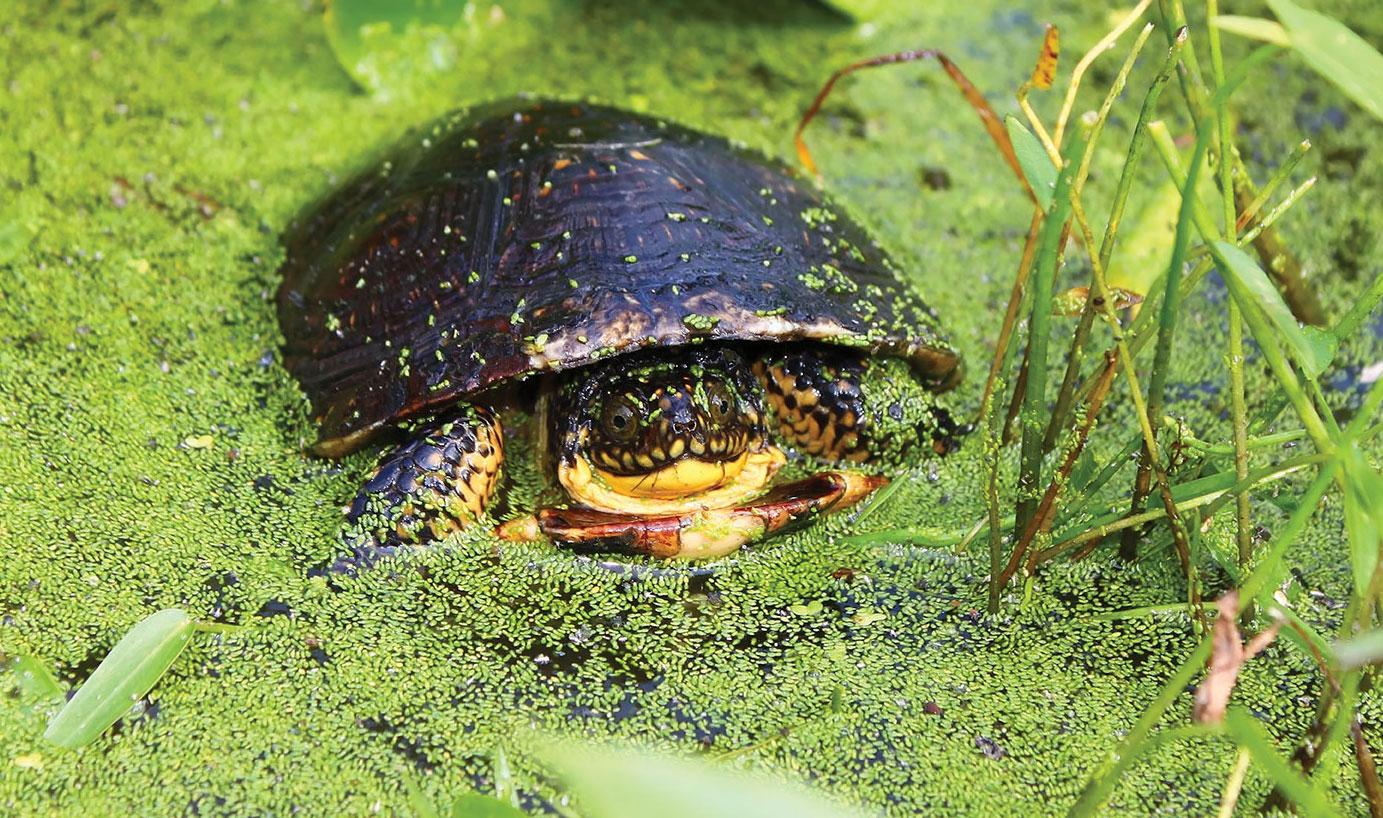 The Blanding's turtle is classified as endangered in Illinois. (Courtesy Chicago Wilderness)
Conservation advocates, meanwhile, say it's vital for the state to retain its authority to oversee development, agricultural practices and other actions that could have a negative impact on vulnerable species.
The proposed legislation could affect the state's efforts to implement additional protections for any of the 480 species classified as endangered or threatened within Illinois, said Andrew Szwak, manager of governmental affairs with the Chicago-based advocacy group Openlands. The list includes species such as the Blanding's turtle and rusty patched bumble bee.
In many cases, requirements for federal and state permits are the same, said Jen Walling, executive director of the Illinois Environmental Council.
But in some cases, a species could require further protections based on its status or conditions within the state, Walling said. She cites a recent case in which the installation of wind turbines posed a potential risk to a habitat of endangered bats. Although the development required a federal permit, Illinois regulators said they needed additional research on how the turbines might affect the bat habitat, which was then included in the state permitting process.
By taking aim at the state's authority in such cases, Walling said proponents of the bills are looking to take advantage of the Trump administration's approach, which has included several proposals to weaken protections for endangered species.
"They understand that the federal government is going in a direction where it's doing things that are much weaker than state governments," Walling said.
Bodine disagrees.
"I think that's a bit of an overreaction," he said, stressing again that federal conservation agreements encourage landowners to take steps to protect species before their status worsens.
The future of the legislative effort is unclear. Last week, the House version of the bill initially passed with the minimum number of required votes, but it stalled when Rep. Fred Crespo, D-Hoffman Estates, filed a motion to reconsider the vote, with a number of members apparently intending to change their votes.
The bill would need to be called for another vote and approved before it could advance to the Senate.
Contact Alex Ruppenthal: @arupp | [email protected] | (773) 509-5623
---
Related stories:
100-Plus Groups Urge Feds for More Funding to Save Monarch Butterflies
Illinois Lawmakers Pass Bill to Protect Monarch Butterfly Habitat
Lincoln Park Zoo Hosts Conference on Reintroducing Endangered Species