Scott's Law flyer (Illinois State Board of Education)
Already this year, 16 Illinois State Police troopers have been struck by vehicles or died on state roads, doubling the total from all of last year in just four months. In response, state officials are hoping to better educate young drivers about Illinois' "move over" law that aims to protect emergency responders.
The State Police and Illinois State Board of Education collaborated on a new flyer that's being distributed to driver education programs in Illinois to help spread awareness of Scott's Law.
That law mandates that drivers, upon approaching any stationary vehicle with flashing emergency lights, must reduce their speed, proceed with caution and change lanes if possible.
"Please protect those who protect us," the flyer states.
The law itself is named after Lt. Scott Gillen, a 14-year veteran of the Chicago Fire Department who was struck and killed by an intoxicated driver while assisting at a crash on the Dan Ryan Expressway in December 2000. He was 37 years old. After his death, Gillen's family pushed for the passage of Scott's Law to help protect emergency responders on accident scenes.
ISBE and the state police created and distributed the flyer to driver education programs, district and regional superintendents, and principals to post in classrooms and deliver to teen drivers and their families.
Three state troopers have been killed while on the road in 2019.
Trooper Brooke Jones-Story, a 12-year veteran, was killed in the crash that occurred on Route 20 near Route 75 in Freeport on March 28. She was inspecting a commercial motor vehicle at the time of the crash.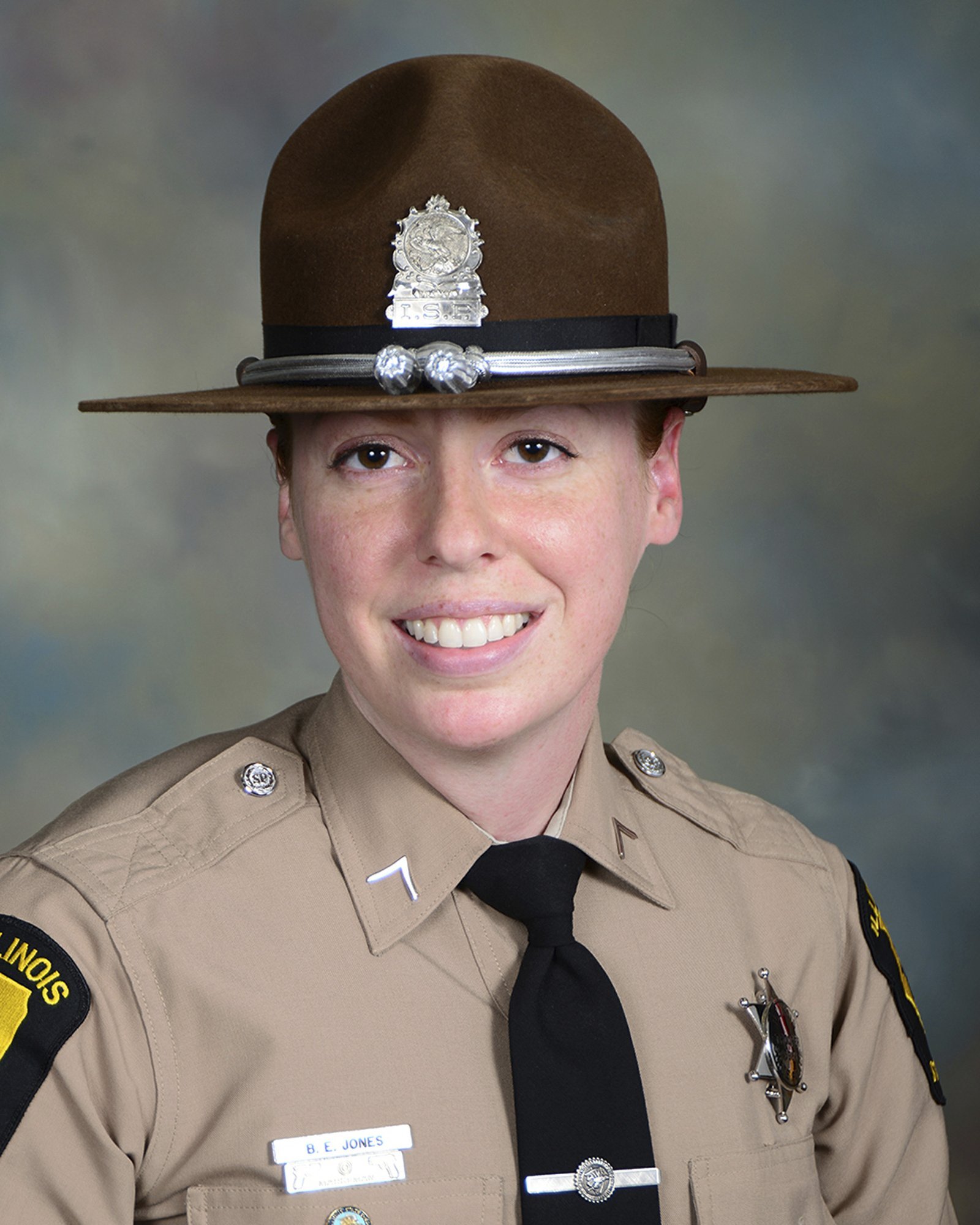 In this undated photo provided by the Illinois State Police is Trooper Brooke Jones-Story, who was killed in the crash that occurred on Route 20 near Route 75 Thursday, March 28, 2019, in Freeport, Ill. (Illinois State Police via AP)
Reckless homicide charges were filed last week against Craig W. Dittmar, 55, who was allegedly driving the semitrailer that slammed into Jones-Story. He was cited at the time of the crash for improper lane usage and for violating Scott's Law.
Just days after Jones-Story's death, Trooper Gerald Ellis, 36, was traveling home in his squad car on Interstate 94 in Lake County when a wrong-way driver struck him head-on in Green Oaks, killing him.
Prior to that, Trooper Christopher Lambert, 34, was killed in January while responding to a traffic crash on Interstate 294 near Northbrook. He stopped and got out of his squad car to respond before being struck by a vehicle.
Legislators in Springfield have also drafted a new bill that would require Illinois Secretary of State Jesse White's office to add a reminder about Scott's Law on each registration renewal and add a question about the law on the state's driver's exam. The state is also considering stiffer penalties for violating Scott's Law.
The Associated Press contributed to this report.
Contact Matt Masterson: @ByMattMasterson | [email protected] | (773) 509-5431
---
Related:
Police Release Video of Driver Striking Squad Vehicle
Motor Vehicle Deaths Claim 40,000 Americans in 2016
Suspect in Shooting of Illinois Deputy Arrested
---