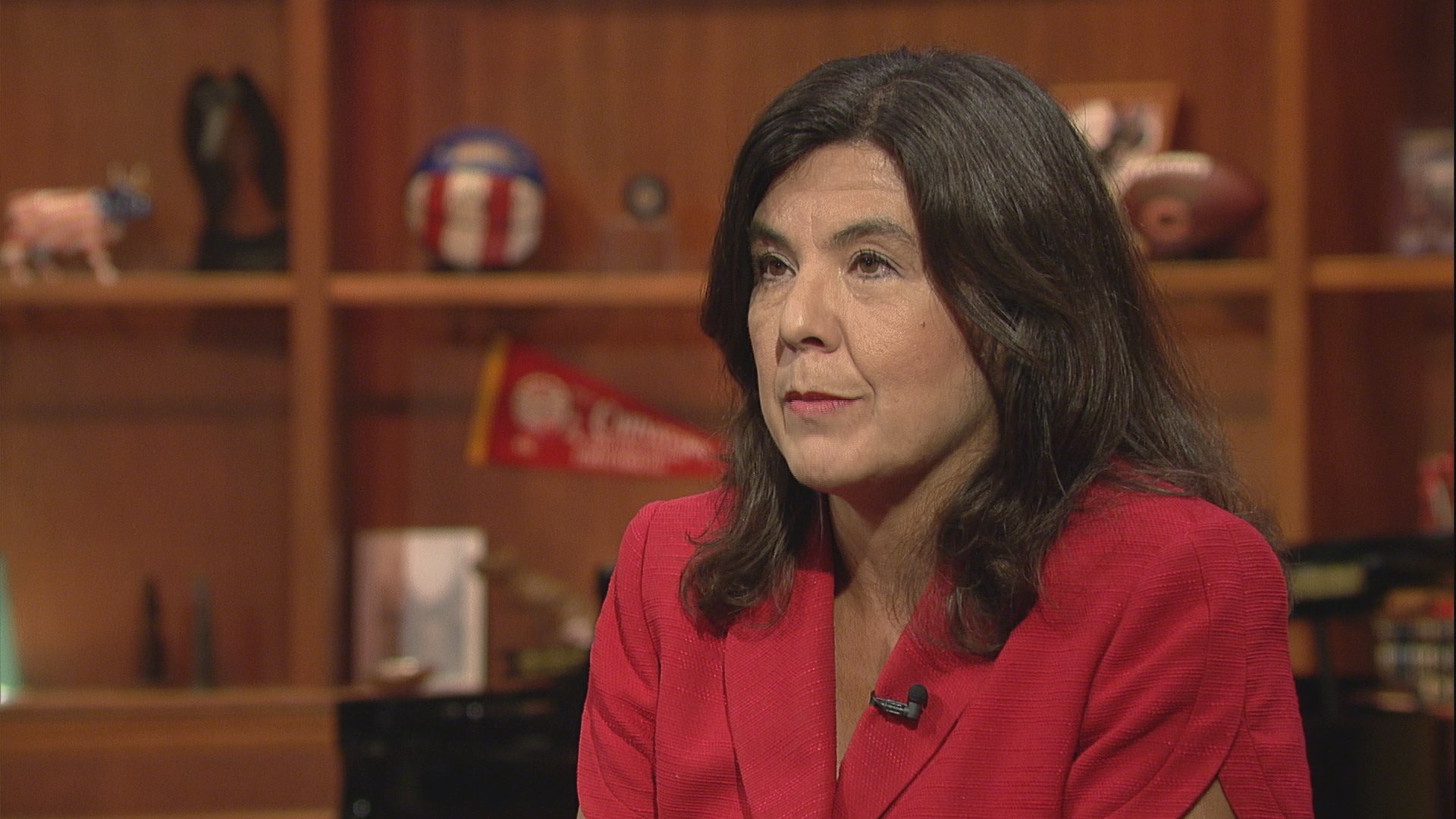 Former Cook County State's Attorney Anita Alvarez appears on "Chicago Tonight" on Sept. 8, 2016.
Former Cook County State's Attorney Anita Alvarez this week blasted her successor Kim Foxx for not "doing her job" after Foxx recused herself from the investigation into claims made by "Empire" actor Jussie Smollett.
Foxx on Tuesday announced she was stepping away from the case "out of an abundance of caution," after acting as a conduit between Smollett's family and the Chicago Police Department, according to the Chicago Tribune.
A day later, Alvarez criticized the move in a Facebook post saying she was "under the impression that when the voters elected me and I took my oath of office it meant I had to do my job."
"I think I got to the point where enough is enough," Alvarez, who served as the Cook County state's attorney from 2008 until 2016, told Chicago Tonight this week. "This case has had so many different ramifications for the city, and in my opinion, it's 'do your job.' You're elected to do your job, do it. You have to make these tough decisions, you have to handle cases you may not want to handle, but that's part of it, it's part of the job."
A spokeswoman for Foxx's office did not immediately respond to a request for comment.
Smollett was arrested and charged this week with disorderly conduct nearly a month after he allegedly filed a false police report claiming to have been attacked by two men in the Streeterville neighborhood. Investigators now believe Smollett paid two brothers to stage the attack because he was upset with his salary on the Fox television show.
Foxx stepped away from the investigation before those charges were filed, issuing a statement explaining the move was made "to address potential questions of impartiality based upon familiarity with potential witnesses in the case."
Alvarez wasn't buying that explanation, saying that "familiarity" isn't reason enough to walk away from the case.
"I think people are smart enough, they can see through this," she said. "She clearly backed off, in my opinion, her duty as the state's attorney to make a decision on a case … I'm sorry, that's not why you're elected."
Alvarez said there were multiple times she recused herself from investigations, but those cases typically involved charges levied against her own assistant prosecutors. She also found it odd that Foxx removed only herself from the case.
"That's not how it works," she said. "The entire office would be recused and that case would get sent over to the Attorney General's office. I mean, that's how it works."
First Assistant State's Attorney Joseph Magats took over the investigation following Foxx's recusal.
Foxx defeated Alvarez in 2016's Democratic primary for the position of Cook County state's attorney, pulling in 52 percent of the vote to Alvarez's 33 percent. Foxx went on to win the general election that fall.
Alvarez was widely criticized for her handling of the Laquan McDonald investigation, waiting more than a year after the infamous shooting to file first-degree murder charges against then-Chicago police Officer Jason Van Dyke. She eventually called for a special prosecutor to handle the case, recusing herself and her office before Foxx took over.
Foxx backed that move at the time, calling it "clearly the appropriate decision."
Alvarez said this week she didn't deserve the criticism levied against her in the McDonald case, but was happy to see the trial handled by a "real prosecutor" in Kane County State's Attorney Joseph McMahon.
As for the Smollett case, she believes the Cook County State's Attorney's office ultimately filed the "appropriate charge."
"I think maybe there could have even been obstruction of justice, maybe theft of services with (the Chicago Police Department)," she said, "but I think the appropriate charge is the false police report."
Contact Matt Masterson: @ByMattMasterson | [email protected] | (773) 509-5431
---
Related stories:
Kim Foxx Recuses Herself from Jussie Smollett Case
Outgoing Cook County State's Attorney Anita Alvarez Reflects on Office
Anita Alvarez Calls for Special Prosecutor in Laquan McDonald Case
Chicago Police, Fox Dispute Reports About Smollett Attack
---