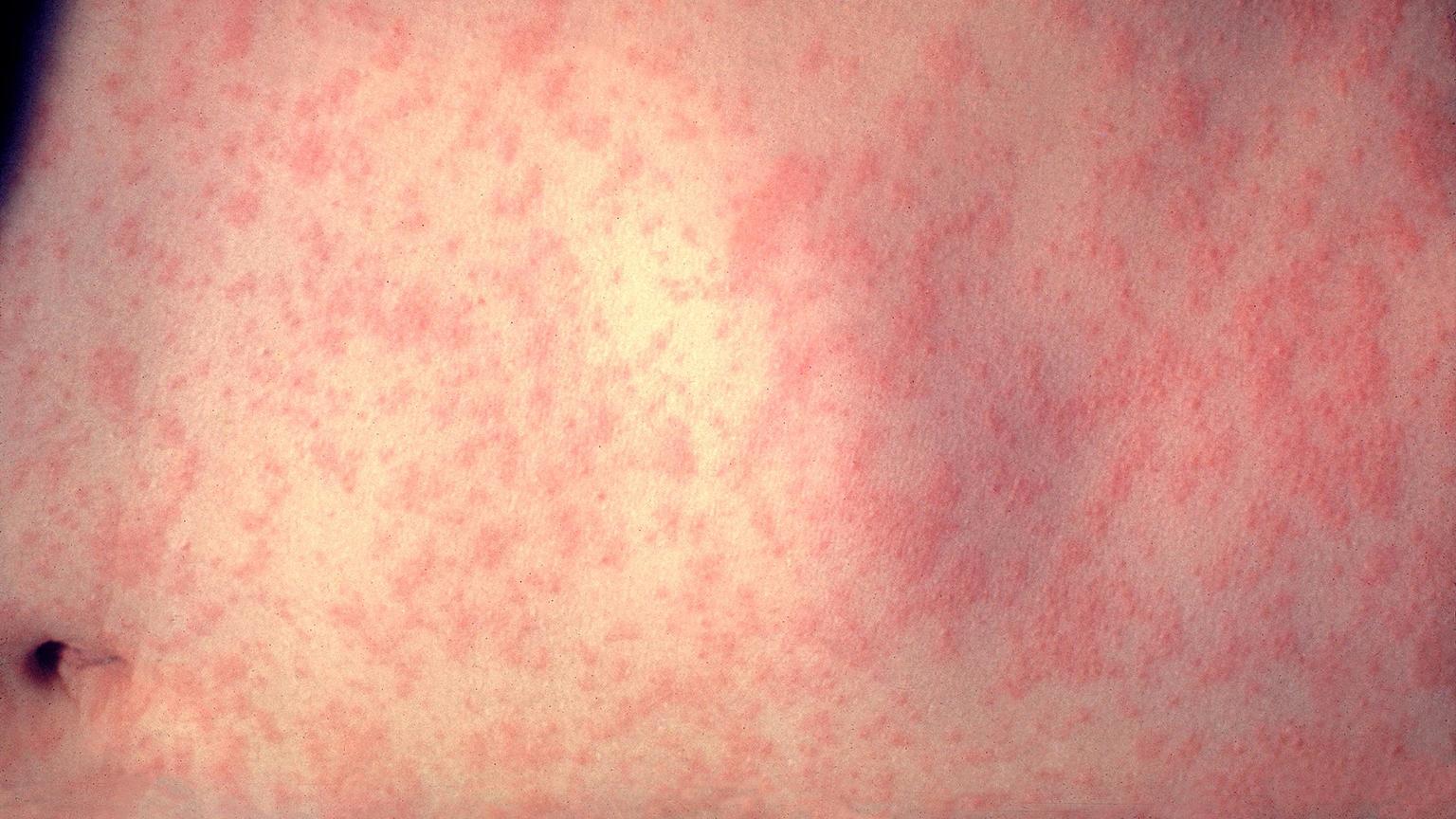 The skin of a patient three days after developing a measles infection. (Dr. Heinz F. Eichenwald / Centers for Disease Control and Prevention)
The Cook County Department of Public Health is reporting a confirmed case of measles in a resident of north suburban Cook County who recently traveled to another country where there's an ongoing measles outbreak.
The case was confirmed on Tuesday, and the individual is no longer infectious. But they may have exposed others to the infection before realizing they were sick, according to CCDPH officials. The individual visited more than a dozen Cook County stores, restaurants and theaters in the days preceding the diagnosis.
Below, the map lists the locations visited by the individual, including the dates and times of their visit.
---
Public health officials say measles is spread through the air when someone coughs or sneezes and can also spread through contact with mucus or saliva from an infected person.
Those infected by measles may not develop symptoms for weeks. Symptoms include a rash, high fever, cough, runny nose, and red and watery eyes.
If you have visited any of the locations on the days and times listed and are experiencing symptoms, health officials urge that you call your health care provider before going to a medical office or emergency department to make special arrangements for evaluation. Doing so protects other patients and medical staff from possible infection, says CCDPH.
There is no ongoing risk of transmission at any of the locations visited by the individual, according to health officials who are working with businesses to contact employees who were present during potential exposure times. Staff at the health care facilities where the patient was evaluated are working to identify all possible areas of exposure and notify susceptible patients, staff and visitors, according to a CCDPH press release.
Health officials urge residents to make sure they are up to date on all vaccines, including the MMR (Measles, Mumps and Rubella) vaccine, especially before traveling abroad. "Getting vaccinated protects you and others around you who are too young to get the vaccine or can't receive it for medical reasons," said CCDPH Chief Medical Officer Dr. Terry Mason in a statement. "Two doses of measles vaccine are nearly 98 percent effective in preventing measles."
Contact Kristen Thometz: @kristenthometz | [email protected] | (773) 509-5452
---
Related stories:
4 in 10 Chicago Parents Don't Have Paid Leave, Survey Finds
Report: Illinois Just 'Getting Started' in Addressing Children's Needs
Health Officials Warning Residents About Unproven Stem Cell Therapies
---