Be honest: Could you correctly spell the words "inselberg" or "voortrekker" on a stage in front of an audience full of people hanging on your every letter? (Bonus points if you could define those two words.)
On Thursday afternoon at Lindblom Math and Science Academy on the city's South Side, 51 students faced off to do just that.
One of them was 13-year-old Aaron Chang, who spelled redemption P-E-M-B-R-O-K-E (that's a variety of the corgi dog breed).
After two years of coming in second place, the Audubon Elementary seventh grader was crowned king of the 2019 CPS spelling bee, defeating 50 other students from CPS elementary schools all over the city – though you might not know it from his calm demeanor. "I'm really excited to finally have gotten this far," said Chang.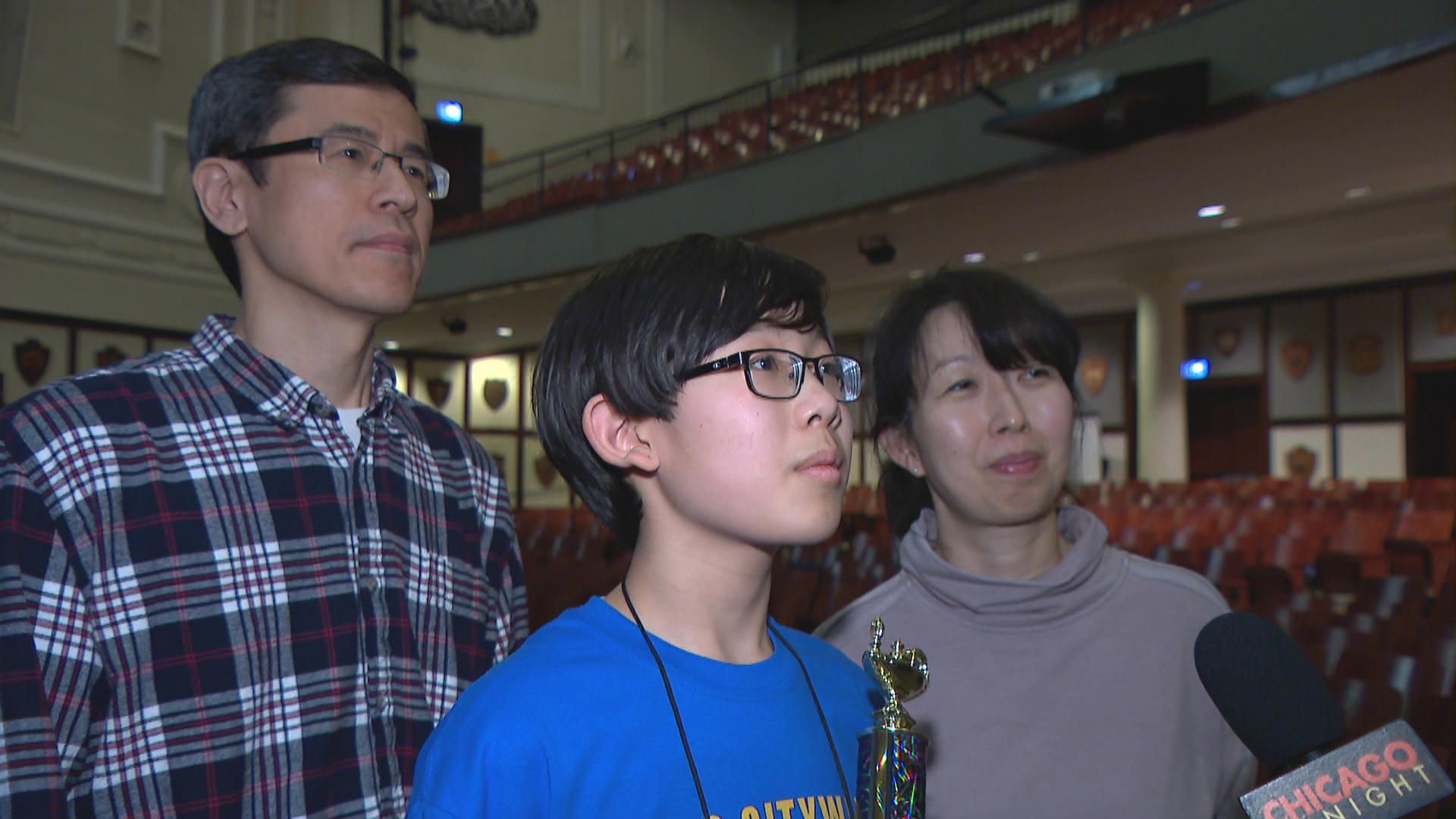 Aaron Chang, 13, of Audubon Elementary won the 2019 CPS spelling bee on March 14, 2019.
Chang lasted through 22 rounds of tongue-twisting triumph – and his opponents' heartbreak – to earn his long-awaited spot at the Scripps National Spelling Bee in National Harbor, Maryland, beginning May 26.
Though Chang emerged triumphant, Sylvia Nelson Jordan, manager of academic competitions at CPS, says each of these students spelled their way to the top of a pretty big heap.
"We have thousands of students that participate in the spelling bee at the student level, approximately 40,000. From there, we have students that advance and become the bee champion at their school, and they advance to participate in the online spelling bee administered by Scripps," she said. "So this year we're at 142 students that advanced from their local bee that participated in the online, and from there 51 advanced to participate today in the citywide spelling bee.
"I think I'm a good speller, but in all honesty, the second graders are spelling words that I'm like [mimes writing on hand]; so I don't think I'm as good as some of these kids!" Jordan said.
One of those second graders, Adam Echchani from the National Teachers Elementary Academy, hung in against much older opponents for eight rounds.
Chang's victory did come with a twist – he'll see the girl who beat him two years running, Riya Joshi, in the National Spelling Bee. This year, Joshi bypassed the CPS competition thanks to a newly instituted rule that allows certain participants go straight to the National Bee after an online assessment. Joshi's twin sister, Maya, came in second to Chang this year.
In the meantime, Chang says he'll get right back to preparing for his rematch with Joshi at the National Spelling Bee – and all its sturm und drang. When asked if he has any Achilles' heels, Chang admits, "Sometimes I have a little trouble with maybe the Pacific Island ones. Those can be a little tricky."
Oh, and if you're feeling like the words have gotten tougher to spell since you were in a spelling bee, you might be onto something. A few of this year's stumpers included inselberg, pickelhaube, voortrekker and schottische.
And all of those words were spelled correctly by the students.
---
Related stories:
CPS Watchdog: Pre-K Billing Mismanagement Cost District $2 Million
CPS Unveils Progress Reports to Advance 'Learn. Plan. Succeed' Program
5 CPS Schools Selected for Green 'Schoolyard Transformations' in 2019
---