Two major projects – both of them controversial – got the full City Council vote Wednesday in Mayor Rahm Emanuel's second-to-last meeting.
In the face of some vocal opposition, a majority of aldermen voted to pass both the $6 billion Lincoln Yards project and the $95 million police training academy.
With the approval of an $85 million construction and design contract, a firm called AECOM will build the academy in the North Lawndale neighborhood. City Council approved the project by a 38-8 vote despite very vocal opposition, beginning with protests throughout the building and inside council chambers. Aldermen and community groups opposing the project say the money would be better spent on neighborhood programs.
"Let's stop this measure and let's instead invest this money in our neighborhoods and get it right once and for all," said Ald. Carlos Ramirez-Rosa (35th Ward).
But supporters say they believe the West Side desperately needs the development, and that there are far more community members in favor of the project than opposed to it.
"Every alderman on the West Side won their election," said Ald. Walter Burnett (27th Ward), who could barely be heard above the chants of protesters. "Every alderman on the West Side supported this police academy."
Emanuel lauded the passage of the academy, promising the development would spur economic activity, and noting that tensions ran high on the issue.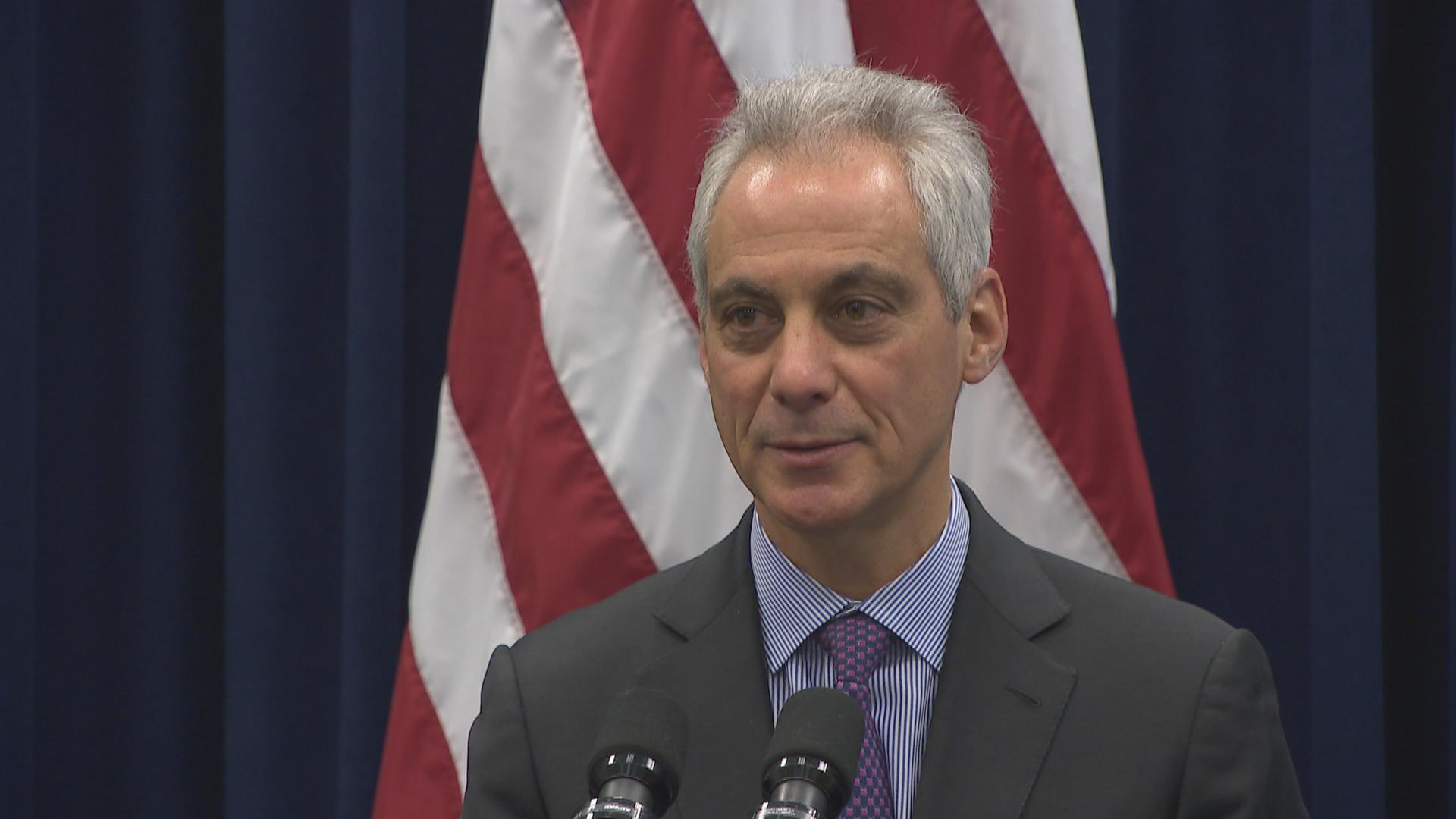 Mayor Rahm Emanuel speaks to the press following City Council's approval of two controversial developments on Wednesday, March 13, 2019. (Chicago Tonight)
"There's a lot of passion, but not just the passion you're reporting," he said. "There's passion for people that are for this."
Meanwhile, the controversial Lincoln Yards development passed its final regulatory hurdle Wednesday as it relates to zoning. City Council approved the zoning change that would allow the $6 billion mixed-use development on the parcel of land along the Chicago River between Armitage and just south of Fullerton Avenues – right in between the Bucktown and Lincoln Park neighborhoods.
Proponents say the plans have been vetted through dozens of community meetings, while opponents say the scale of the project is off for that area. The Lincoln Yards TIF, worth upwards of a $1 billion, will have to be considered separately at the next City Council meeting – but the approval Wednesday means developer Sterling Bay is free to start breaking ground on the project.
In other City Council business, aldermen approved public subsidies to help renovate the Congress and Uptown theaters.
Wednesday's furious action comes amid tumultuous times for City Council. Some longtime aldermen lost their seats in the Feb. 26 election; others are in contested runoffs, and two were not present Wednesday because they are under federal indictment or investigation. That includes Ald. Danny Solis, 25th Ward, who has skipped all City Council business since news broke in January that he wore a wire to secretly record 14th Ward Ald. Ed Burke. Solis hasn't been seen in his ward, either.
A seal on the federal search warrant affidavit that outlined a laundry list of allegedly corrupt activities by Solis was lifted by a federal magistrate judge Wednesday after the Chicago Tribune fought to get it unsealed. The Chicago Sun-Times had obtained a copy of the document when it was accidentally unsealed in federal court.
Emanuel was asked whether Solis should resign or give back pay since he hasn't effectively been showing up to work for weeks, Emanuel said no and that residents of that ward should sit tight – a new alderman will be elected in three weeks.
Follow Paris Schutz on Twitter: @paschutz
---
Related stories:
Lincoln Yards Project Passes Another Hurdle
Chicago Planning Commissioner David Reifman on Making Big Plans
5th Ward Candidate Forum: Incumbent Ald. Hairston vs. Calloway
16th Ward Candidate Forum: Incumbent Ald. Toni Foulkes
---