Humans Are Destroying Chimpanzees' Culture, Study Finds
A chimpanzee in the Goualougo Triangle, part of the Nouabale-Ndoki National Park in the Republic of Congo. (Kyle de Nobrega / Wildlife Conservation Society)
The complex and relatively advanced cultures of chimpanzees are disappearing as human beings encroach on previously undisturbed areas of African forest, according to a new study involving researchers from Lincoln Park Zoo.
Other than humans, wild chimpanzees are known to exhibit the most diverse set of tool-using behaviors among all large primates, such as using sharpened sticks to acquire food.
But results from a 10-year study across central Africa show that the number of such complex behaviors documented across chimpanzee communities is declining as a result of deforestation, habitat degradation, poaching, disease and other factors influenced by humans.
The study's findings, published last week in the journal Science, mean that unique cultures of chimpanzee social groups are being destroyed, even as humans continue to learn more about the scale of the animal's tool-using behaviors across Africa.
"It is often said that as we come to appreciate other societies' cultures, the more likely we are to make conscious decisions to coexist in harmony," said David Morgan, co-director of Lincoln Park Zoo's permanent research site in the Republic of Congo's Nouabale-Ndoki National Park, in a statement. "Having now been shown to be responsible for their decline, it is our species' responsibility to change attitudes and policies that influence the fate of chimpanzees and their cultures before they disappear."
The study, led by the Max Planck Institute for Evolutionary Biology and the German Centre for Integrative Biodiversity Research, covered 46 locations in 15 countries and involved researchers from Lincoln Park Zoo, the Wildlife Conservation Society and more than 20 other organizations. It is considered the most complete description of chimpanzee culture to date.
Researchers from the zoo and WCS have for years conducted research on a remote group of chimpanzees in the Goualougo Triangle, an area about half the size of Chicago on the edge of the Nouabale-Ndoki National Park. The site has been called "the last Eden" because it has remained almost entirely untouched by humans.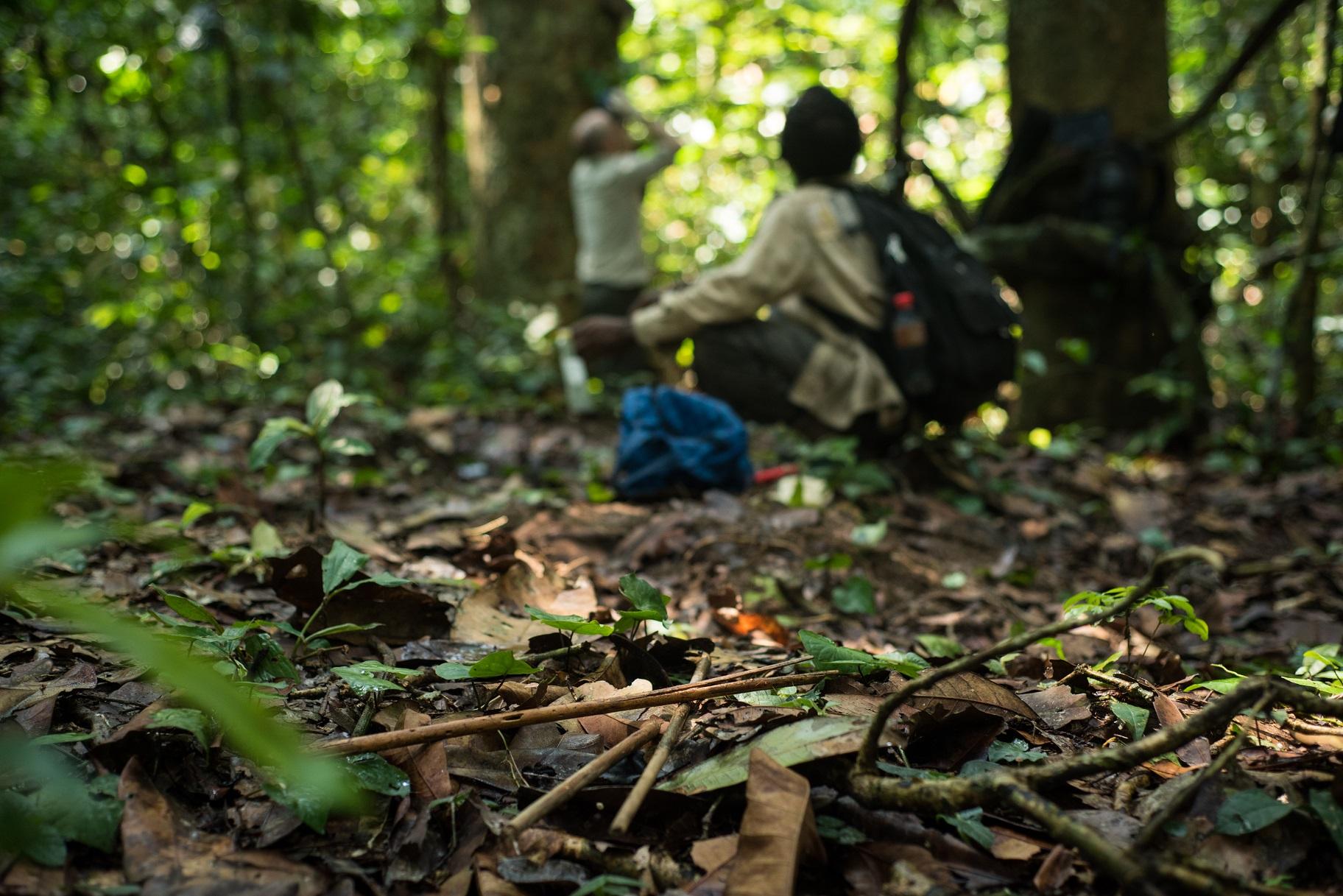 Researchers study chimpanzees in the Goualougo Triangle (Kyle de Nobrega / Wildlife Conservation Society)
From 2000 to 2013, however, large-scale logging efforts resulted in the loss of nearly 80 percent of intact forests across Africa, according to the study. The expansion of roads related to the logging activity now poses threats to chimpanzees in once isolated areas.
According to WCS, more than 10,000 miles of forest surrounding the Nouabale-Ndoki National Park are currently leased for logging. The area is home to more than 40 percent of Africa's endangered central chimpanzees.
"We risk destroying these forests before even discovering what secrets they hold," said Emma Stokes, director of WCS' Central Africa unit, in a statement. "These findings reinforce the broader values of intact forests for climate and biodiversity."
Contact Alex Ruppenthal: @arupp | aruppenthal@wttw.com | (773) 509-5623
---
Related stories:
Jane Goodall: 'Human Population Growth' the Biggest Threat to Chimpanzees
Lincoln Park Zoo Assists in Arrest of Notorious Elephant Poachers
Lincoln Park Zoo Hosts Conference on Reintroducing Endangered Species