The federal corruption case against former U.S. Rep. Aaron Schock is likely to come to a rare conclusion, and it calls into question some apparent missteps along the way.
The case started with 24 felony counts against Schock and is likely to end with all of those charges dropped. His campaign fund, Schock for Congress, pleaded guilty Wednesday to a much lesser misdemeanor count of failing to maintain accurate campaign finance records. Some veteran former prosecutors see this as an almost unprecedented outcome in a public corruption case, and likely reflective of the problems the case has seen since it was brought in 2016 to the U.S. attorney's office in Central Illinois.
Sensational tabloid stories told of Schock, the former Republican congressman from Peoria, decorating his Washington office in the style of the British TV series "Downton Abbey." There were also allegations Schock was helping to support a lavish lifestyle partially through the use of his campaign money.
Wednesday's agreement is known as deferred prosecution. As part of the deal, Schock will pay back his campaign about $68,000, and he'll also have to pay tens of thousands of dollars to the IRS. He has admitted to some questionable behavior, including using his position to gain coveted tickets to sporting events like the Super Bowl and the World Series at face value, and then reselling them for a profit, but failing to report that money as income.
Schock will have to stay out of legal trouble for the next six months in order for the felony charges to be dropped. Facing reporters Wednesday at the Dirksen Federal Building, Schock said he felt that the original prosecutors got it wrong and the Chicago prosecutors got it right.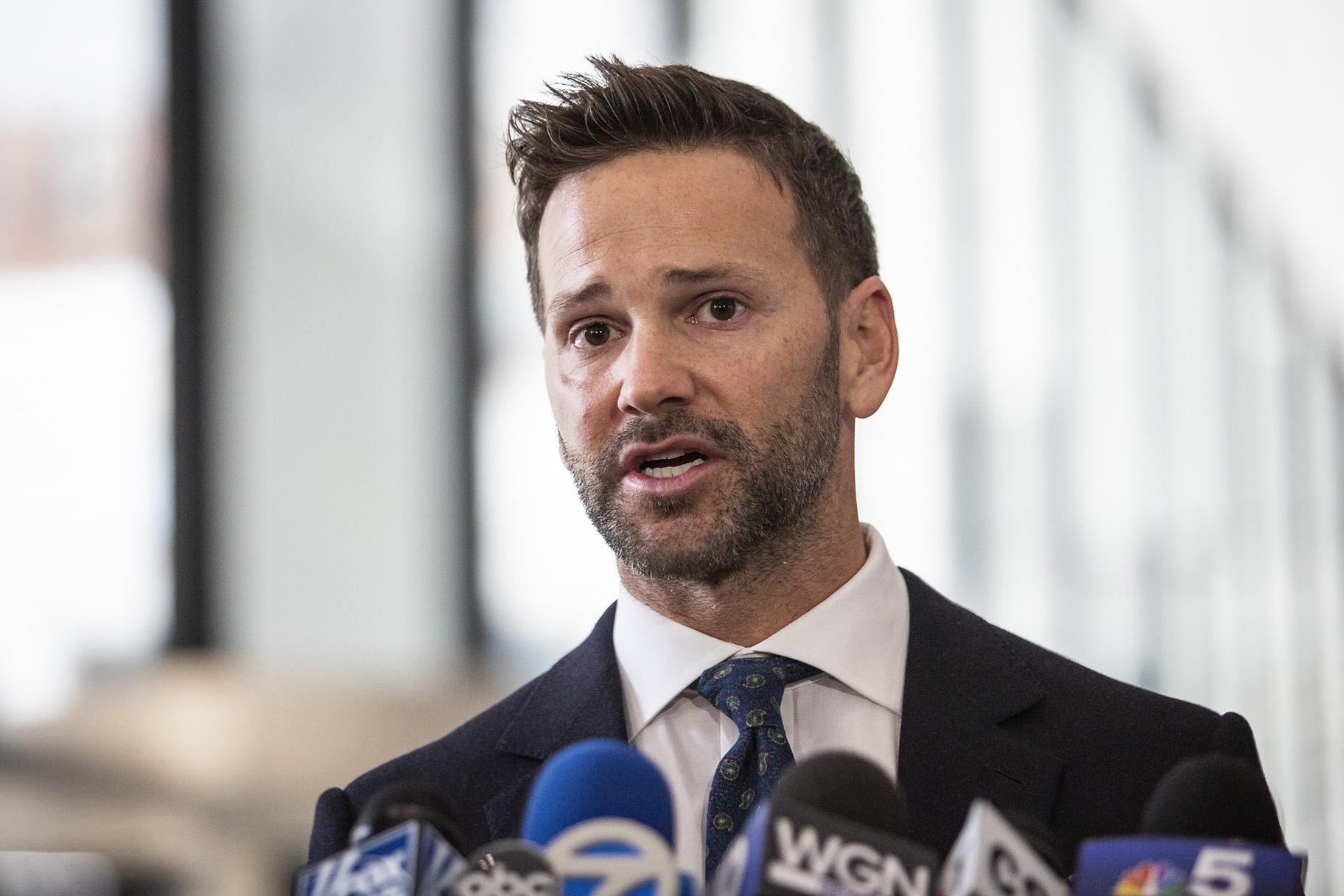 Former U.S. Rep. Aaron Schock speaks to reporters at the Dirksen Federal Courthouse on Wednesday, March 6, 2019. (Ashlee Rezin / Chicago Sun-Times via AP)
"My office and I could have done a better judge in the administrative functions in the back end of our office," Schock said. "I attempted then and now to make restitution for those mistakes, but there's a difference between mistakes and crimes. There was never an attempt by my staff or me to commit crimes."
Meanwhile, the U.S. attorney's office offered this public statement:
"We believe this agreement provides a sensible resolution. It's a just result and provides the necessary public accountability."
The case was originally brought in Schock's home jurisdiction of Central Illinois. There are allegations of some questionable prosecution methods, and indeed that prosecutor and then that entire office had to recuse itself. The case was moved to the Northern Illinois district in August. Prosecutors there conducted a thorough review and found that this was the fairest outcome.
Former federal prosecutor Patrick Collins, an attorney at King and Spalding LLP, says prosecutors had to effectively cut their losses because there wasn't much of a case left.
"This is a victory for Mr. Schock, and it's a real black mark for the prosecution that started in the Central District," Collins said. "What they clearly concluded was there was no real case here to prosecute, and it was a tainted case. And what you do in this cases is cut a deal."
After six months, Schock will have a clean record. He's even eligible to run for public office again, a possibility he left open Wednesday. But he spared no words about the toll this has taken on his life.
"I feel I've been wronged in this process by a prosecutor who saw me as his ticket to stardom, and who was allowed to go unchecked for years at great expense to me personally, my family and friends, and yes, the taxpayers. I think it's unfortunate that he has not been held to account," Schock said.
Collins said that while Schock may be free of a criminal record, the damage has been done to his reputation.
"Justice delayed is justice denied, and I think the length of this takes a toll humanly, emotionally and financially," Collins said. "Even though Mr. Schock won, there's an argument that he suffered more than he should have, given the end result."
Follow Paris Schutz on Twitter: @paschutz
---
Related stories:
Schock to Reimburse Funds in Exchange for Dropped Charges
Former Congressman Aaron Schock Indicted for Fraud, Theft of Government Funds
The Downfall of Congressman Aaron Schock
---