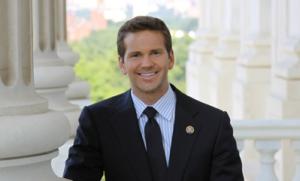 Central Illinois Congressman Aaron Schock has resigned effective at the end of this month. Schock had come under intense scrutiny for his questionable use of campaign and taxpayer money to fund his lifestyle. His travels have been documented in Schock's own Instagram account. The 33-year-old Republican had been considered a rising GOP star and had been elevated to the position of Senior Deputy Whip.
The four-term congressman was facing new questions about more than $170,000 worth of mileage reimbursements he billed to taxpayers, when a Politico investigation found that the car's odometer had half that amount of mileage on it.
It was the latest in a steady drip of spending and ethics scandals that have dogged Schock in the past six weeks – which culminated in his surprise decision today to give up the office – apparently warning nobody in his party before issuing a statement saying: 
"I do this with a heavy heart. Serving the people of the 18th District is the highest and greatest honor I have had in my life. I thank them for their faith in electing me and letting me represent their interests in Washington. I have given them my all over the last six years. I have traveled to all corners of the District to meet with the people I've been fortunate to be able to call my friends and neighbors.

"But the constant questions over the last six weeks have proven a great distraction that has made it too difficult for me to serve the people of the 18th District with the high standards that they deserve and which I have set for myself."
Schock's troubles strangely started with a Downton Abbey-inspired redecoration of his congressional office. He had long been known for his extravagant travel habits – mainly because he called attention to himself with his Instagram account, posting pictures tangoing in Argentina, parachuting, jumping on glaciers, and hobnobbing with celebrities and rock stars. He was eventually forced to reimburse taxpayers $40,000 for the lavish Downton Abbey-style redecoration of his office.
View a slideshow of photos from Schock's Instagram account.
But that was the tip of the iceberg, with reports raising questions about who paid for all of those luxurious trips which in many instances were taxpayers, lobbyists and other outside groups. There was an all-expense-paid trip to India for Schock and a personal photographer, whom Schock later hired full time onto his staff to document his exploits. 
Also, Schock's constant use of private planes, including to a trip to a Bears game, came under scrutiny. There were also revelations that he'd relied on political campaign donors to amass a personal fortune in the millions. As recently as a week and a half ago, the embattled congressman appeared in Peoria to say he wasn't going anywhere.
"I'm proud of the energy and commitment to the district," Schock said at the time. "I know that when I take a trip and post photos online, it can create the misimpression that I am out of touch, or an image that's not worthy of my constituents. I have tried to balance being a young congressman, and doing things differently and more open with maintaining a level of seriousness on the issues of the day. I know some days I have failed at this."
Schock was reportedly under Congressional Ethics inquiries, which will now end as a result of his resignation. But any potential criminal cases can continue. The surprise news caused a flurry of reaction from colleagues and other public officials today.
"Honesty and integrity are of utmost importance when serving the public. Today is an unfortunate day for the people of the 18th Congressional District, the State of Illinois, and the Illinois Republican Party," said Tim Schneider, chairman of the Illinois GOP.
South suburban Congressman Adam Kinzinger, a colleague and friend said in a statement:
 "Aaron was constantly looking for ways to end partisan gridlock, never afraid to reach across the aisle to find real solutions for American families. I was saddened to learn of his resignation and wish him the best."
Meanwhile, U.S. Sen. Dick Durbin offered this statement:
 "The allegations against Congressman Schock are serious, raising questions about his expenditure of official funds and campaign funds.  His resignation came as a surprise and reflects the gravity of his situation."
And Gov. Bruce Rauner stated simply:
 "This is a sad day for the people of Illinois and the 18th District."
The governor has five days from the time Schock steps down to set a date for a special primary and general election. The general election has to be held within 120 days of March 31, so by the end of July.
It'll be a costly undertaking because the 18th congressional district, which covers part of Peoria, Bloomington, and Springfield, encompasses nearly two dozen counties which will have to work with the state board of elections to operate the process.
View a timeline of Schock's career.
--Timeline by Linda Qiu and Travis Cornejo