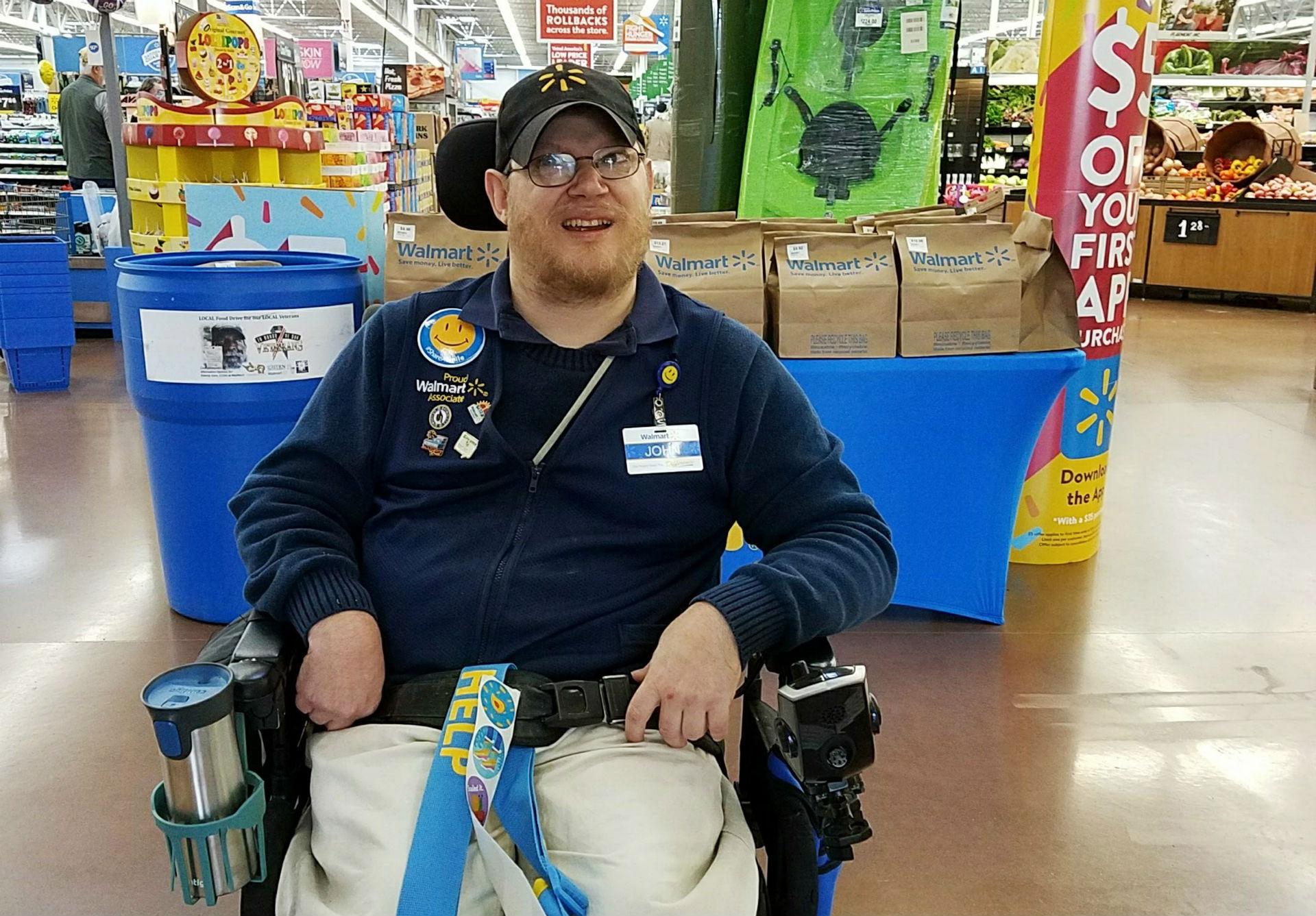 In this April 21, 2018 photo provided by Rachel Wasser, Walmart greeter John Combs works at a Walmart store in Vancouver, Washington. (Rachel Wasser via AP)
For decades, Walmart has employed blue-vested "greeters" at its doors to welcome shoppers. In February, the big-box store announced it would phase out greeters at some 1,000 stores nationwide in favor of an expanded, more physically demanding role.
Walmart told greeters across the country that their positions would be eliminated on April 26 and replaced with the "customer host" role, which requires employees to be able to lift 25-pound packages, climb ladders and stand for long periods of time.
The announcement came as a heavy blow to greeters with disabilities and their advocates.
Abbie Weisberg, CEO and executive director of Northbrook-based Keshet, which serves individuals with intellectual disabilities – including job placement assistance – called Walmart's decision "shortsighted." 
"I don't think if Walmart were to look at its bottom line this is where they're losing money," said Weisberg. "If they flipped it around, they could look at it as a revenue source. How many people come to Walmart because of their greeters and the warmth of their personalities and the authenticity of their hello? That is what I don't think Walmart is realizing."
For people with disabilities, working as a greeter has provided needed income, served as a source of pride and offered a connection to the community.
"We all want to have meaning in our lives," said Weisberg. "The structure also brings something that people with disabilities thrive on."
Walmart first started replacing greeters with hosts in 2016. In addition to welcoming customers, hosts are responsible for helping with returns, checking receipts to deter shoplifters and keeping the front of the store clean. The shift in employee roles comes as Walmart and other chains compete with online mega-retailer Amazon.
The phaseout went largely unnoticed by the public until Walmart announced its second round of cuts last month.
In this Feb. 21, 2019 photo provided by Tamara Ambrose, Ashley Powell poses for a photo at a Walmart store in Galena, Ill. (Tamara Ambrose via AP)
As word spread, first on social media and then in local and national news outlets, outraged customers began calling Walmart to complain, according to the Associated Press. Tens of thousands of people signed petitions. 
In Galena, Illinois, hundreds of customers plan to attend an "appreciation parade" for Ashley Powell on her last day of work as a greeter.
"I love it, and I think I've touched a lot of people," said Powell, 34, who has an intellectual disability. She once rescued a 3-year-old boy who'd wandered into the parking lot and led him back to his parents at checkout, according to the Associated Press.
Walmart did not disclose how many disabled greeters could lose their jobs. The company says that after it made the change at more than 1,000 stores in 2016, 80 to 85 percent of the affected greeters found other roles at Walmart. It did not reveal how many of them were disabled.
In February, Walmart told greeters they would have the customary 60 days to land other jobs at the company. Amid the uproar, the company has extended the deadline indefinitely for greeters with disabilities.
"We recognize that our associates with physical disabilities face a unique situation," Walmart spokesman Justin Rushing said in a statement. The extra time, he said, will give Walmart a chance to explore how to accommodate such employees.
Walmart said it has already made offers to some greeters, including those with physical disabilities, and expects to continue doing so in the coming weeks.
While some advocacy groups worry the company is backsliding, Weisberg doesn't believe Walmart's decision to phase out greeters will have a ripple effect on other companies.
"There's always a worry about employment in the disability community," Weisberg said. "There could be a ripple effect, but I'm hoping for the opposite. I hope more people will see the joy and value the relationship building with people who have challenges. ... There is such value in hiring someone with a disability."
The Associated Press contributed.
Contact Kristen Thometz: @kristenthometz | [email protected] | (773) 509-5452
---
Related stories:
Illinois Minimum Wage to Rise to $15 by 2025
Owners of Logan Square Restaurant Add Surcharge to Menu
Boeing Soars and Lifts Markets with It
---