Controversial Lincoln Yards TIF Moves Forward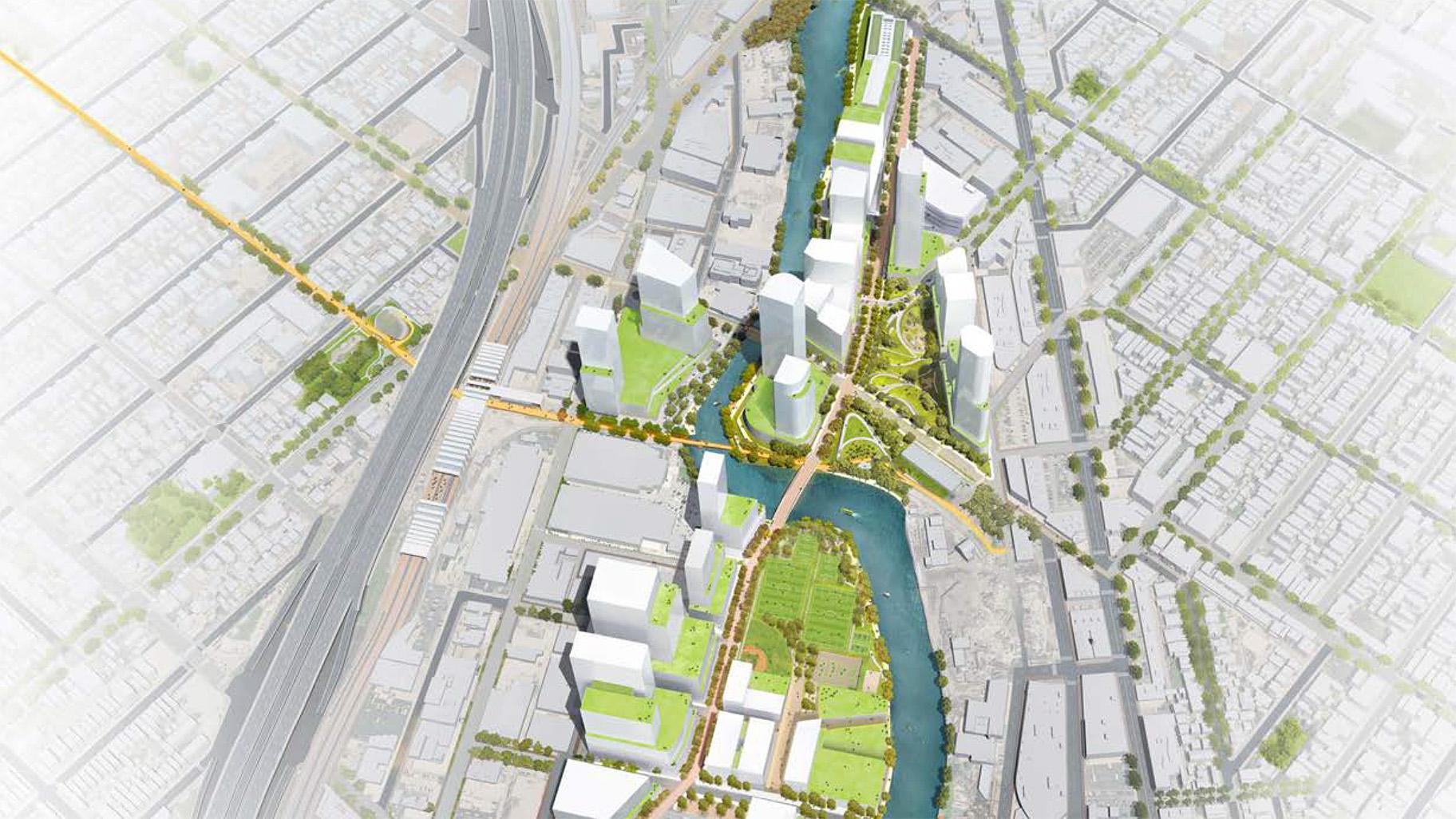 An artist's rendering of the Lincoln Yards master plan released in January 2019. (Courtesy Sterling Bay)
An obscure city commission voted Tuesday to approve a $900 million tax increment financing district that will help fund infrastructure upgrades for the proposed $6 billion Lincoln Yards development.
The city's Community Development Commission voted unanimously to approve the controversial new taxing district. The vote came after hours of testimony from residents, public officials, community groups, representative from the real estate and labor communities, and others both in favor and opposed to the TIF. The bulk of the Lincoln Yards development will fall in Ald. Brian Hopkins' 2nd Ward. He says the city urgently needs the economic development and estimated 24,000 jobs the project will create.
"We can't wait any longer," Hopkins said. "We need to act now."
But Ald. Michele Smith, 43rd Ward, spoke out in opposition to the project, saying the Emanuel administration needs to answer more questions before moving forward.
"We've been told we cannot wait, and there is no alternative to this TIF," said Smith, who has opposed the project on the grounds that it doesn't provide enough public parkland for the neighborhood. "But this is a false choice. There is a capital bill; there are federal funds that we seek every year."
Smith also claimed that city taxpayers were bearing all of the risk for the project, and that they'd have to pay the infrastructure costs regardless of whether developer Sterling Bay makes good on its proposal to build out the entire $6 billion project.
City Planning and Development Commissioner David Reifman countered Smith's claim, saying that Sterling Bay would be fronting the costs for the infrastructure upgrades, but would only be reimbursed by the city if the project is built. He also said that TIF funds were the most logical source of revenue for the needed fixes.
"To the extent there are state and federal funds available, the TIF will be reduced," Reifman said. "But we have monumental infrastructure needs, and we'll have to make decisions where state and federal funds get spent."
Some $490 million of the proposed $900 million TIF is slated for projects that will be within the Lincoln Yards development. That breaks down to: $110 million for reconstruction of a busy intersection at Elston and Armitage avenues, $96 million for new roadways, $160 million for bridges, $54 million for roadway improvements, $25 million for an extension of the 606 elevated trail, and $45 million for a wall along the Chicago River.
Separately, the city's Plan Commission last month approved the zoning changes to build the development on the site of the former A. Finkl and Sons steel plant.
The project now moves to the City Council. The council's new Zoning Committee chair, Ald. James Cappleman, 46th Ward, has already indicated that Lincoln Yards will have a tough time passing through his committee unless Sterling Bay agrees to build more affordable housing units within the development.
Follow Paris Schutz on Twitter: @paschutz
---
Related stories:
Growing List of Aldermen Speak Out Against Lincoln Yards Development
Chicago Plan Commission Unanimously Approves Lincoln Yards Development
Activists, Local Business Leaders Push Back Against Lincoln Yards
Tall Buildings, More Park Space in $6 Billion Lincoln Yards Master Plan
---