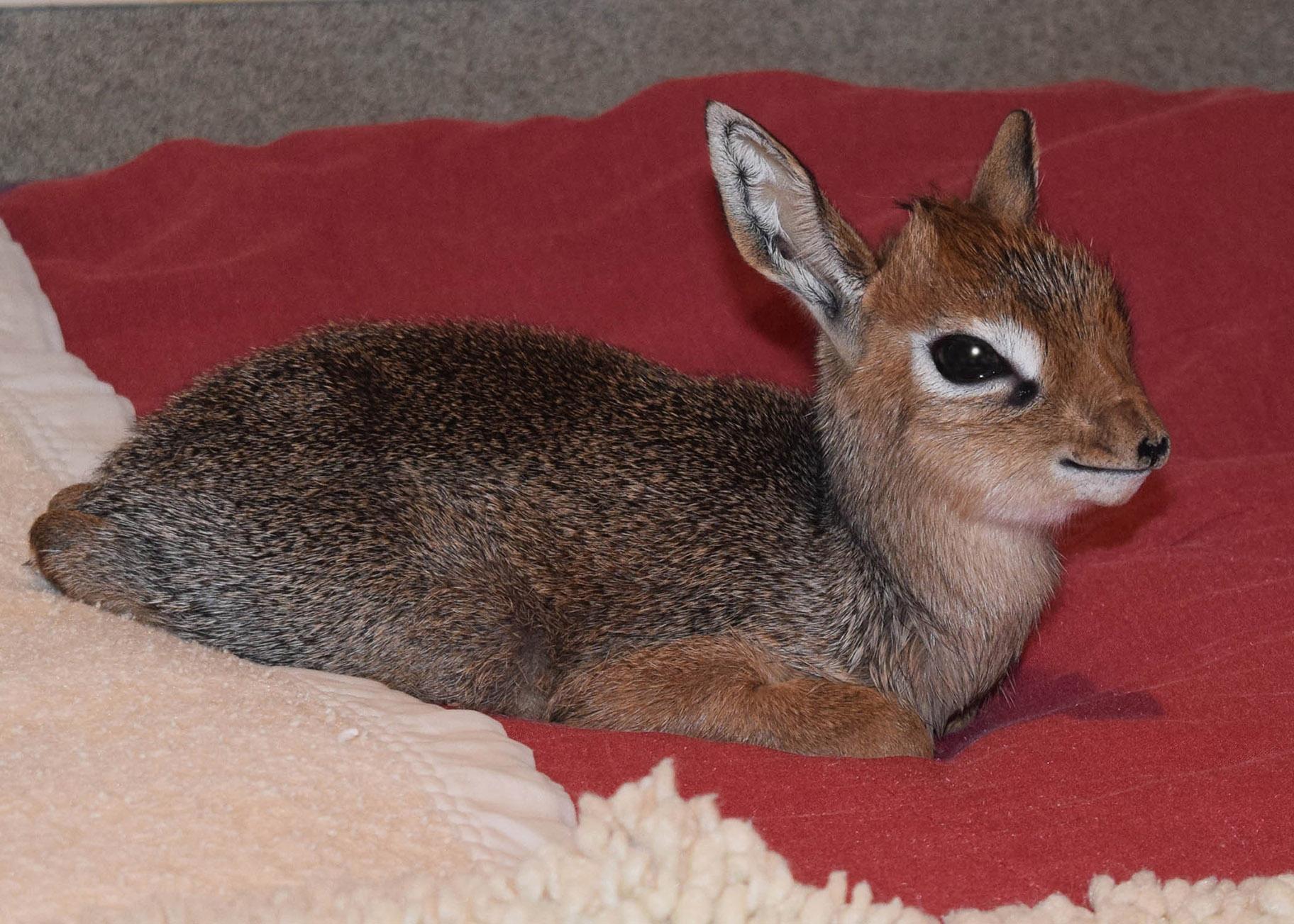 Valentino, a small African antelope, was born Thursday at Brookfield Zoo. (Cathy Bazzoni / Chicago Zoological Society)
A tiny African antelope born early Thursday at Brookfield Zoo received a name befitting his Feb. 14 birthday: Valentino.
The male calf, which weighed just more than 23 ounces at birth, belongs to a species known as Kirk's dik-dik that is one of the smallest antelopes in the world. Valentino is expected to gain up to 1.5 ounces a day over the first three weeks of his life but will weigh just 12 to 14 pounds once fully grown, according to the zoo. 
The newborn antelope is the second successful birth for his mom, Chloe, and the first for the sire, Captain.
Valentino will be hand-reared initially, a practice that ensures he will develop a calm demeanor as an adult, according to the Association of Zoos and Aquariums' Species Survival Plan for tiny African antelopes.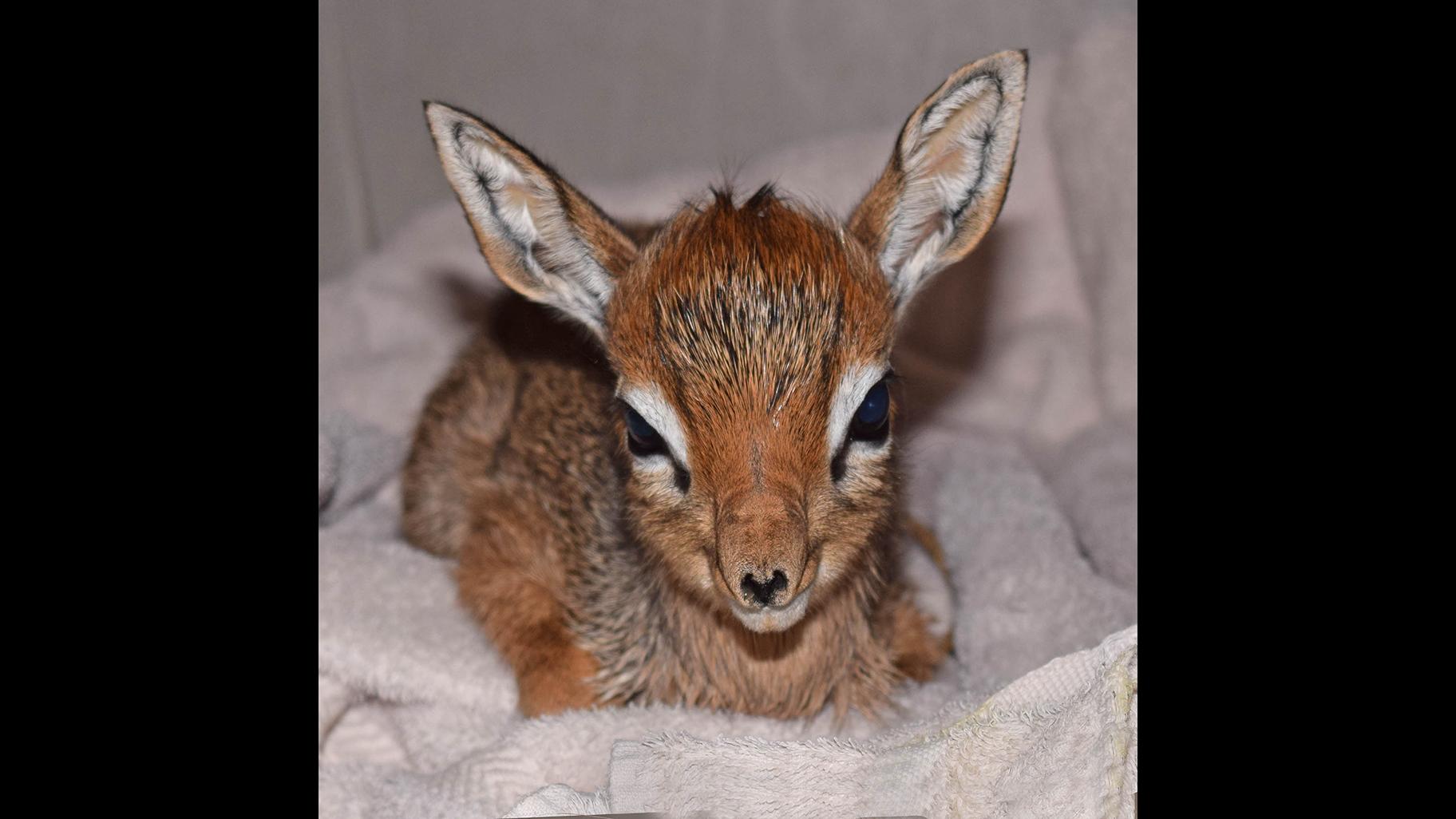 A newborn tiny African antelope named Valentino weighed in at 23 ounces (Cathy Bazzoni / Chicago Zoological Society)
The calf is currently receiving a bottle of milk formula every four hours. Once he is about one week old, Valentino will start eating solid foods.
Kirk's dik-diks are known by the white ring surrounding their dark eyes. The small antelopes, which vary in color depending on their habitat, have developed a self-cooling mechanism in their snouts that keeps them from overheating, according to the zoo. This feature also reduces their need for water.
Still, Kirk's dik-diks are primarily nocturnal in order to avoid the heat and prevent water loss.
The species can live in both dense forests and open plains and is found throughout Africa.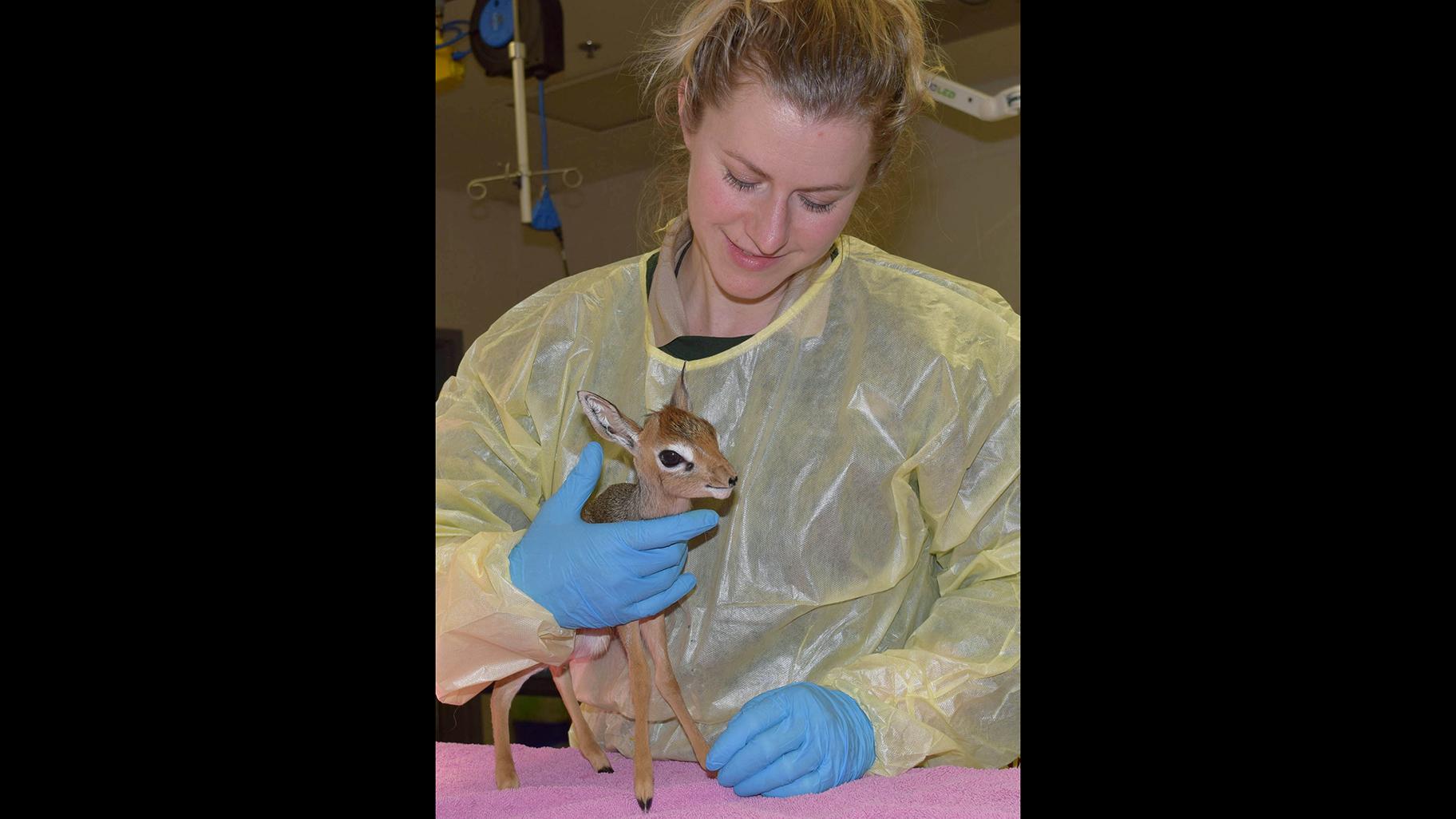 Alicia Grano, an animal care specialist at Brookfield Zoo, with Valentino, a Kirk's dik-dik antelope (Cathy Bazzoni / Chicago Zoological Society)
Although the antelope's population is stable throughout much of its range, its numbers are declining in some areas that are more densely inhabited by humans.
There are currently 32 Kirk's dik-dik antelopes living in 17 North American zoos.
Contact Alex Ruppenthal: @arupp | [email protected] | (773) 509-5623
---
Related stories:
New App Developed at Brookfield Zoo Helps Optimize Dolphins' Diets