Like many Chicago couples, Darren and Genevieve Coady met each other at a bar – in their case, the Jefferson Tap.
"We both lived across the street from each other there and we met during the NCAAs [college basketball tournament] and hit it off," Genevieve said.
Darren adds: "I actually lived there across the street for like 10 years waiting on her, she finally moves next door and I was at that bar a long time waiting."
And like many other Chicago couples, they found they loved spending time together in the wild forests and pristine lakes of Wisconsin.
"When I met Genevieve, one of the first trips we took was she took me camping, and I was like, 'This is really cool,'" Darren said.
They married, and before long, there was a third Coady, Oliver, to bring along on camping trips.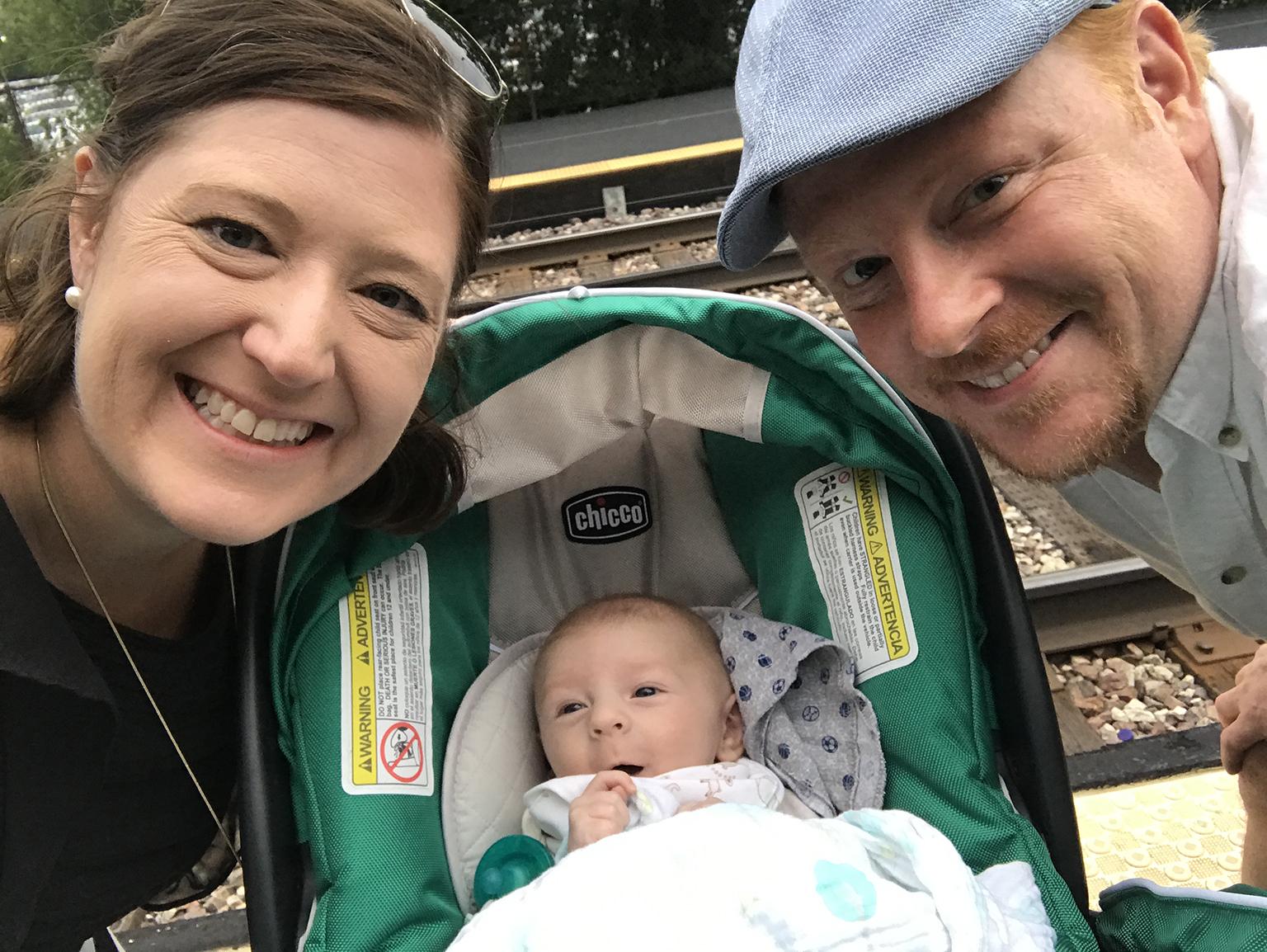 Genevieve and Darren Coady with their son, Oliver. (Courtesy Genevieve Coady)
"Three weeks after he was born, we went to a cabin for rent with a pontoon boat in the west side of the Northwoods in Wisconsin, and there was a resort on the lake for sale and I kind of half-jokingly said we should do that someday," Genevieve said.
But unlike those of us who only daydream about being on permanent vacation, the Coadys took the leap. After ditching their jobs in consulting and nonprofit management, they bought the North Twin Lodge in Phelps, Wisconsin, last fall.
This winter, they christened the property with a new name from Darren's side of the family.
"Growing up, my parents bought this house on a point on a hill," he said. "It was the dead end of the driveway, and they put in this big picture window on the point, so they called it 'Coadys' point of view.'
"Fast forward, we're looking at resorts, and I'm trying to come up with a good name – you know, all these names start to blend together – eagles, trees, fish – they all start to sound the same," he continued. "So we found this place and the shape of the property, there's a point out on the lake, and the property owns all that frontage, so I was like, 'Coadys' Point of View' fits pretty well, and I like that it has a dual meaning. It is a physical point, but it's also kind of a perspective."
The Coadys' point of view is that we should all make time to unwind.
"We believe in the idea of vacation," Genevieve said. "We think it is so important for people to get away and recharge."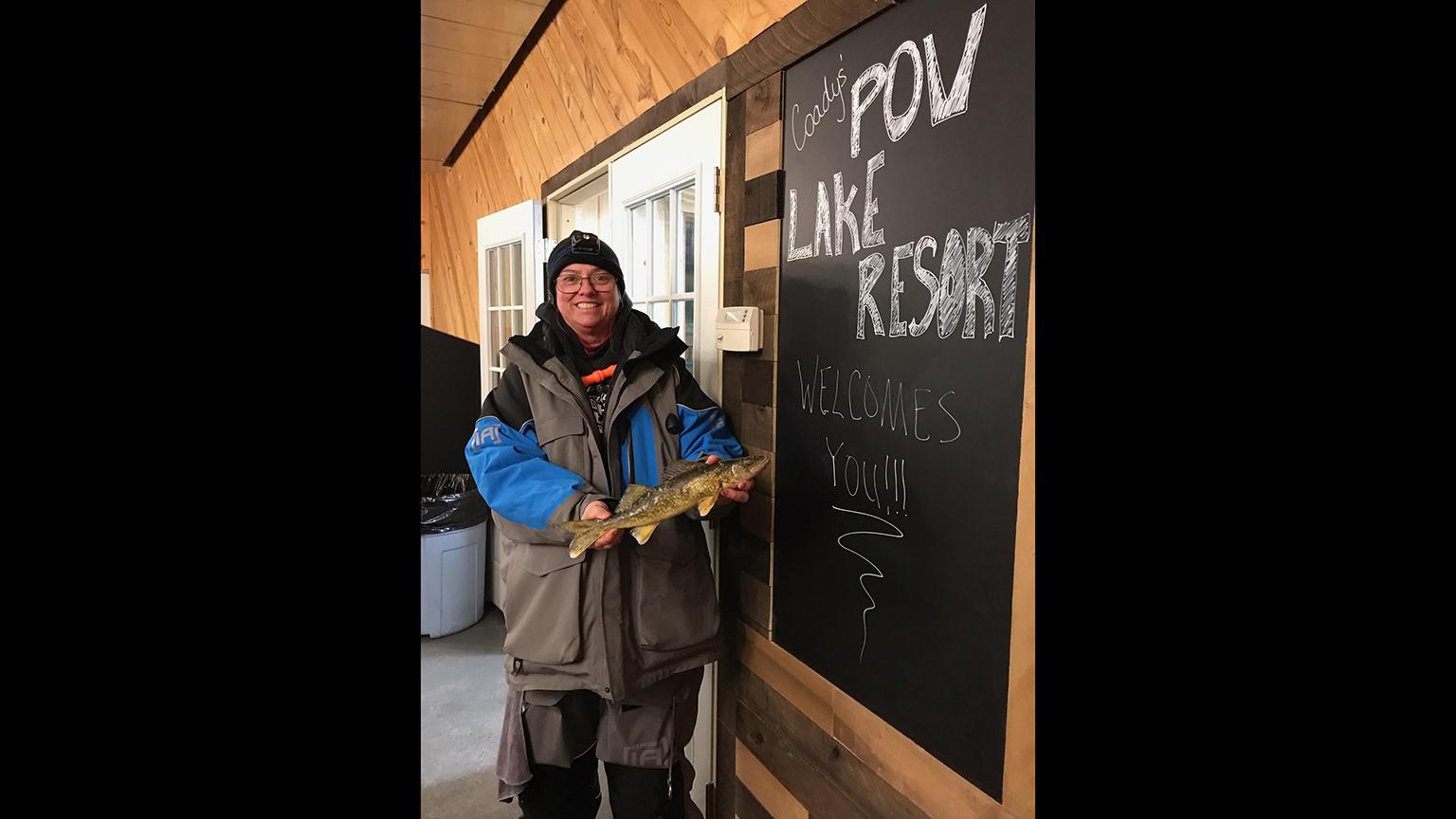 Jan Michalets poses for a photo with her catch at the Coadys' Point of View Lake Resort in Wisconsin. (Courtesy Genevieve Coady)
And to them, the best way to do that is by experiencing the great outdoors – even in the winter. Genevieve says that family run resorts like Coadys' Point of View were once the rule in Wisconsin. But these days, they're becoming the exception.
"In the last 20 years or so many of these properties have been sold off or 'condoed' off, so while they were handed down generation to generation, somewhere along the line a new generation didn't really want to take it over," she said. "Folks don't want to come buy them or do the projects to fix them up – with the amount of money and effort it takes to put into a lifestyle property like this, you know, they're kind of going away."
Still, the Coadys are convinced they've got the bait to reel in Chicagoans who want a taste of the outdoors – but want Wi-Fi too.
"We feel from the research we did that there's a sweet spot between hotel-grade cleanliness with the idea of being able to have your own space and being able to have all the amenities of home, but also the amenities of the resort," Genevieve said.
Although their past lives prepared them for starting their own business, the Coadys admit they weren't quite prepared for everything. Darren recalls a plumbing surprise – tree roots in a toilet.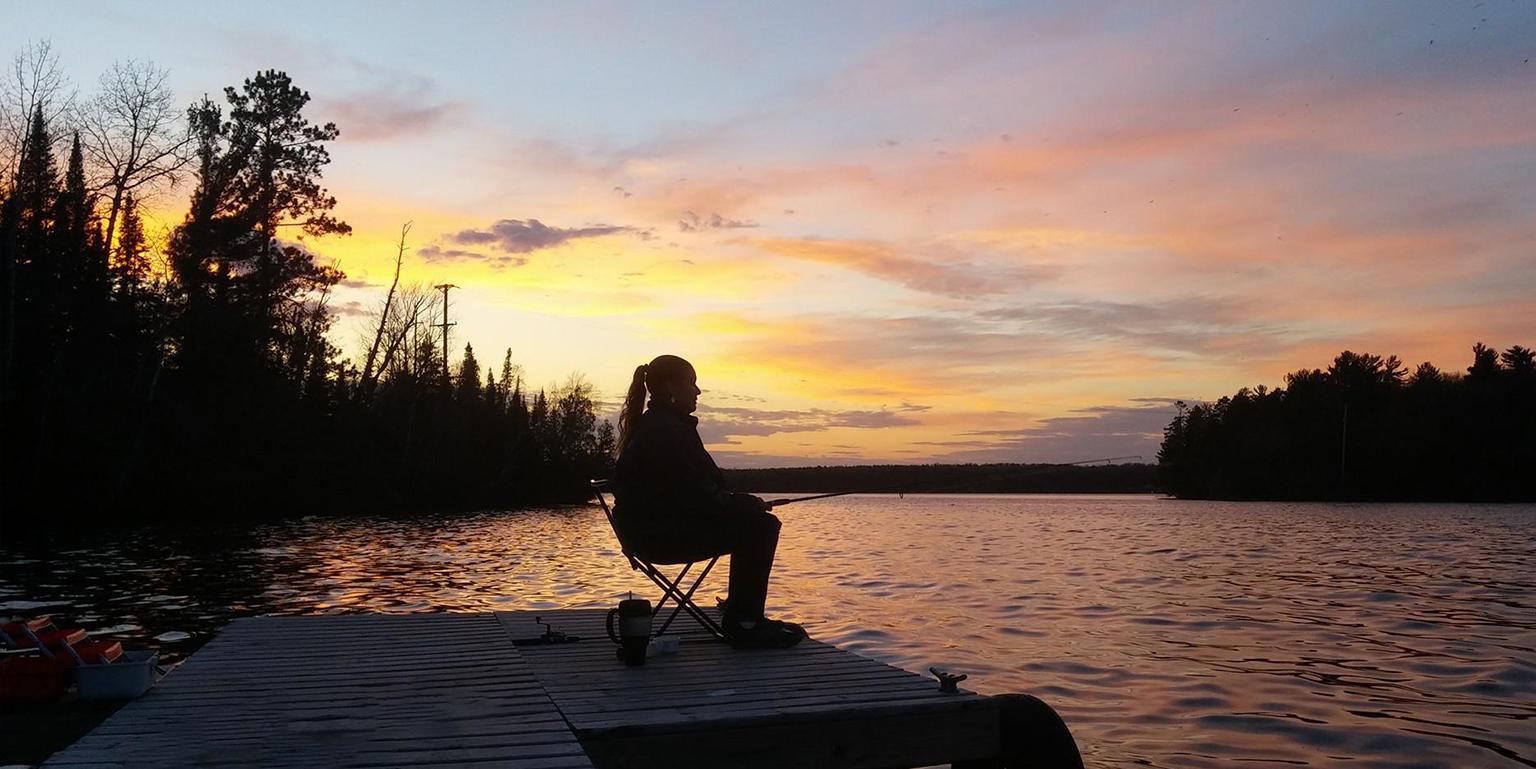 The sun sets over the lake at Coadys' Point of View resort in Wisconsin. (Courtesy Genevieve Coady)
"It's one of those things where, okay, we're going to put in some new flooring in the bathroom, and when they popped the toilet off, they said, 'Um ... you should see this,'" he said. "So there were a few surprises. You know how you get into renovations and that leads to two or three other things."
But plumbing aside, so far, Darren reports the family is settling in nicely.
"The Northwoods is amazing – I think I lost count of the different animals, obviously the bald eagles are everywhere, that's amazing," he said. "You don't get that in Chicago obviously. And the stars – I joke that Oliver is going to get so bored with the stars and we're going to take him to Chicago for vacation and he'll see the lights and think that's so amazing!"
He adds, "I haven't had time to shave in a long time, so I'm embracing the full Northwoods environment here."
And as they get ready for their first summer of operation, Genevieve and Darren hope they'll inspire a new generation of Chicagoans to start their own Northwoods traditions.
"This place is a place where people can come create their own memories for generations," Genevieve said. "This is a labor of love, it's a lifestyle business – it's a full-time commitment, and we plan on being here a very long time."
And if it doesn't work out?
"Worst case scenario, we get to live on the lake for a while and go fishing," Darren said.
---
Related stories:
Exploring the World of Camper Culture With WGN's Dave Hoekstra