By the time Mike Starcevic headed to work this afternoon, Bryn Mawr Avenue on the city's North Side was slick but mostly snow free. A good thing since Starcevic has to commute on a bike.
"Unfortunately," said Starcevic, "I lost my license a couple of months ago and I can't drive a car and I need to get to work."
Many Chicagoans woke up to something they haven't had much occasion to do this winter: dig out and set up dibs. West Ridge resident Shira Ruben shoveled snow from around her car onto the sidewalk. This, she says, after having come home Sunday from a vacation in warm and sunny Phoenix. "We came back to this beautiful weather," she said. "You get used to it. I can't complain too much about the weather. I choose to live here."
At O'Hare International Airport, where official snowfall is measured, only a little over 4 inches of snow had accumulated by midday on Monday. That was on the lower end of snow totals in the area, with some places getting upwards of 7 inches. But while nowhere near a record, the snowstorm was strong enough to force the cancellation of more than 1,000 flights at O'Hare and Midway.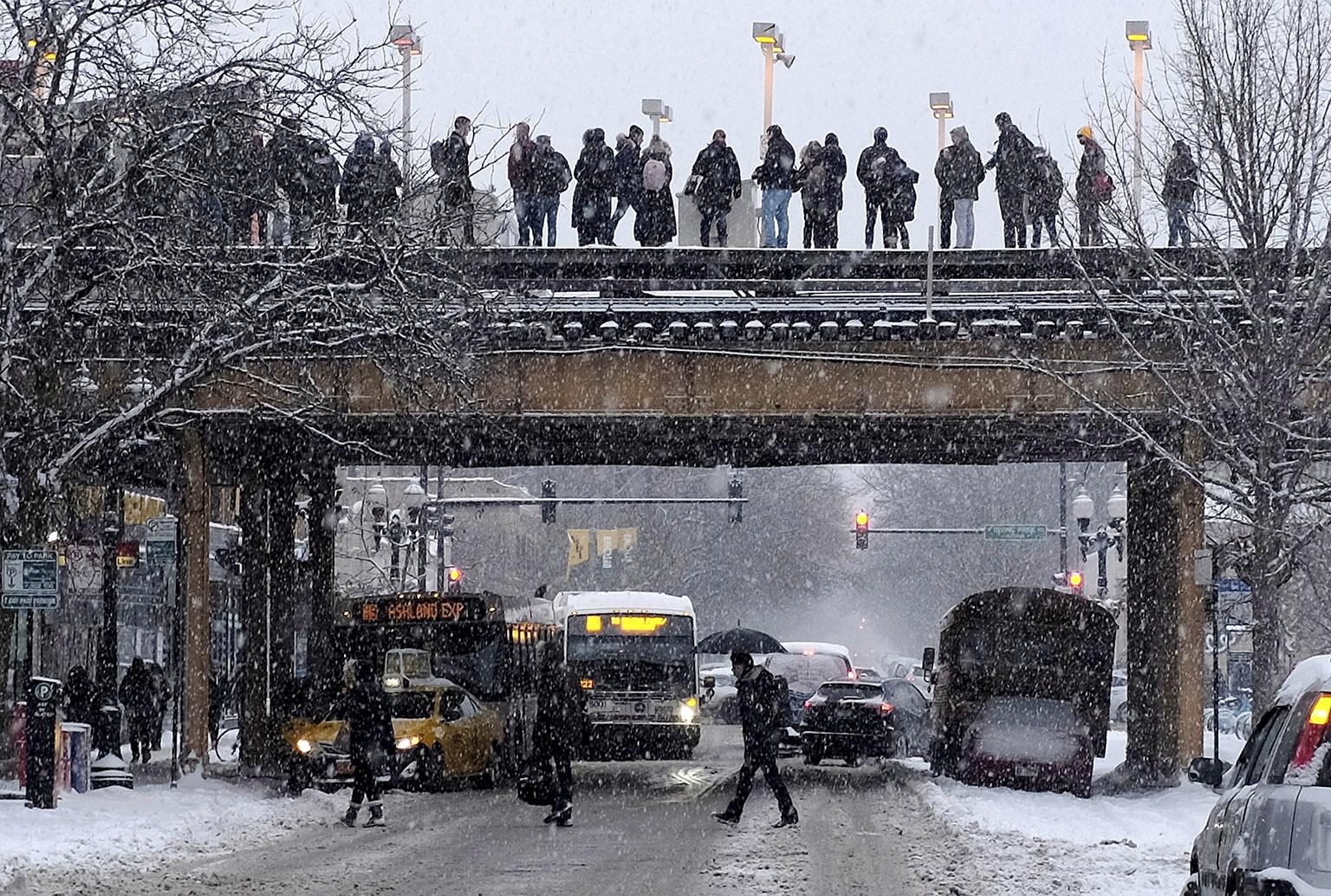 Commuters wait for a train as snow falls Monday, Jan. 28, 2019, in Chicago. (AP Photo / Kiichiro Sato)
The Chicago Department of Streets and Sanitation says it had its entire contingent of more than 300 snowplows and salt spreaders on the streets overnight. But the fleet was hampered by an unrelenting snowfall in the early morning hours. At a press conference Monday at the Chicago Office of Emergency Management and Communications featuring multiple city department heads, Streets and Sanitation Commissioner John Tully said, "The heaviest snow fell probably between 4 and 7 this morning. [It] made things a little difficult, but we promise you a better ride home."
More: Track Chicago's snowplows as they move across the city.
The greater concern among city officials are the polar temperatures predicted to arrive in the area starting Tuesday. With a forecast low on Wednesday of around minus 20 and wind chills that could make it feel more than twice that cold, the city says it's expanding warming shelter hours for residents who might need a warm place to stay. "Our city-funded shelters will stay open 24 hours so that residents do not need to leave the facility during the day," said Lisa Morrison Butler, commissioner of the Department of Family and Support Services.
More: Find warming centers in Chicago.
Chicago Public Schools were open Monday but CPS says it will make a decision by midday Tuesday about whether to close on Wednesday when the dangerous arctic blast is expected to arrive. "Student safety is a top priority for our district, said CPS CEO Janice Jackson. "And while cancellations can be disruptive, we will not hesitate to cancel classes if we think we are unable to safely receive students." The schools chief says parents will be notified of school closures via email, robocalls and social media.
For his part, Mayor Rahm Emanuel said he offered Gov. J.B. Pritzker some advice for his first winter in office when it comes to the state's responsibility toward the homeless. "Whether they are under Lower Wacker or on the side of a highway, they're homeless," said Emanuel. "And I don't want anybody falling through the cracks because one department wasn't coordinating with another department."
Until now, the winter of 2018-19 seemed to be progressing unexceptionally. But by midweek, it could be one for the record books.
---
Related stories:
Chicago Could Break its Record for Coldest Temperature
Chicago Zoos to Close in Anticipation of Extreme Cold
Much of Illinois to Get Snow, Record-Breaking Cold
Snow Much Fun: Cool Activities for Cold Weather
Chicago Winter Overnight Parking Ban: Where You Can't Park
Chicago Warming Centers: 113 Places to Escape the Cold This Winter
---