Video: College of DuPage meteorology professor Paul Sirvatka talks about the coming weather.
---
The Chicago area got walloped with 3 to 7 inches of snow Sunday night into early Monday morning, according to the National Weather Service.
At O'Hare International Airport, about 790 flights were canceled Monday morning; about 220 canceled flights were reported at Midway International Airport. 
The area could still see snow flurries and freezing drizzle Monday afternoon and evening, according to Edward Fenelon, meteorologist with the National Weather Service's Chicago office. But, he says, "we're really through with the majority of the snow."
As that snowfall moves out of the area, record cold and wind chills are forecast to move in starting Monday night. Temperatures will be around 3 to 5 degrees by 7 a.m. Tuesday, and temperatures will continue to drop throughout the day, Fenelon said.
"Temperatures by Wednesday morning could bottom out around minus 16, 17 or 18 degrees," he said. "Daytime highs on Wednesday could reach about minus 14 in the city. If that were to work out, we would be setting a record as far at the coldest daytime high temperature ever recorded (in Chicago) … going back to 1872."
More: Track Chicago's snowplows as they move across the city.
The coldest daytime high temperature recorded in Chicago is minus 11 degrees, which occurred Dec. 24, 1983 and Jan. 18, 1994, according to Fenelon. The average daytime high for this time of year is 28 degrees, and the average low is 17. The subzero temperatures will persist through midday Thursday.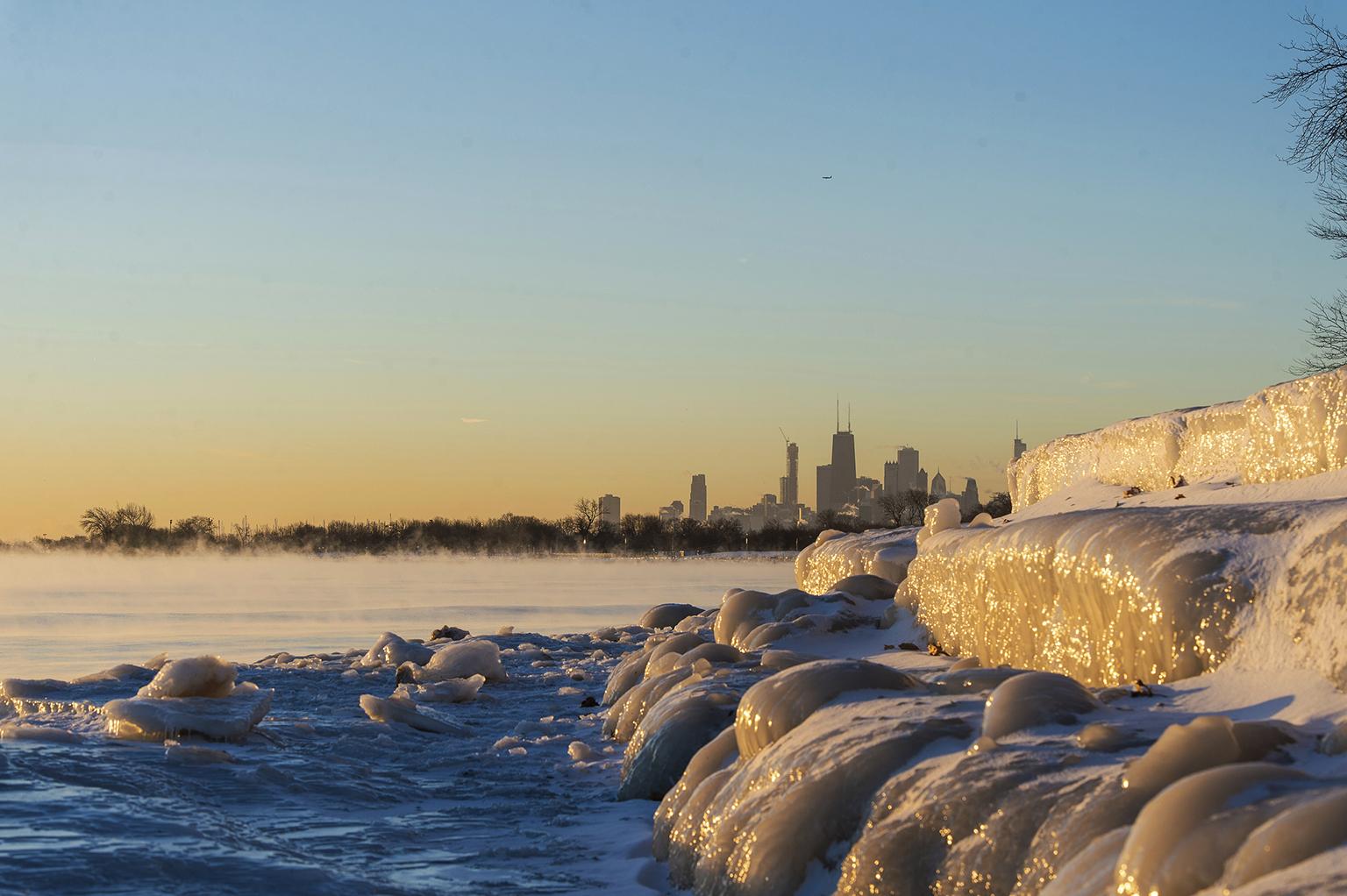 Chicago's lakefront is frozen over Friday, Jan. 25, 2019. (Tyler LaRiviere / Chicago Sun-Times via AP)
In addition to extremely cold temperatures, the NWS is warning about wind chills that could reach 30 to 50 degrees below zero. "This combination of temperatures and wind chill can lead to incredibly rapid onset of frostbite and hypothermia," said Fenelon. Frostbite to exposed skin could begin in as little as 10 minutes.
"It's important for folks to limit their time outside and dress as appropriately as they can," he said, adding people should start preparing now by moving pets indoors and making sure they have adequate supplies in their homes and vehicles, such as extra batteries, blankets and first aid kits. (For more winter preparedness tips, check out NWS' website.) Fenelon also advises checking on friends, family, neighbors and those who live alone to make sure they are prepared for the winter weather.
The lower-than-normal temperatures are due to "an incredibly cold air mass coming down off the Arctic," making it feel like polar region, said Fenelon. "There is a light at the end of the tunnel. Temperatures will warm to the teens on Friday, the 20s by Saturday and the 30s by Sunday. … It'll be an extreme couple of days, but after that we will have moderate temperatures."
The Associated Press contributed to this story.
Contact Kristen Thometz: @kristenthometz | [email protected] | (773) 509-5452
---
Related stories: 
Much of Illinois to Get Snow, Record-Breaking Cold
Tips for Managing Icy Sidewalks Without Harming the Environment
Chicago Winter Overnight Parking Ban 2018: Where You Can't Park
Chicago Warming Centers: 113 Places to Escape the Cold This Winter
Snow Much Fun: Cool Activities for Cold Weather
---