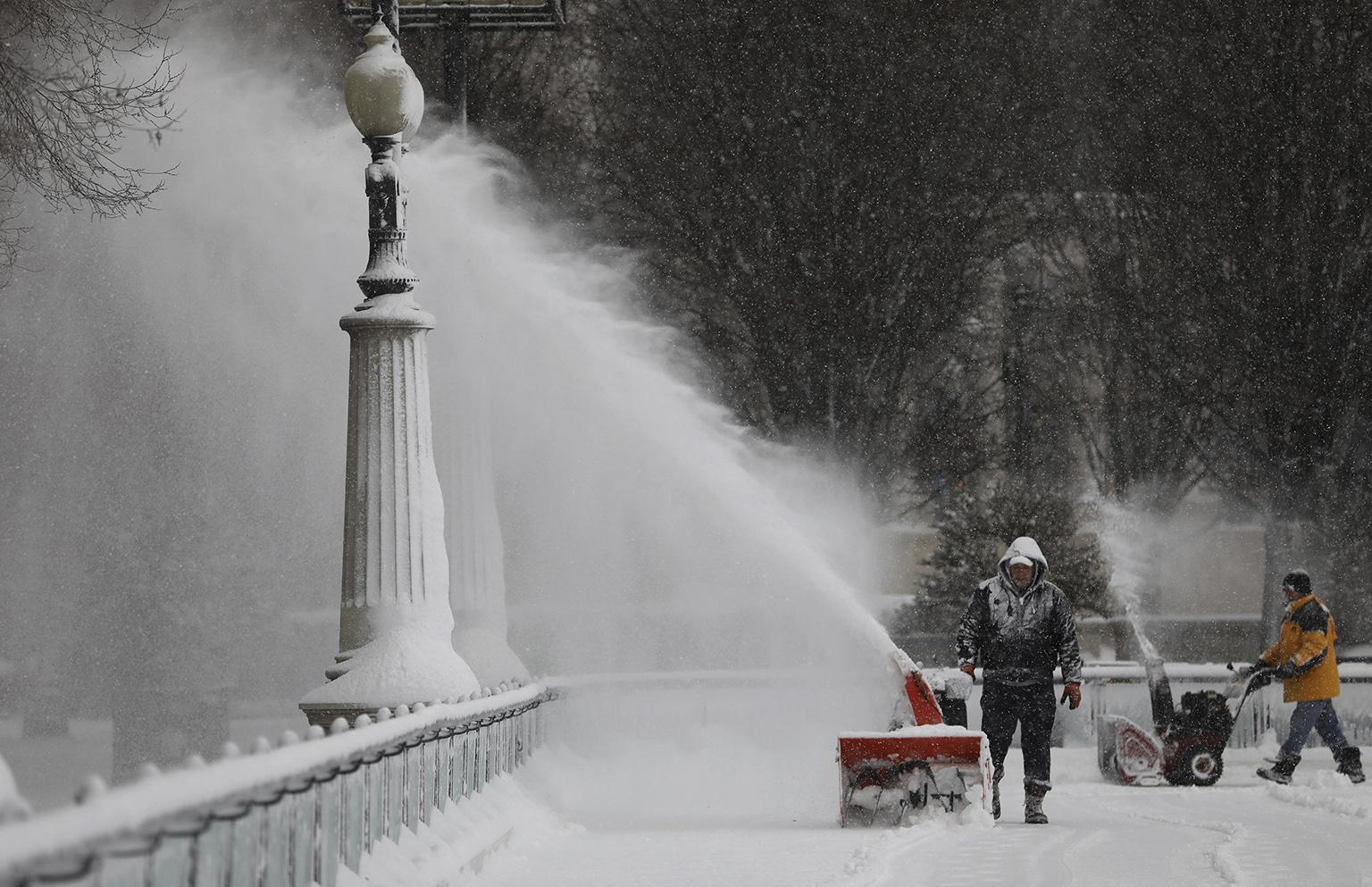 Snow-clearing efforts at Millennium Park following a snow storm on Saturday, Jan. 19, 2019. (Abel Uribe / Chicago Tribune via AP)
The recent combination of snow, freezing rain and sustained subfreezing temperatures has left Chicagoans to navigate treacherous sidewalks and walkways glazed over with ice.
In order to get around in one piece, it's a safe bet that many area residents have looked for ways to make icy surfaces less slippery using products like ice melt, which employ salt blends that lower the freezing point of precipitation when it hits the ground, melting existing snow and ice and helping to reduce the amount that will accumulate after it's applied.
Although such products can help make walkways less dangerous for pedestrians, they present a slew of less-than-desirable side effects. Experts say that any salt used to de-ice surfaces will seep into porous pavements, causing concrete to rust, crack and deteriorate. Salt-based de-icers can also cause problems for your lawn and garden and will often find their way into lakes, streams and groundwater.
That's not to mention the impact of ice melt products on pets, who can experience dried-out or cracked skin if they get salt on their paws.
So, how can you keep your sidewalks and walkways safe without harming your four-legged friend or the environment?
First, if you're going to use ice melt, consider buying a product that carries the U.S. Environmental Protection Agency's Safer Choice label. The EPA applies this label to chemical products that use ingredients that are safer for humans and the environment, without sacrificing quality. (Select "deicers" in the "Product Type" menu on the agency's website for a list of de-icing products that qualify for the Safer Choice program.)
For those hoping to avoid salt altogether, there are a number of alternatives for managing icy surfaces, including:
Sand, sawdust, coffee grinds and kitty litter. Although they won't melt ice, these products will add traction to slippery surfaces.
Juice from sugar beets lowers the melting point of ice and snow and is considered safe for animals, plants and concrete. It's also one of the only products that will work in extremely cold temperatures, anything from about -5 degrees Fahrenheit or colder.
Organic, salt-free de-icers feature chemical compounds that break down naturally, causing minimal damage to the environment.
Chicago's Department of Streets and Sanitation has used a mixture of beet juice and brine – a high-concentration solution of salt in water – to treat snowy and icy roads. 
Another way to reduce the amount of salt used on icy surfaces is to simply get out and shovel.
"The more snow and ice you remove manually, the less salt you will have to use and the more effective it will be," wrote Pam McCurdy of the Minnesota Pollution Control Agency in a post on the department's website offering smart salting tips to protect area waters.
McCurdy also noted that temperatures of 15 degrees Fahrenheit or lower are too cold for salt. Instead, residents should use sand to improve traction on slick surfaces, she wrote.
Another tip: When using salt, less is more.
"More salt does not mean more melting," McCurdy wrote.
McCurdy said residents should use less than four pounds of salt per 1,000 square feet. (For reference, one pound of salt is equal to the amount of salt in a 12-ounce coffee mug.)
Once ice has melted, any visible salt or sand should be swept up to prevent it from washing away, which could cause damage to local bodies of water, McCurdy said.
Contact Alex Ruppenthal: @arupp | [email protected] | (773) 509-5623
---
Related stories: