It's a certainty you've never heard some of the music in the Leuven Songbook. It's quite possible that no one else in the last 400 years has heard it, either. The nearly 50 short love songs, all handwritten in the postcard-sized book, were apparently lost for centuries until their fateful rediscovery in 2014.
"This newly discovered very, very rare songbook from the 15th century just appeared as if out of nowhere," said David Douglass, co-founder of the Chicago early music ensemble The Newberry Consort.
The Leuven Songbook is named after the city in Belgium where it is now being housed. A Belgian art dealer bought it at auction in 2014 as part of a stack of old papers. But the buyer quickly realized that it was not just another antique book. He took it to a musicologist at the Catholic University of Leuven who confirmed that it was an extraordinary find.
"An awful lot of pieces from the 15th century come from multiple sources," said Ellen Hargis, the other co-founder of The Newberry Consort. "But this book has 12 pieces that were unidentifiable – and that's really exciting."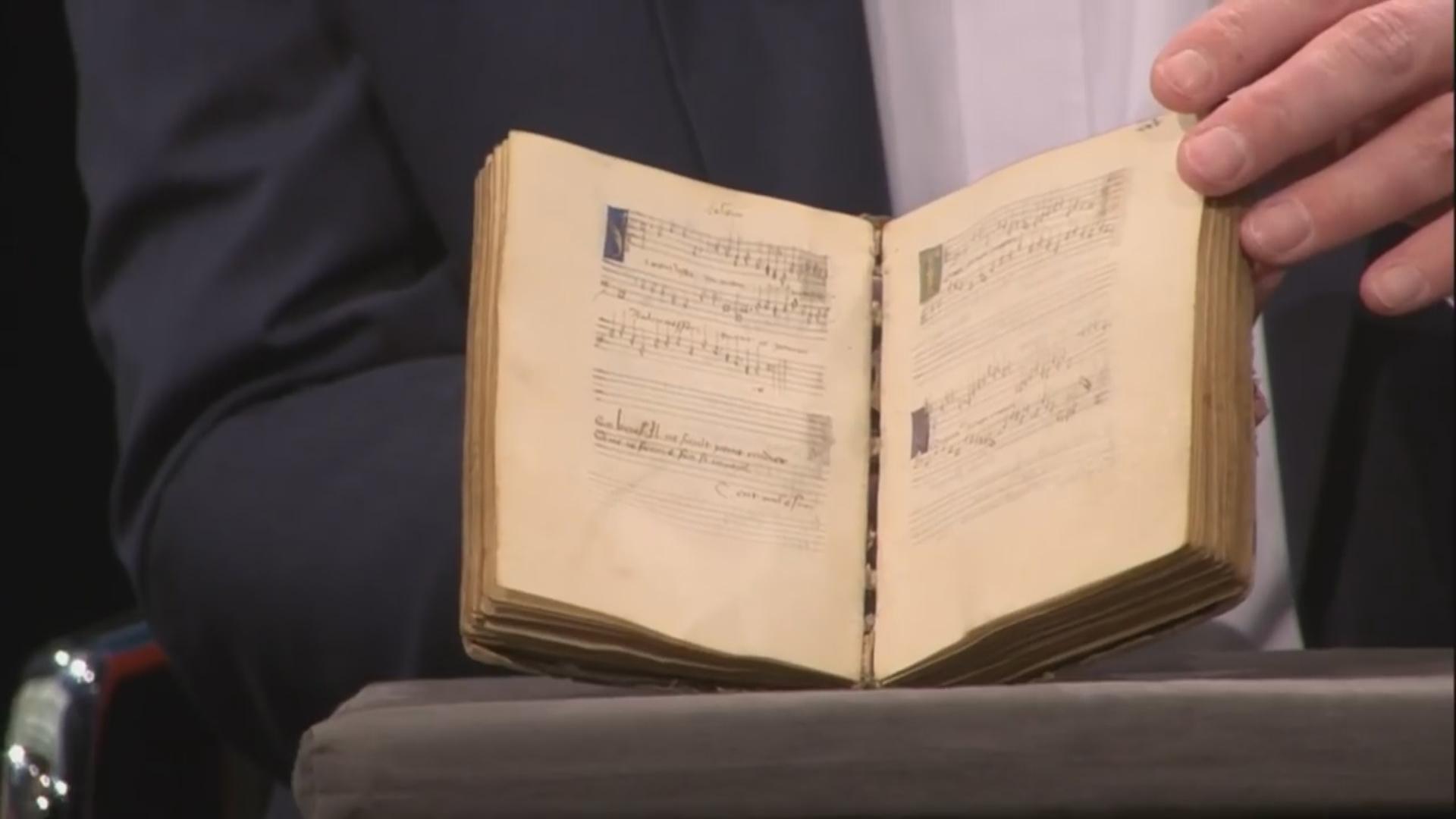 The discovery makes the Leuven Songbook only the sixth known songbook from the 1400s to survive. Nothing like it has been found in nearly a century. It has an elegant brocade cover that remains largely intact, and the carefully notated and adorned music on parchment indicates it was probably owned by a wealthy arts patron. But who that was remains a mystery.
The bigger unanswered riddle is, Who wrote the never before seen or heard music?
"There is that kind of a tantalizing promise that there is actually among these unique pieces a piece by a famous composer," said Debra Nagy, founder of Les Délices, a Cleveland-based early music group. "It's just not identified." Nagy says the discovery of the Leuven Songbook was personally thrilling for her since her doctoral work focused on ancient songbooks.
Hargis compared the discovery as exciting as if a "new" piece by Scott Joplin or Lennon and McCartney suddenly surfaced. And the Newberry Consort has wasted no time in programming some the Leuven Songbooks' "new" songs into a concert called What's Old Is New. As for the quality of the songs, Douglass says it's "right up there with the best of any music of this era that I've played."
The Newberry Consort and members of Les Délices will join forces for the concert, but Hargis explains that it's no easy feat adapting the ancient manuscript for modern day performances. "When we work on a piece from a source like this one we have to score it up," said Hargis. "We have to find what errors might have occurred in the copying – sometimes it's in the text, sometime it's in the notes, could be rhythm, could be pitch – and figure out how the piece is meant to go." 
Hargis says the songbook was meant as a keepsake more than as a source for performance. "This music doesn't specify often who is to sing or play a given part," she said. "That is something we have to explore on our own. This is all brand new exploration."
The songs are all in French and deal with the many aspects of love. And facsimiles of the tiny tome, precisely recreating its size and look, are already available. For early music fans and the professionals who perform it, the discovery has been an ongoing holiday gift.
"We all knew it was kind of like Christmas for historical musicians," said Douglass. "We couldn't wait to get our hands on that music."
More on this story
The Newberry Consort will present three performances of songs from the Leuven Songbook this weekend.
You can also see the completely digitized songbook here.
---
Related stories:
Remembering Chicago's 'Lost Restaurants'
1898 Silent Film Represents Earliest Depiction of On-Screen Black Love
The Beatles in Evanston: A Rare Look at Northwestern's Beatles Manuscripts
---