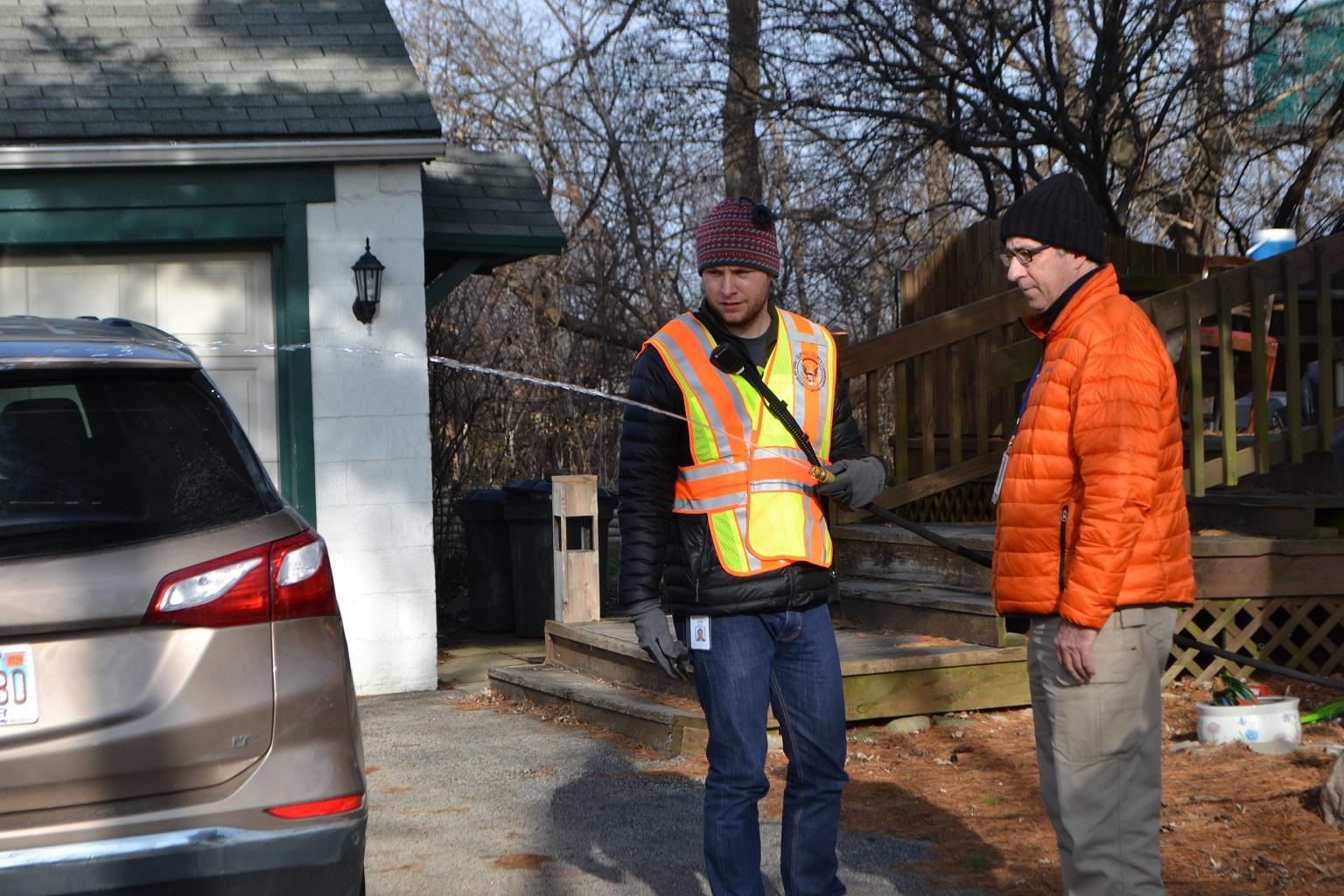 John Berg, an environmental health specialist with the DuPage County Health Department, runs water from a private well in Willowbrook on Dec. 13, 2018, as part of testing for levels of cancer-causing ethylene oxide. (Alex Ruppenthal / WTTW)
Water samples collected at homes near a suburban medical sterilization plant linked to a cancer-causing gas showed no signs of contamination, environmental regulators announced Wednesday.
Last month, public health workers obtained more than 55 samples from private water wells near the Sterigenics International facility in Willowbrook. The company has come under fire in recent months for its uncontrolled emissions of ethylene oxide and ethylene glycol, highly toxic chemicals used by Sterigenics to sterilize medical equipment, pharmaceutical drugs and food.
A press release from the Illinois EPA stated that given officials' understanding of the local geology and well depths, they did not expect to find contamination in the water samples collected. But the agency went forward with the testing in response to concerns raised by residents and local officials of possible exposure to the harmful chemicals.
"While we knew the risk of contamination was low, it was abundantly clear that the residents of Willowbrook and the surrounding areas needed answers," said Illinois EPA Director Alec Messina in the press release. "We are pleased the laboratory results confirmed our expected outcome, and we thank the DuPage County Health Department for their assistance."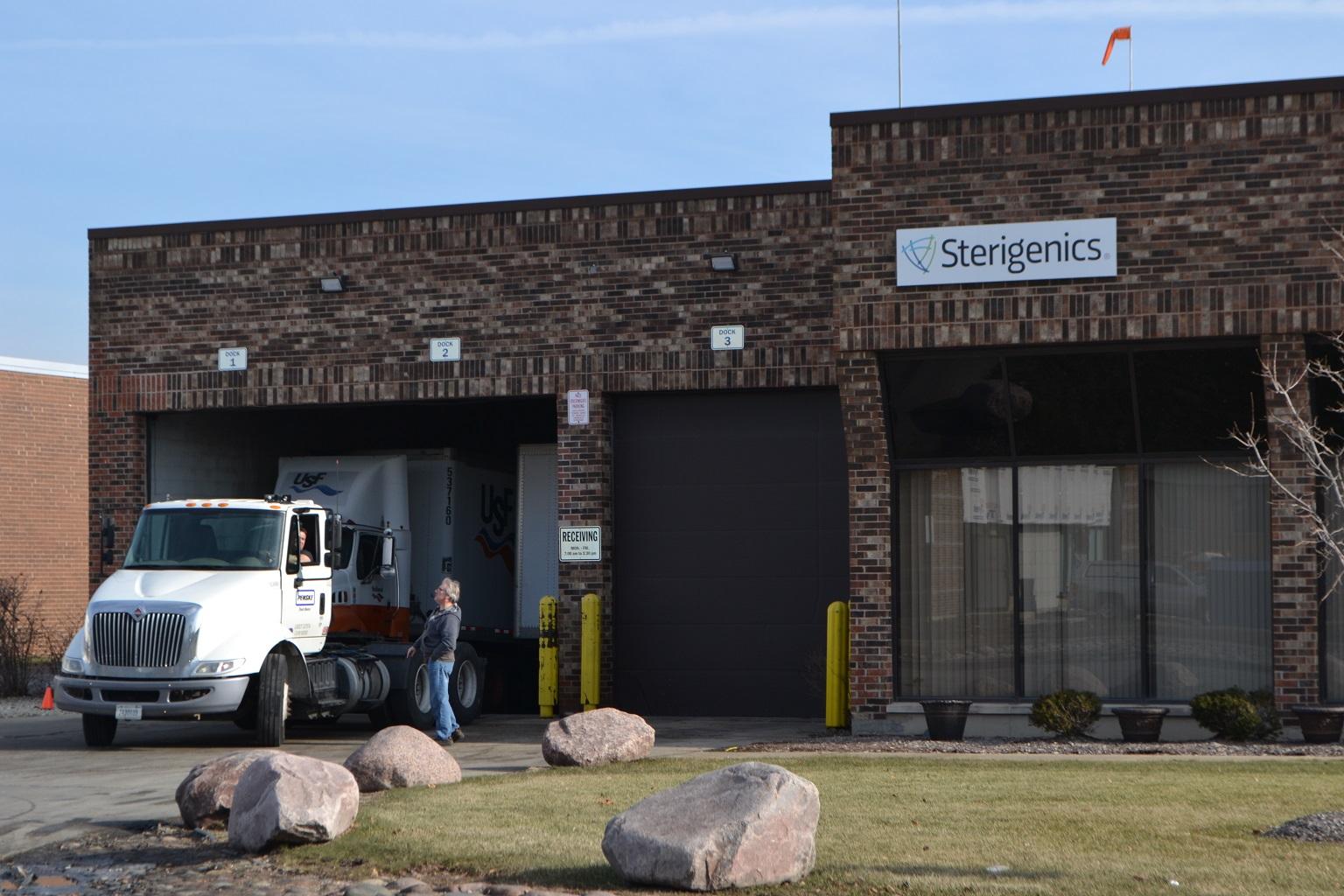 Sterigenics' plant in Willowbrook (Alex Ruppenthal / WTTW)
The samples were collected Dec. 13 after officials sent letters to nearly 600 properties within a mile of the Sterigenics plant requesting access to private water wells. The sample collection and laboratory analysis were conducted at no cost to the participating homeowners or residents.
Despite the findings, Sterigenics remains at the center of a probe by the office of outgoing Illinois Attorney General Lisa Madigan, who along with DuPage County State's Attorney Robert Berlin sued the company in the fall for alleged air pollution violations linked to the release of ethylene oxide.
Madigan and Berlin have also asked a state court to either shut down the company's Willowbrook plant or enforce stricter limits on its emissions of ethylene oxide.
Last month, new air monitoring data showed high levels of ethylene oxide near Sterigenics' Willowbrook facility, prompting organizers with the advocacy group Stop Sterigenics to stage a protest outside the company's headquarters in Oak Brook. 
Prolonged exposure to the chemical has been associated with incidences of cancer, reproductive effects, brain damage and changes in DNA, according to the Occupational Safety and Health Administration.
"Illinois EPA continues to work cooperatively with the Attorney General's Office in an effort to bring meaningful relief to Willowbrook and surrounding communities," the agency said in its press release.
Contact Alex Ruppenthal: @arupp | [email protected] | (773) 509-5623
---
Related stories:
Regulators Test Water at 70 Homes Near Sterigenics in Willowbrook
Lawmakers Aim to Close EPA Loopholes in Wake of Sterigenics Scare
EPA Finds Lead Contamination in Southeast Side Soil – In Addition to Manganese
---