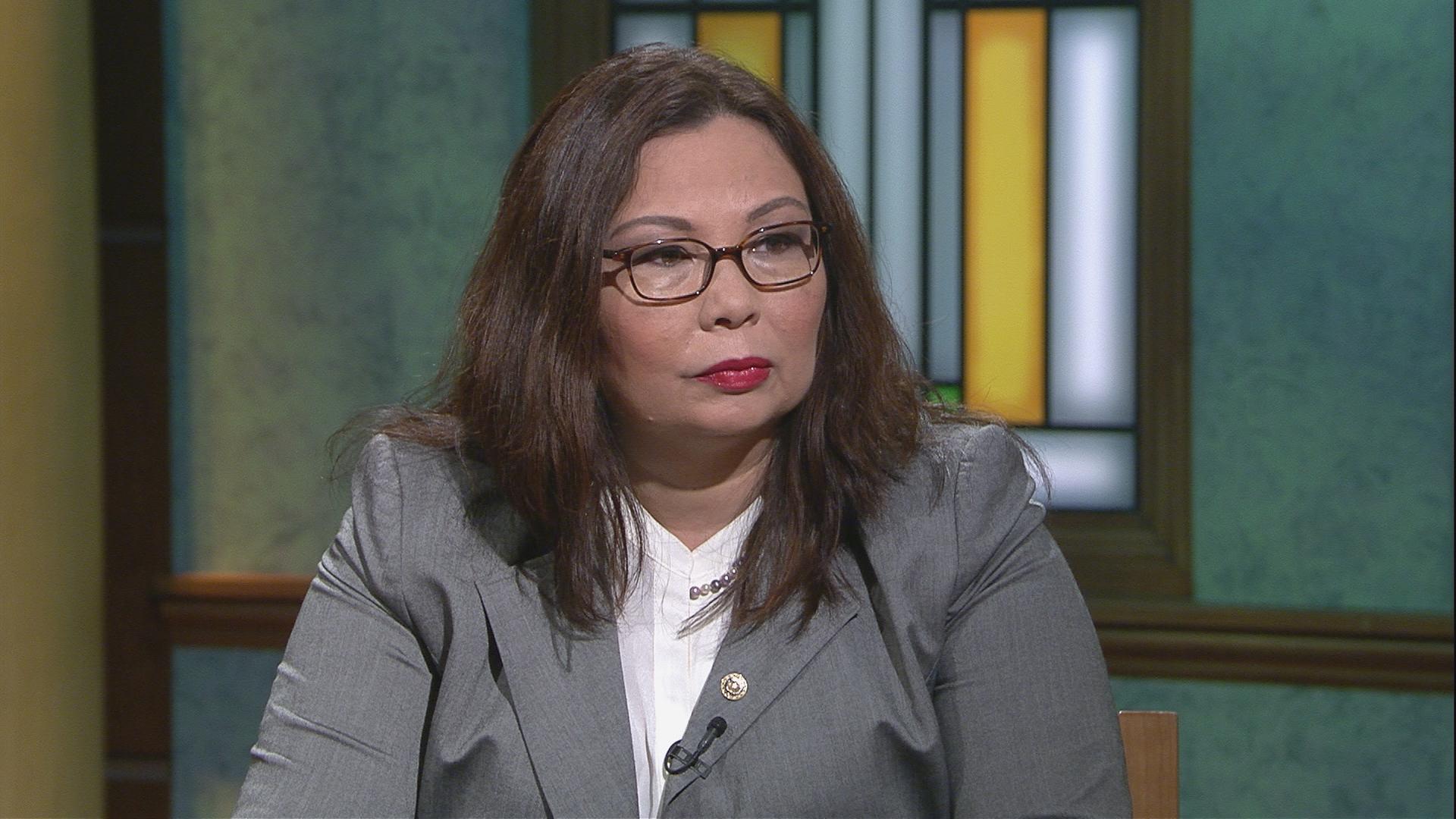 U.S. Sen. Tammy Duckworth appears on "Chicago Tonight" on July 6, 2017.
Following public outcry over the release of dangerous ethylene oxide gas from several suburban Chicago industrial facilities, a number of lawmakers are pushing to overhaul regulations in order to better protect communities that face exposure to the gas and other harmful pollutants.
Legislation introduced last week by U.S. Sen. Tammy Duckworth would help close loopholes that benefit the chemical industry and force federal regulators to take action upon discovery of a public health risk, according to Duckworth's office.
The move comes in the wake of reporting by the Chicago Tribune exposing governmental lapses that allowed companies in Willowbrook and Waukegan to emit uncontrolled ethylene oxide into nearby neighborhoods for almost 20 years, including failures by the Rauner and Trump administrations to notify the public after learning early this year of the toxic pollution from the Sterigenics International plant in Willowbrook.
According to Duckworth's office, the EPA has acknowledged that ethylene oxide is a known carcinogen since 2016 but has nonetheless failed to revise its emission standards for the chemical.
Prolonged exposure to ethylene oxide has been associated with incidences of cancer, reproductive effects, brain damage and changes in DNA, according to the Occupational Safety and Health Administration.
Sterigenics uses ethylene oxide gas to sterilize medical equipment, pharmaceutical drugs and food.
"Not only did our government fail to protect many Illinoisans from breathing in toxic ethylene oxide emissions, but they were far too slow to inform the public about the health risks they face," Duckworth said in a statement. "Our bill would help ensure that never happens again."
The proposed legislation, cosponsored by U.S. Sen. Dick Durbin and U.S. Reps. Bill Foster, Dan Lipinski and Brad Schneider, would require the U.S. Environmental Protection Agency to notify public officials and affected communities when it uncovers a public health risk.
The bill, titled The Expanding Transparency of Information and Safeguarding Toxics Act of 2018, would also force the EPA to publish a list of sites that require additional review when a risk of harmful exposure is found.
Another provision of the bill would strengthen existing programs designed to assess the risk of chemicals through increased funding and expedited notification requirements.
"Incidents of communities grappling with chemical contamination are far too common, and it is not always clear how the EPA is addressing the cleanups," said Melanie Benesh, legislative attorney with the nonprofit Environmental Working Group, in a statement. "This bill would significantly expand the level of transparency as to how the agency is responding when people are threatened by pollution."
Contact Alex Ruppenthal: @arupp | [email protected] | (773) 509-5623
---
Related stories:
EPA Finds Lead Contamination in Southeast Side Soil – In Addition to Manganese