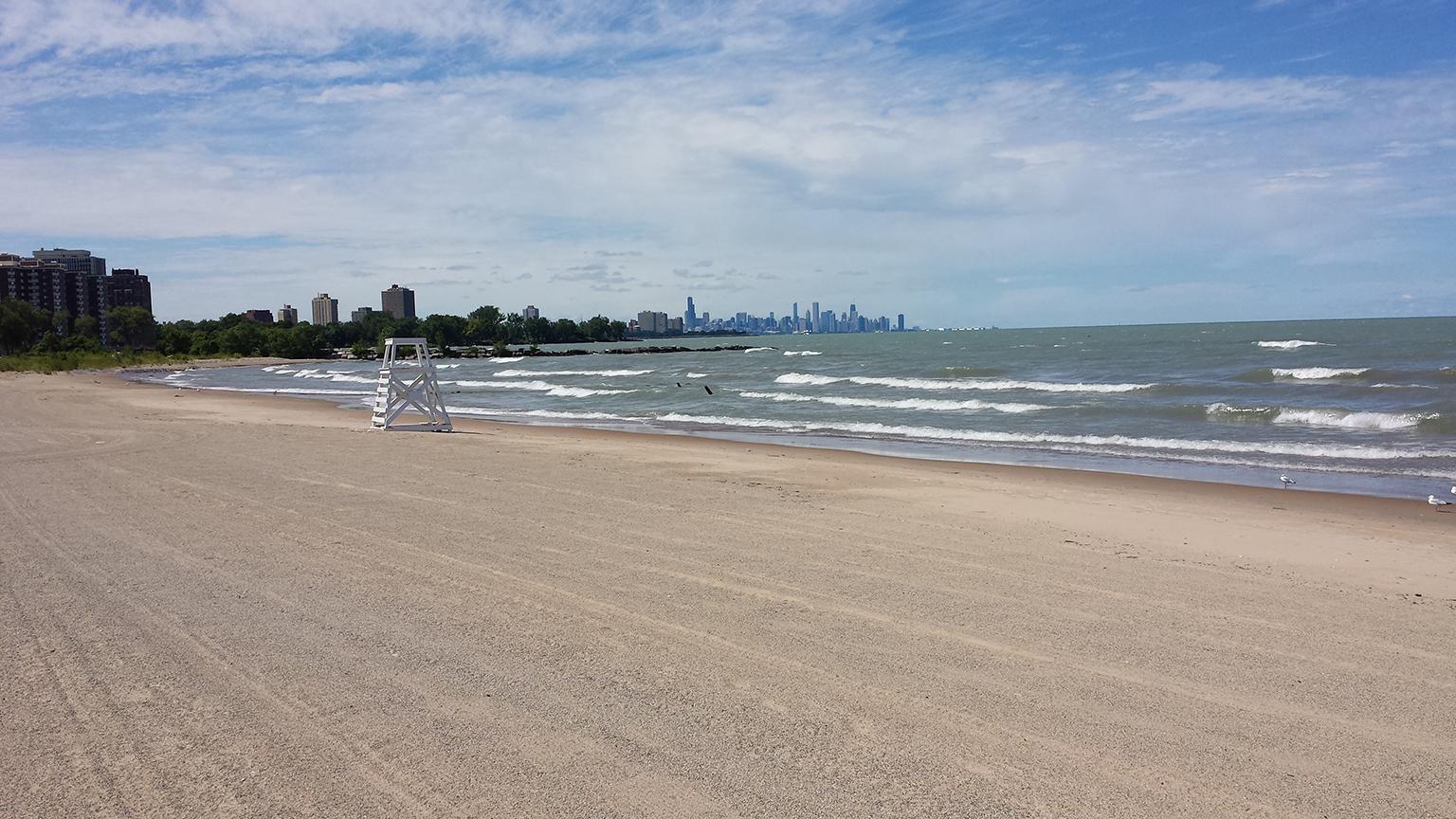 Rainbow Park Beach in Chicago (Steven Kevil / Wikimedia Commons)
A state program designed to protect the Lake Michigan shoreline is adding a new category this year aimed at helping Chicago-area communities preserve their beaches.
The Illinois Department of Natural Resources is accepting applications for grants between $1,000 and $100,000 as part of its 2019 Coastal Management Program, which provides funding for a number of initiatives, such as combating invasive species and coastal erosion, and increasing public access to the lake's coastline.
This year's program will for the first time include funding to help protect and enhance beaches along the lake, which are shrinking and could face additional erosion related to the effects of climate change.
"Beyond their economic impact and recreational opportunities, beaches provide habitat for sensitive species, serve as a buffer along the shoreline against wind and waves and play a big role in nearshore water quality," IDNR wrote in its notice of funding opportunity for the grant program, noting that thousands of visitors enjoy Lake Michigan beaches each year. "We recognize that healthy beaches are essential for a healthy coast."
Funding awarded as part of the program's new beach category will help local governments or nonprofits develop "sustainable, cost-effective and comprehensive" beach management plans outlining "specific, implementable actions that are customized to local conditions," according to IDNR.
A beach management plan could include items such as a bilingual guide for maintenance staff describing techniques for controlling invasive plants, according to the agency.
Other projects funded by the Coastal Management Program target efforts such as preserving coastal habitat and species, boosting recreation and economic development and mitigating flooding and shoreline erosion.
The program covers the stretch of coastal area from the Wisconsin border to the Indiana border and includes sections of 24 communities with 52 beaches and more than 50 forest preserves and parks, along with two state parks.
As described by IDNR, the region is both economically and ecologically diverse, including portions of some of the richest and poorest communities in the state, along with a varied landscape marking a transitional zone between the forests of the upper Midwest and downstate prairies.
Grant applications are due Jan. 18.
IDNR said it expects to award grants in June, with grant projects beginning in the fall.
For more information about the grant program, visit IDNR's website.
Contact Alex Ruppenthal: @arupp | [email protected] | (773) 509-5623
---
Related stories: