Chicago beachgoers will receive more up-to-date and accurate alerts about the water quality at their favorite lakefront hangouts this summer as part of a breakthrough rapid water-testing program developed at the University of Illinois at Chicago.
For the past two summers, UIC has partnered with the Chicago Park District to conduct same-day water testing at nine beaches as part of a pilot program. The data collected is used by park officials to issue swim advisories when bacteria levels are high. This summer, the program will expand to 20 beaches – all but seven of those in Chicago – as part of a $500,000 contract with UIC approved earlier this year by the Park District board.
And as for those seven beaches not tested? Don't worry, says Sam Dorevitch, an associate professor of environmental and occupational health sciences at UIC. They're located near beaches with testing, which will allow the Park District to issue accurate advisories for all 27 beaches.
The decision to expand the program came after a study published by UIC researchers in the journal Environmental Health showing that rapid testing, which analyzes levels of bacterial DNA in a water sample within about four hours, can produce a swim advisory by early afternoon the same day. By contrast, water culture testing, the most widely used method for swim advisories, takes 24 to 48 hours to yield results.
"So when the Park District in the past used to say on a Saturday morning, 'The bacteria level is high,' what that really meant was yesterday, the bacteria level was high," said Dorevitch, lead author of the study. "The public was getting information that was 24 hours old, and during those 24 hours, the conditions changed."
To determine the accuracy of rapid testing, Dorevitch and his colleagues for the past two summers analyzed 900 water samples taken from Chicago beaches. The samples were tested using the more common culture method and also the newer rapid method. They found that about 5 percent of the time, culture results alone would have resulted in a failure to issue a swim advisory when bacteria actually posed a public health threat. Culture results would also have triggered false alarms 24 percent of the time when no advisory was needed.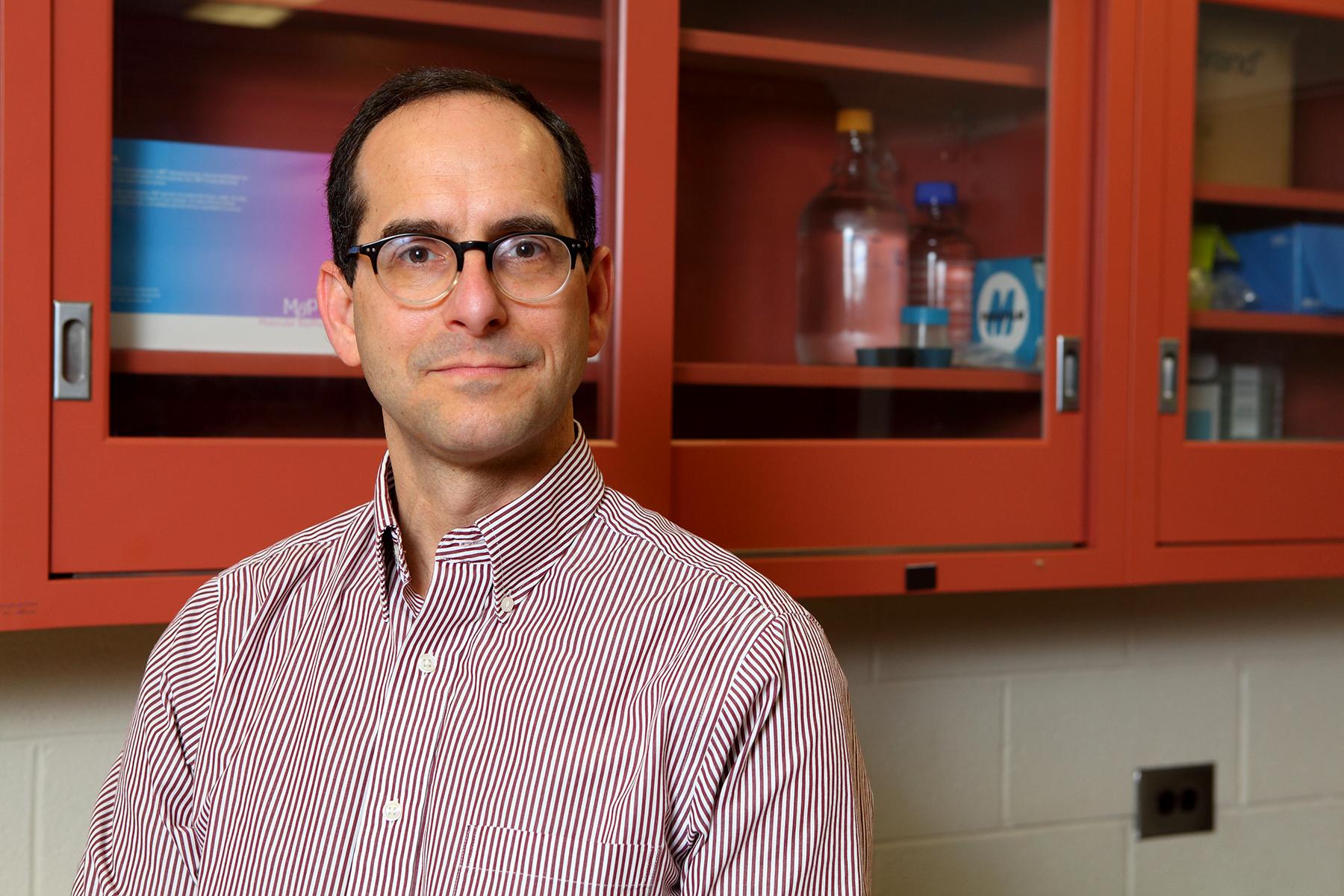 Dr. Samuel Dorevitch, associate professor of environmental and occupational health sciences in the UIC School of Public Health. (UIC News Center)
In all, culture tests would have resulted in 3.4 times more advisories than rapid testing, which means that Chicagoans were being told to stay out of the water at certain beaches more often than they needed to be.
"Yesterday's culture results that become available today do not correspond with [water conditions] today," Dorevitch said.
Starting May 26, when Chicago's beaches open for the season, the Park District will dispatch staff each morning to collect water samples and deliver them to a lab at UIC's School of Public Health. Once the samples come in – Dorevitch said the goal is to have them between 8 a.m. and 8:30 a.m. – a team of five graduate and undergraduate students will run the samples through a thermal cycler, which Dorevitch said is "like a photocopy machine for DNA."
In the video below, postdoctoral candidate Abhilasha Shrestha explains the multiple steps involved in the testing process.
---
After a couple of hours, the machine will have produced millions of copies of the bacterial DNA from the water sample, making it much easier to measure bacteria levels.
"It's sort of a breakthrough in terms of technology," Dorevitch said. "We'll be able to tell the Park District [about bacteria levels] about four to four-and-a-half hours after we receive the sample."
That means that by about 1 p.m., the Park District will be able to issue real-time advisories on water quality for those headed to the beach that afternoon. The advisories are shared on the Park District's beach website, through a beach hotline and via color-coded flags at beaches.
Same-day testing is not yet in widespread use: Only a handful of beaches in New Jersey, Wisconsin and California have tried the rapid testing method, and only Chicago is using it on a daily basis, according to UIC.
"There's a lot of excitement among researchers and universities and around the world about what we're doing in Chicago," said Dorevitch. "To some degree, it puts pressure on other cities – like, if Chicago can do it, why can't LA or New York." 
In addition to the same-day testing, Dorevitch's lab is also conducting research to figure out where bacteria that shows up at Chicago's dirtiest beaches comes from. Water testing data analyzed by the U.S. Geological Survey's Great Lakes Science Center has shown that certain Chicago beaches – including Calumet Beach, 63rd Street Beach and Montrose Beach – tend to have higher bacterial levels than other beaches.
The bacteria could be coming from dog and seagull waste, from sewage leakage or from other sources, Dorevitch said.
"There's some detective work that is being done [to pinpoint the source]," Dorevitch said.
Just how clean (or dirty) are Chicago's beaches compared to other cities?
"They're relatively clean," Dorevitch said. "We're kind of unique in that the Chicago River system was engineered to flow backward, and wastewater goes into the Chicago River and down into the Mississippi River system rather than into Lake Michigan. That's unique. Milwaukee, Detroit other cities on the Great Lakes don't have that engineering system. So we don't have wastewater discharges anywhere near Chicago.
"So we generally have good water quality, and it's because of that civil engineering marvel of the river system," Dorevitch said. "But the water quality does vary among the beaches, and there are a couple that tend to have higher levels of bacteria than others."
For beach swim advisories, visit the Park District's beach website, or call the beach hotline at 312-742-3224.
Follow Alex Ruppenthal on Twitter: @arupp

This story was originally published May 19.
---
Related stories: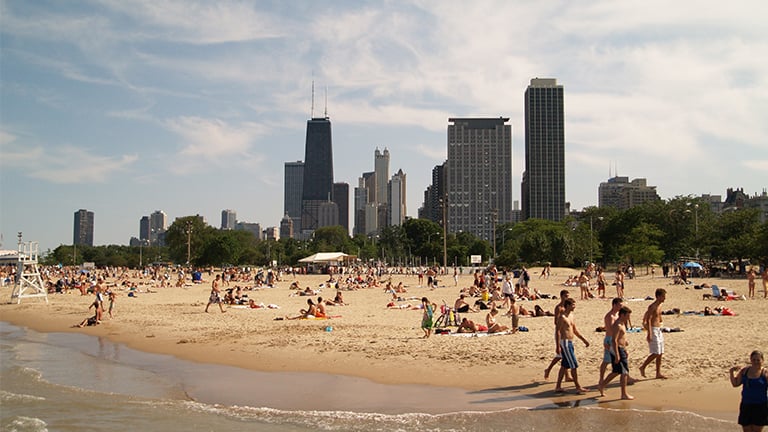 10 Things About Chicago Beaches You Might Not Know
May 25, 2016: Chicago's beaches – all 26 of 'em – open for the season today. Here are 10 things you may not know about the city's sandy side.
---
Shoreline Facelift Unfolds to Ease Fullerton Beach Traffic
Aug. 27, 2015: One of the most sizable redesigns of the Chicago lakefront is underway at Fullerton Avenue beach, and the change is predicted to be eye-popping. By next summer, everyone passing through the area will have a lot more breathing, sunning, and picnicking room. Chicago Tonight's Eddie Arruza has the story.
---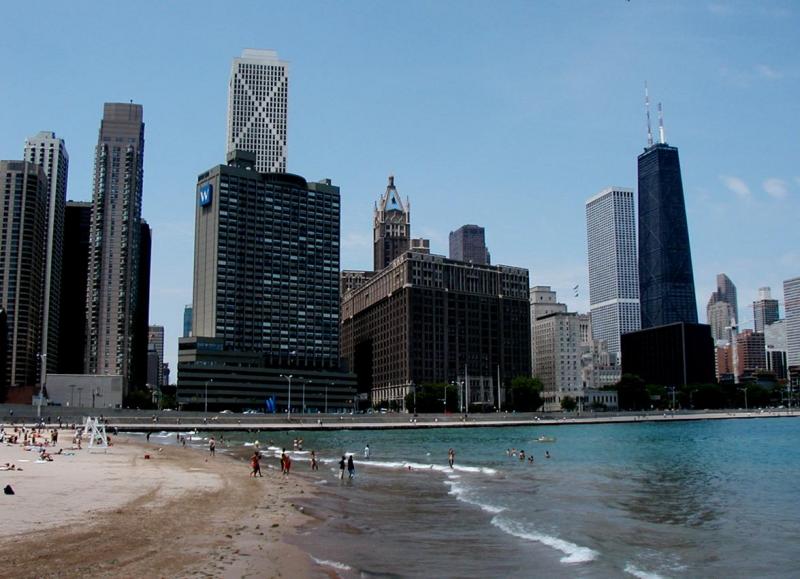 Beach Bacteria
July 24, 2014: The Chicago Park District has turned to DNA testing to see if dogs are to blame for high E.coli levels. We talk to the head of Chicago's beaches to see if it's safe to swim.
---