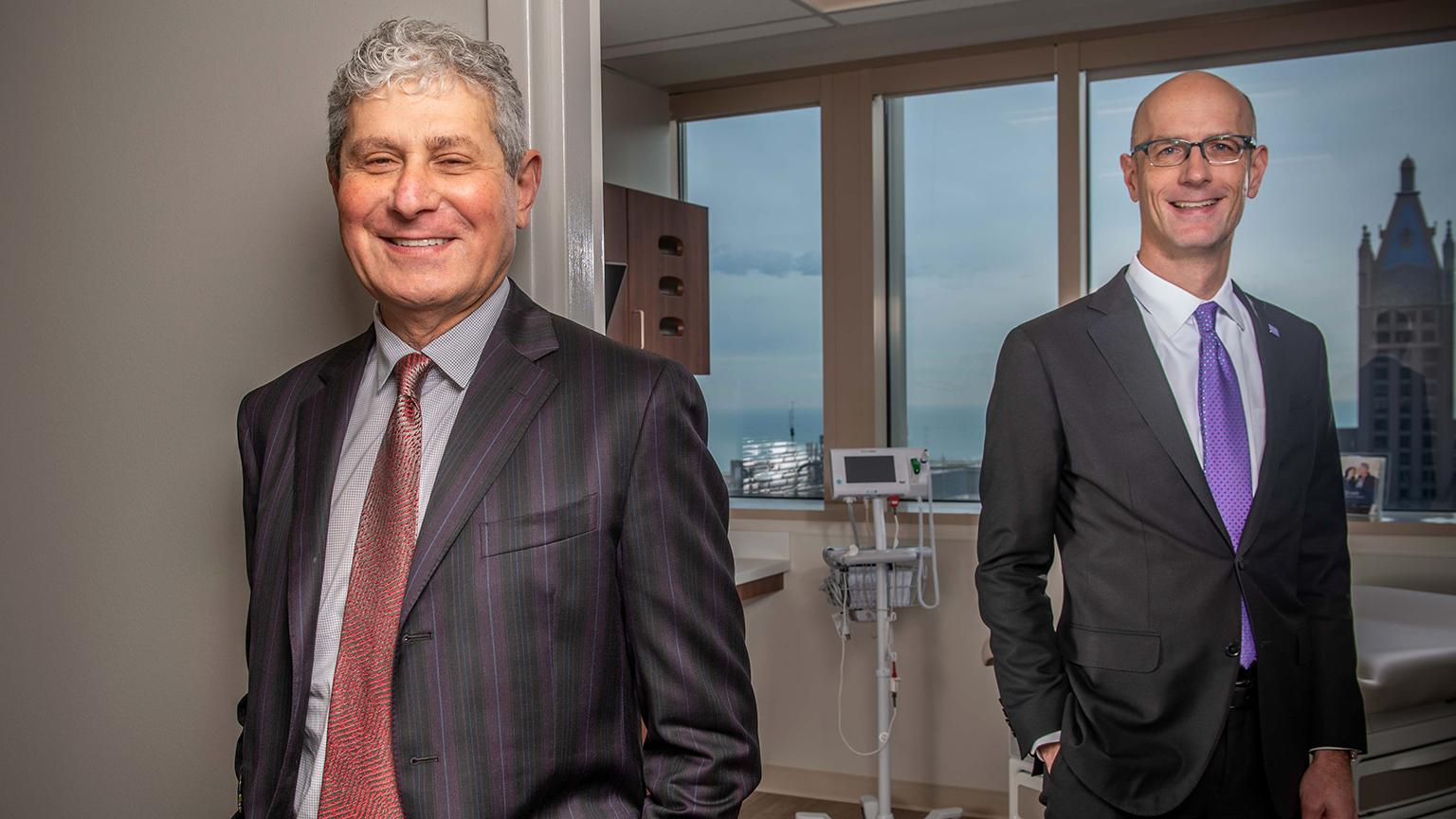 Michael Polsky and Dr. Edward Schaeffer of Northwestern (Courtesy of Northwestern Medicine)
Northwestern Medicine received a $10 million gift to fund the creation of a new multidisciplinary institute dedicated to urologic cancers, including prostate, bladder, kidney and testicular cancers.
The Polsky Urologic Institute of the Robert H. Lurie Comprehensive Cancer Center of Northwestern University was made possible by a donation from clean energy entrepreneur Michael Polsky, founder and CEO of Invenergy, Tanya Polsky, a philanthropist and former finance executive, and their children.
"This gift to create a urologic cancer institute at Northwestern Medicine symbolizes my family's commitment to help others facing cancer come out on the winning side -- and to ultimately eradicate the disease," Michael Polsky said in a statement. "With this gift, we support Northwestern Medicine's vision to be the world's leader in diagnosing, advancing research breakthroughs and creating revolutionary treatments for urological cancers."
Northwestern Memorial Hospital's urology program has been ranked No. 1 in the state by U.S. News & World for the last consecutive 21 years. The Polsky Urologic Institute will provide personalized, integrated and innovative care to people with urologic cancers through a disease-centric program of research, education and discovery.
"We are extremely excited to partner with the Polsky family in forming this institute to transform how we treat urologic cancers in Chicago and worldwide. We believe that a patient-centric program that inspires leading-edge research will transform our field," said Dr. Edward Schaeffer, who will lead the institute and serves as chair of urology at Northwestern Memorial Hospital, in a statement
Schaeffer says the institute will provide cancer treatments, such as surgery, chemotherapy, radiotherapy and immunotherapy, as well as serve as a resource for genetic counseling, nutritional guidance and lifestyle management.
The institute will expand its current location in Northwestern Memorial Hospital's Galter Pavilion and is scheduled to open early this year.
Contact Kristen Thometz: @kristenthometz | [email protected] | (773) 509-5452
---
Related stories:
Study: Researchers Devise Approach to Stop Cancer from Spreading
Rush Receives $5 Million for Cancer Immunotherapy Research
Ben Stiller's Surgeon Explains PSA Test, Controversy
---