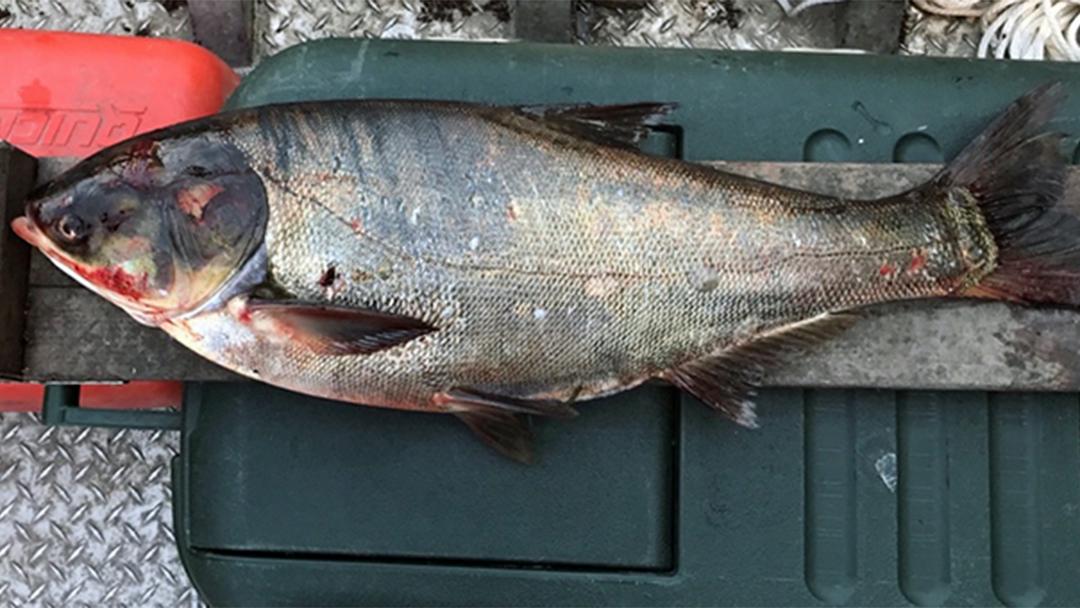 A silver carp captured in June 2017 in the Illinois Waterway below the T.J. O'Brien Lock and Dam, about 9 miles from Lake Michigan. (Courtesy Illinois Department of Natural Resources)
Illinois Gov. Bruce Rauner is all for the state of Michigan's offer to chip in $8 million for keeping invasive Asian carp out of the Great Lakes – with a caveat: he wants the money now, and he wants to spend it on his own terms. 
Last week, Michigan Gov. Rick Synder sent Rauner a letter urging Illinois to to help pay for a nearly $800 million project to block Asian carp that have infested the Mississippi and Illinois rivers and pose a threat to the region's fishing industry.
Snyder said Michigan would provide up to $8 million toward maintenance and operation costs for the project's main goal: upgrading a lock and dam along the Des Plaines River in Joliet, which experts say is a good location to block the invasive fish before they reach Lake Michigan.
According to Rauner's office, however, Illinois would not be able to apply any of the funding toward the project until 2028, when the upgrade is estimated to wrap up.
On Monday, Rauner wrote back to Snyder with a counteroffer: Michigan should make the funding available now so that Illinois can use it to enhance commercial fishing strategies designed to reduce the number of Asian carp before they approach the Great Lakes.
"While we respect your offer to provide $8 million toward operation and maintenance, this approach does not reflect the sense of urgency stressed in your letter," Rauner said in his letter to Snyder, a fellow Republican also on his way out of office. "We do not believe it is appropriate – especially given our lame duck status – for us to accept funds and bind Illinois to a project that is not final, and whose true costs are years from being calculated."
A number of states bordering the Great Lakes, including Illinois and Michigan, had agreed previously to consider cost-sharing for the project, known as the Brandon Road Study. But the funding formula became more unclear last month when the U.S. Army Corps of Engineers published a new feasibility report revealing that the cost of the project – initially estimated at $275 million – had ballooned to $778 million.
Given the possibility for additional changes before Congress is expected to authorize the plan sometime in 2019, Rauner said Snyder should let Illinois use the $8 million in funding now to more than double the state's commercial fishing and monitoring efforts targeting Asian carp in the upper Illinois River system.
Spending the money in this way would immediately help Illinois deter Asian carp breeding and reduce populations of the fish more than 100 miles from Lake Michigan, Rauner said.
"Let's act now by executing an intergovernmental agreement between our two states to make a momentous positive impact on the Asian Carp fight and ensure continued protection for the Great Lakes while additional measures at Brandon Road are engineered and designed," Rauner said in his letter. "In the meantime, we will commit to you that we will encourage the incoming administration to seriously consider your fair-share funding formula, applied to both construction and operations and maintenance, after they are fully briefed on the issue and project."
Rauner's successor, Gov.-elect J.B. Pritzker, reportedly asked for help with the Asian carp project last week in a meeting with President Donald Trump. 
"The president didn't seem to know anything about it," Pritzker told the Sun-Times. "But he was very interested in helping and said that he would speak with the Army Corps of Engineers and work with our states to make sure that we're addressing the problem."
Contact Alex Ruppenthal: @arupp | [email protected] | (773) 509-5623
---
Related stories:
Cost of Plan to Block Asian Carp from Great Lakes Balloons to $778M