Victims of sexual abuse by clergy members are requesting Pope Francis remove Chicago's archbishop, Cardinal Blase Cupich, from his role in organizing a special Vatican conference focused on sexual abuse in February.
Activists from the Survivors Network of those Abused by Priests and End Clergy Abuse demonstrated Wednesday outside the Archdiocese of Chicago, the same day in which a weeklong spiritual retreat of 300 Catholic bishops begins at Mundelein Seminary.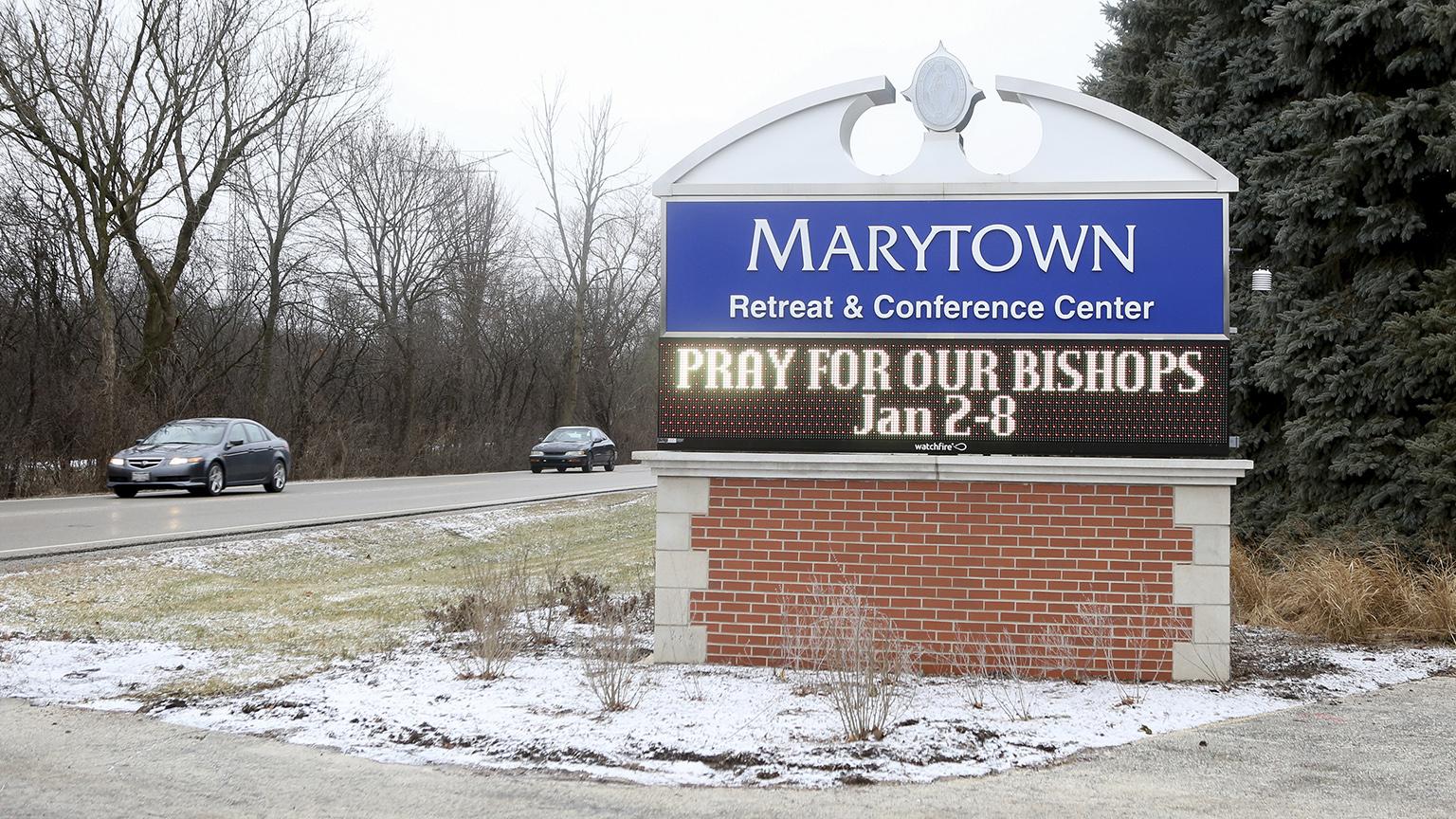 A sign outside the Mundelein Seminary asks the faithful to pray for U.S.-based Roman Catholic bishops gathering there for a weeklong prayer retreat, Wednesday, Jan. 2, 2019, in Mundelein, Illinois. (AP Photo / Teresa Crawford)
In February, a global summit of Catholic bishops will meet in Rome to address clerical sexual abuse. The pope named Cupich to the conference's international organizing committee in November.
Activists and abuse survivors contend Cupich should not have an important role in this summit given the findings of a recent Illinois Attorney General's Office report indicating six Illinois Catholic dioceses failed to disclose sexual abuse allegations of at least 500 priests and clergy members.
"This summit in February, if it's going to be led and planned by Cardinal Cupich, has very little, at this point, credibility," said Peter Isely, the U.S. spokesman for End Clergy Abuse Global. "How are survivors going to trust this process if he's in charge of it? They can't. How can the public and Catholics trust this process around the world? They can't."
In a statement, a spokeswoman for the Archdiocese of Chicago said: "We will always need to own and express deep regret for the suffering caused both by the abuse and the past failures to respond."
The Catholic Church's "meeting on the protection of minors in the Church" is scheduled to take place at the Vatican from Feb. 21 to 24.
Joining us to discuss recent events and scandals surrounding the Catholic Church is Chicago Sun-Times investigative reporter Robert Herguth.
Follow Evan Garcia on Twitter: @EvanRGarcia
---
Related stories:
Chicago Archbishop to Have Leading Role in Sex Abuse Reforms
Illinois AG Finds 500 More Catholic Clergy Accused of Abuse
Cardinal Blase Cupich: Sexual Abuse Victims 'Are the Priority'
Bombshell Report Rocks Catholic Church
---