A two-year grand jury investigation of six Catholic dioceses in Pennsylvania found more than 300 "predator priests" across the state sexually abused at least 1,000 victims.
Pennsylvania Attorney General Josh Shapiro released the 1,400-page grand jury report last week. The announcement was delayed after several individuals named in the report sued to stop its publication. As a result, some of the names in the report are redacted.
"I'm here, finally, to announce the results of a two-year grand jury investigation of widespread sexual abuse of children within the Catholic Church and the systematic cover-up by senior church officials in Pennsylvania and at the Vatican," Shapiro said at a news conference last week.
On Thursday, Shapiro opened a hotline for victims to report additional cases of abuse. The line has since been inundated with hundreds of calls, indicating those 1,000 cases may be the tip of the iceberg.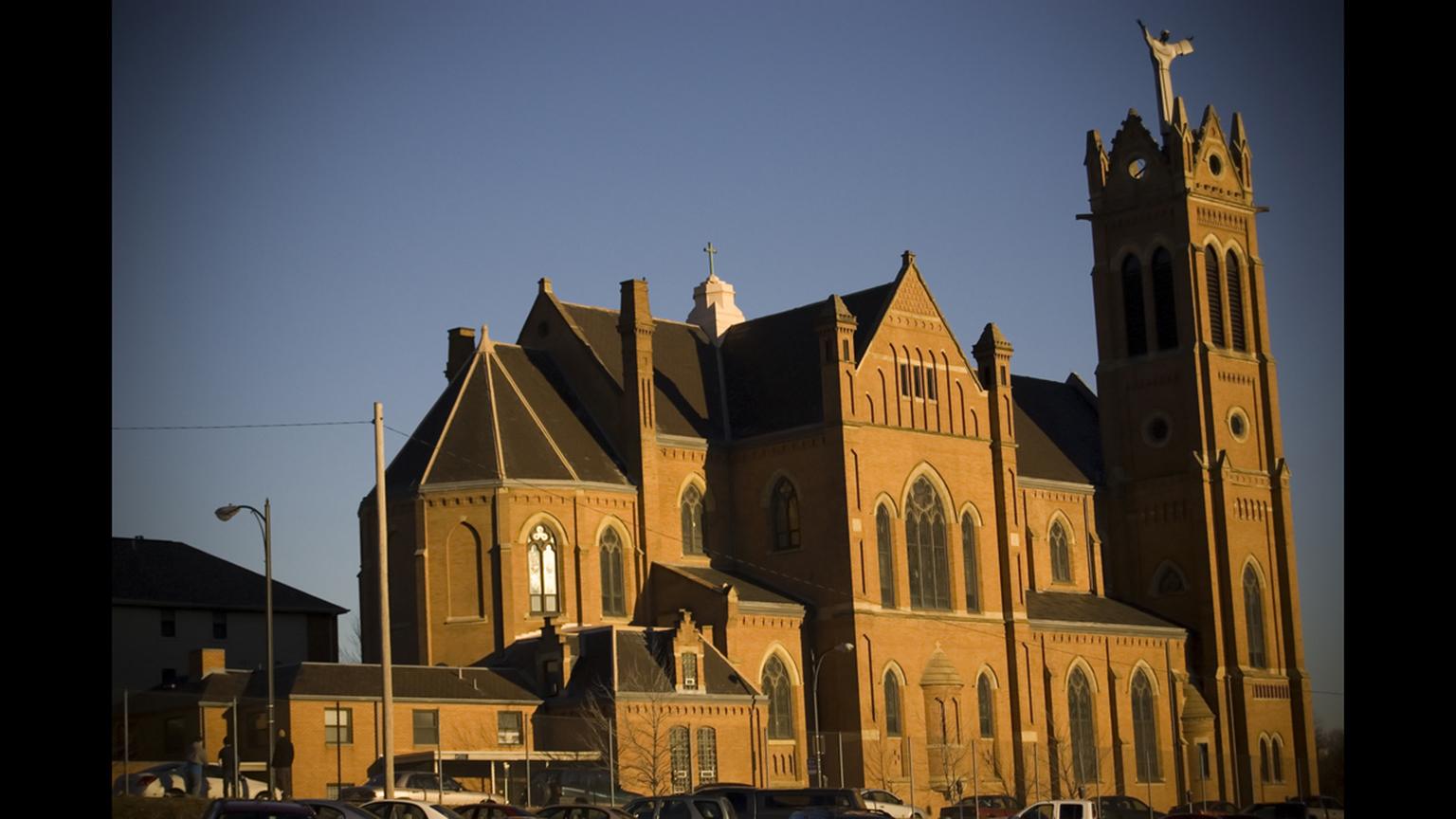 St. Benedict The Moor Church in Pittsburgh, one of six Roman Catholic dioceses that was the focus of two-year grand jury investigation in Pennsylvania. (Trevin Shirey / Flickr)
Pope Francis and Chicago's Cardinal Blase Cupich have both written extensive letters denouncing the abuse – and the cover-up.
But questions abound: How could this happen again? Didn't the U.S. Conference of Cardinals address the abuse crisis 16 years ago in Dallas? 
So what's next for the Catholic Church, and what needs to change?
Here to answer some of those questions are Illinois Supreme Court Justice Anne Burke, who was interim chair of the U.S. Conference of Catholic Bishops study on nationwide clerical sexual abuse in 2002; the Rev. Donald Senior, president emeritus of the Catholic Theological Union, a graduate school of theology and ministry where he serves as professor of New Testament; and, John O'Malley, the former director of legal services for the Archdiocese of Chicago. O'Malley was hired in 1992 by Cardinal Joseph Bernardin to create and implement the Archdiocese's policies and procedures on clerical sexual misconduct. Since his retirement in 2015, he continues to provide counsel to the Archdiocese on misconduct cases.
Go here to report abuse within the Chicago Archdiocese.
Below, an edited Q&A with Senior:
What was your reaction to the grand jury report?
Well, like so many people have said, I felt anger, betrayed, disgust, sadness, all of those. It was like Groundhog Day. We've gone through this 15 or 16 years ago. And then for this to come out so vividly. Most of them were past offenses.
But what I think struck me the most particularly also connected with Cardinal McCarrick, the report of his situation, it spotlights on the leadership and on the fact that the leadership in so many cases just let the victims down, let the church down. So it's really, I'd say in more than 50 years of priesthood, the low point.
That was your low point?
It just seemed (it) all came crashing back again. … It strikes at the heart of what the priesthood means in the sense of trust and of serving people. And here you have people violating, wounding, destroying people's lives. And then you have others that are turning away from that for the sake of organization or whatever, to avoid the shame of it. And they put – in some instances, a lot of instances – put other people at risk, other children at risk by moving these folks around and are not putting it out in the open.
So it just is sort of the opposite of all that you strive and hope to be as a minister of the gospel. So anyway, yeah, pretty low.
Is there a problem with the structures that are in place in the church that allow this to happen and protect those priests – and has some of them rising through the ranks?
Well, yes, I think there's a structure and there's a culture. The structures particularly, again, I think in most dioceses there are supposed to be and there probably are structures in place like review boards, procedures for reporting and so on and mandated background checks. All that kind of thing is there. What's not there are comparable structures for the bishops themselves. How are they accountable?
Some bishops have been exposed over the past several years of themselves being involved in abuse in moving people around, or masking it or fighting victims about compensation. So, that's a problem.
Working in a world that is closed, that is concerned about advancement, and prestige. That mentality which is very much in place in a lot of areas of the church, that's what creates the kind of decision to put church organization and its reputation first, more than risking a child's life. And that I think is what is a much more difficult thing to remedy. And that's where I think the church is going to need a lot more lay leadership, strong lay leadership, accounting, calling this kind of mentality to task.
A lot of the seminaries, certainly since Dallas, certainly have much more rigorous entrance exams, requirements, background checks, psychological testing and so on and so forth but they can still have an environment in which the priests are being prepared for a system in which they feel they stand at the center. And that they're proprietary. And that that is something very difficult and challenging and insidious, really, that I think is very much part of the fundamental cause of this. So people can take refuge in this kind of world. And if it's a person who is, whatever you want to describe, sick, somehow perverted in their personal life choices they can hide in the system and they have access to families they have trust that they haven't really acquired, it's been given to them. So getting at that is the biggest challenge, I think.
So what needs to change specifically?
Well, I think there first of all has to be an accounting. You know, we Catholics set up the sacrament of confession or reconciliation. And it has some key components. One is to confess your sins. Starting point. So confessing the sins in this instance is going to have to be with the help of legal, civil, lay involvements. The grand juries, maybe. I know Justice Anne Burke has propose more of these grand jury things for every diocese. So there has to be an airing out. Full disclosure of credible abuse cases and so on.
And then there has to be a request for forgiveness. That's the second thing: contrition. Acts of contrition. And then there's penance. It's another component of the sacrament. You have to do a penance. So the penance is going to be some people should be removed from office or should resign or there has to be some censures and this includes bishops and other leaders.
And then a firm purpose of amendment is this last part. So what's going to go into place that if a victim or someone in the diocese has reason to believe that a bishop is complicit in this. Where do they go? What's the procedure for this to be accountable to it? That's what's missing here and I would say, a standard type of system of accountability particularly for the leadership.
In a lot of the cases with the grand jury report, the statute of limitations have passed and there is no legal remedy. So let's talk about the victims and what possible remedies there are for them.
I guess some of them are going to, like Pennsylvania, propose opening the statute of limitations. But what about the church's obligation? I think a lot of the bishops I see already are and I think it's in Cardinal Cupich's letter, saying here's the hotline. Please come forward.
I had a statement that was sent by a (church) lawyer who works on this saying that we should expect a surge of victims coming forward. So I think acknowledging the validity of what they're saying and listening to them, receiving them with respect, compensation, monetary compensation, help with counseling or whatever and the expression of sorrow. These wounds are deep. I don't know if they can be totally healed. But I think it's coming to grips with this whole issue and the proper procedures, possible procedures would be part of the healing process, too, for the victims to know at last they've been heard and somebody is trying to make sure it doesn't happen again. But that's got to be a big focus – the victims has to be a big focus – that's what's been lost in this.
The church is losing ground in recruiting priests and churches are closing. When stuff like this comes out, how does it hurt the church? How does it hurt recruitment of priests?
It hurts the church in so many ways. You hear the testimony of these victims. They lose their faith in God and the church certainly. So, I mean it creates an environment, an atmosphere about the church that questions its credibility which surely doesn't help to draw people.
I know there are a lot of causes why church participation is down and why candidates for priesthood are down. I mean, there's a lot of cultural things going into this beyond this.
How as a priest does this affect your faith?
I don't know if it affects my faith as such. But it affects me in my vocation as a priest. I've been a priest a long time. I find great joy and peace in it. I've striven all my life to be faithful to it and faithful to vows involved. Everybody has their own limits and weakness that you try to transcend. But something like this! This is not ordinary human weakness. This is a crime. And a terrible sin. So you feel like you've been, in terms of your profession, if you like, you've been battered. And so I'm very conscious that – I know a lot of the students, they know what my background is. So I mean, I do want to communicate to them not only real concern about this problem but also my ongoing commitment.
---
Related stories:
More Resignations at Willow Creek Church In #MeToo Scandal
Local Author Says Religion Might be the Best Therapeutic Drug Around
'Consuming Religion' Explores Shaping of Corporate, Celebrity Culture
---