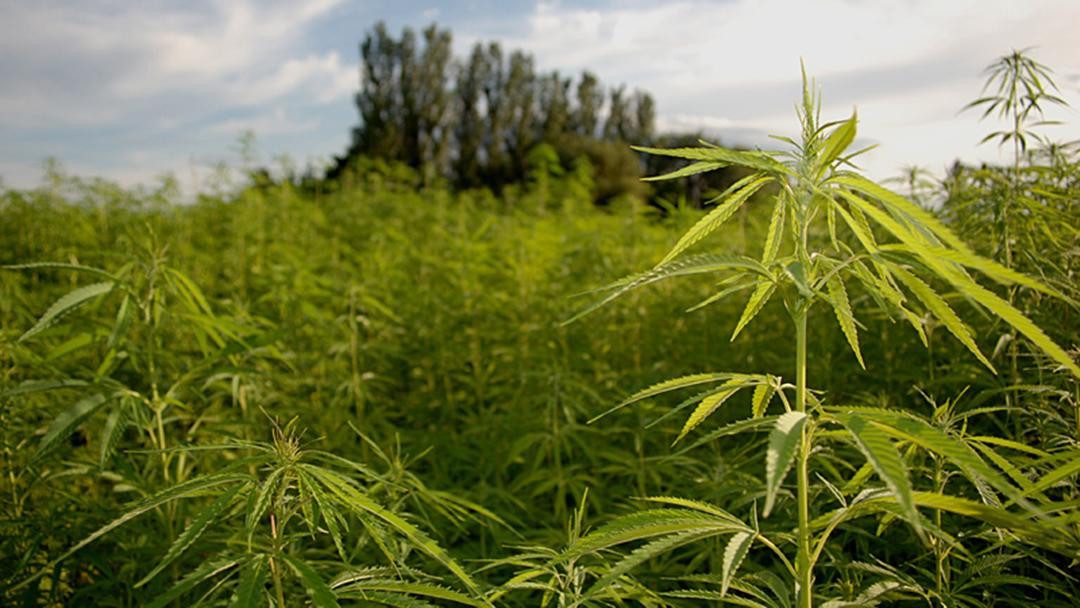 (kat_geb / Flickr)
Illinois regulators are finalizing rules for the growing of industrial hemp as farmers and others across the state prepare to line up for a portion of what is expected to be a multimillion-dollar industry.
A bill signed into law by Gov. Bruce Rauner this summer legalized the cultivation of industrial hemp, a variety of the cannabis plant used to make thousands of materials and products, such as cloth, paper, biodegradable plastics and cannabidiol.
Federal law had prohibited the growing of hemp for decades, requiring states to pass their own laws to get around the federal ban. But the recently passed 2018 Farm Bill legalized hemp production in all 50 states.
Even with the new federal law, Illinois and other states must develop their own licensing systems. On Friday, the Illinois Department of Agriculture released a set of proposed rules for regulation of the plant.
IDOA will now accept public comments for 45 days, followed by another 45-day comment period for lawmakers and a hearing before the state legislature's Joint Committee on Administrative Rules. (See below for details about the proposed rules.)
Hemp advocates had long pushed back against the Federal Drug Administration's classification of the plant as one with a strong potential for abuse, pointing out that it contains very small amounts of tetrahydrocannabinol, or THC, the psychoactive chemical that gives marijuana users a "high."
Industrial hemp is typically defined as having less than 0.3 percent of THC, which is the proposed limit for hemp to be grown in Illinois.
"In other words, you can smoke all the industrial hemp you want and you will never get high," said Jeff Cox, medicinal plant bureau chief with the Illinois Department of Agriculture, in an interview posted to the department's website. "You may get a bad headache."
Since Illinois legalized hemp in August, Cox said IDOA has fielded a steady stream of calls about the new crop.
"Our phone has been ringing off the hook," he said. "There is a lot of interest from farmers and a lot of interest from people wanting to process [hemp].
"This will be very good for the Illinois farmer, we hope," Cox continued. "It's going to be one more way they can diversify their agricultural processes and one more potential moneymaker for them."
The U.S. imports an estimated $300 million in hemp products and materials each year, according to the National Hemp Association. The market for hemp is projected to grow over the next few years, breaking $2 billion by 2020, with high demand for hemp from farmers, brewers, processors and even clothing designers.
"[The Midwest] is going to be the epicenter for hemp, in the long run," said Eric Pollitt, owner of Peoria-based Global Hemp Inc., a hemp product reseller. Pollitt said he thinks states like Illinois, Indiana and Wisconsin will rank among the top states for hemp production nationwide.
In addition to fibers and paper, hemp can be used to produce construction and insulation materials, cosmetics and plastic composites. Hemp seed and hemp oil can be used in a variety of foods, such as granola.
Hemp is also popular among environmental advocates for its potential use in remediating contaminated soils and its ability to compete with weeds that are resistant to highly toxic herbicides.
Cox said hemp was a "huge crop" in Illinois during the 1930s and '40s as part of the effort during World War II to produce clothing, parachutes, rope and other materials.
---
A look at Illinois' proposed hemp rules
In drafting the proposed rules that were issued Friday, IDOA studied states with existing hemp regulations, including Kentucky, Colorado and North Carolina, Cox said.
Illinois' rules would require a license to cultivate hemp and a separate registration to handle and/or process it. Each would come with a $100 application fee and a $1,000 license or registration fee and be valid for three years.
The rules would permit cultivation of hemp both outdoors and indoors, given a minimum plot size of one-quarter acre and 500 square feet, respectively.
Applicants would be subject to criminal background checks, and anyone convicted of a felony or drug-related misdemeanor in the past five years would be ineligible. Information submitted by licensed growers and processors could be shared with law enforcement without notice.
The proposed rules also call for at least one inspection per year, with fines of up to $10,000 for each violation, such as knowingly growing hemp with a THC concentration of more than 0.3 percent.
Cox said farmers and those looking to process hemp will be able to apply for a license or registration online.
Contact Alex Ruppenthal: @arupp | [email protected] | (773) 509-5623
---
Related stories:
Rauner Signs Bill Legalizing Industrial Hemp in Illinois
Bill to Legalize Industrial Hemp Clears Illinois Legislature