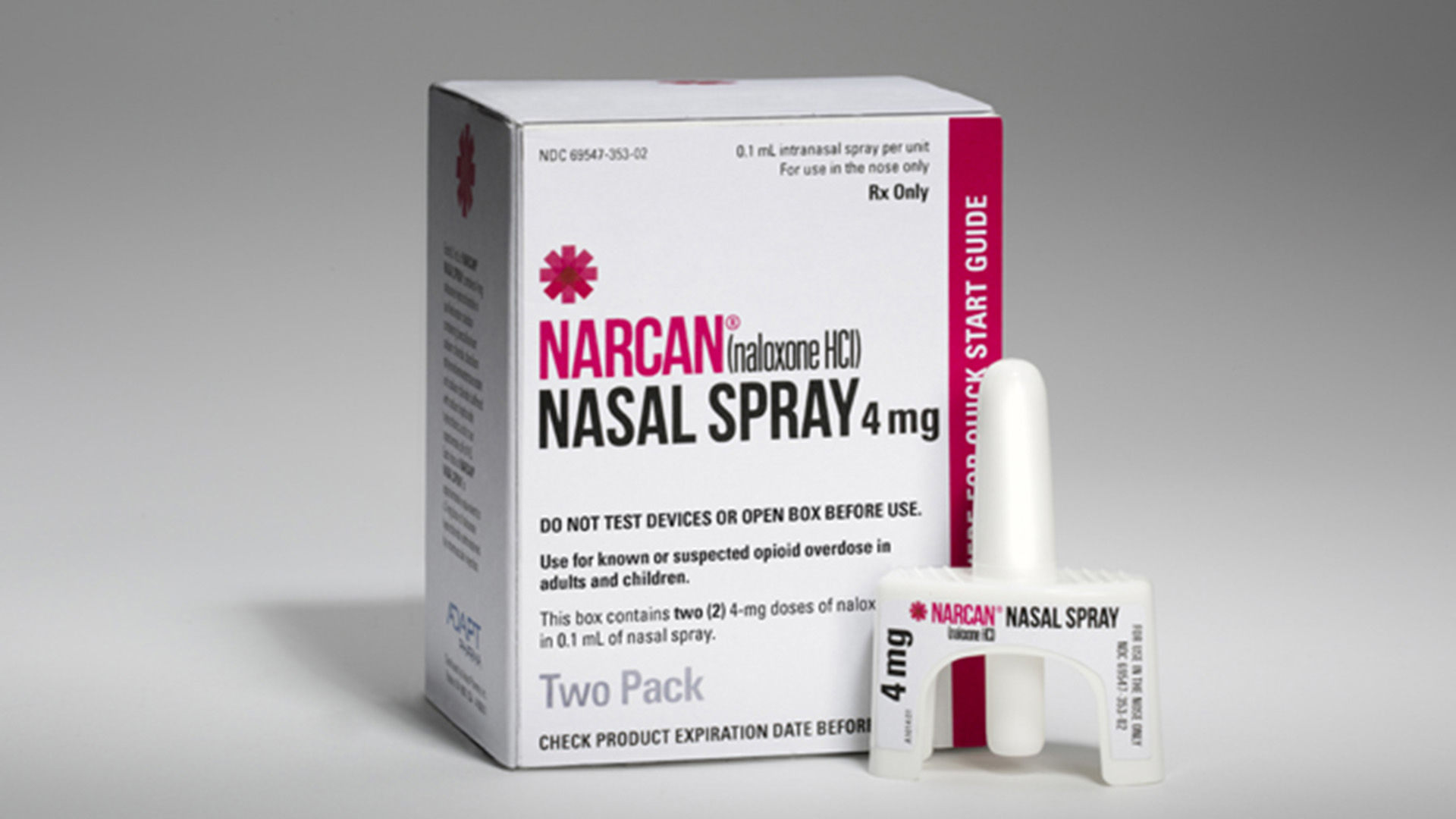 NARCAN® Nasal Spray (Courtesy of Adapt Pharma)
The Chicago Police Department will outfit officers in a half-dozen South and West Side districts with naloxone, better known as Narcan, through a pilot program to help combat opioid overdose deaths as part of a new four-year federal grant.
Mayor Rahm Emanuel on Monday announced the $2 million grant, which comes through the U.S. Department of Health and Human Services' Substance Abuse and Mental Health Services Administration.
"This new investment ensures that our first responders have the tools and training they need to tackle the opioid crisis head-on and to work directly with residents to reduce the unnecessary opioid overdoses," Emanuel said in a statement. "This grant will strengthen our efforts helping more residents get the treatment they need and keep children and families healthy."
The department announced earlier this year its plans to begin purchasing the drug, which is used to reverse the effects of an opioid overdose. All Chicago Fire Department vehicles are currently equipped with Narcan.
The goal of this program is to eventually train and equip all patrol officers and sergeants citywide in the use of Narcan. But the department is starting off with six police districts, which it says have been the most highly impacted by opioid use. All officers in these areas will complete an "approved Narcan training curriculum," according to the city, that will teach them to use a Narcan nasal delivery device to reverse an opioid overdose.
Click table to enlarge (Cook County Department of Public Health) Cook County saw 1,081 opioid-related overdose deaths in 2016, including 741 in Chicago, according to the county's Department of Public Health. That countywide total jumped by more than 430 from the previous year. The number of fentanyl- and heroin-related deaths also spiked between 2015 and 2016.
The city says its $250,000 annual investment in naloxone helped reverse 1,544 overdoses between July 2016 and June 2017, and distribute more than 4,500 naloxone kits to communities across the city.
Through the grant, the police department will also coordinate with the Chicago Fire Department, the Chicago Department of Public Health, the University of Chicago Health Lab and the Illinois Department of Human Services Division of Alcohol and Substance Abuse to better identify gaps in care and help connect overdose patients with support services and treatment.
"The opioid crisis continues to devastate families in Chicago and all across the country, and we cannot afford to lose any more of our children to this epidemic," U.S. Sen. Tammy Duckworth said in a statement.
"Resolving our nation's opioid crisis requires a comprehensive effort from officials at every level of government to support prevention and treatment services. This federal funding will help Chicago equip more first responders with naloxone, which will help save lives across our city."
Contact Matt Masterson: @ByMattMasterson | [email protected] | (773) 509-5431
---
Related stories:
Chicago Police Officers to Carry Lifesaving Naloxone
5,000 Doses of Lifesaving Narcan Donated to Illinois
Illinois Health Officials: State Facing 'Unprecedented' Opioid Epidemic