At 5 p.m. on Dec. 31, after 42 years, an iconic Rogers Park restaurant and community hub will close.
The Heartland Cafe, which has been striving to serve "good, wholesome food for the mind and body" with a healthy side order of progressive politics since 1976 will soon be no more.
The vegetarian-leaning restaurant, on the corner of Glenwood and Lunt, was the creation of young progressive activists.
TRANSCRIPT
Michael James, former Heartland Café owner: I was teaching at Columbia College. I was developing this theory of progressive institutions that served the community … We came up here after we learned of the closing of Lackey's Steakhouse. A guy told us this place was available. We came up. It was a rainy day and the clouds cleared and the sun came out and there was a rainbow and we said this is a special place – we're going forward.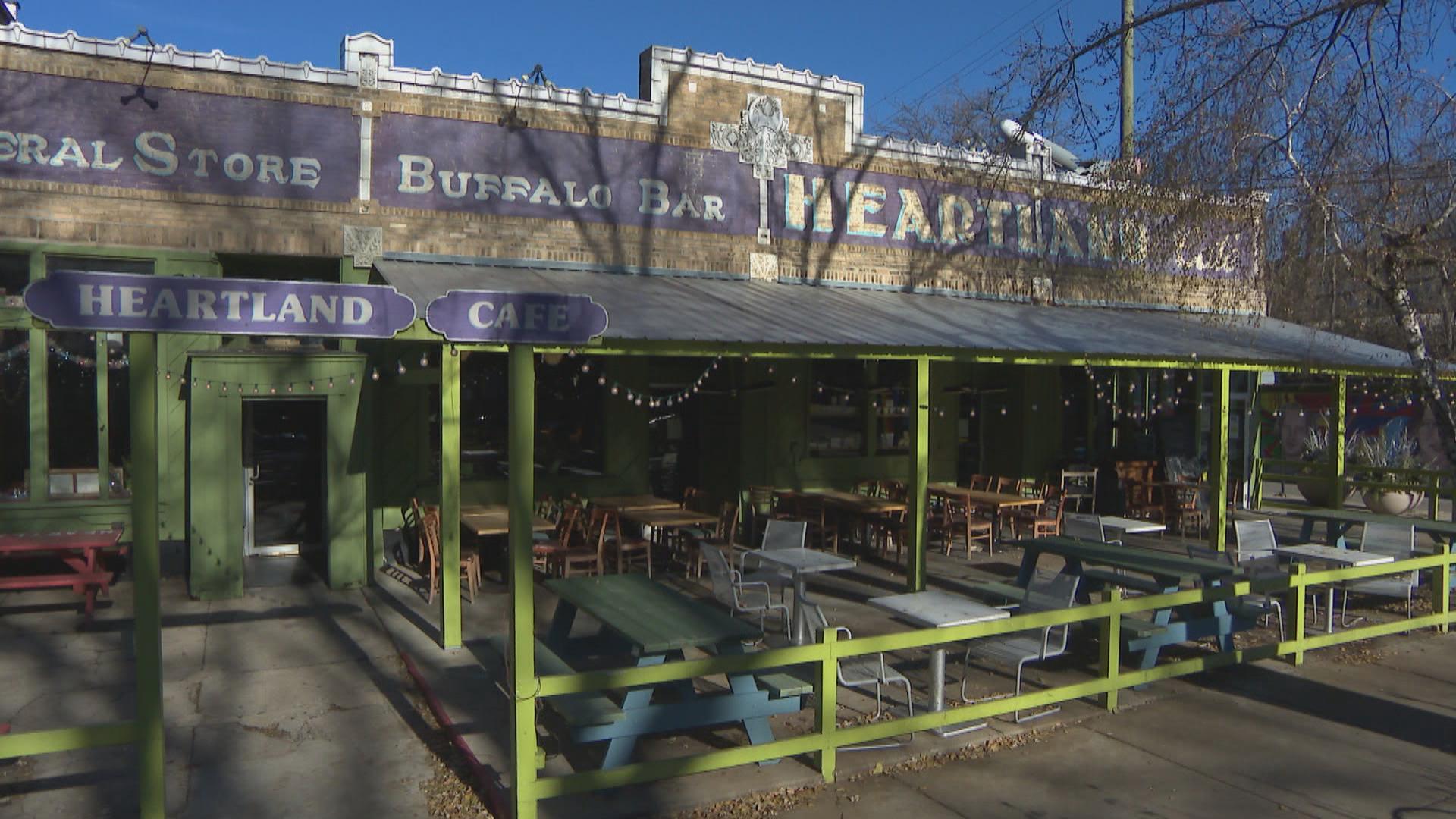 Phil Ponce: James and Katy Hogan owned the Heartland for 36 years. They sold it to current owner Tom Rosenfeld in 2012.
The two didn't have much restaurant experience when they started out.
James: I worked at a country club in my hometown and got fired right away for eating a leftover steak off of someone's plate.
Hogan: God, does that not surprise me. I worked at two food establishments: Little King's sandwich shop right over on Sheridan Road. I did host at Pizzeria Uno downtown for a little while.
Ponce: With $4,000 borrowed from family and friends and an army of volunteers, they set to work transforming an old neighborhood steak house into a new kind of restaurant.
James: We were very influenced by Francis Lapay Moore and her book "Diet for a Small Planet," which basically says that you can't meet the world's protein needs on a meat-based diet. So we were going to mix grains, beans rice … we served chicken and we served some frozen halibut.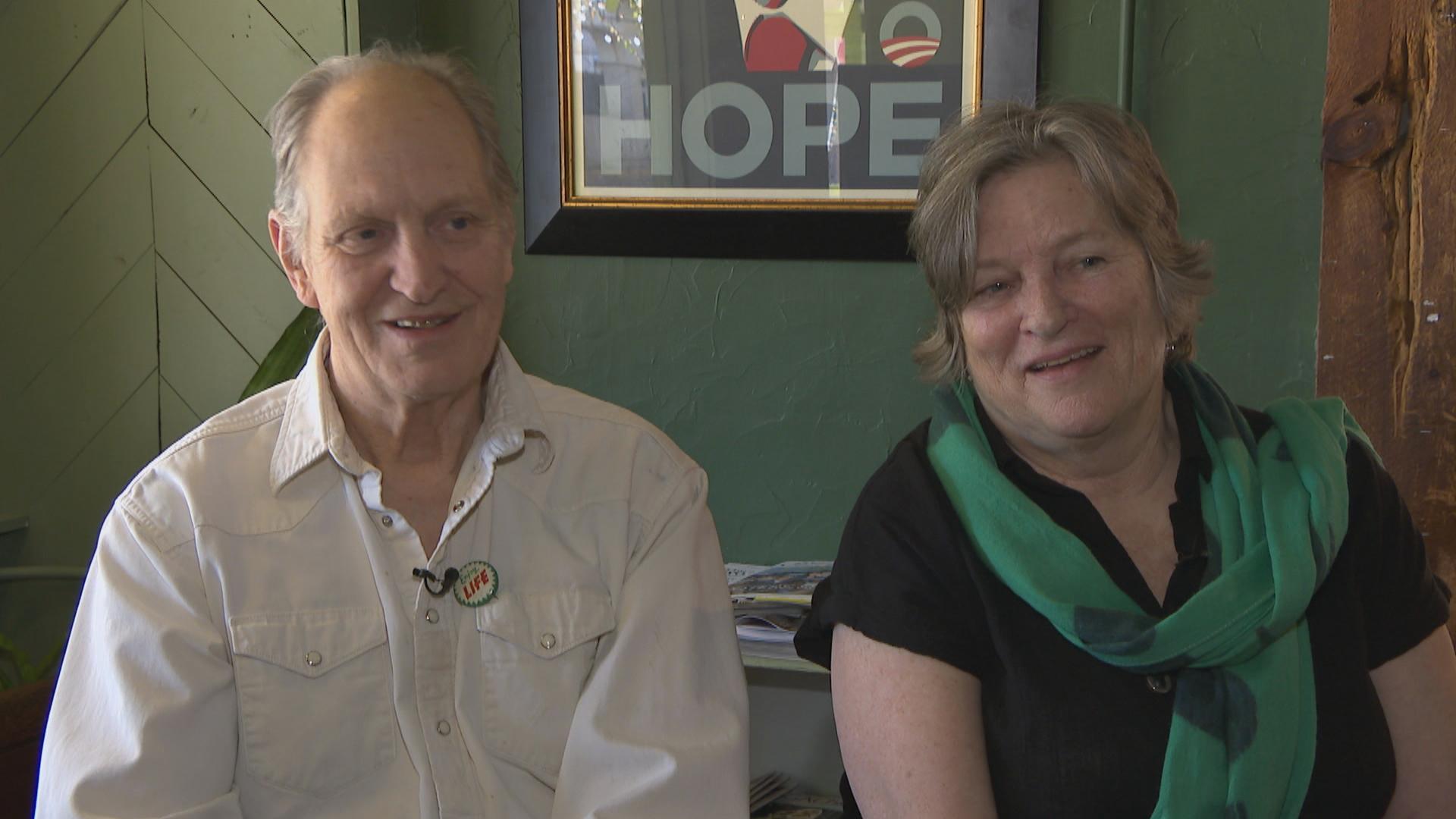 Michael James and Katy Hogan
Hogan: It was the right moment. It was 1976. No one had ever heard of "good wholesome food for the mind and body."
James: So we worked on it. We were sanding down the brick. Popping the old tiles, macramé the chairs. We had $200 left and we went down to Southwater Market. Mostly to the Greater Illinois People's Co-op – bought brown rice and beans, some vegetables. And we opened on Aug. 11 to a crowd of 43 people who we kept waiting while we were finishing getting the food ready.
Ponce: The Heartland soon grew to become a cornerstone of the community, hosting music, poetry nights and even athletic events through an organization called Athletes United for Peace.
Hogan: It was intentional but it was also of its own organic rising. We did not know or did not choose the people who chose to love us. I do remember an early party that we were standing in that room, looking around at the gathered collection of hobos from the neighborhood and we both basically said, "If I didn't own the joint I'd leave."
We made it up as we went along basically. And we trusted and loved our people
James: And we were definitely politically into Rainbow Coalition kind of politics – black, white, Latino, American-Indian, Asian … and that became a formidable part of this place.
Hogan: We were only seven years open when Harold Washington ran for mayor and we immediately said use us … It took them until two nights before the actual election night – the primary which he won – to call and say, "OK, the congressman is coming to the Heartland."
James: It was packed. It was jammed inside and out.
Hogan: It was a special moment because we had told, I had told the entire staff, "You've got to be here because I don't want to hear of you voting for any of those other creeps." It was a very special night … people were chanting "Harold, Harold!" It was completely racially mixed.
James: He called it the Unity Café.
Hogan: They said they should call this the unity café.
Ponce: A young Democrat running for the United States Senate also stopped by in 2004.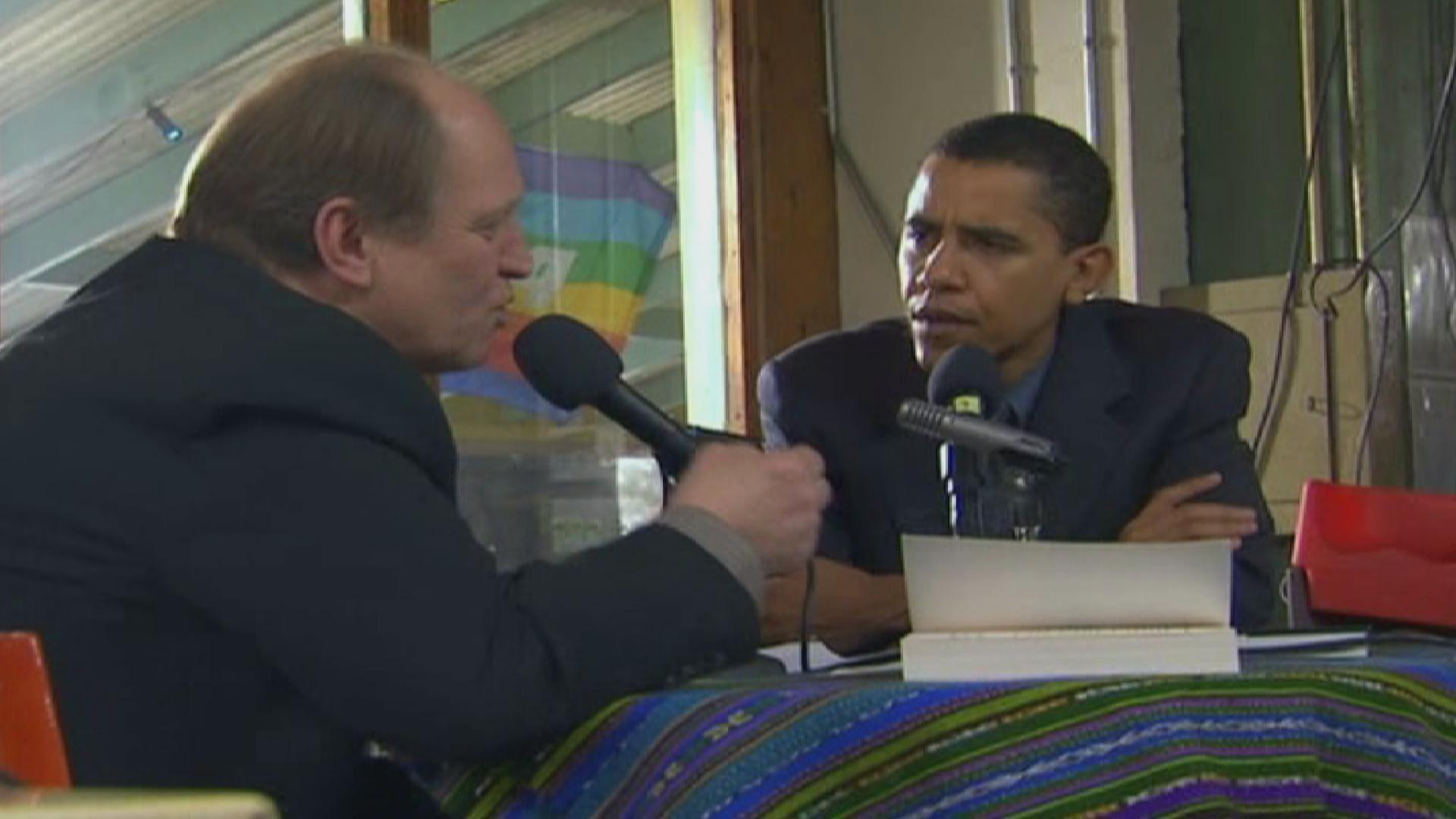 James: We had been trying to get (Barack) Obama for our "Live from the Heartland" radio show that we did from here.
Hogan: He started by interviewing Obama on the radio show and then Barack just stood there in front of an entirely packed restaurant. Kids were bussed in by the committeemen from various neighborhoods. They were out there packed …
And he just stood there and spoke without a note for 45 minutes to people like they had brains. And they were silent and listened and went, "OK – yeah, let's make this guy the senator."
Ponce: Politics remains an important part of the Heartland's enduring legacy.
Hogan: Any night of the week you can come here and see people huddled over their work that they are doing together to better some issue that is important.
James: Rebels in a café making plans.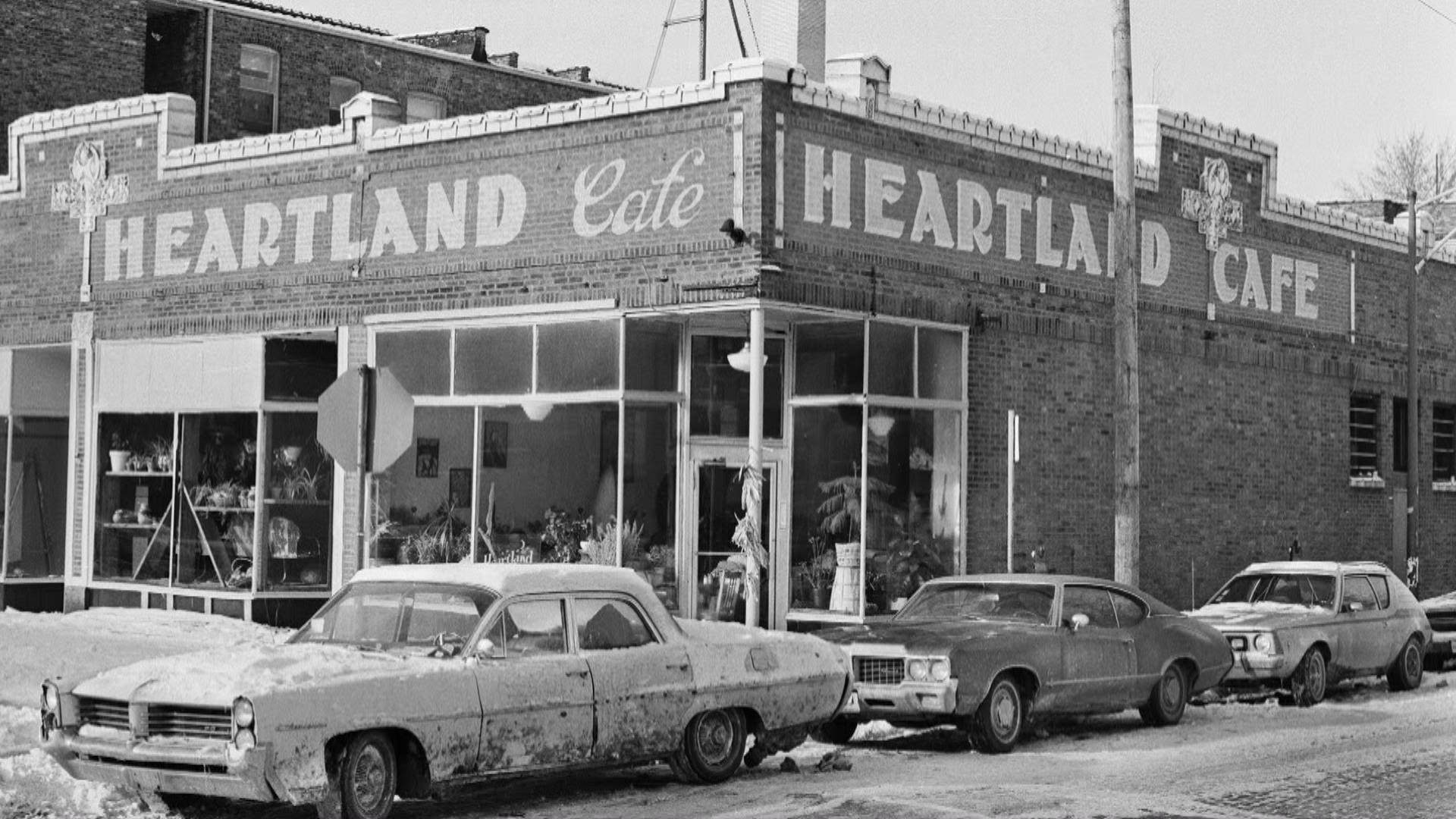 Ponce: Beyond politics, the Heartland's small stage helped launch a number of young bands while also hosting more established acts.
James: A guy named Craig Perry brought in bands early on. We had Smashing Pumpkins, Eleventh Dream Day …
Hogan: When they were young and unknown.
James: We had Pete Best, we had the Drovers.
Hogan: Funkadesi started here. Their first concert together was on our stage.
James: Two three times we brought The Jefferson Starship through a connection that I had.
Hogan: Dropping names here.
So the thing about the Heartland – it was like keeping lots of plates spinning. You know. And that is part of surviving the restaurant business.
Ponce: Tahnja Fernandez worked her way up from dishwasher to front-of-house manager after coming to Chicago from Colorado. She says she is heartbroken by the imminent closure.
Fernandez: This is my home. This is my safe place. I don't really know what Chicago is without the Heartland in it. But at the same time there is nothing about life that doesn't change.
Ponce: Rosenfeld says that owning the Heartland for the past six years was like becoming the caretaker of a beloved institution.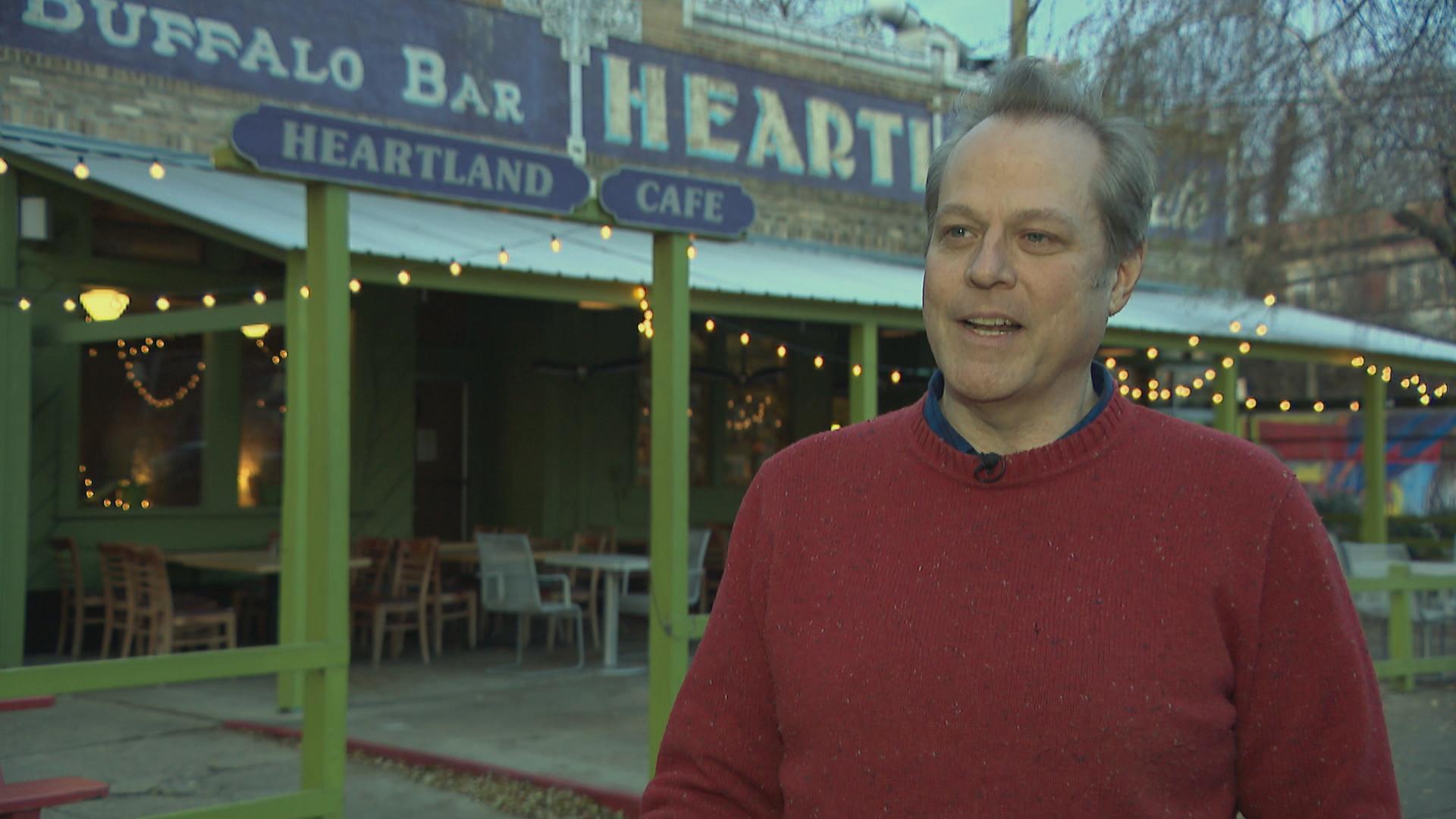 Tom Rosenfeld
Rosenfeld: I knew what I was getting into but wasn't quite prepared for how much Heartland is in the middle of this community. How much the community feels almost a sense of ownership, almost a sense of membership with what we do at the Heartland.
Ponce: But Rosenfeld says operating a restaurant out of the current building has become too difficult.
Rosenfeld: There's the complete inefficiency of operating in a 100-plus-year-old building that is actually cobbling together I think its 11 storefronts that we have over the years grown into.
Ponce: Rosenfeld says the building's sale is close to complete and that the new owners will likely raze the Heartland to build residential apartments.
Hogan hopes that somehow the building can be saved.
Hogan: That's what gave us the ability to have an outdoor café … this is why I don't want this building knocked down. I would love to see 10 little enterprises in each of the storefronts or at least a renewal of that bar because it's a great music venue.
Ponce: Rosenfeld, meanwhile, is searching for a new location for the restaurant and is optimistic the Heartland will return in some form.
Rosenfeld: We have to find a place that has significance. That has space. That has the ability to carry forward the spirit of the Heartland Café.
James: The Heartland Café, whether it's just in memory or whether it endures by the current owner Tom finding another place to open it – It will endure. And people in the world will be glad that it does.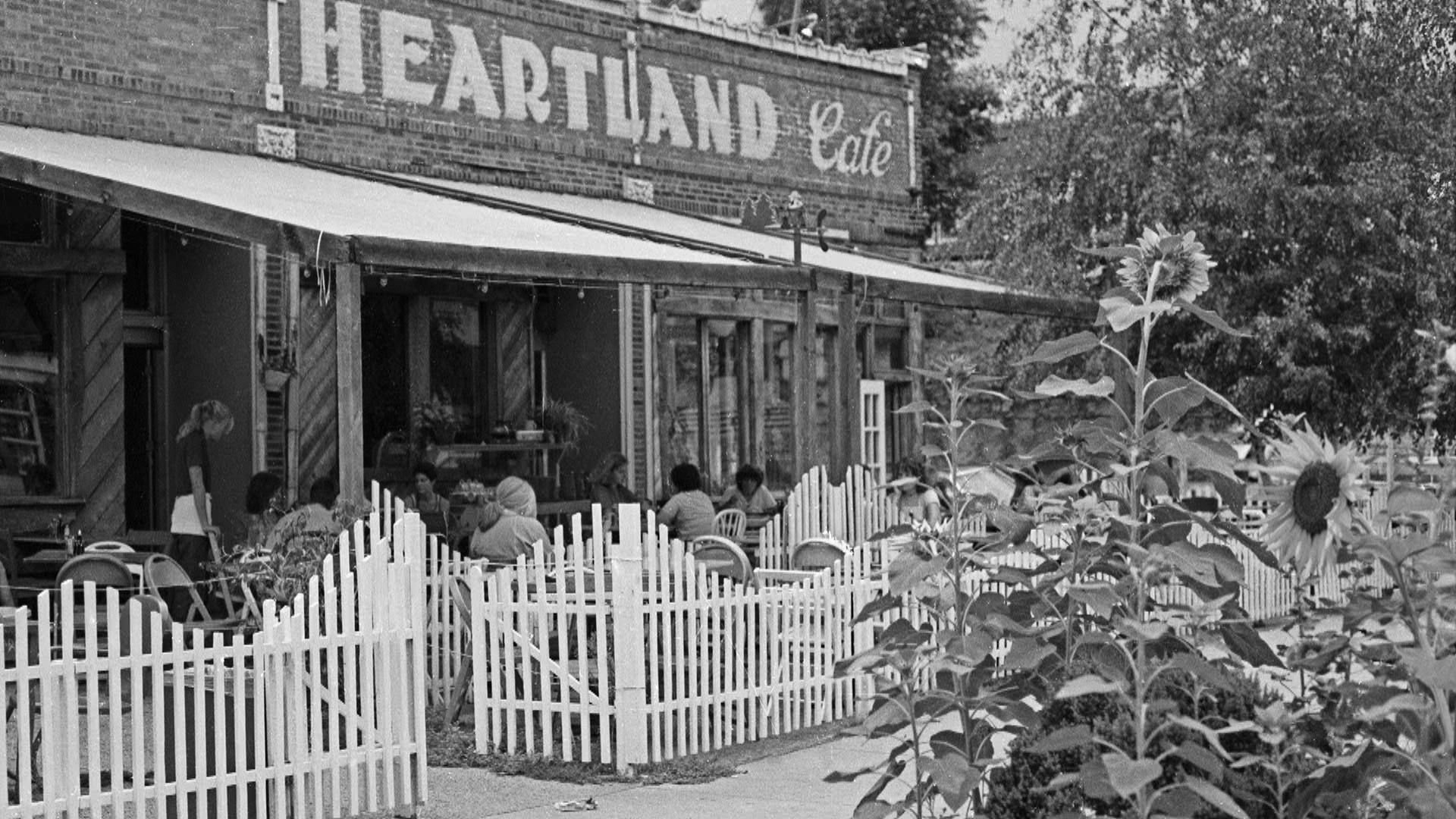 More on this story
Rosenfeld says he is still searching for a new location that will be able to carry forward the spirit of the Heartland Cafe but expects the new owners of the building will likely raze it to develop residential apartments.
---
Related stories:
Critic Who Dissed Chicago's Food Scene Defends His Article
Alpana Singh: 'It's Absolutely Wonderful' to Return to 'Check, Please!'
New Book Dishes on Chicago's Best Pizza
---