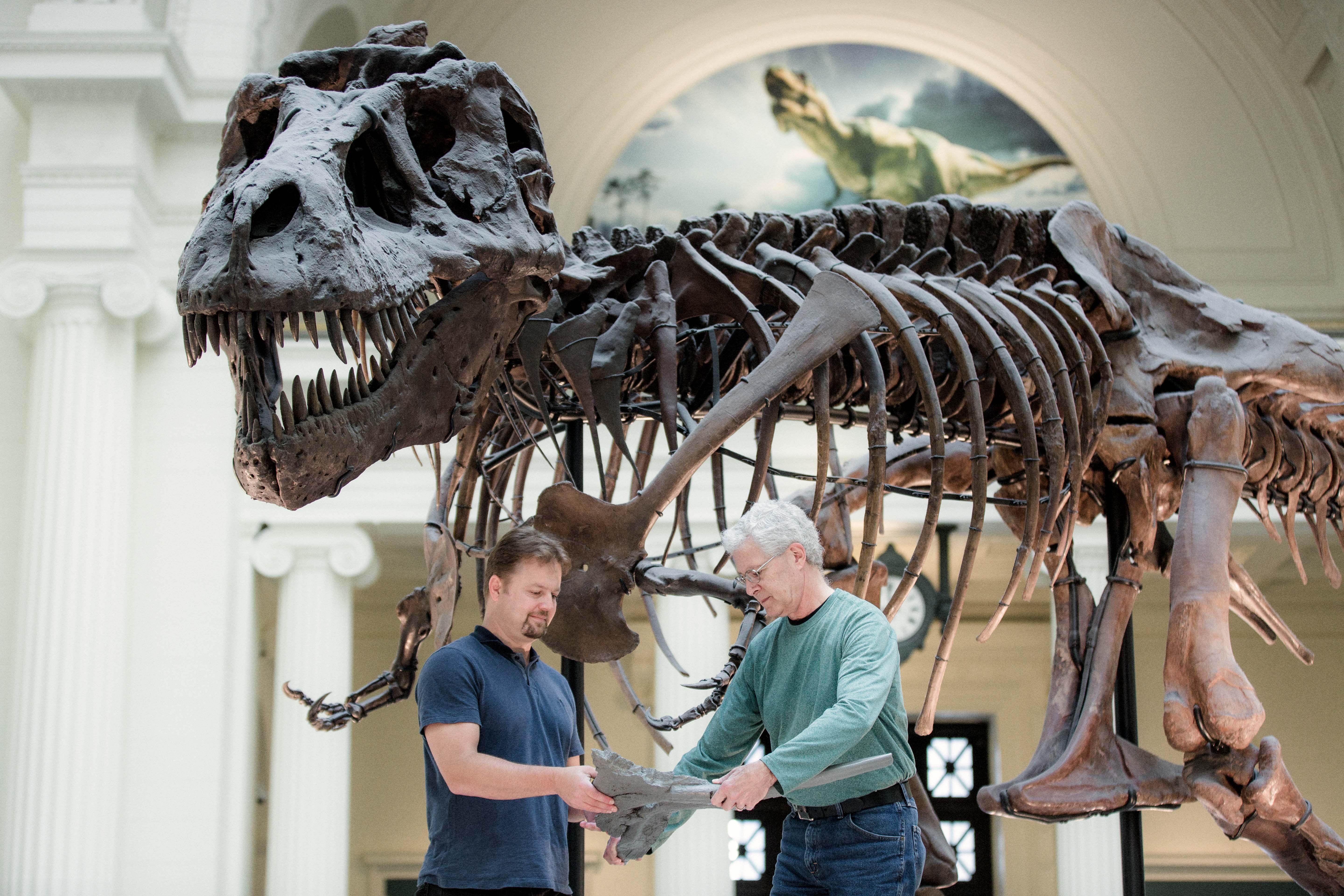 Field Museum scientists Pete Makovicky, left, and Bill Simpson use a cast of one of Sue's gastralia to show where they will be positioned on her skeleton. (Zachary James Johnston / The Field Museum)
The Field Museum's famous T. rex, Sue, will begin a move upstairs next week as part of a planned makeover to account for new scientific discoveries since the dinosaur arrived at the museum nearly 20 years ago.
Starting at noon Feb. 5, staff will begin removing Sue's feet and the tip of the dinosaur's tail. The disassembly will continue throughout February as Sue relocates from Stanley Field Hall to a private suite in The Griffin Halls of Evolving Planet on the museum's second floor.
One factor behind Sue's move is to make room for another truly massive (and ancient) addition: a touchable cast of the largest dinosaur ever discovered – a giant, long-necked herbivore from Argentina that is part of a group of dinosaurs called titanosaurs. Cast from fossil bones of the species Patagotitan mayorum, the dinosaur stretches 122 feet from snout to tail, longer than two accordion CTA buses end to end.
The titanosaur is scheduled to arrive at the Field by June.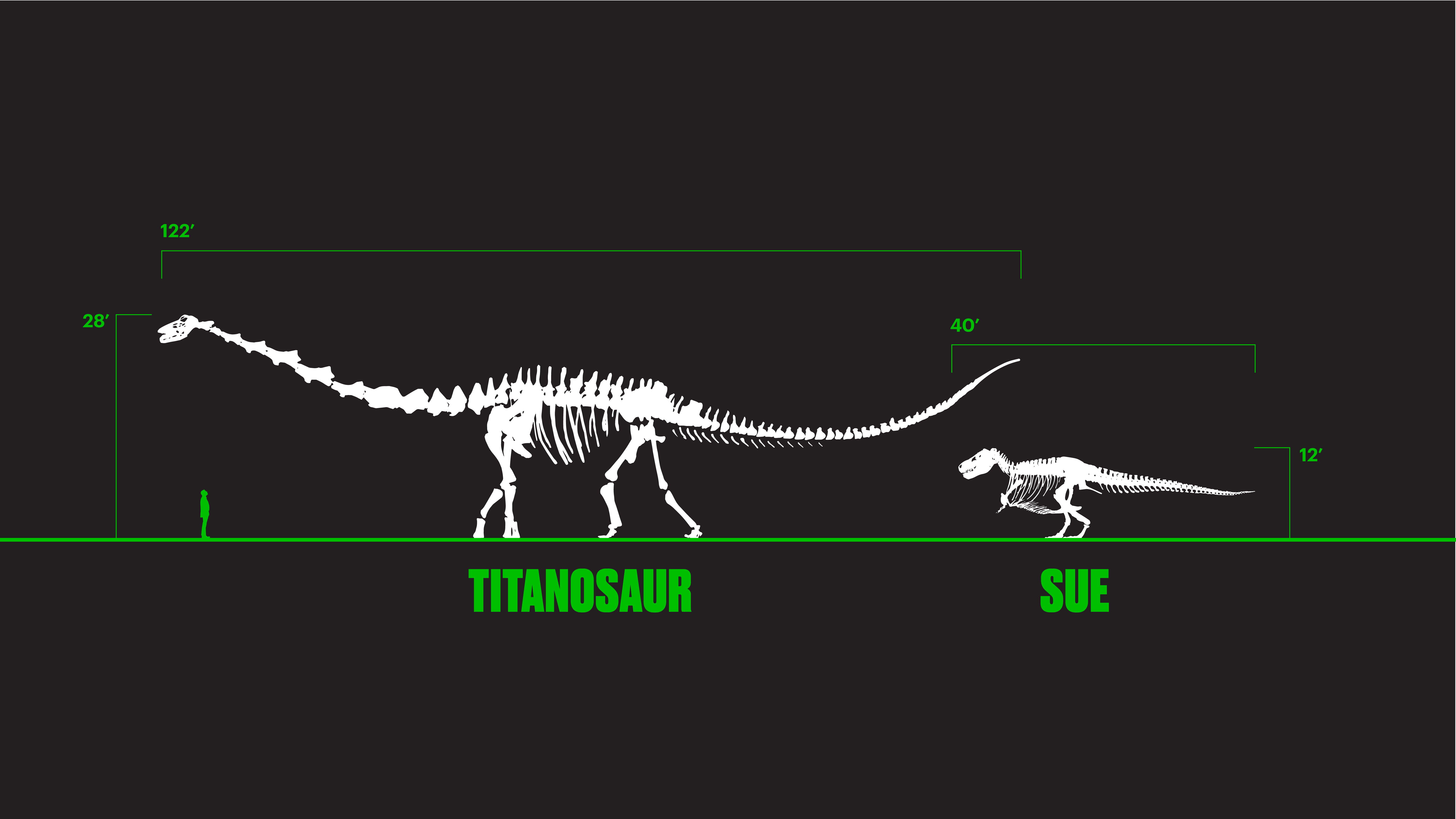 The Field Museum will soon be home to a touchable cast of the largest dinosaur ever discovered, a 122-foot long titanosaur. (Illustration courtesy The Field Museum)
Sue, meanwhile, will undergo a few changes as part of the move. The biggest update will be the addition of Sue's gastralia, a set of bones that look like an additional set of ribs stretched across the belly.
Gastralia are rarely preserved in tyrannosaurs, and scientists weren't sure how to position them when Sue's skeleton was first mounted in 2000. But research in the years since has helped scientists learn more about their function and placement.
Gastralia are also present in ancient crocodile relatives and likely developed as a means of defense, though dinosaurs might have also used them to breathe.
The new rib-like feature will give Sue a fresh, if not enlarged, look.
"T. rex had a bulging belly – it wasn't sleek and gazelle-like the way you might think from looking at Sue now without their gastralia," said Pete Makovicky, the museum's associate curator of dinosaurs, in a statement. "We'll also update their body stance, so Sue will be walking rather than skulking, the arms will come down a little and we'll readjust their wishbone."
Sue's fossilized gastralia, on display in the museum's Evolving Planet exhibit. (Zachary James Johnston / The Field Museum)
"Their," by the way, is how Sue would like to be addressed, the museum says, noting that since Sue's unveiling in 2000, scientific opinion on determining the sex of tyrannosaurs has been shown to lack sufficient data.
"As such, I would like to state my preferred pronouns are 'they/them' to refer to me in the third person," the museum said in a playful statement quoting Sue. "As in, 'Sue is a T. rex. They are a majestic murderbird, and Chicago is lucky they grace the city with their presence.'"
During the move, guests will be able to peek through the windows of Sue's new enclosure to track the progress of the dinosaur's reassembly.
The reconfigured Sue will be complete and on display on the second floor staring in spring 2019.
Contact Alex Ruppenthal: @arupp | [email protected] | (773) 509-5623
---
Related stories: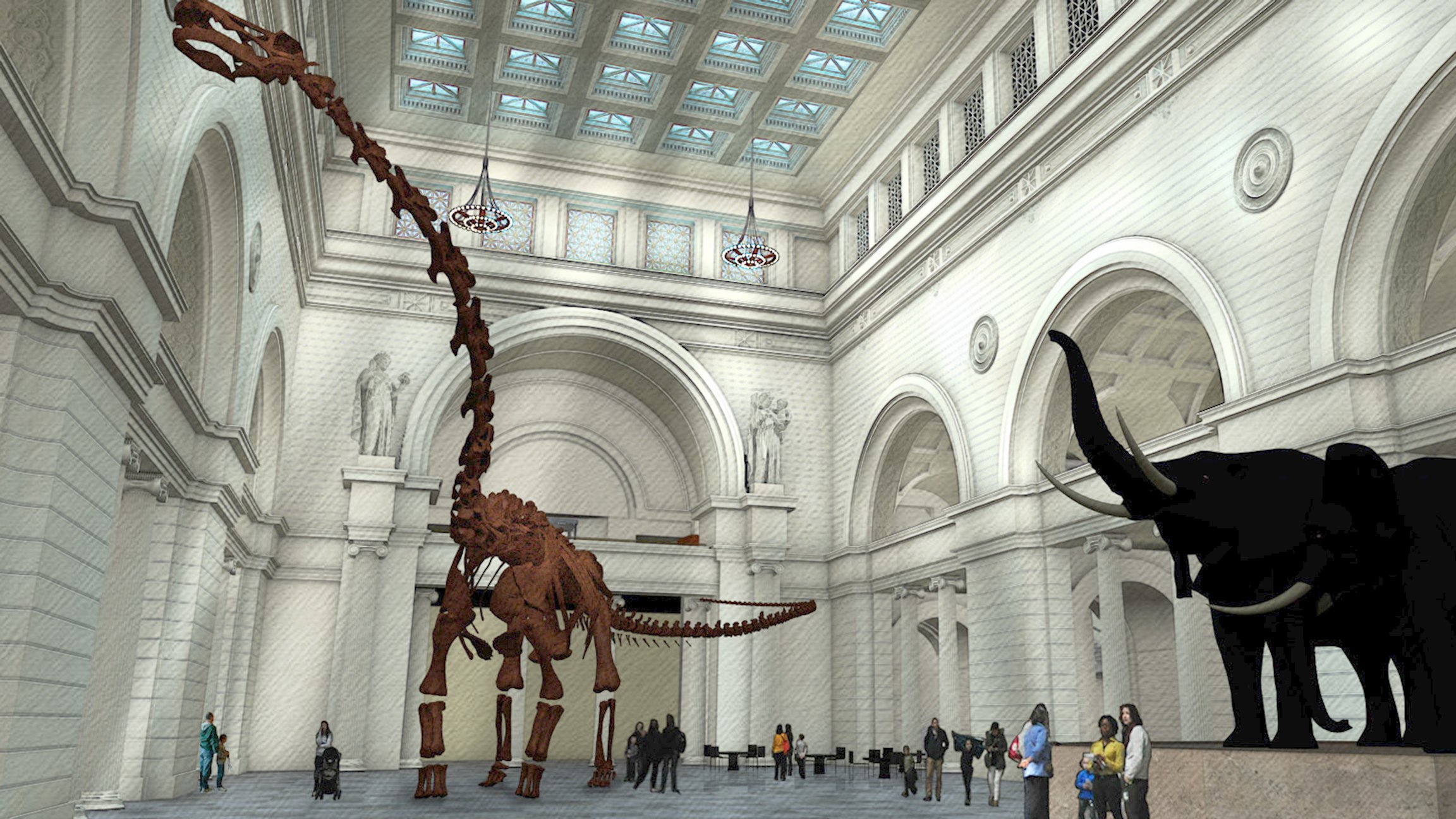 Photos: World's Largest Dinosaur Coming to Field Museum
Sept. 1: Chicago's iconic T. rex Sue will get a makeover when the largest dinosaur ever discovered comes to town. Stretching 122 feet from snout to tail, the titanosaur is longer than two accordion CTA buses end to end.
---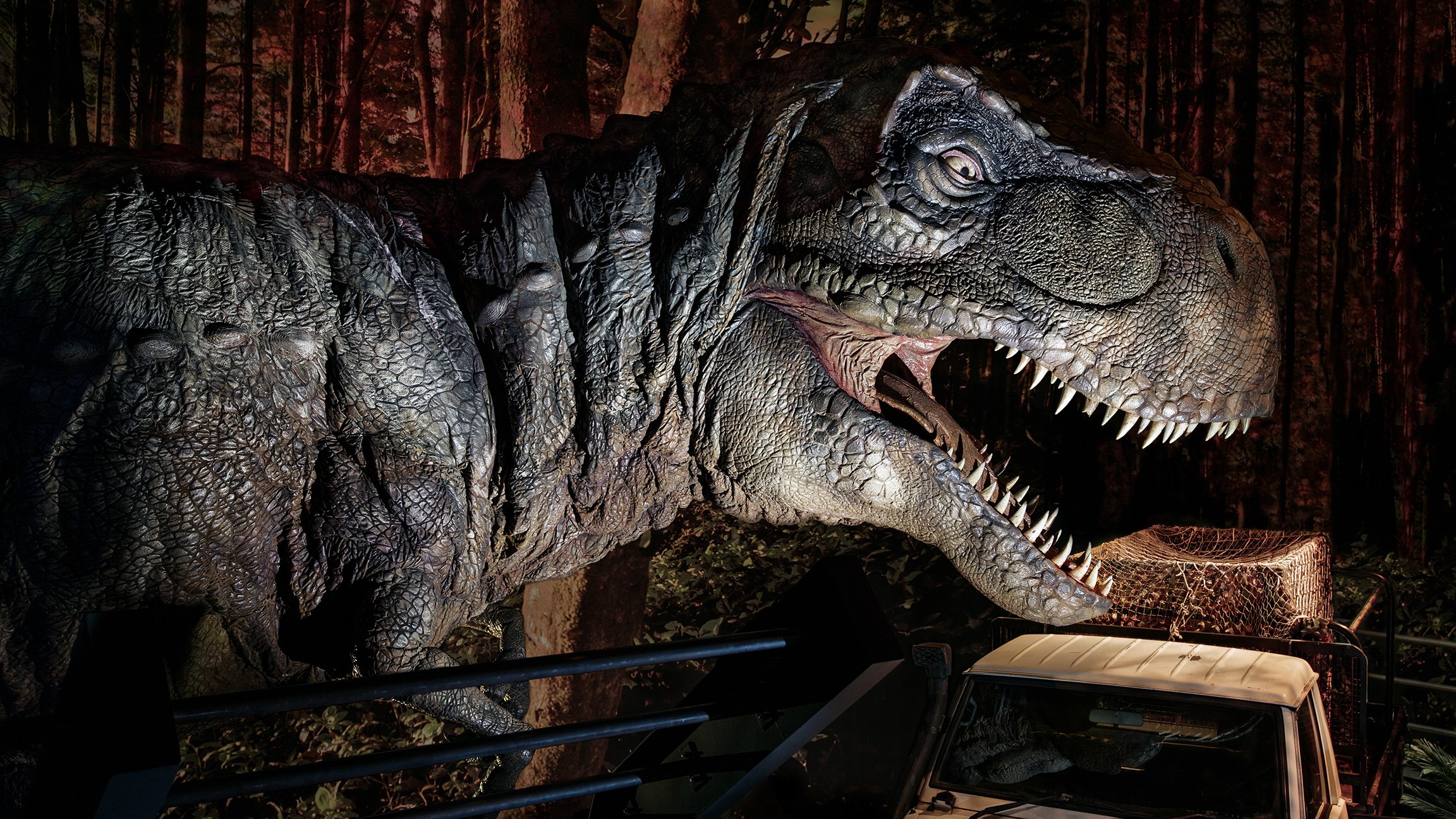 Large-as-Life Dinosaurs Frighten and Fascinate at 'Jurassic World'
May 31: A new exhibit aims to be an immersive experience that brings the 2015 movie and its gigantic reptilian stars to life.
---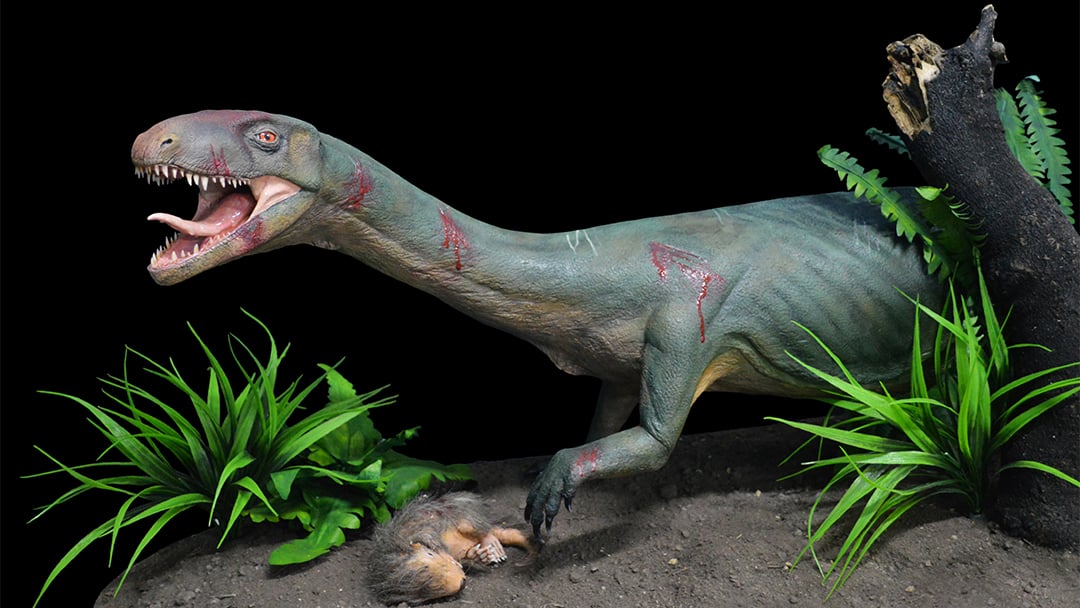 Scientists Discover Early Dinosaur 'Cousin' with Surprising Features
April 13: A Field Museum researcher is among a global group of scientists who have discovered an early dinosaur that reshapes our understanding of dinosaurs' evolution.
---