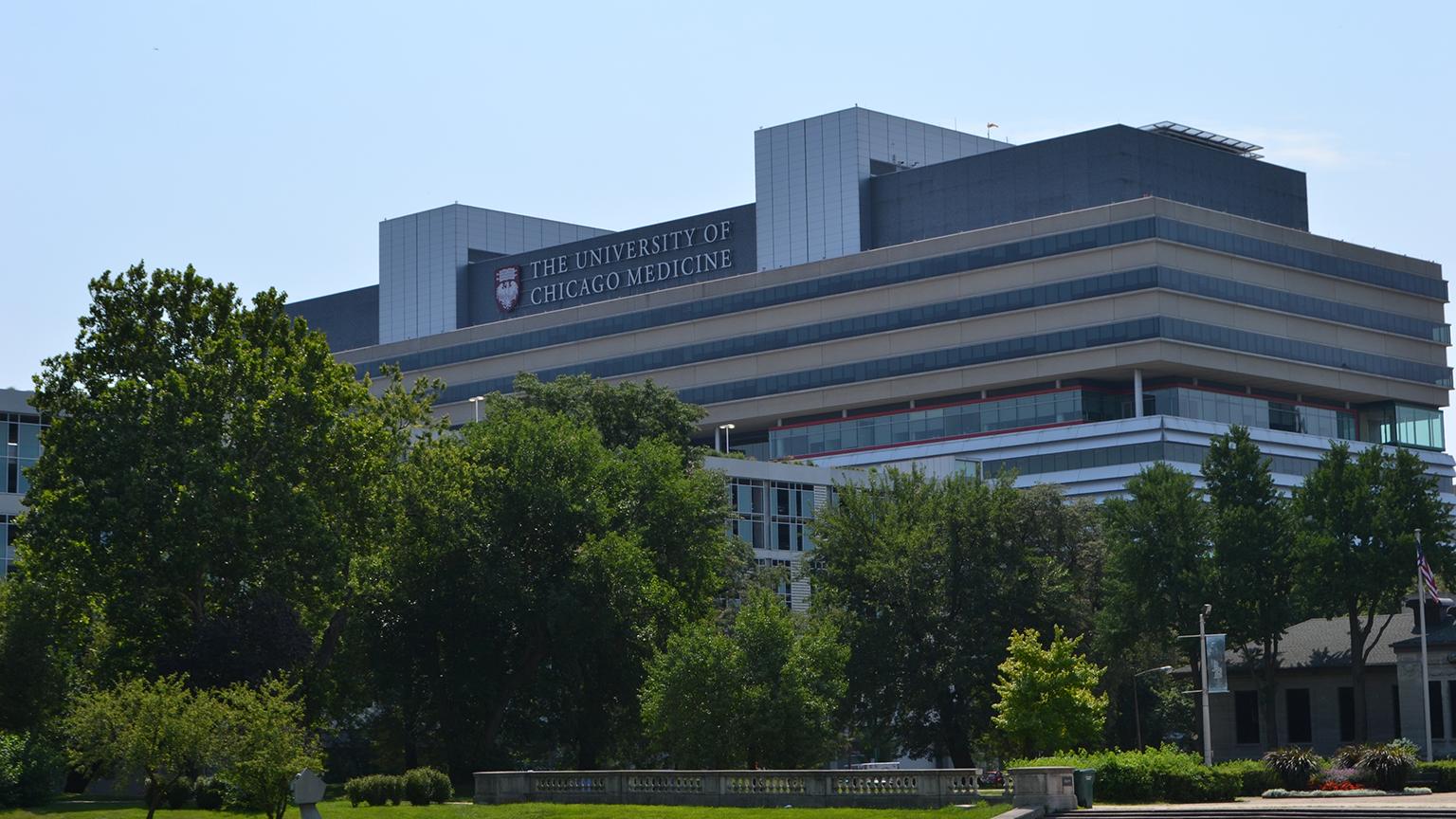 The 2018 Top Hospitals list includes the University of Chicago Medical Center for the third consecutive year. (Kristen Thometz / Chicago Tonight)
Seven Illinois hospitals – including four in Chicago – are among the best in the nation, according to The Leapfrog Group, a nonprofit watchdog.
The group's 2018 Top Hospitals list recognizes a total of 118 hospitals across the country, organized into four categories. Hospitals in Illinois are represented in all but one category: top children's hospitals.
Top General Hospitals:
Elmhurst Memorial Hospital
Northwestern Delnor Hospital (Geneva)
Top Teaching Hospitals:
AMITA Health Saints Mary and Elizabeth Medical Center Chicago (formerly Presence Saints Mary and Elizabeth)
AMITA Health Resurrection Medical Center Chicago (formerly Presence Resurrection)
Northwestern Memorial Hospital (Chicago)
The University of Chicago Medical Center
Top Rural Hospital:
OSF Holy Medical Center (Monmouth)
---
The Leapfrog Top Hospital award is not limited to a set number of hospitals. Instead, it is given to all hospitals that meet the group's standards. Some 1,900 were eligible for the award, meaning they received an "A" in the group's most recent hospital safety grade rankings, among other things. 
"Leapfrog is proud to recognize the recipients of our most elite award for safety and quality," said Leah Binder, the group's president and CEO, in a statement. "We're encouraged by the hard work of Top Hospitals, as well as all of the hospitals that compete for this award. Their transparency and determination delivers the best possible care in their communities."
This is the third consecutive year U of C has been recognized as a top teaching hospital by The Leapfrog Group. A total of 53 hospitals were recognized in this category in the 2018 list.
"This honor recognizes our long-standing achievements in patient quality and safety as well as our commitment to training the next generation of health care providers," said Dr. Kenneth S. Polonsky, executive vice president for medical affairs at the University of Chicago, in a statement. "This latest national recognition would not be possible without the hard work and unwavering commitment of our faculty and staff."
Dr. Matt Brown, system director of medical education for AMITA Health, said it's an honor to be recognized. "As teaching hospitals, both facilities actively promote the values of quality and patient safety in the training of physicians in a variety of fields," Brown said in a statement.  
Elmhurst Memorial Hospital and Northwestern Delnor Hospital are among 35 hospitals nationally recognized as Top General Hospitals.
"We are proud of the extraordinary devotion and passion demonstrated by Delnor's physicians, nurses and staff who are focused on delivering safe and high quality care to every patient, every time," said Northwestern Medicine Delnor Hospital President Maureen Bryant, in a statement. "To be named a Leapfrog Group Top Hospital for the second time in three years is a testament to our hospital's ongoing commitment to patient engagement, safety, transparency and accountability."
Monmouth-based OSF Holy Medical Center was the sole Illinois hospital to be named a Top Rural Hospital this year. Only 17 hospitals nationally received such a distinction. 
Contact Kristen Thometz: @kristenthometz | [email protected] | (773) 509-5452
---
Related stories:
Survey: Adults Say Drug Abuse, Obesity are Top Health Issues Facing Chicago Youth
Northwestern Program Offers Local Teens Medical School Experience
Northwestern Memorial Named No. 1 Hospital in City, State
---