George H.W. Bush, who guided the United States through the collapse and breakup of the Soviet Union and who marshaled a multination coalition to repel the Iraqi invasion of Kuwait, died Friday at the age of 94, just eight months after that of his wife of 73 years, Barbara Bush.
On Monday, Bush's body was flown to the Capitol on Air Force One. He will lie in state through Wednesday in Washington and then be buried Thursday at his presidential library in College Station, Texas.
Chicagoan Samuel Skinner knew Bush for nearly 40 years.
Skinner served as Bush's chief of staff from 1991 to 1992 and prior to that spent nearly three years in his cabinet as secretary of transportation.
Skinner, former U.S. Attorney for the Northern District of Illinois, said that he teared up as he thought about his old boss, and that Bush had "a great life, a great career and a great message for America and the world."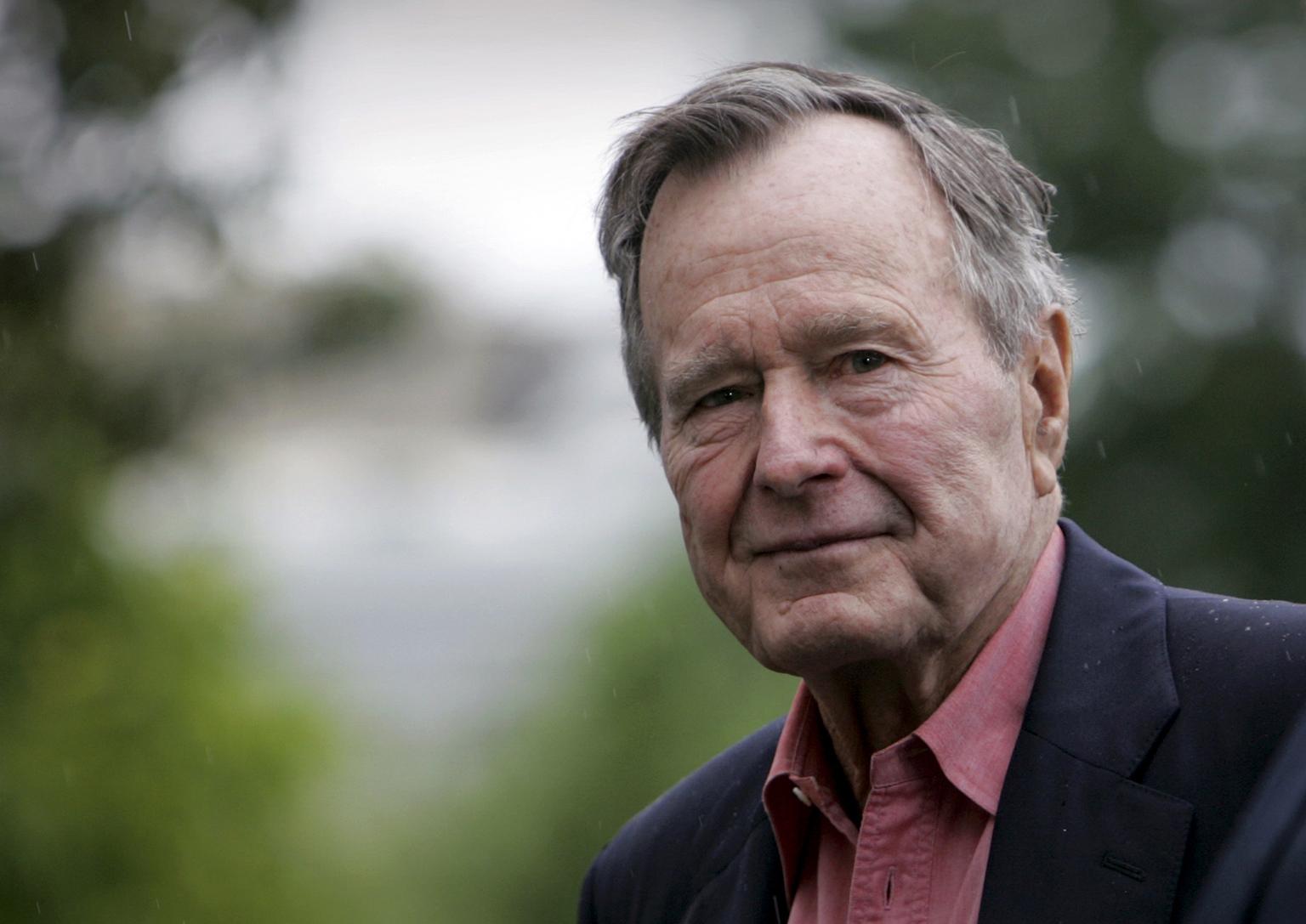 In this May 11, 2008 file photo, former President George H.W. Bush arrives on the South Lawn of White House in Washington. Bush died at the age of 94 on Friday, Nov. 30, 2018, about eight months after the death of his wife, Barbara Bush. (AP Photo / Lawrence Jackson, File)
He said that while the Bush family does not show much emotion in public they are a family that cares deeply for one another.
"They are the most caring family and the most caring people you could ever be around. And of course the patriarch of all that care is George Herbert Walker Bush," said Skinner.
One example of Bush's caring side came when Skinner first went to the Bush family home in Kennebunkport, Maine.
Bush asked Skinner if he could get up early to play golf.
"I said 'Yes.' And he said, 'How do you know you will get up?' And I said, 'Well I can get up to play with president,' and he said, 'Are you sure?' And so he said, 'Let's go find an alarm clock.' So he went back to his bedroom and found an alarm clock and I took it … Then one minute of six the next morning I hear a knock on the door. There's a man with a robe that said President of the United States – so I knew it was him – and he said, 'I thought you might need some coffee.' He was always thinking of someone else."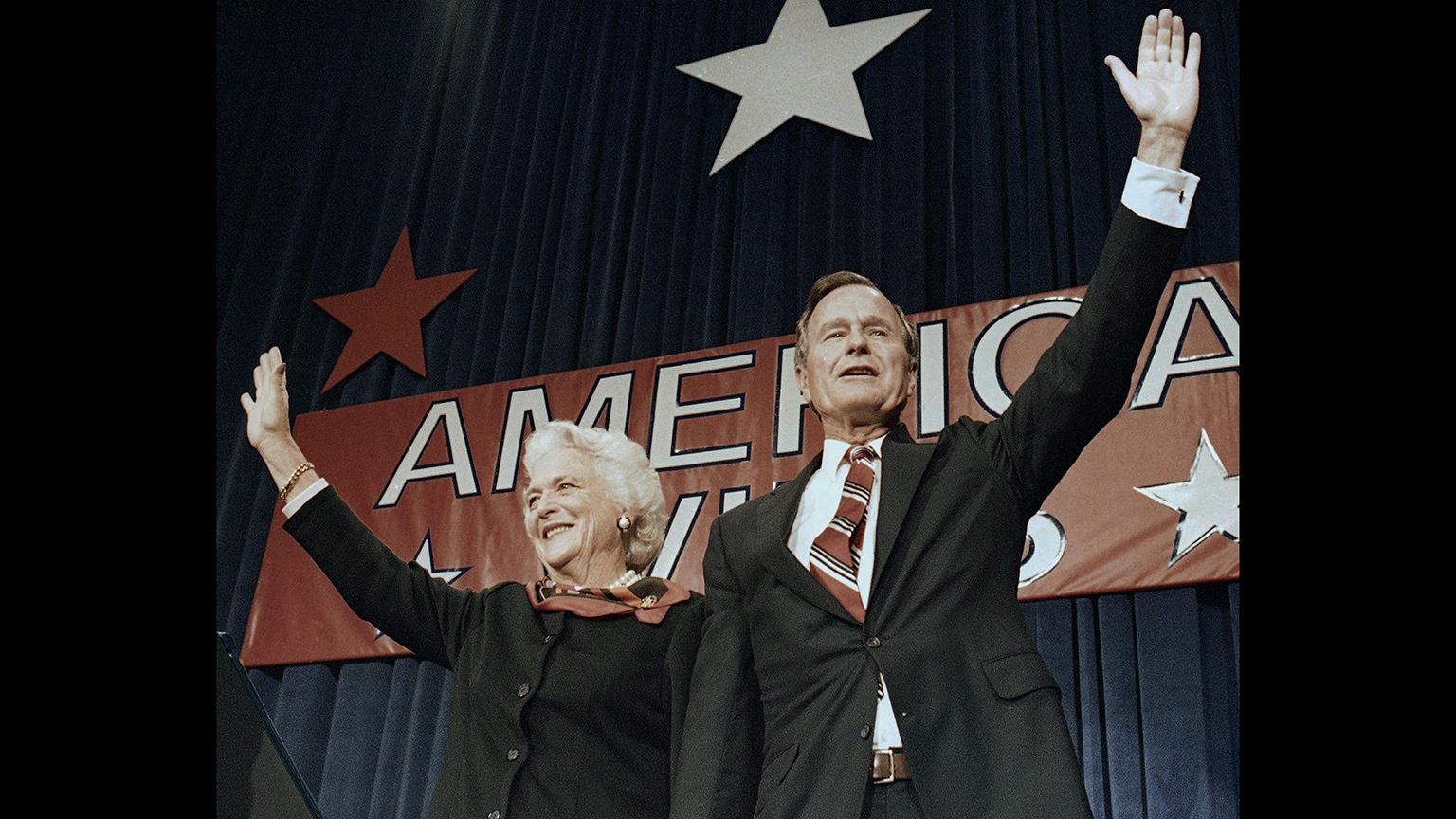 In this Nov. 8, 1988 file photo, President-elect George H.W. Bush and his wife Barbara wave to supporters in Houston, Texas after winning the presidential election. (AP Photo / Scott Applewhite, File)
Skinner noted that Bush had a particularly close relationship with his Secret Service detail.
"He was always thinking of the agents and when they lost one in Oklahoma City in the bombing he was really all-in with the family and doing everything he could," said Skinner. "They had a relationship that was very, very special."
While Bush's foreign policy accomplishments are often highlighted – particularly his handling of the Soviet breakup – Skinner says he gets most emotional when thinking about Bush's drive to pass the Americans with Disabilities Act in 1990.
"What he did on that really changed the life of people," said Skinner. "People say, 'Do you tear?' And I say when I tear is when I go into a restroom or a building and I see it's accessible and I know that President Bush on his own wanted that done. And he got it done with Republicans and Democrats and that legacy means that everybody's got a higher quality of life."
---
Related stories:
George W. Bush to Receive Award from Lincoln Foundation
John McCain, US Senator and Veteran, Remembered by Illinois Politicians
Former White House Chief of Staff: Leaks are 'Dangerous' and 'Disloyal'
---