U.S. Sen. John McCain, who represented Arizona in Congress for more than 30 years and twice ran for president, died Saturday from an aggressive form of brain cancer called glioblastoma. The Republican leader died at his home, surrounded by family. He was 81 years old.
In a farewell statement read Monday by longtime aide Rick Davis, McCain said he "lived and died a proud American." The letter went on to address the strengths of the country, and also its challenges.
"We weaken our greatness when we confuse our patriotism with tribal rivalries that have sown resentment and hatred and violence in all the corners of the globe. We weaken it when we hide behind walls, rather than tear them down, when we doubt the power of our ideals, rather than trust them to be the great force for change they have always been," Davis read from the statement.
Illinois House Republican Leader Jim Durkin served as the state's campaign chair for McCain's presidential bids in 2000 and 2008. "Rarely in history do we come upon an individual that personifies sacrifice and dedication which founded our country," he said in a statement. "My time with Sen. McCain was special and memorable, and I am honored to call this American hero my friend."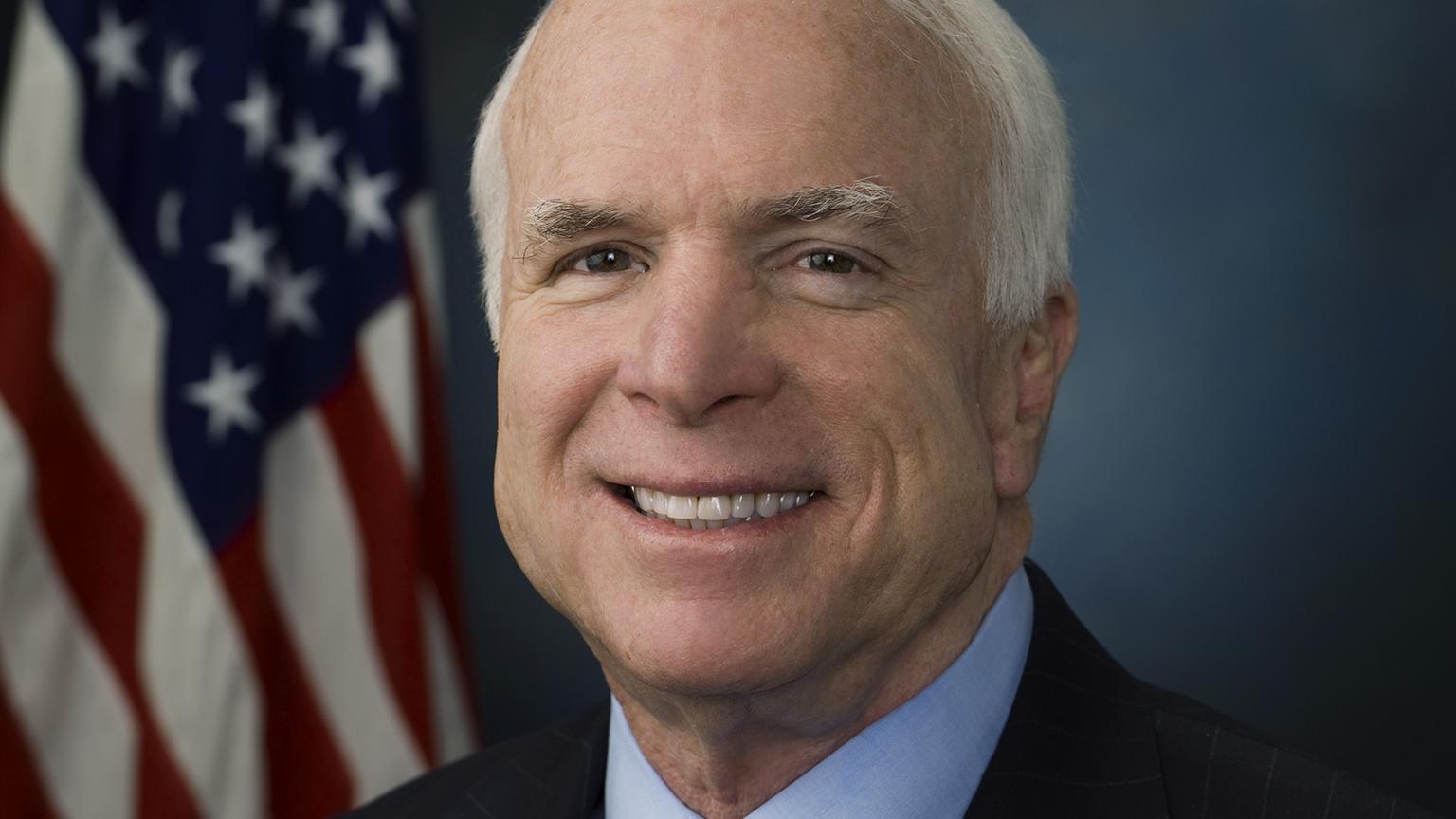 (U.S. Sen John McCain / Official Senate Photo)
The son and grandson of Navy admirals, McCain graduated from the United States Naval Academy in 1958 and served as a naval aviator for 22 years, including in the Vietnam War. In 1967, he was shot down over Hanoi and taken as a prisoner of war. For 5.5 years, he was held in North Vietnam and subjected to torture. In a first-person account of his imprisonment originally published in 1973, he wrote: "I had a lot of time to think over there, and came to the conclusion that one of the most important things in life—along with a man's family—is to make some contribution to his country."
McCain was elected to the U.S. House of Representatives in 1982 and the U.S. Senate in 1986. His colleague Sen. Tammy Duckworth, an Iraq War veteran whose helicopter was shot down in 2004, called him a personal hero.
"His refusal to give up in the face of adversity inspired me when I was a mission-less helicopter pilot with no legs recovering at Walter Reed," Duckworth said in a statement. "His unyielding optimism showed me there was a way to continue serving my country and to advance the core values of the nation that we both fought to protect. … I will forever treasure the privilege of working with John McCain in the Senate—even if it was only for a short time—and I will be forever grateful for the sacrifices he made in service to the greatest country the world has ever known."
U.S. Sen. Dick Durbin began working with McCain in the Senate in 1997. "My friend and America's hero, John McCain, landed safely last night at Heaven's gates," Durbin said on Facebook. "I hope the Senate can follow his call for political courage, to end the partisanship, and do something good for the American people."
Jim Warren, executive editor at NewsGuard Technologies and contributing editor to U.S. News and World Report, covered McCain on the campaign trail.
"He was a remarkable, candid guy with a temper and a complicated personal life and he was just a lot more alluring than your run-of-the-mill Washington politician," Warren said. "He was just a breath of fresh air. He had a ton of imperfections but if you were a reporter he was fabulous."
Warren and Durkin join us in discussion Monday at 7 p.m.
Below, more reaction to McCain's death from Illinois politicians.

"The true soldier fights not because he hates what is in front of him, but because he loves what is behind him." RIP Sen. John McCain, a fighter who loved his country. We'll miss him, but we'll never forget his examples of courage and grace under fire. pic.twitter.com/3ma43tPDQe

— Governor Rauner (@GovRauner) August 26, 2018
---
MK and I send our deepest thoughts and prayers to the McCain family. Senator John McCain was a hero and an unwavering leader. His commitment to public service, his dedication to family, and his military career will forever inspire us, and millions around the world.

— JB Pritzker (@JBPritzker) August 26, 2018
---
"Senator John McCain is an American hero who always put country first. His straight talk elevated our nation's public discourse and serves as an example for public servants everywhere," said Illinois Republican Party Chairman Tim Schneider in a statement. "His statesmanship and character will be truly missed. Please keep Senator McCain's family in your thoughts and prayers in this difficult time."
---
Today, the nation lost not only an American hero but a political force and icon. Senator John McCain made extraordinary sacrifices for our country and served all of us with honor, dignity, and respect. May this American hero rest in peace. pic.twitter.com/HRrr20ZUBV

— Bobby L. Rush (@RepBobbyRush) August 26, 2018
---
The world has lost a true patriot. I will deeply miss my friend, Senator John McCain, & I mourn w/ his family & all who loved him. It was a true honor to travel w/ him & serve as his colleague. The world will forever miss, revere, and remember the Maverick McCain. pic.twitter.com/8mUk4Yqhnv

— Adam Kinzinger (@RepKinzinger) August 26, 2018
---
Today, America lost a hero and true patriot who stood honorably and courageously in the face of adversity and in service to this nation. Thank you Senator McCain.

— Robin Kelly (@RepRobinKelly) August 26, 2018
---
Today our country lost a man that embodied patriotism, courage and relentless strength. In war and at peace he dedicated his life to public service and @SenJohnMcCain will be dearly missed.

— Rep. Cheri Bustos (@RepCheri) August 26, 2018
---
I am saddened by the passing of Senator John McCain. He dedicated his life to service and sacrifice; a true American hero that put his country before his party. pic.twitter.com/hnbWbtp6yZ

— Rep. Daniel Lipinski (@RepLipinski) August 26, 2018
---
Rest in love... https://t.co/v3Fhte5vZQ

— Rep. Danny K. Davis (@RepDannyDavis) August 26, 2018
---
Senator McCain served his country honorably and devoted his life to public service. Thank you, Senator, for showing us how to lead with honor and integrity to the very end. https://t.co/4SgGALba32

— Bill Foster (@RepBillFoster) August 26, 2018
---
Praying for the McCain family tonight. The country has lost a true American hero. May his service and patriotism always be remembered. https://t.co/7Te0fy1pRH

— US Rep Rodney Davis (@RodneyDavis) August 26, 2018
---
A grateful nation thanks you for a life of service, Senator McCain. My thoughts are with your family and loved ones tonight. pic.twitter.com/cWiHGEseV3

— Raja Krishnamoorthi (@CongressmanRaja) August 26, 2018
---
Senator McCain has dedicated his life to the service of our nation, and we are a stronger country because of it. I'm keeping Sen. McCain and his loved ones in my thoughts and prayers during this difficult time. https://t.co/mxgU5Q7Lpa

— Rep. Brad Schneider (@RepSchneider) August 24, 2018
---