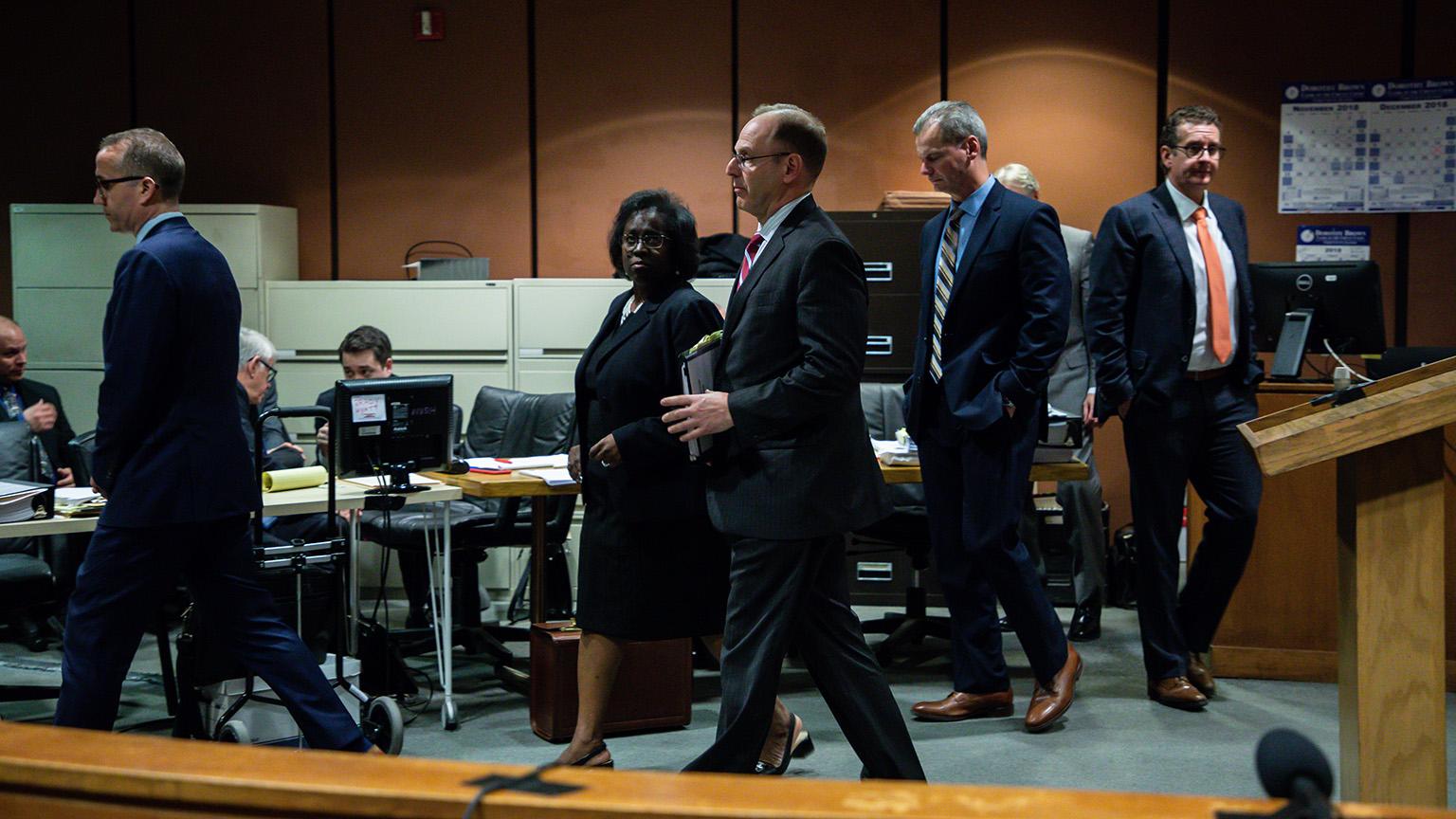 Prosecutors and attorneys confer during the trial of Chicago police Officer Thomas Gaffney, former Detective David March and ex-Officer Joseph Walsh with Judge Domenica A. Stephenson on Thursday, Nov. 29, 2018. (Zbigniew Bzdak / Chicago Tribune / Pool)
A delayed ruling on key evidence will extend the special prosecution's case into next week in the trial of three current and former Chicago police officers accused of attempting to cover up the 2014 shooting death of Laquan McDonald.
Cook County Associate Judge Domenica Stephenson on Thursday afternoon said she needs additional time to review her notes before ruling on the admissibility of emails from Chicago Police Department supervisors that are crucial to the state's case.
Chicago Officer Thomas Gaffney, former officer Joseph Walsh and ex-Detective David March each face charges of conspiracy, official misconduct and obstruction of justice after they allegedly falsified reports from the scene of the shooting to "conceal the true facts" of McDonald's death in an attempt to shield fellow Officer Jason Van Dyke from prosecution.
More: Get live updates from the courtroom
Stephenson previously ruled the email evidence could be used at trial. But defense attorneys for the men on Thursday asked the judge to reconsider that ruling, claiming the state failed to prove any conspiracy existed, just as special prosecutors were set to call their final witness. That witness, an  information technology employee with the police department, is expected to authenticate those emails, allowing them to be added as evidence on the record.
It's unclear exactly what is contained in the emails, but defense attorneys claim they include hearsay statements from unindicted CPD supervisors and should be barred from the trial. Assistant special prosecutor Brian Watson claimed the emails aren't subject to hearsay rules because they contain false statements about the night McDonald was killed.
After reviewing the emails in chambers for nearly 30 minutes Thursday afternoon, Stephenson emerged and informed the court she needed additional time to review the evidence and her own trial notes.
More: Updates from Day 1 and Day 2 of the trial
Stephenson's ruling will likely be key to the rest of the case, as the state is relying heavily on the email evidence to prove the men conspired to cover up details of the shooting. Attorneys for all three defendants argued the state has provided no evidence showing an "agreement" existed between the men – a key aspect in proving a conspiracy.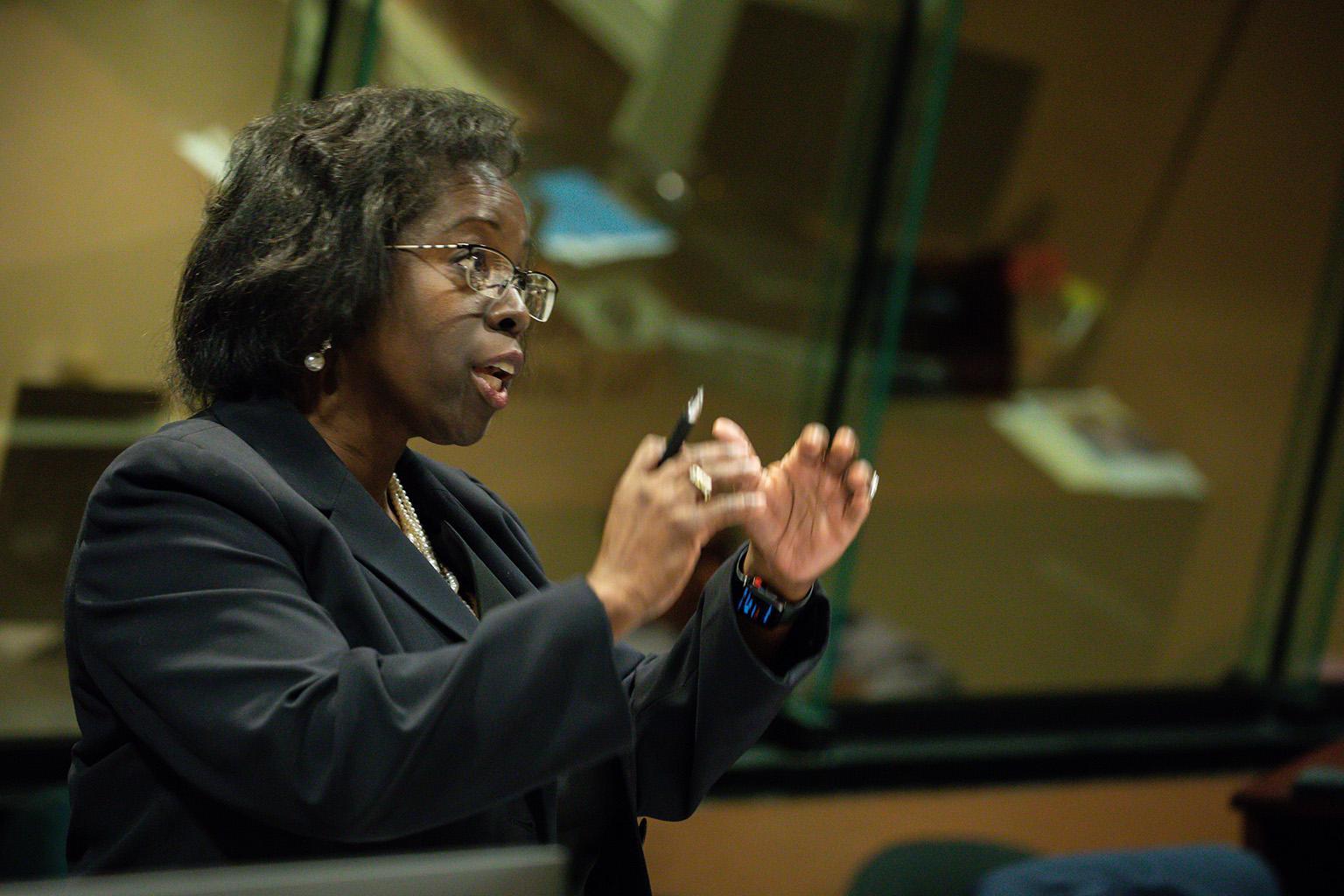 Special prosecutor Patricia Brown Holmes addresses the judge during the testimony of witness Jose Torres on Thursday, Nov. 29, 2018. (Zbigniew Bzdak / Chicago Tribune / Pool)
Prosecutors have alleged the men included identical false information in their reports intended to make it appear as though McDonald had battered or assaulted officers before he was killed. Dashcam video of the shooting shows that was not the case.
But just because the police reports may not line up with video of the shooting, defense attorney Todd Pugh argued, that doesn't mean a conspiracy was in place.
"They haven't been able to even put Joe Walsh in the same room as these two other individuals," Pugh said, referring to Gaffney and March, "much less Jason Van Dyke. They haven't presented evidence of a phone call between Joe Walsh and any of these other alleged conspirators on the night of this event, a text message, an email. They can't put him in the room that they say this happened."
Prosecutors, however, claim "parallel false statements" made by the defendants about the nature of the encounter with McDonald in police reports that claim Van Dyke, Walsh and Gaffney were the victims of a battery or aggravated assault is proof enough of that agreement.
The state on Thursday also read into evidence previous sworn statements Gaffney made about the night of the shooting in which he said officers from the scene had convened at their district headquarters and were discussing the incident before filing their official reports. The defense claimed this is standard procedure indicative of nothing.
With the judge's ruling pending, the trial will resume Tuesday afternoon at 1 p.m.
Below, live updates from the courtroom.
4:21 p.m.: Defense Wants Email Evidence Excluded
Former Detective David March, left, and his attorney James McKay look on as assistant special prosecutor Ron Safer addresses the court on Thursday, Nov. 29, 2018. (Zbigniew Bzdak / Chicago Tribune / Pool)
Before prosecutors could call their final witness, defense attorneys for the three defendants vociferously objected to the admission of email evidence from CPD officers that prosecutors have sought to admit.
Defense attorneys claim these are hearsay evidence and should be excluded. But prosecutors say the statements aren't subject to hearsay rules because they include false information, such as Walsh's claim that he and Van Dyke backpedaled as McDonald approached them and that the teen swung his knife in an "aggressive manner" before he was shot.
Those claims run contrary to the dashcam video of the incident, assistant special prosecutor Brian Watson said.
Judge Stephenson previously ruled the emails could be admitted during a hearing earlier this month. But defense attorneys are now asking her to reverse course just as the state is set to call its final witness, a records custodian who will be able to authenticate the emails so they could be admitted on the record.
Rather than ruling Thursday, Stephenson said she was going to take additional time to review her notes and the emails before reconvening next Tuesday – the next scheduled court date for the trial.
---
12:30 p.m.: Torres Testimony Continues
Defense attorneys James McKay and Todd Pugh focused on Torres' recollection of the shooting and his actions in the hours and days that followed.
Torres did contact the Independent Police Review Authority days after the shooting. But he didn't call 911 after he left the scene and never contacted the Chicago Police Department or the Cook County State's Attorney's Office to report himself as an eyewitness to the shooting.
Torres also didn't give his name or contact information to officers on the scene.
Prosecutors hope that Torres' testimony will show police on the scene of McDonald's shooting conducted an incomplete investigation by waving witnesses away from the scene without interview.
Torres didn't speak with any officers the night of the shooting, and said he simply followed an unknown officers' "gesture" to make a U-turn and leave. McKay implied Torres instead left because he was worried about getting his son to the hospital.
---
11:40 a.m.: 'They're lying. That's Not What Happened'
Jose Torres testifies Thursday, Nov. 29, 2018. (Zbigniew Bzdak / Chicago Tribune / Pool)
Jose Torres and his son watched as Jason Van Dyke shot Laquan McDonald 16 times on the night of Oct. 20, 2014. Torres testified Thursday he couldn't see who was firing, but said McDonald didn't appear to make any threatening movements toward police.
"When they continued shooting I was upset and I said 'Why the f--- are they still shooting,'" Torres said.
After the shooting, Torres said an officer on the scene shined a flashlight in his face and "made a gesture" to get him to leave the area, which he did. He didn't speak with any officers on the scene and didn't come forward to make a statement about the shooting until he heard a police union spokesman on the news claim McDonald had "lunged" at officers.
"I told my wife at that point 'They're lying. That's not what happened,'" he testified, adding that he had trouble sleeping in the days after the shooting.
On cross-examination, defense attorney James McKay proved the spokesman who made the claim about lunging was not March, Gaffney or Walsh. He also questioned Torres about specifics of the shooting, including how many shots he heard and whether McDonald fell on his front or his back.
McKay also brought up Torres' previous sworn testimony days after the shooting in which he said McDonald was attempting to get up after the shooting. Torres testified that he didn't recall making that statement.
Contact Matt Masterson: @ByMattMasterson | [email protected] | (773) 509-5431
---
Related stories:
McDonald Cover-Up: Key State Witness Says Detective Lied in Report
Prosecutors Say Police 'Violated Public Trust' in Alleged McDonald Cover-Up
Who's Who in the Laquan McDonald Shooting Conspiracy Trial
Prosecutors Seek Witness Immunity as McDonald Conspiracy Case Heads to Trial
McDonald Conspiracy Case Moves Ahead as Judge Refuses to Toss Charges
McDonald Cover-Up? How Van Dyke Verdict May Affect Police Conspiracy Trial
A Timeline of the Laquan McDonald Shooting
---