Ten years to the day that President Barack Obama held a Grant Park celebration upon his election as the 44th president of the United States, he was back in Chicago to gin up support for local Democrats, just two days before an election in which he says the "character of our nation" is on the ballot.
"Don't boo. Vote," Obama told the crowd of 5,000 Sunday at the UIC Pavilion. "On Tuesday, you can vote for a politics that is decent and a politics that's honest."
Democratic nominee for governor J.B. Pritkzer (who backed Hillary Clinton, not Obama, in 2010) sat on stage behind the former president during the 45-minute speech.
Other Democrats on the statewide slate and a pair of congressional candidates, 6th District nominee Sean Casten and 14th District nominee Lauren Underwood (who are running against Republican U.S. Reps. Peter Roskam and Randy Hultgren, respectively) joined him on stage afterward.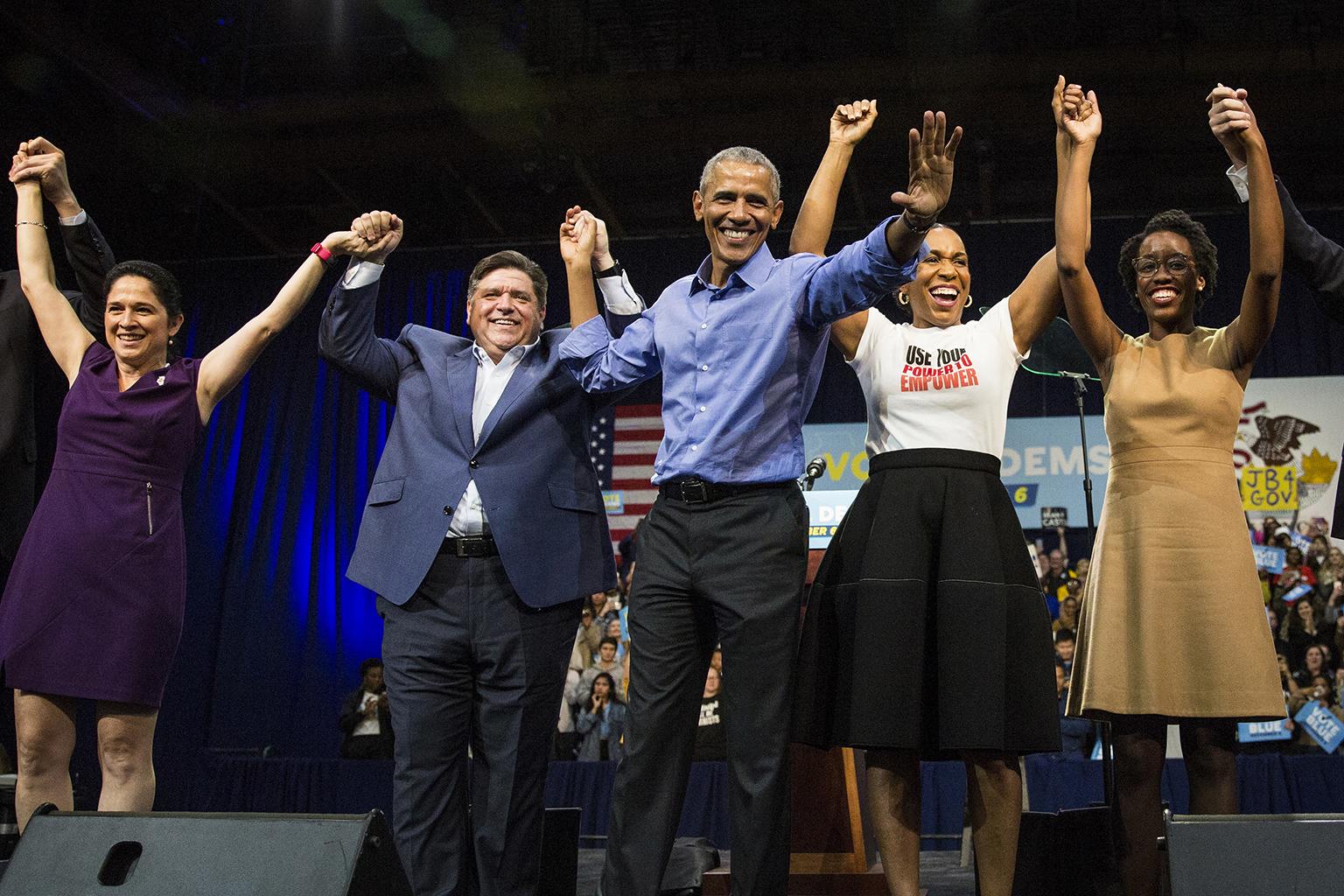 Former President Barack Obama, center, headlines a rally and appears alongside, from left to right, Illinois Comptroller Susana Mendoza, gubernatorial candidate J.B. Pritzker, lieutenant governor candidate Juliana Stratton and congressional candidate Lauren Underwood on Sunday, Nov. 4, 2018 at the University of Illinois at Chicago. (Ashlee Rezin / Chicago Sun-Times via AP)
They reportedly took photos together backstage; those present say Chicago Mayor Rahm Emanuel and Illinois Senate President John Cullerton were also in attendance, but the chairman of the Democratic Party of Illinois, Illinois House Speaker Michael Madigan, was not. 
Democrats in toss-up races will hope that sharing the spotlight with Obama will put them over the edge, though polls show most Democrats on the statewide slate should have little to worry about: Pritzker is predicted to best GOP Gov. Bruce Rauner by double digits and little money has gone into the races for secretary of state, treasurer and comptroller.
One race that's expected to be close is the race for attorney general, in which Democratic state Sen. Kwame Raoul – who took Obama's seat when Obama left Springfield for the U.S. Senate – is facing off against Urbana attorney and former Miss America Erika Harold.
Harold, Rauner and the rest of the Republican statewide slate held a Republican get-out-the-vote rally Sunday evening in Orland Park.
Tickets to Sunday's event were free, unlike the tickets for former first lady Michelle Obama's book tour later this month at the United Center; Ticketmaster is offering seats for the Nov. 13 "conversation" with Michelle Obama for $615-$2,750.
Note: This story was first published on Nov. 4. It has been updated.
Follow Amanda Vinicky on Twitter: @AmandaVinicky
---
Related stories:
Obama to Rally in Chicago for Democrats – Rauner Campaign Says it Shows Race Tightening
2018 Voters' Guide to the General Election
The Race for Illinois Governor 2018: J.B. Pritzker
The Race for Illinois Governor 2018: Bruce Rauner
---