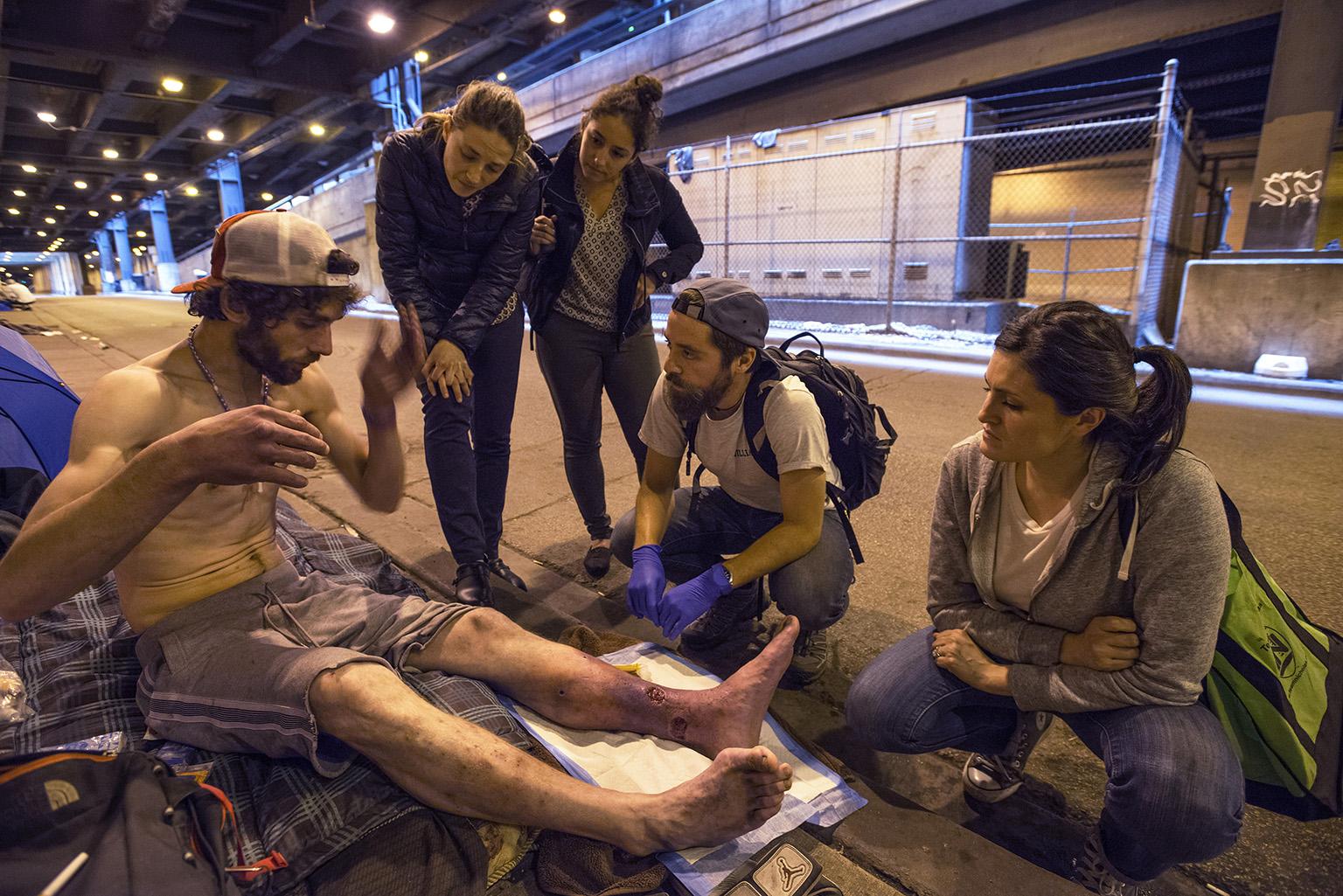 Members of Chicago Street Medicine deliver care to a man who is homeless. (Courtesy of Lloyd DeGrane Photography)
Caring for patients is a vital part of the medical school experience. Armed with knowledge and backpacks full of supplies, a group of students at the University of Illinois at Chicago is taking its skills to the streets.
Last October, UIC medical students created Chicago Street Medicine with the goal of improving the health of the city's homeless through outreach, education, research and advocacy.
"There's a need for medical services among people experiencing unsheltered homelessness in Chicago. We think, as medical students, we're primed to fill that need," said Lindsay Waggerman, a Chicago Street Medicine board member and fourth-year medical student.
Dr. Sukhveer Bains, an emergency medicine and internal medicine physician who has worked with the group, says it's "trying to fill a void" in the health care system since many homeless individuals don't receive care in a traditional manner.
"A lot of the (homeless) patients we see have a great mistrust of medical institutions," said Waggerman.
Students see themselves as gateway between hospitals and patients' needs, but they have to develop relationships with their patients first.
About twice a month, they visit homeless encampments throughout the city to provide care and foster those relationships. Demanding academic schedules mean they have to approach the work with a level of flexibility.
"The beauty is we have a board of so many different people that we can shift and help each other out so no matter what the population we're working with is getting the services they need," said Melissa Socarras, a third-year medical student and founding board member of the group.
Typically, students provide primary care services and treat colds, coughs and general aches and pains, among other things. Students also teach patients how to treat and care for wounds. "A lot of people we work with are injection drug users and have significant wounds that need to be tended to," said Waggerman.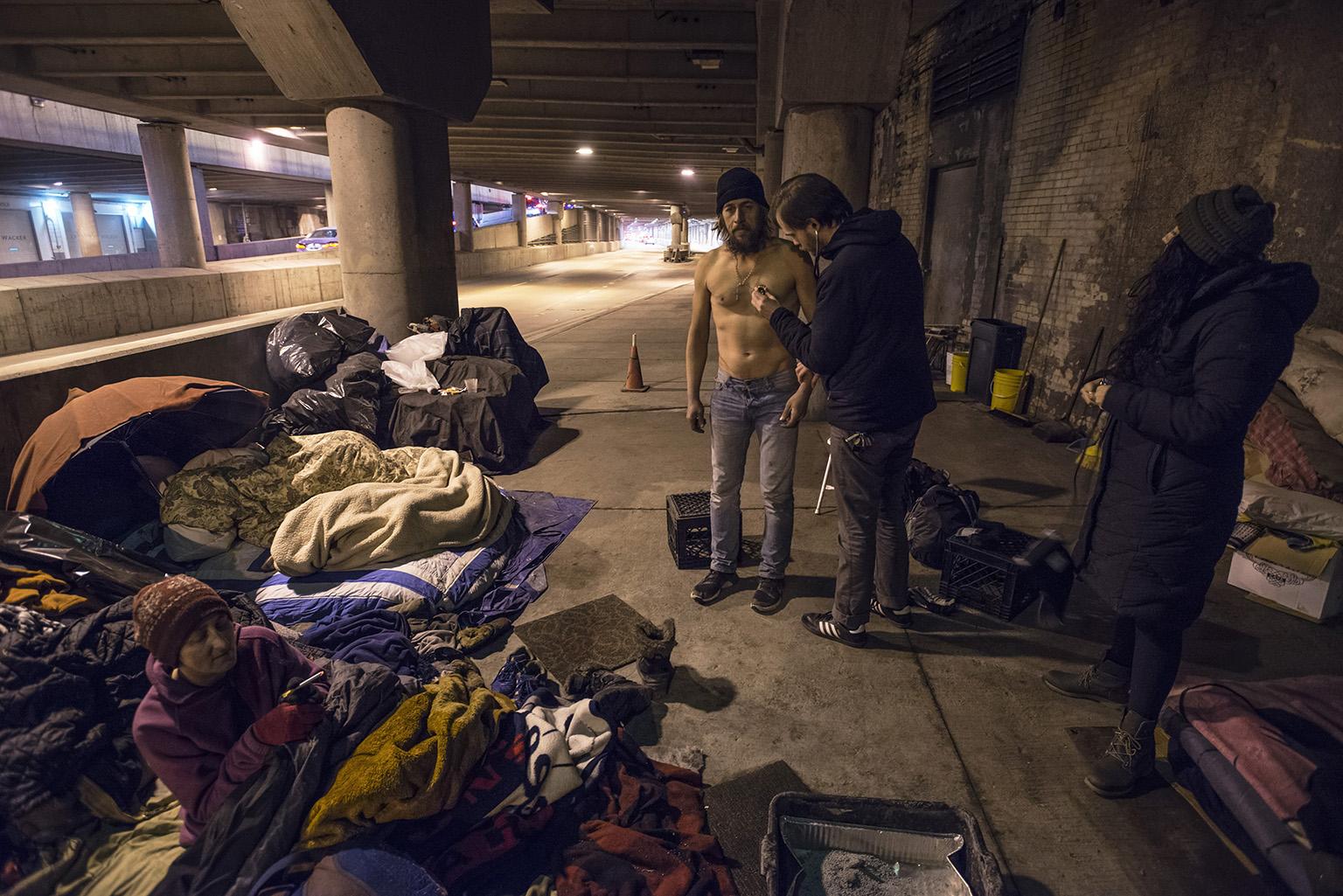 Members of Chicago Street Medicine at work. (Courtesy of Lloyd DeGrane Photography)
When necessary, students refer patients to seek care in more traditional settings, such as hospitals. But not all patients are amenable to that, says Waggerman. "Part of street medicine is recognizing that the people we're meeting may not be ready to face the medical institutions where they felt mistreated before," she said. "We continue to follow up with them on their terms."
The interactions offer students a unique learning experience.
"In school you learn about a set number of diseases," said Socarras. "When you're interacting with people on the streets, whether transiently or chronically, not only do you get an entirely different set of medical problems, it's an entirely different set of social issues that very much tie to a person's health."
For example, a bandage can help a wound, but if a wound can't be cleaned, it won't heal properly. "You can't just try to fix the medical problem without fixing the social problem that caused the medical problem to happen in the first place," Socarras said.
Since launching last year, the group has expanded to include dozens of medical students, resident and attending physicians, and administrators at the UIC College of Medicine and UI Health.
"I'm so incredibly proud of them. This is a very student-led initiative," said Bains. The group has "an inspiring commitment to public health, and they exemplify how necessary it is for medicine to address health in a comprehensive way."
While students are limited in the services they currently provide, they hope to expand them in the future.
"We'd like to be more formal connections between health care institutions and people on the street, so that we're able to prevent diseases from manifesting because people (don't) follow up or are never seen," said Waggerman.
Both Waggerman and Socarras see this model as the future of medicine.
"As medical students, we learn the cookie-cutter way of doing everything, and I think the important thing to do is to always provide the best care possible, but to also be adaptable to the realities of people's lives when providing care," said Waggerman.
Contact Kristen Thometz: @kristenthometz | [email protected] | (773) 509-5452
---
Related stories
Advocates Propose Tax on High-End Real Estate to Address Homelessness
Coordinated Effort to End Homelessness Takes Luck Out of the Process
Advocates: 'We Have to Come to Them' to Address Homelessness
Lockers for Homeless Youth Meet Critical Needs
Chicago Photographer Captures Toll of Opioids, Homelessness
---