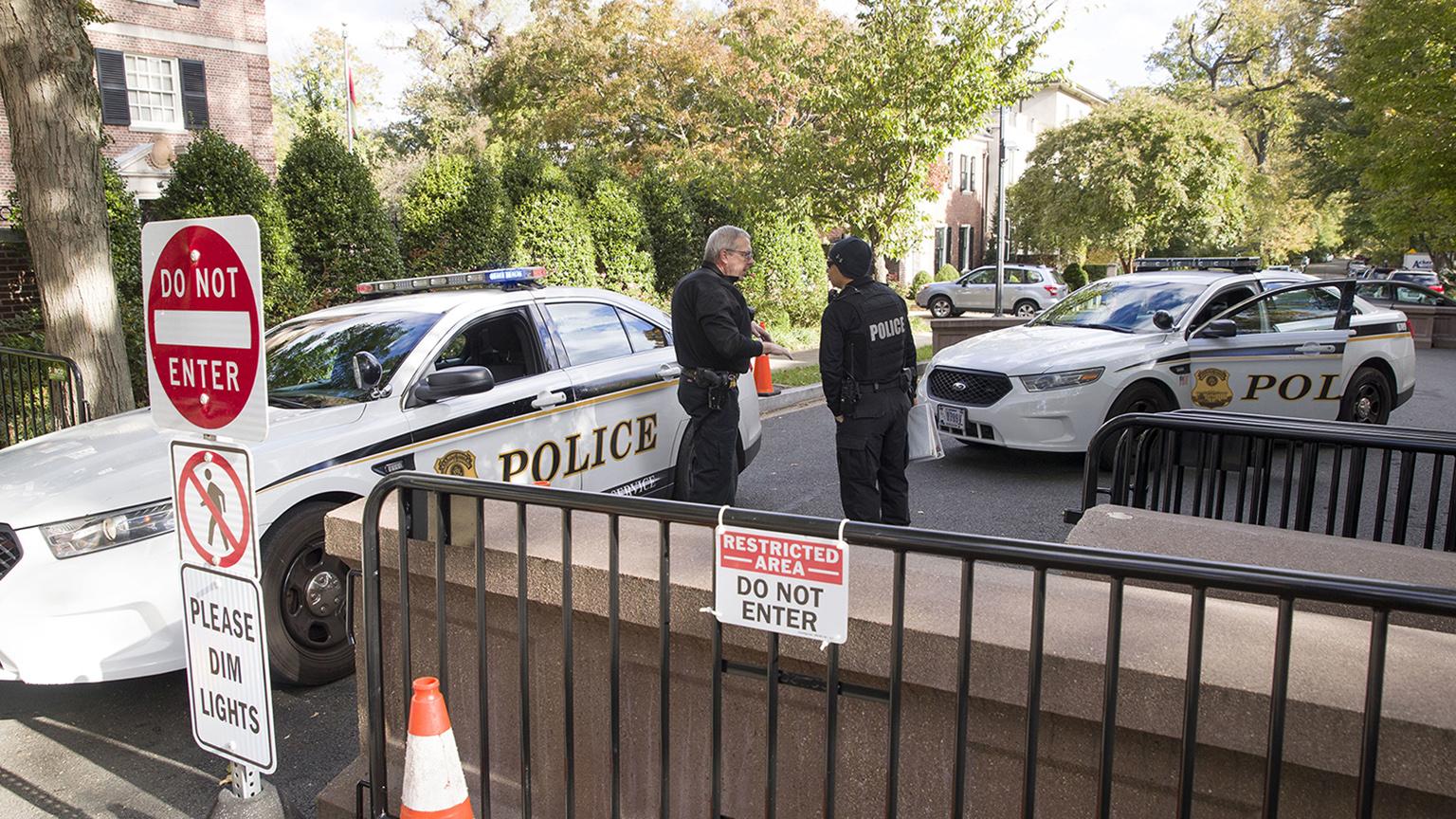 Officers with the Uniform Division of the United States Secret Service talk at a checkpoint near the home of former President Barack Obama on Wednesday, Oct. 24, 2018, in Washington, D.C. (AP Photo / Alex Brandon)
Chicago police say there are no known threats to the city and they are in "real-time communication" with the U.S. Secret Service after explosive devices were reportedly sent to former President Barack Obama and other high-profile politicians.
Secret Service agents announced Wednesday morning they had intercepted a "functional explosive device" that was addressed to Obama's home in Washington, D.C., and another addressed to Hillary Clinton. CNN's New York bureau office was also evacuated Wednesday after a similar device was discovered there.
The devices were not detonated and no injuries were reported in any of the incidents.
BREAKING: Secret Service intercepts suspicious packages addressed to the residences of former President Obama and former First Lady Hillary Clinton. Working with our law enforcement partners on the investigation. Our Statement: https://t.co/lJdTn04KmI

— U.S. Secret Service (@SecretService) October 24, 2018
---
Regarding any local threats, both the Chicago Police Department and the Chicago branch of the FBI referred questions to the Secret Service.
"Currently we have no known threats to Chicago and CPD is in real-time communication with Secret Service," CPD spokesman Anthony Guglielmi said in an email.
CPD Superintendent Eddie Johnson on Wednesday morning reiterated that statement at a press conference with Mayor Rahm Emanuel.
"As we always do, we constantly every day talk to our federal partners … we stay in constant communication with them," Johnson said, "so if we need to adjust some things, we will."
One package was discovered before reaching the Clintons' home in Chappaqua, New York, late Tuesday night, according to the Secret Service, while the package addressed to Obama was intercepted by Secret Service agents early Wednesday in Washington.
"The packages were immediately identified during routine mail screening procedures as potential explosive devices and were appropriately handled as such," the Secret Service wrote in a statement Wednesday. "Both packages were intercepted prior to being delivered to their intended location. The protectees did not receive the packages nor were they at risk of receiving them."
A similar package was found near the home of billionaire philanthropist George Soros in suburban New York City on Monday. Other "suspicious packages" were reportedly found at the Sunrise, Florida, office of U.S. Rep. Debbie Wasserman Schultz and New York City office of Gov. Andrew Cuomo.
The White House condemned the "attempted violent attacks" in a statement from Press Secretary Sarah Huckabee Sanders, who called the "terrorizing acts … despicable" and said anyone found to be responsible will be "held accountable to the fullest extent of the law."
Illinois Sen. Dick Durbin also condemned the "targeted acts of attempted violence."
"This type of dangerous extremism is unacceptable," he wrote in a tweet Wednesday, "and I'm thankful for the quick response from law enforcement officials to these threats.
The Associated Press contributed to this report.
Contact Matt Masterson: @ByMattMasterson | [email protected] | (773) 509-5431
---
Related stories:
Chicago Police Department Announces Increased Security for Pride Parade
TMZ: Las Vegas Gunman Booked Rooms Overlooking Lollapalooza
Eyewitness: Las Vegas Shooter 'Wanted to Do as Much Damage as Possible'