Gov. Bruce Rauner has gone out of his way to avoid talking about President Donald Trump, but on Monday, Rauner said he hopes to talk about trade and immigration with Trump this weekend.
Trump is scheduled to hold a rally in Murphysboro, in southern Illinois.
 "I hope to be able to join the president while he's here," Rauner said. "His schedule is very hectic, as is mine, but we're going to try to overlap."
Trump's visit could boost local GOP Congressman Mike Bost in his competitive 12th District race against St. Clair County state's attorney, Democratic nominee Brendan Kelly.
But Rauner, who is behind in polls against Democratic challenger J.B. Pritzker, may be hoping a joint appearance with Trump could help energize conservatives downstate ahead of the Nov. 6 election.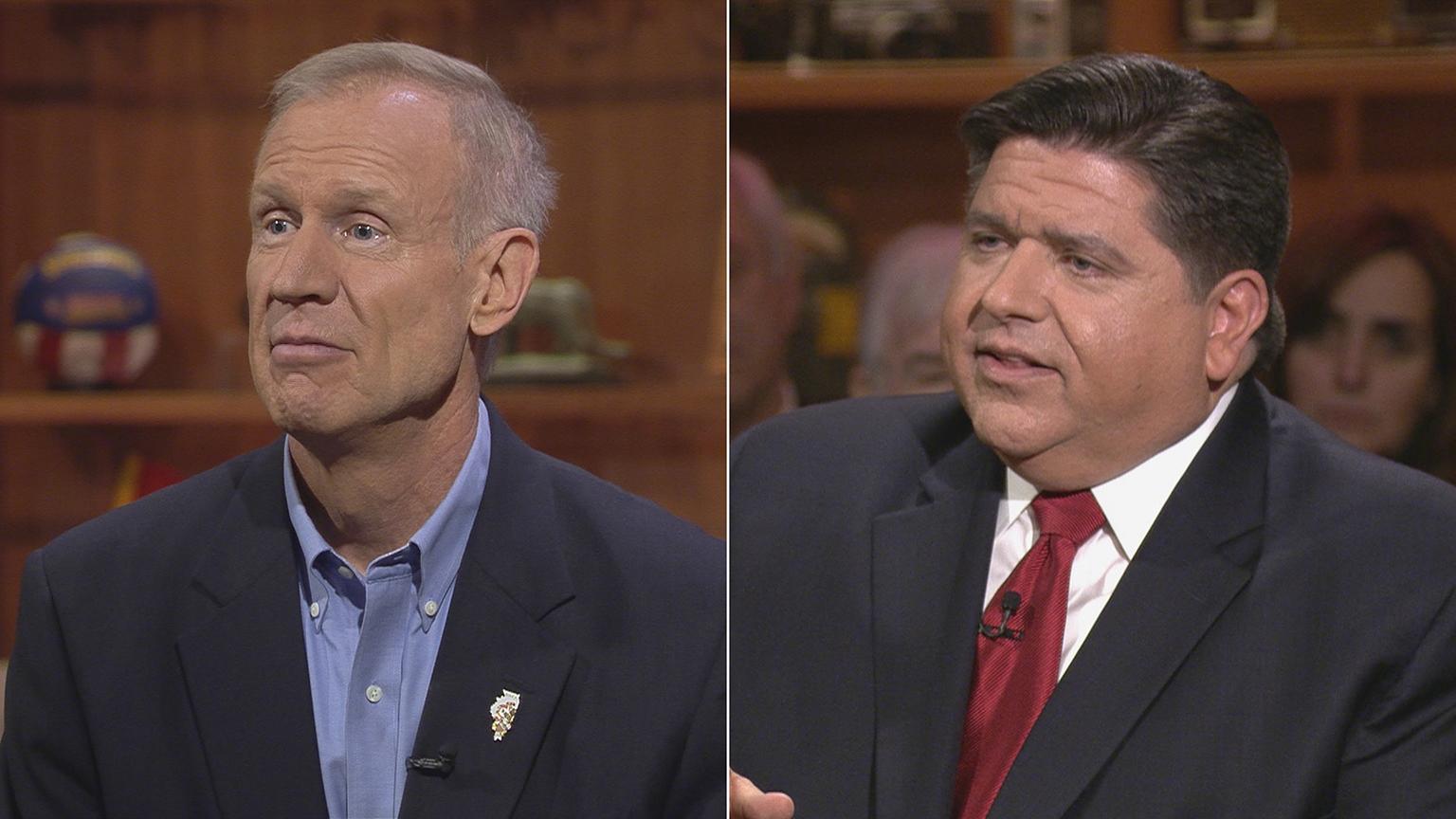 More on the Governor's Race: Watch our two-part documentary special, "The Race for Illinois Governor 2018," featuring an in-depth look at J.B. Pritzker and Bruce Rauner.
---
Pritzker is battling his own controversy, as 10 current and former campaign employees last week sued his campaign for racial discrimination, accusations the candidate denies.
"The fact is, there is no basis for the accusations being made," Pritzker spokeswoman Galia Slayen said. "Everything about the way this has been handled, from the threat to sue unless a $7.5 million payment was made to the fact that their lawyer seems far more interested in conducting interviews and holding press conferences than even serving necessary papers that would allow the case to be dismissed, tell you all you need to know. JB and Juliana are proud of the diverse and inclusive campaign they are running."
Among the allegations: The campaign disregarded complaints by African-Americans and Latinos about racial slurs, forced them to work in a South Side field office in a high-crime area without regard to their safety, and gave the workers no opportunity for advancement.
"I've been through and still am going through a very hostile environment, especially now that the case is public," said field worker Celia Colon, who is party to the suit. "In our work spaces the energy is bad. There's harassment not just from other employees but from everyday volunteers that walk in. And at the end of the day this is about holding our leaders accountable and this is about justice, which has no price tag. I don't have to be mistreated or abused by anyone."
The plaintiffs held a press conference Monday, though they were unwilling to share specifics beyond the allegations contained in the lawsuit; specifics will be dealt with in court "like real lawyers," plaintiffs' attorney Shay Allen said.
He pushed back against the suggestion the suit is a "smear campaign" against Pritzker, accusing the media of raising that specter.
"It makes it seem like that because you're making it seem like that," he said. "We're not going to get specific. We do that in court. That's what court is for. We're here today because we're answering questions and other matters have been brought up to smear these people's reputation, their character, their dignity. And all they've done is speak up for themselves."
Pritzker's legally hamstrung.
While the suit was filed in federal court, the campaign has not actually been served. Until then, Pritzker's legal team cannot file a motion to dismiss it.
Allen and his co-counsel, Jeanette Samuels, said they have 120 days to serve the Pritzker campaign with the complaint, and that they are waiting for potential new information.
"While you have not found time to serve the Complaint on us, you have found ample time to make a schedule multiple press appearances," Pritzker attorney Ben Stafford wrote in an Oct. 18 letter to Allen and Samuels. "The fact that the Complaint was filed shortly before Election Day and thus far more has been done to attempt to publicly attack the Campaign than prosecute the case raises serious … concerns, as does the fact that the Complaint is rife with basic factual inaccuracies."
Stafford threatened a potential counter-suit to "defend (the campaign) against false and defamatory statements."
Adding to the peculiar nature of the suit, at least seven of the individuals suing Pritzker's campaign are still working to elect him.
While Rauner has attempted to seize on the lawsuit, including with a new digital video accusing Pritkzer of a "pattern of racial discrimination," an analysis by WBEZ found the Rauner has appointed relatively few people of color to state agency jobs and to government commissions; by contrast, Prizker's campaign said 45-percent of its staff are people of color.
"No one should be shocked by Bruce Rauner's failure to build a diverse administration. Despite Rauner's Trumpian claim that he's done more for the black community than 'any other governor,' Rauner has completely failed communities of color," Democratic Party of Illinois Director Christian Mitchell said in a statement.
Pritzker over the weekend put another $15 million into his campaign. According to Illinois State Board of Elections records, that means Pritzker has now put $161.8 million of his own money into his race – a national record for self-financing.
By contrast, Rauner's last contribution to his campaign was $50 million in December 2016; he put $95.3 million of his own money into both his 2014 and 2018 races for governor.
On Monday, Rauner seemed to indicate he won't be funneling any more money from his personal bank account to his campaign one, saying that he has already put a "tremendous" amount of his net worth into his political efforts.
In other campaign finance news, rapper Kanye West on Monday gave $73,540 to Chicago mayoral candidate Amara Enyia, which allowed her to immediately pay off that exact amount in debt she'd racked up with the state elections board for failing to file reports after her short 2015 run for mayor. Enyia dropped out of that race, so there wasn't much to report, but fines kept coming because she failed to close her campaign committee.
In a statement, Enyia's campaign thanked West for the "generous" contribution.
Another Chicago musician, Chance the Rapper, recently endorsed Enyia on Oct. 16, and on Tuesday will hold a rally for her in Woodlawn.
Follow Amanda Vinicky on Twitter: @AmandaVinicky
---
Related stories:
The Race for Illinois Governor 2018: Bruce Rauner
The Race for Illinois Governor 2018: J.B. Pritzker
The Week in Review: Pritzker Disputes Discrimination Claims
---