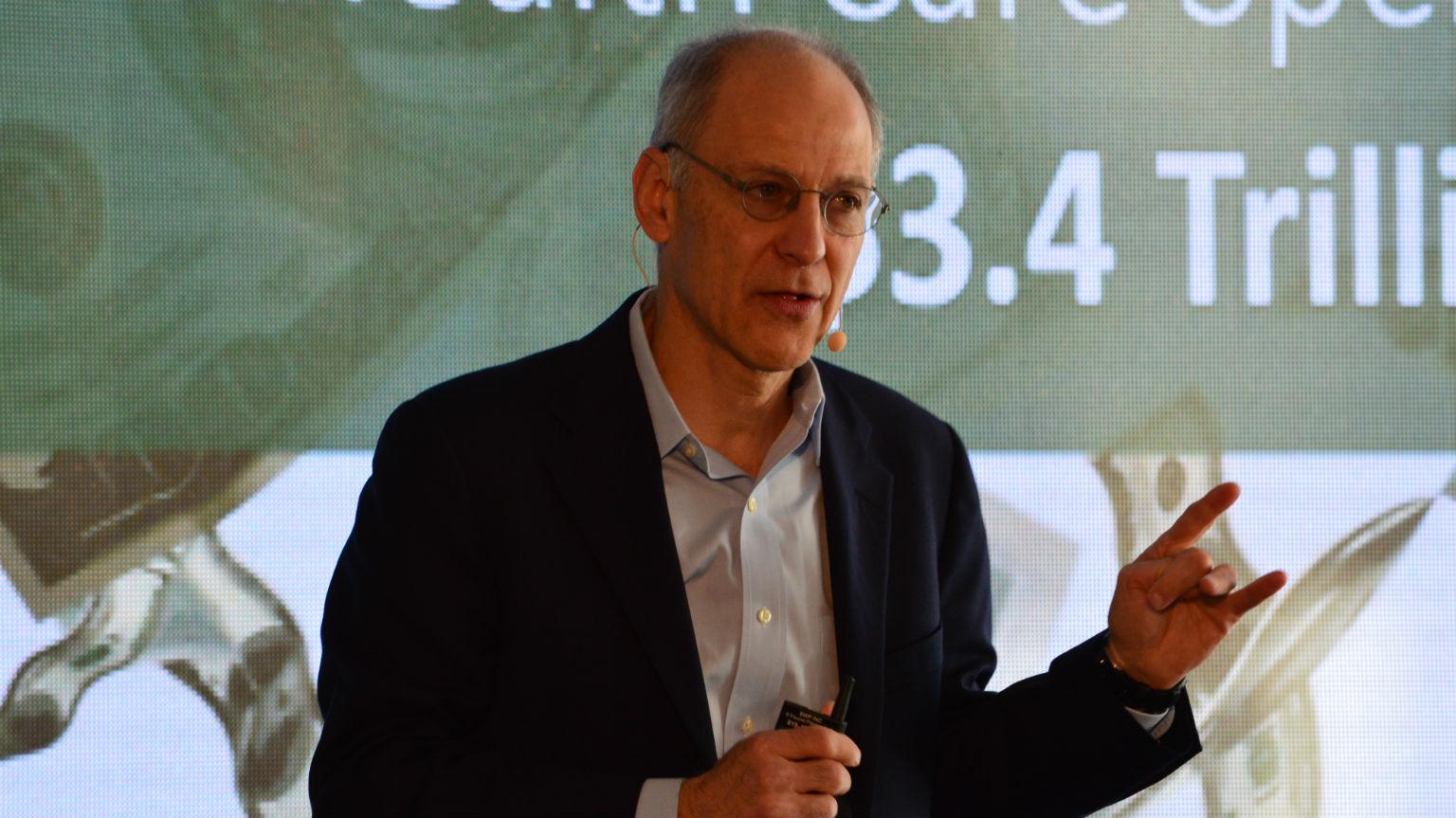 Dr. Ezekiel Emanuel talks about the future of health care in America Thursday, Oct. 18, 2018. (Kristen Thometz / Chicago Tonight)
It's been 8.5 years since the Affordable Care Act was signed into law. Ezekiel Emanuel, the older brother of Chicago Mayor Rahm Emanuel, was a chief architect of that health care overhaul, and he was there when former President Barack Obama signed it into law in March 2010. Since then, it's had a "tremendous impact" in the U.S., including a decline in the number of the country's uninsured, Emanuel said Thursday at a conference in Chicago.
"I think one of the most important things is it psychologically changes how doctors and health providers practice. They know that things are different and that's why we're here," he said. "Before 2010, we wouldn't have had this conference. We wouldn't be talking about integrating care and coordination and keeping people out of the hospital."
Emanuel, a bioethicist and oncologist, made his remarks at Medical Home Network's Ideas Exchange 2018, a two-day conference focused on transforming health care delivery and the patient experience.
"Whatever your metric – if your metric is access, if your metric is cost, quality, job growth, innovation … the Affordable Care Act has been a positive force in this country and it costs less than what was anticipated," Emanuel said.
While the ACA made great strides in health care, Emanuel acknowledges there is still work to do, such as addressing drug prices, technology assessments and payment reform.
Emanuel also spoke about the rising cost of health care: This year, a family of four can expect to pay $19,000 for health insurance, he said.
He cited the use of inefficient treatments and unnecessary tests among the reasons for increasing costs, pointing to proton beam therapy centers, which cost a $100 million each, as an example. Such centers have sprung up across the country, he said, even though they are only proven to effectively treat pediatric brain tumors and spinal cord tumors. To make up for the cost, the therapy is being used to treat other cancers, like prostate cancer, without any clinical evidence. "That's inefficient care," Emanuel said.
As for what's next in health care, Emanuel was reluctant to speculate. "Predicting the future is very, very risky," he said. "Making predictions are hard, and we all learned that in a cruel way in the 2016 elections."
But Emanuel says he sees a shift toward bundled payments instead of a traditional fee-for-service system, where "everything is separate," he said.
"You don't buy a car, carburetor, chassis, etc. and put it together in your backyard. We want a bundle: I want a hip (replacement) and I want one price for the whole thing and (have the) whole thing coordinated."
During his speech, Emanuel cited early examples from bundled payment models that showed they produced greater average savings than a fee-for-service system without differences in mortality, hospital readmissions or patient satisfaction. "I'm a chief advocate for bundles. I've never seen a bundle I didn't like," he added.
Contact Kristen Thometz: @kristenthometz | [email protected] | (773) 509-5452
---
Related stories
Polio-Like Acute Flaccid Myelitis Strikes Northern Illinois
CDC Urges Flu Vaccinations After 80,000 Flu-Related Deaths Last Year
---