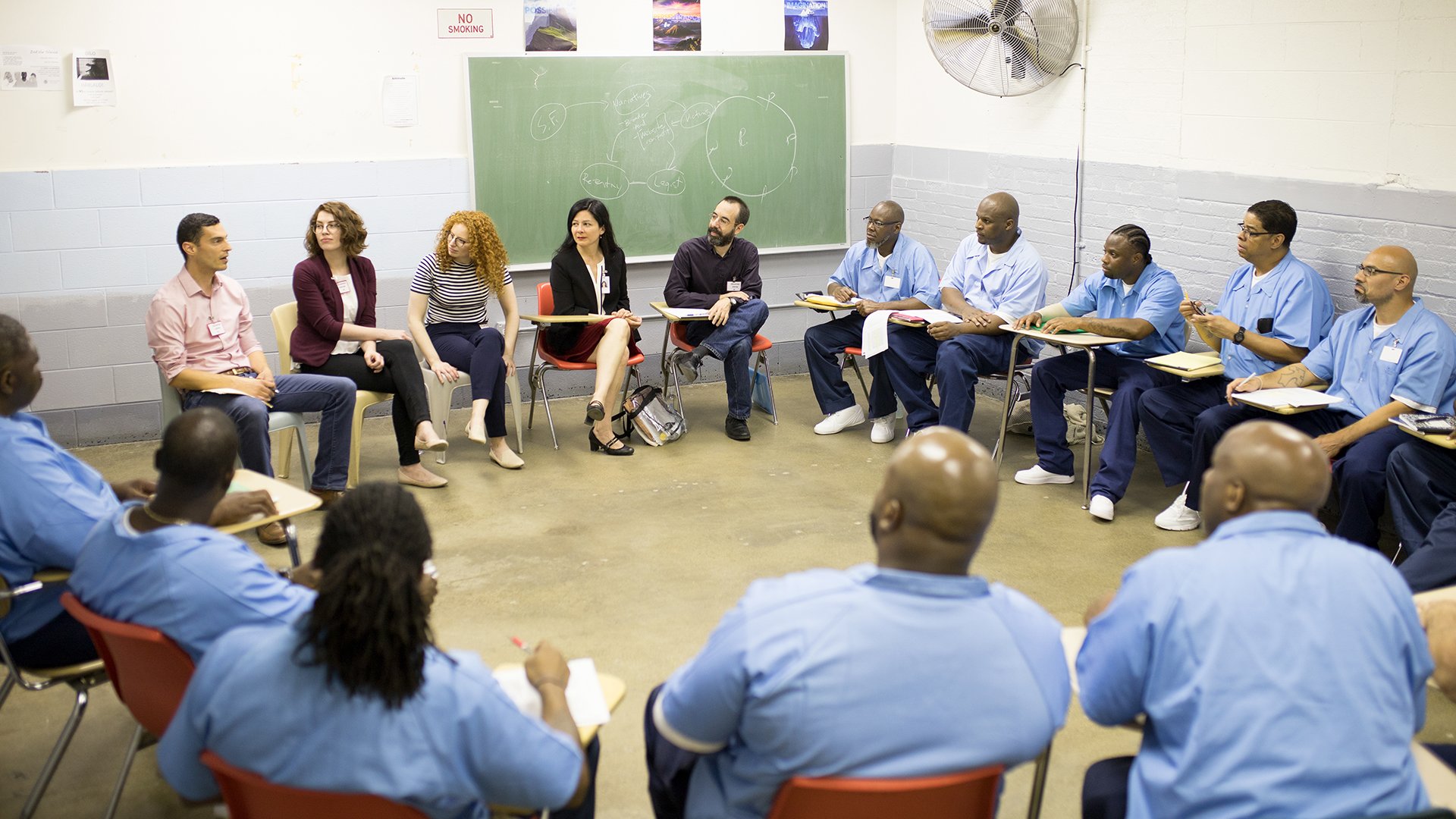 Northwestern University faculty meet with students at Stateville Correctional Center. (Courtesy Northwestern University)
Inmates spending years, decades or even the rest of their lives inside Illinois' Stateville Correctional Center may now earn college credits or a full liberal arts degree under a new partnership with Northwestern University.
The university and the Illinois Department of Corrections this year formed the Northwestern Prison Education Program, a first-of-its-kind union for the state that will offer credits to inmates inside the maximum-security prison. Twenty students have thus far enrolled in the program, which began this fall. The university says it hopes the program will cut down recidivism rates while at the same time giving prisoners access to high-quality courses.
"When we first had our orientation, there was like a line of wardens and administrators who came to say this is an absolutely unique opportunity in the history of IDOC and all eyes are going to be on this cohort to see how they do," Northwestern professor and NPEP director Jennifer Lackey said. "I think they're really rising to that challenge."
The goal of the program, Lackey says, is to provide the inmates with a chance at earning a bachelor's or associate degree while they're still in prison.
Opened in 1925, Stateville is located about 40 miles southwest of Chicago in Crest Hill and currently houses just over 2,800 inmates. The program is open to all prisoners who have earned a high school diploma or passed the General Education Development exam.
This isn't the first time inmates have become students inside Stateville – Lackey herself has been teaching other classes in the prison for the past four years – but those were often certificate courses that couldn't be used toward an actual degree. The program was approved through the NU provost's office earlier this year, but it's not yet clear if the degrees will come from Northwestern or a university partner.
Stateville classes run roughly on the same academic calendar as regular NU courses, but weekly class time is condensed. So instead of sitting through two 80-minute classes per week like students in traditional classrooms, students at Stateville have one 180-minute seminar per week. Northwestern waived tuition for the program's students and IDOC says it will count completed courses toward sentence reductions.
The program's current curriculum features two courses, one focusing on the sociology of Chicago and another titled "Violence Reduction and Transformational Change in Justice System." That class, the university says, partners inmates with Northwestern Pritzker School of Law students in order to develop new policy proposals aimed at preventing crime and violence.
"They will draft legislation, regulations and/or ballot initiatives, produce white papers identifying the problem their proposal aims to address and also produce op-eds/advocacy materials supporting their platform," the course curriculum states. "The class will culminate in mock legislative hearings during which students will present their solutions to a panel of local and state elected officials."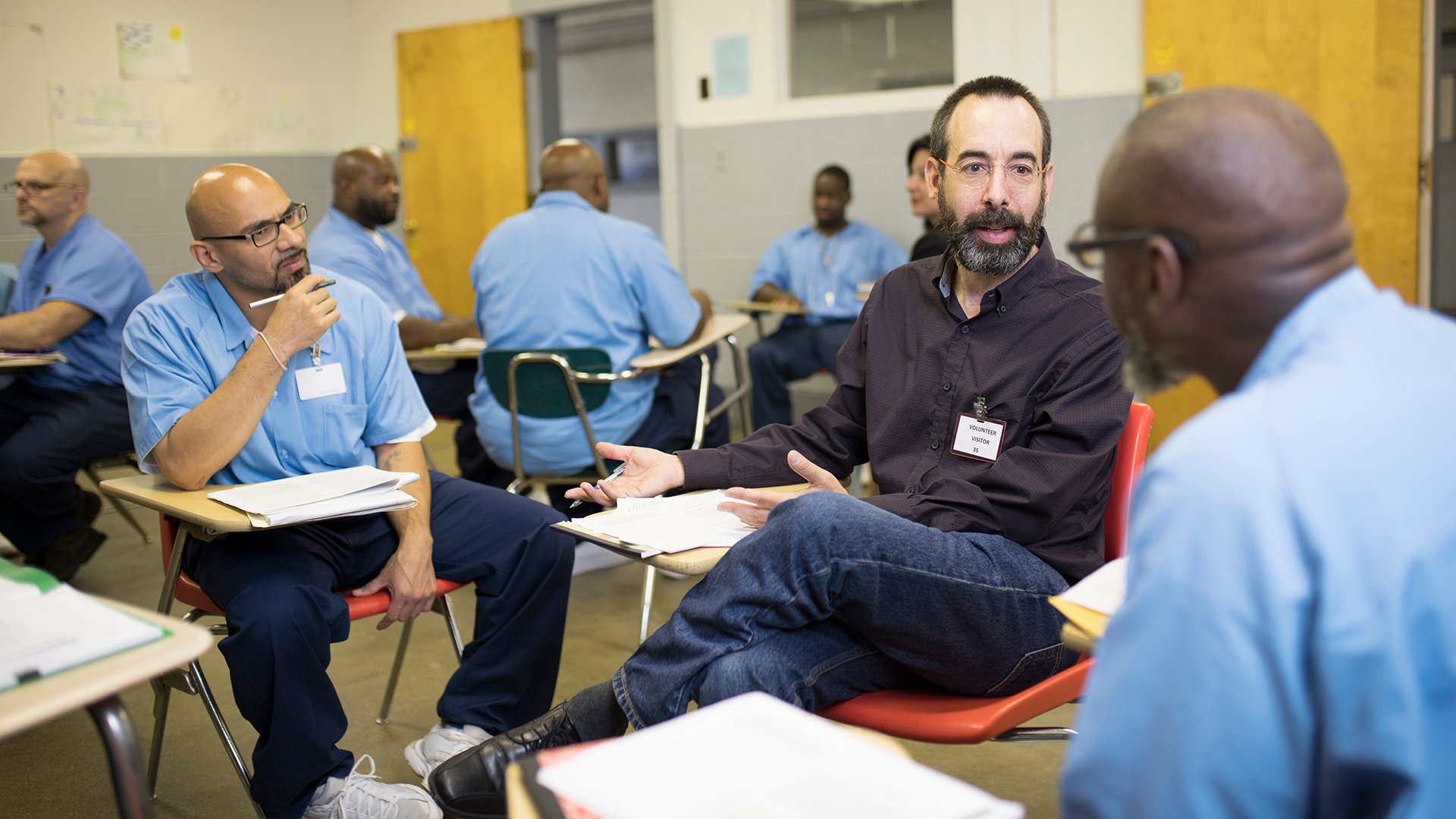 Northwestern associate professor Benjamin Frommer speaks with student inmates inside Stateville Correctional Center. (Courtesy Northwestern University)
Lackey said the plan is to add next year two more classes partnering inmates and law students in hopes of eventually expanding the program to a year-round curriculum. Already these partnerships have yielded positive results.
"The law students have a fair bit of academic work in some of these areas," she said, "but haven't lived through the process and are kind of missing some crucial bits of testimony and experiences that the inside students can provide."
Prisoners involved in the program can apply earned credits toward an undergrad course through the university's School of Professional Studies. For inmates serving life sentences, Lackey said inclusion in the program can help them begin to see themselves as more than just a prisoner.
"One of our students said his mother has his acceptance letter framed on the wall," she said. "For a lot of the guys who will be staying in prison, just that shift in identity, of being able to identify as a Northwestern student … is really transformative for them and profoundly meaningful."
But for those prisoners who will one day be released and re-enter the workforce, Lackey believes a degree could have an extensive impact on the rest of their lives.
"That population we're going to see really concrete benefits from," she said. "Graduating with a BA versus just a bunch of certificates is dramatically different."
Contact Matt Masterson: @ByMattMasterson | [email protected] | (773) 509-5431
---
Related stories:
Stateville Debate: Former Coach Suing to Keep Prison Team Alive
Attorneys: IDOC Inmate Psychiatric Care in 'State of Emergency'
How Dana Holland Became the Country's First Double Exoneree
Attorneys to Blanket Chicago Police Stations Saturday Offering Free Aid