Chicago native Dana Holland speaks to the press after being released from prison in June 2003. He had served more than 3,500 days before being exonerated. (Courtesy of Karen Daniel / Center on Wrongful Convictions)
More than 2,000 exoneration cases following wrongful convictions are on record in the United States, according to the National Registry of Exonerations. Only a handful of people appear on that list twice. One of them is Dana Holland, and he was the first.
Born in Chicago in 1968, Holland was the second of nine children.
At that time of his arrest in 1993, Holland, then 25, was splitting his time working for an industrial cleaning service, doing odd jobs on the side and fighting for custody of his younger siblings after his mother passed away and his older brother had been killed.
He, his siblings and their extended family shared an apartment building on the 7800 block of South Paulina Street in the Auburn-Gresham neighborhood on Chicago's South Side. And it was in a nearby alley where he would take his last steps as a free man for more than a decade.
The morning of …
Dana Holland can still recite the events of that morning with ease. It was Feb. 22, 1993. Snow had fallen overnight, coating the ground and leaving fresh footprints that lead from a white Oldsmobile parked in an alley off Paulina to the building where Holland and his family lived.
Inside the car was an eight-months pregnant woman who told police she had been raped and forced to perform oral sex on a man she'd met earlier that night, who had fled as police arrived on the scene. Holland had fallen asleep the night before in his grandmother's apartment, and was awoken early that morning by the sound of his uncle, Gordon Bolden, entering the home.
Holland went outside to toss away some empty beer bottles, when he was surrounded by Chicago police officers and handcuffed.
"As I go to the garbage, I look up (and) the police is coming and tell me to drop everything I got," he said during a recent interview at a restaurant in Chicago's south suburbs.
"Now they get me to take me down here to the car, to the victim to show her," he said. "She says, 'It's not him.' According to the police report, she denied me for over five minutes. Five minutes is a long time to deny somebody."
Holland said officers showed him to the victim three times while she sat in the car, and each time she denied that he was the one who raped her.
"When they took me the third time to her and showed me up three times – walk me up, police all around me, got her, she standing there – she says, 'That's not him.' She gets upset, she gets indignant: 'I told y'all that's not him.'"
But the woman eventually reversed course and said Holland was, in fact, the man who had raped her. In a subsequent lawsuit, Holland's attorneys claim this happened only after one officer told the victim she "'was mistaken' when she said Holland was not the rapist."
Officers also located a pair of wet shoes left inside the Paulina Street apartment that appeared to match the footprints in the snow, and arrested Holland on a charge of aggravated criminal sexual assault.
Inside the car where the victim was found, officers eventually located an ID belonging to another woman who weeks earlier had been attacked and slashed with a box cutter in the same area.
The victim in that case also identified Holland as her attacker in addition to his uncle, Bolden, and each were charged with armed robbery and attempted murder.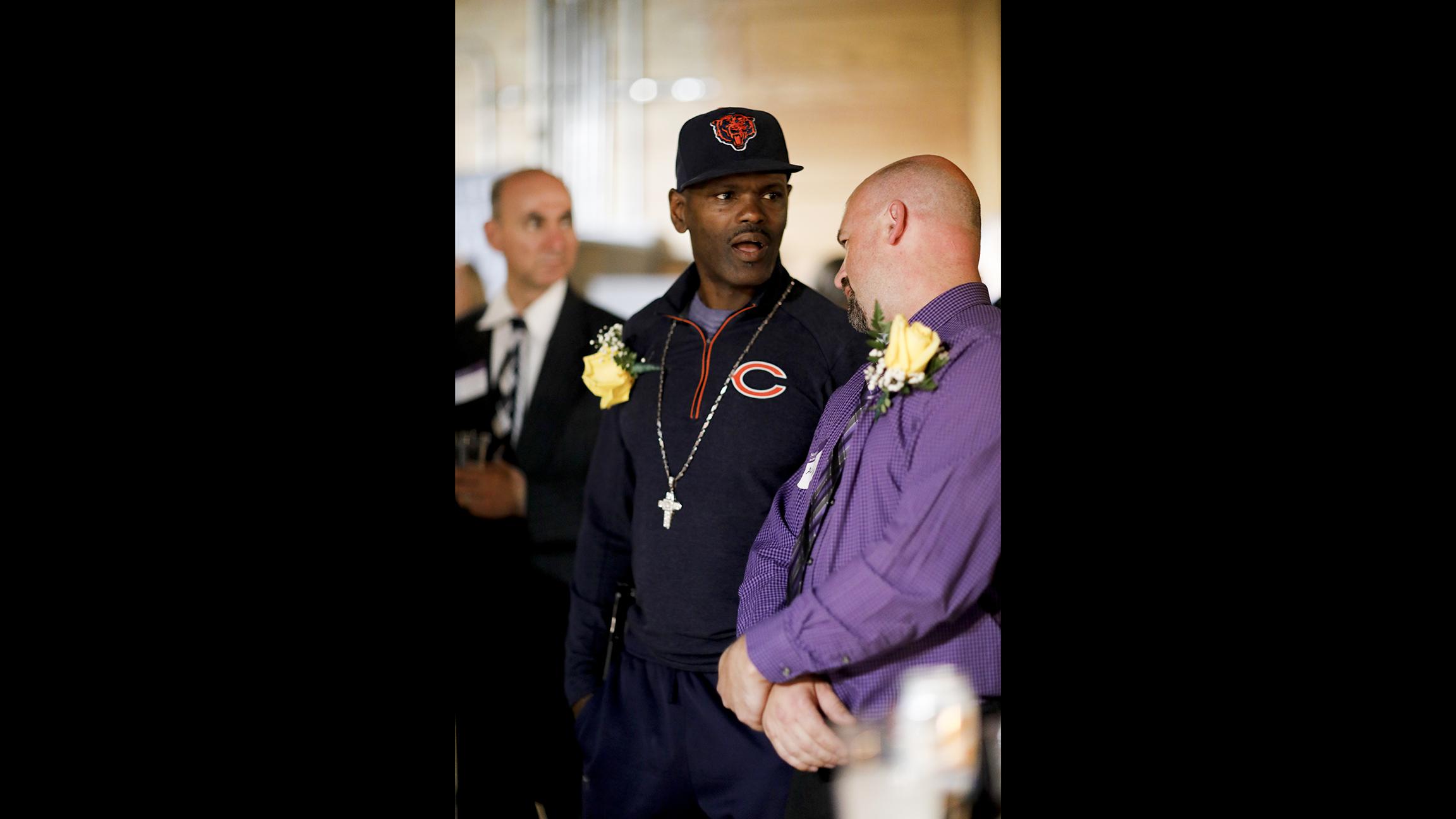 Dana Holland with exoneree Alan Beaman in November 2016. (Credit: Jasmin Shah)
Two convictions
Holland was convicted in both cases – first for the attempted murder, then for the rape – and sentenced to nearly 120 years in prison.
Holland testified that he only became a suspect in the attempted murder case because of his arrest in the rape case, and said that it was his uncle – Gordon Bolden – who had been in the car that morning and fled police.
But a judge didn't find this story credible, convicting Holland while finding Bolden not guilty.
"His uncle had previously told a defense investigator he had been involved and that Dana wasn't involved," Karen Daniel, an attorney with Northwestern's Center on Wrongful Convictions, said. "And so the uncle is acquitted, Dana is convicted and in the courtroom – and I still have the transcripts – Dana is crying out to his uncle, 'Tell them, tell them I didn't do it. You tell them I didn't do it.'"
By the time Holland's rape case was brought to trial in 1997, the statute of limitations against Bolden had passed, and he was willing to testify on his nephew's behalf that he did have sex with the victim that night (though he claimed it was consensual) and that the shoes police had found belonged to him. The victim, however, was more relunctant to take the stand, having moved out of state. Authorities arrested her and held her on a material witness hold in order to compel her testimony, and once again, she identified Holland as her rapist.
During that trial, an analyst with the Chicago police crime laboratory issued a report saying semen recovered from the victim didn't meet minimum requirements for DNA testing, so it couldn't be used to prove Holland's innocence.
Once again, a judge didn't believe Holland's story, and found him guilty on three counts of aggravated sexual assault.
Another chance
Karen Daniel wasn't the first person Holland reached out to when searching for someone to take on his case.
When his appeals failed, he wrote to former Northwestern professor David Protess, but didn't hear back. He wrote to Barry Scheck – part of O.J. Simpson's famed "Dream Team" of defense attorneys in his 1995 murder trial and co-founder of the Innocence Project – who Holland said eventually forwarded his file to the Center on Wrongful Convictions.
Daniel and the center eventually agreed to take on Holland's case in 2001.
"I sent a law student down to meet him, and she came back and just found him very credible," she said. "He was optimistic, he was on top of things, he knew his case backwards and forwards. He was one of the first people I ever knew who said 'I'm blessed, I'm blessed.' That's how he always talked. He spoke about his faith a lot."

"She said you're going to be exonerated on two different cases. That's what she believed."
—Dana Holland
---
Holland believed he had located potential evidence that had not been tested for DNA during his rape trial, including fingernail scrapings and pubic hairs, that could prove his innocence.
"I fired my attorney, and when I did that, I got access to my file and was able to see everything I needed to see," he said, "and so as I'm going through the files one day, I realize, 'Wait a minute, this stuff is on the inventory now, they did not test it.'"
Daniel said: "It could have easily been a case where we weren't going to be able to help him. There was a lot of evidence collected from the crime scene of the case we did DNA testing on … A lot of the evidence had been destroyed, either by policy or by order, but there had been some rudimentary testing on a critical piece of evidence."
While the evidence itself was gone, slides containing semen left over from the Chicago lab process remained. In July 2002, Daniel and NU law students were able to secure an order to test those samples at a private facility in Maryland. Within a few months, the results were in, and the DNA cleared Holland in the 1993 rape.
"(Daniel) called me back and she said 'Dana, you're going to be the first man that's exonerated on two different cases,'" Holland said. "She said you're going to be exonerated on two different cases. That's what she believed."
A mental battle
Holland found religion while he was in prison, reading the Bible and preaching the gospel behind bars.
He also focused on his case. Knowing he had been convicted of raping a pregnant woman, Holland says he was offered protective custody while in prison, but turned it down. He instead took what he had from his file and presented it to fellow inmates who had spent years studying the law behind bars.
"So the Bible tells me, God doesn't give us the spirit of fear, but the power of love and a sound mind. I had to have a sound enough mind to get out here, let people know what my situation was," he said.
"That's what I had to really focus on to keep my sanity."
And that focus had to be ever-present. During his incarceration Holland spent time inside three of Illinois' most notorious maximum-security prisons: Pontiac, Menard and Stateville. During his stint at Stateville, Illinois executed three inmates, including a 1995 double execution that was among the final death sentences carried out by the state.
Holland spoke about the weight those carried for him and his fellow inmates.
"For dinner they give us a couple of cookies, like five, six cookies ... (during) executions they give us a whole pack," he said.
When asked why, Holland bowed his head slightly and put both index fingers to his temples.
"It's a fact these inmates are locked up, some of them got life, some of them are going to die in here," he said. "Just the fact that you (executing) people, it's on the news, we have to do something to take control of the mind to ease it. Because inmates will snap. It's a mental battle."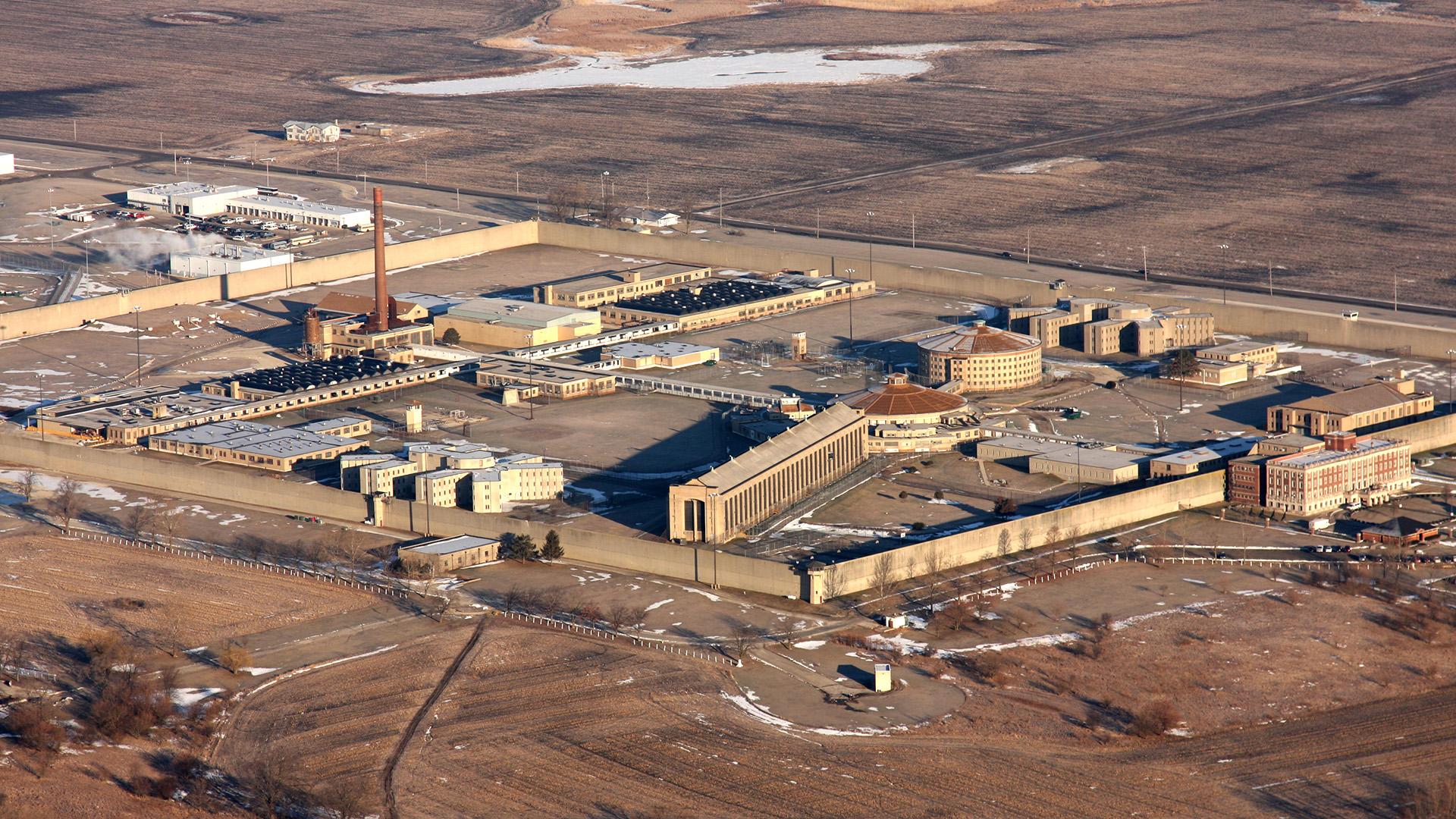 Stateville Correctional Center (Rw2 / Wikimedia Commons)
A dream
Following his arrest, Holland said he had a dream about how he should handle his trial.
"The dream was that I would be victorious and I would win in a bench trial," he said. In a bench trial, the verdict is decided solely by a judge, rather than a jury. "The judge would see and he would be a man of integrity and he would do the right thing."
So Holland opted for a bench trial in the attempted murder case.
He was found guilty and sentenced to 28 years in prison.
He followed that instinct a second time in his rape case.
He was found guilty again, and received three consecutive 30-year sentences.
"So I had a dream to take a bench trial," he said, "and I took two bench trials and got 118 years."
In 2003, after the DNA proved Holland's innocence in the rape case, Cook County Judge James Linn tossed those convictions and granted him a new trial in the attempted murder case.
And when the time came to go to trial for the third time, Holland once again – motivated only by his dream – chose to have his fate decided by a judge.
"Karen came and consulted me and said, 'Dana, you have to do the time if you get found guilty, it's your life, it's your choice. I just advise you to go with a jury (trial), but I am going to support you,'" Holland said.
"He absolutely made the decision, which way to go," Daniel said. "I'm only familiar with the retrial, and I believe he told me that God told him that he should take a bench trial."
With his rape convictions tossed and contradictions raised in the victim's testimony at his retrial, in June 2003, Judge Linn ruled there was not enough evidence to convict Holland on the attempted murder and armed robbery cases.
He would soon be a free man.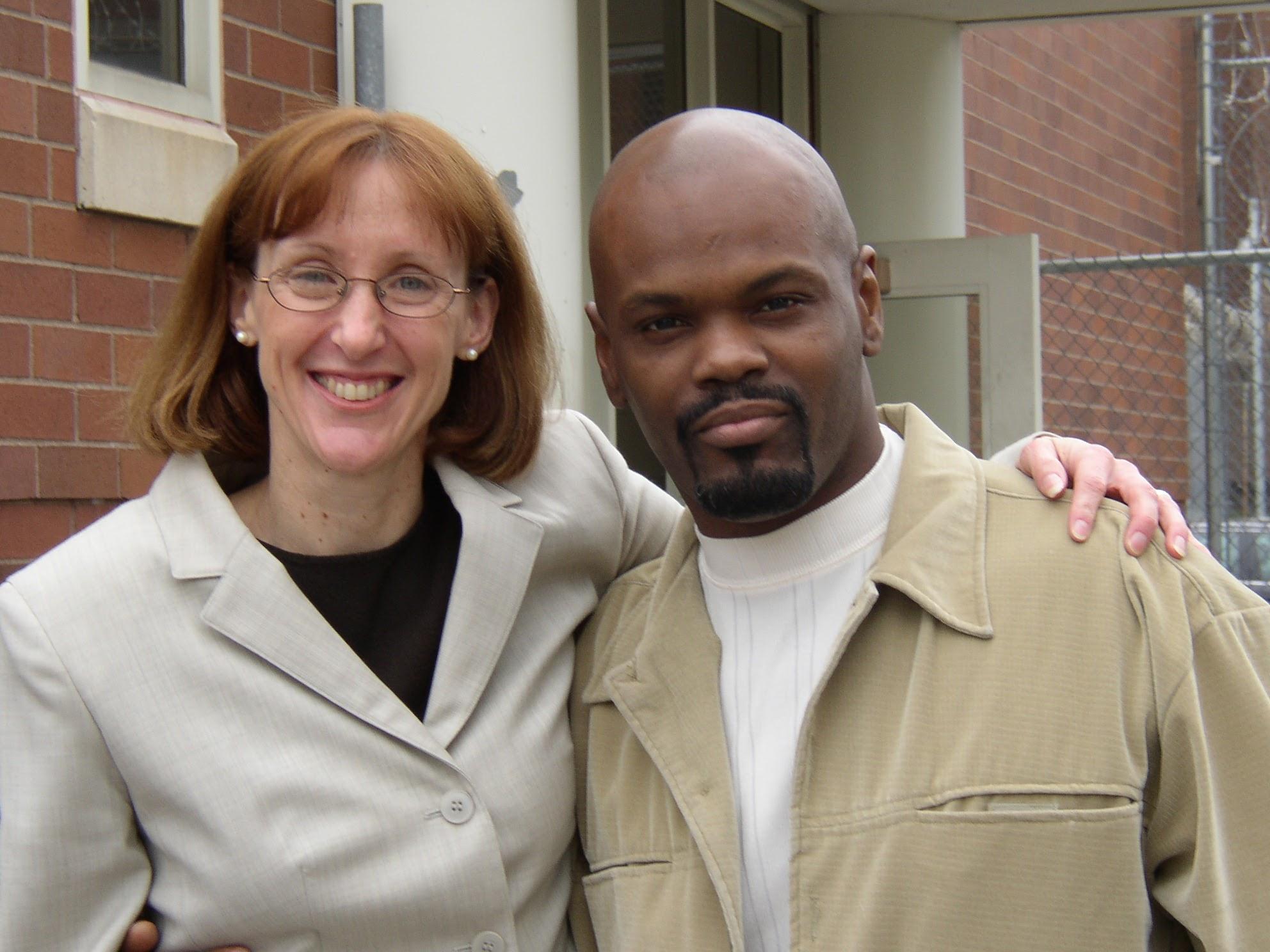 Karen Daniel poses with Dana Holland on June 6, 2003, the day he was released from prison. (Courtesy of Karen Daniel / Center on Wrongful Convictions)
'Just move on'
Dana Holland served more than 3,500 days in prison before his release in June 2003 at the age of 35. He carried with him a Bible on the day he walked out of prison for good.
"It was actually the day after he was acquitted, and there was some mess up in the prison paperwork and they kept him overnight," said Daniel, who was there to watch him walk out of prison for good. "The result of that, more of his family came, more reporters came so he walks out into this huge crowd, he's being mobbed by his family … It was a beautiful day."
Holland maintained his innocence throughout each of his trials and his decadelong incarceration.
One of his first actions as a newly freed man was to speak out on behalf of his cellmate at Menard, Christopher Coleman, who he believed had also been wrongly convicted in a 1994 armed robbery case. Daniel said Holland pushed for the center to take up Coleman's case for years. When they did, they found he too was innocent, and he was eventually released in 2013.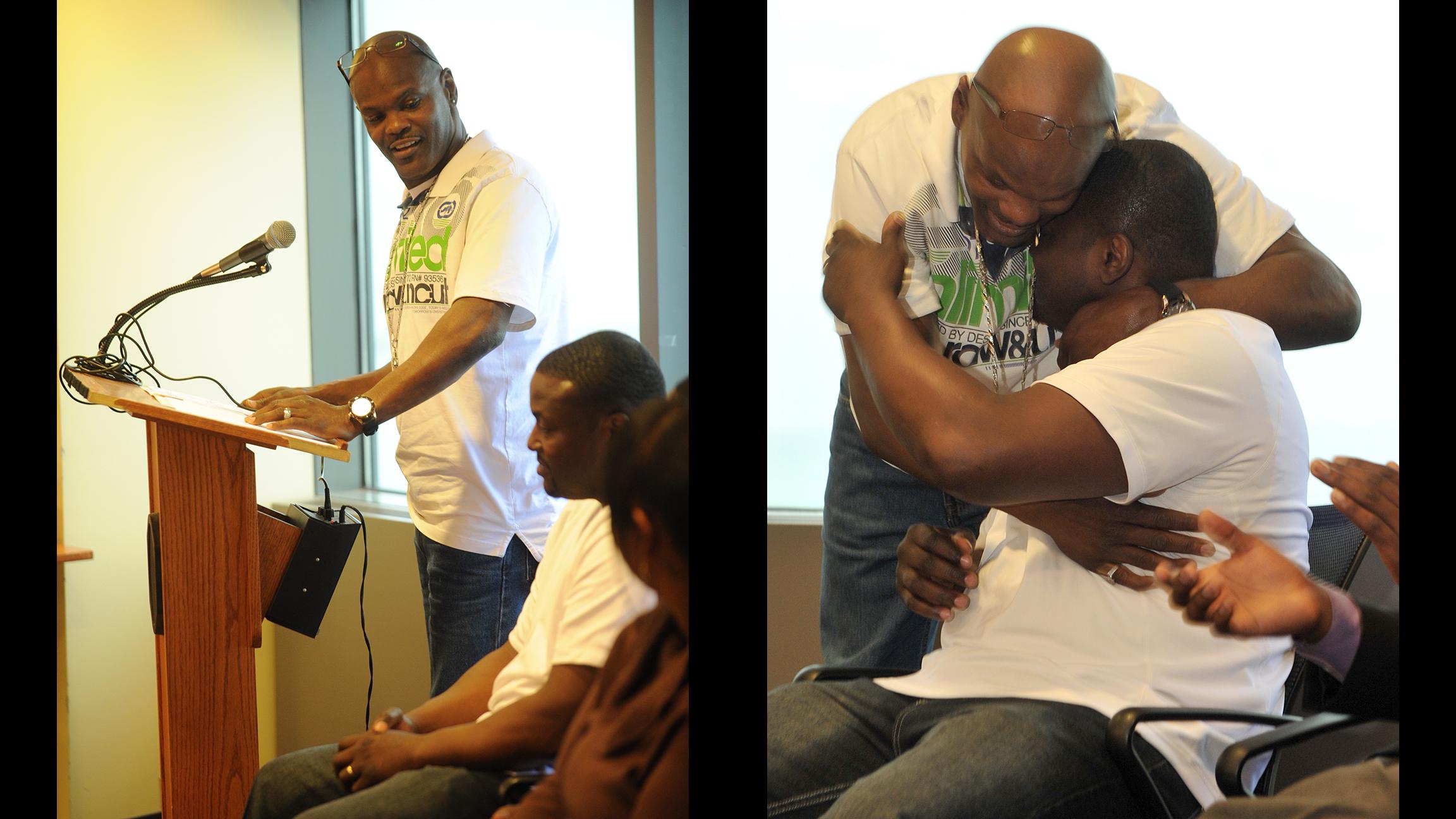 Dana Holland speaks at a 2014 celebration of the exoneration of his friend Christopher Coleman. (Credit: Randy Belice)
"He's really led an exemplary life and been helpful to others who have been released, he's been supportive of them," Daniel said, "and he's always answered the call when we've asked him to come speak or just be present. He's been a good friend of mine all these years since he got out."
Holland was pardoned two years after his release by then-Gov. Rod Blagojevich, and received a financial settlement of about $140,000 from the state. He also filed suit against the city of Chicago and his arresting officers, claiming malicious prosecution, but that case was tossed out in 2009.
Now approaching his 50th birthday, Holland lives in the south suburbs of Chicago with his wife – a teacher – and four children all born since his release. He also has a fifth child, Dana Jr., who was born prior to his incarceration.
Despite some lingering health issues, Holland said he tries to eat healthy, exercise and enjoy life. He helps coach his kids in baseball, track, gymnastics and wrestling, beaming about recent trips they made to junior national competitions. He also does some electrical work on the side, but hasn't held a full-time, 9-to-5 job since his release.
"I want to raise my son, to raise my kids," he said. "I didn't have … that opportunity was stolen from me, so I want to have children before I'm too old. I'm 42 years older than my daughter."
But in talking about getting out, he also acknowledged that for some, it can be "the biggest depression there is."
"It's your mind-set," he said, when asked how he keeps from being bitter about his lost time, "because it comes."
"But what you've got to do is the same thing – you've got to have a strong mind and remember to enjoy life. Remember not to keep looking back in depression at what happened to you and try to just move on."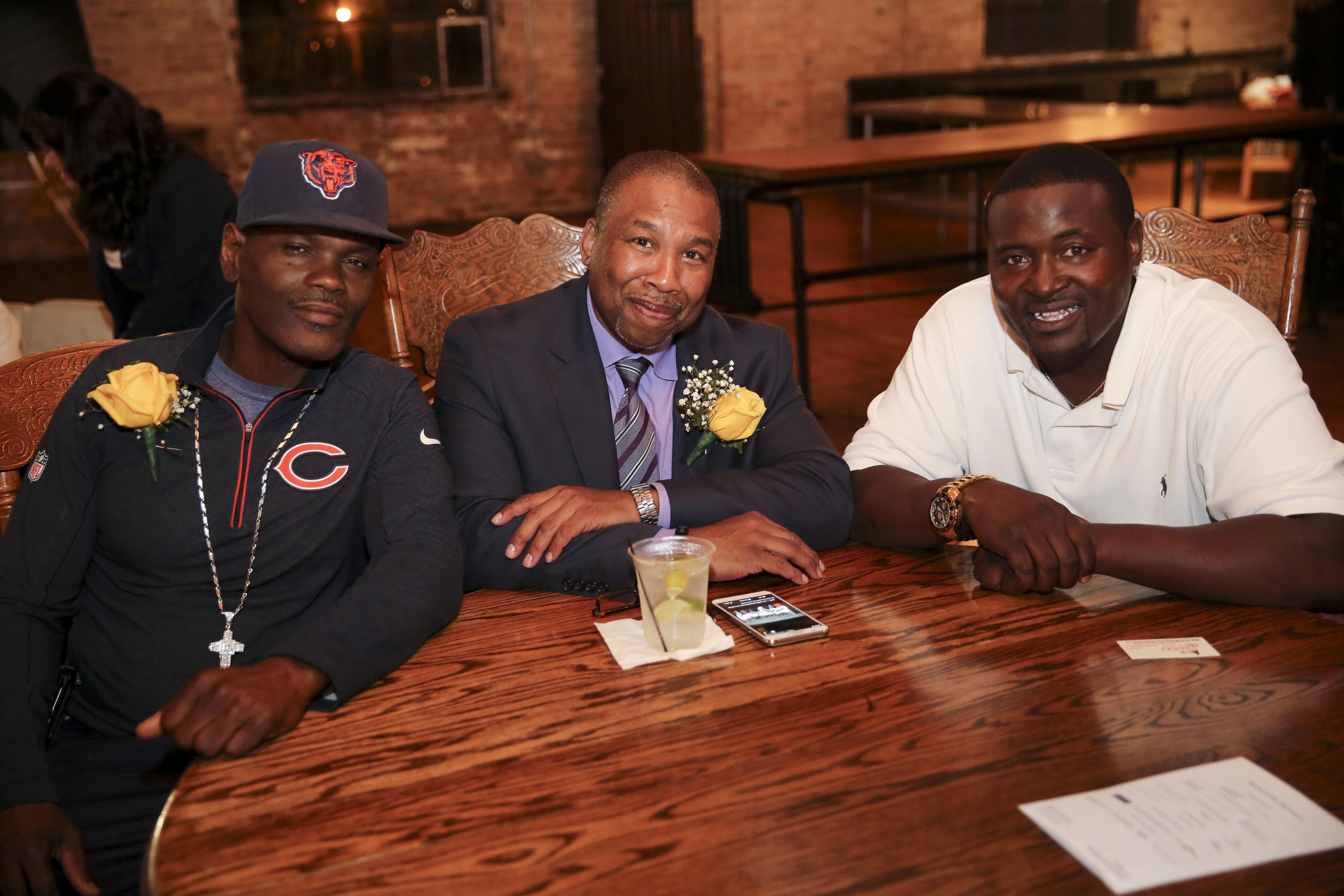 Dana Holland, left, with exonerees Johnnie Savory, center, and Christopher Coleman at a Center on Wrongful Convictions benefit in November 2016. (Credit: Jasmin Shah)
Follow Matt Masterson on Twitter: @ByMattMasterson
---
Related stories: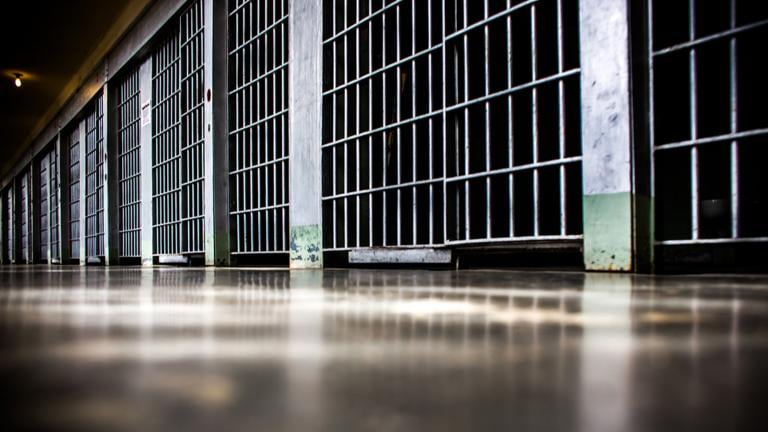 Is Chicago Really the 'False Confession Capital'?
Sept. 22: According to data from the National Registry of Exonerations, Illinois has a false confession rate more than three times higher than the national average. Is there "a culture in Chicago of solving cases by confession?"
---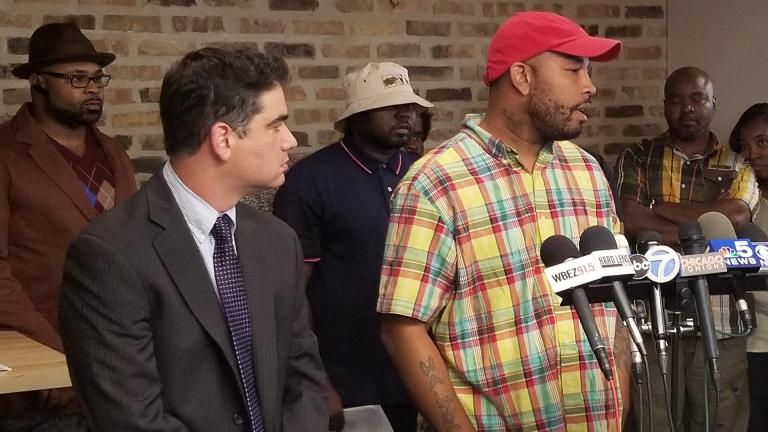 15 Men Seek Exoneration in Lawsuit Claiming Chicago Police Corruption
Sept. 13: More than a dozen residents of the former Ida B. Wells housing project say they were framed and intimidated by a former Chicago Police Department sergeant. Now they are seeking to have their convictions overturned.
---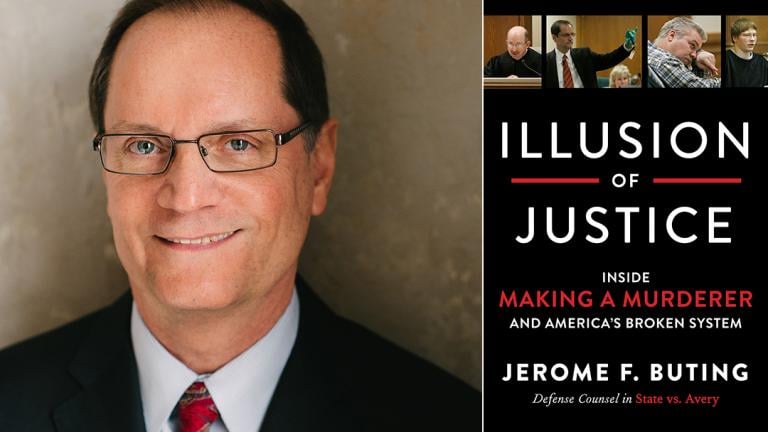 'Making a Murderer' Defense Attorney on Broken Justice System
March 20: One of Steven Avery's defense attorneys from Netflix's "Making a Murderer" discusses his new book "Illusion of Justice."
---