A Chicago apartment building from the 1920s has been radically reimagined. It is now an unusual art gallery designed by a world-renowned architect.
On opening day, "Chicago Tonight" visited the 90-year-old – yet thoroughly modern – building.
TRANSCRIPT
Jay Shefsky: At 659 W. Wrightwood Avenue stands Wrightwood 659.
Outside, the former 30-unit apartment house looks much the same as when it was built. But inside, an atrium rises 37 feet. Walls of old bricks meet a stairway of reinforced concrete for a grand entrance to the gallery spaces within.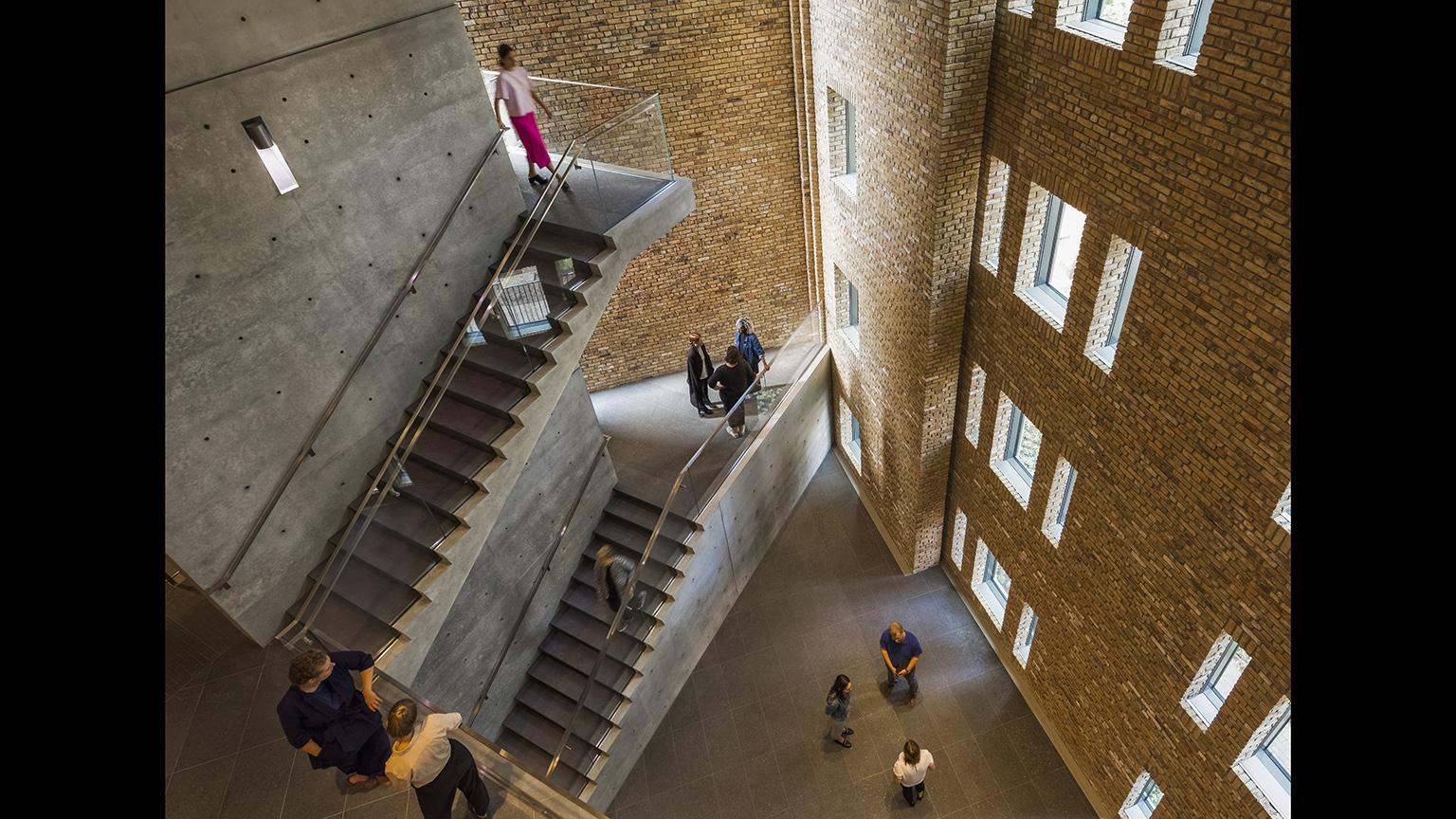 (Credit: Jeff Goldberg)
It was designed by the Pritzker Prize-winning architect Tadao Ando.
Lisa Cavanaugh, director, Wrightwood 659: It's a remarkable building built by Tadao Ando, who's a very prominent modernist Japanese architect.
And all the bricks you see came from the firewalls of the apartment building, so they'd have a central corridor that was the firewall because it was before reinforced steel. And the bricks – 25,000 bricks – were repurposed.
Shefsky: The interior was completely gutted, leaving only a perimeter masonry shell.
A fourth floor was added, providing a bird's-eye view of the block.
(Credit: Jeff Goldberg)
The project took nearly two years to design and three more years to construct. And, yes, it's in the middle of a neighborhood.
Cavanaugh: The owner, who lives next door, also in an Ando home, is very passionate about the neighborhood. He's passionate about Lincoln Park, he's passionate about Chicago, and he wanted to build a space that could be a part of this community.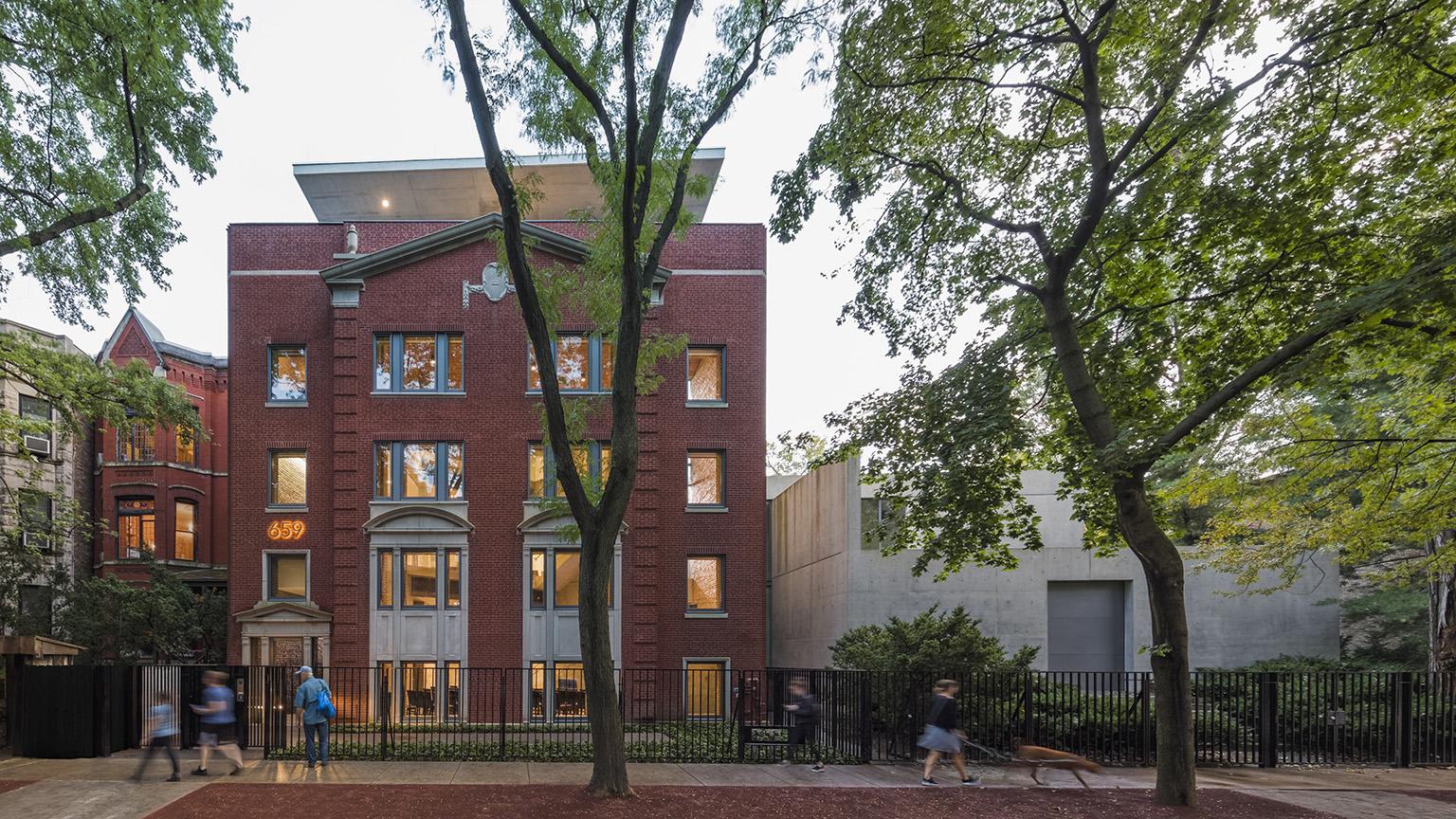 (Credit: Jeff Goldberg)
Shefsky: Wrightwood 659 is a private, noncommercial venture that is open to the public.
Founded by Chicago's Alphawood Foundation, it was built with the goal of becoming an art space devoted to architecture and socially engaged art.
On three floors of galleries, the inaugural exhibition looks at the works of the architect, Tadao Ando, and his major influence, Le Corbusier.
Included are building plans and original wood models for his concrete buildings.
Eric Mumford, co-creator: Le Corbusier was a French-Swiss architect who, early in the 20th century, started to use reinforced concrete, which was a new material at that time, in a very innovative way, and so a lot of the early part of the show sort of illustrates that in his built projects in ways that then became very influential for many architects – not just Ando but a lot of other people.
What's also interesting about his career is that in the second half of it, after World War II, he became more interested in a less technically driven approach and more sort of emotional kind of architecture, which was also influential on Ando.
Shefsky: For this opening show, the works in the gallery and the gallery itself create a kind of temple of Tadao Ando.
Mumford: It's really an amazing Ando project. I think Chicago's very lucky to have it, it's very unusual to take an existing building like this which I don't think anybody would say should be preserved just for its façade, but then to just transform it on the inside is just incredible.
Cavanaugh: As we move forward, I think there will be interesting exhibitions we can do that really you can't do at the Art Institute and the MCA because they'll tend to be smaller exhibitions, but they'll be highlighted in a unique kind of way because of the space.
More on this story
Tada Ando also designed the Art Institute of Chicago's Ando Gallery, which holds the museum's collection of Japanese screens. Wrightwood 659 is not releasing what the project cost the revamp the building. It is now open, and reservations are required to visit.
---
Related stories:
Chicago's Historic Newberry Library Unveils New Look, Exhibition
IIT Construction Unearths 'Mecca' of Chicago History
Archaeological Dig at Gray-Cloud Home Attracts Neighbors, History Buffs
---