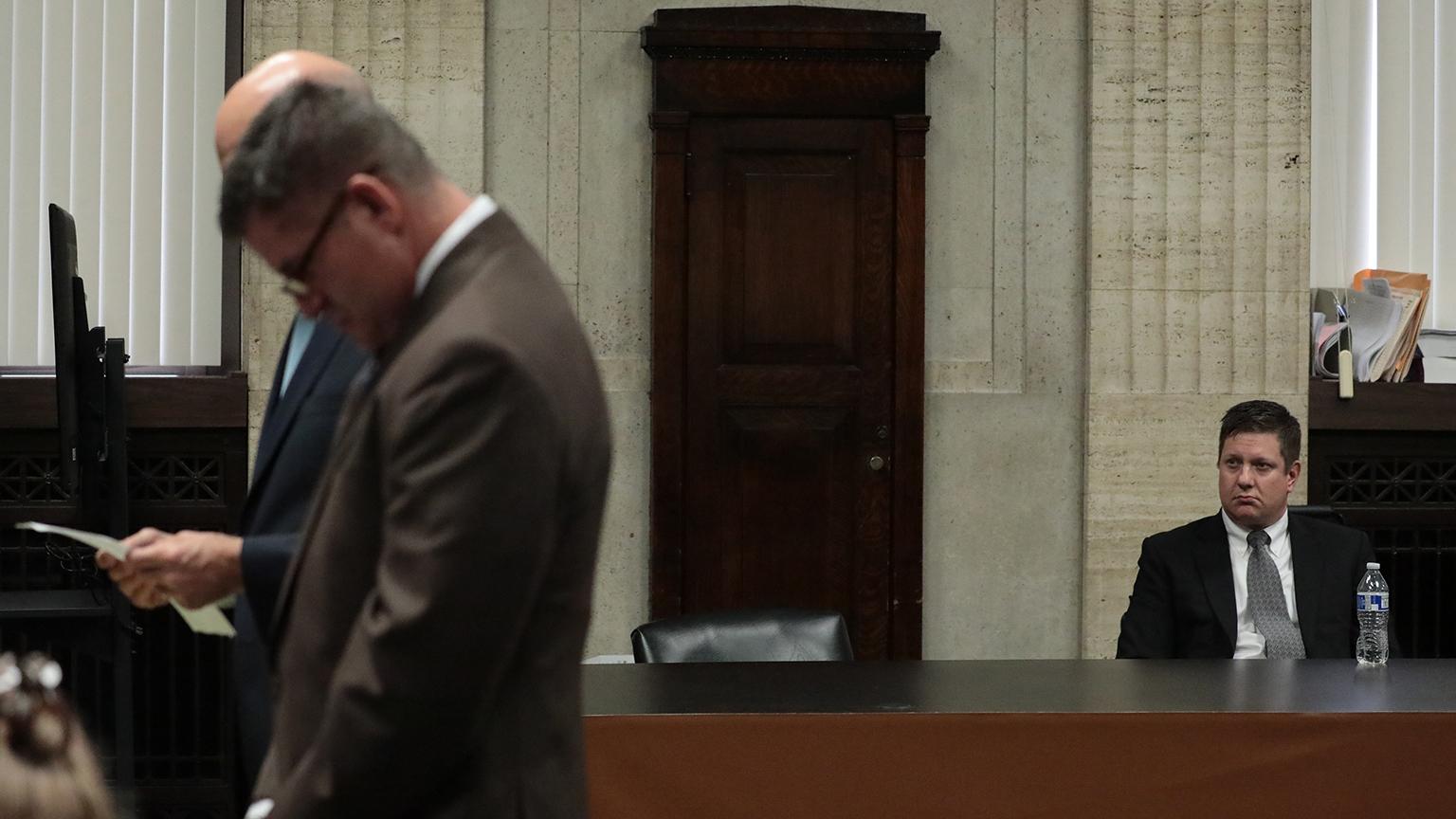 Chicago police Officer Jason Van Dyke listens while attorneys step before Judge Vincent Gaughan's bench on Friday, Oct. 5, 2018. (Antonio Perez / Chicago Tribune / Pool)
UPDATE: Jason Van Dyke Found Guilty of Second-Degree Murder
Jurors in the murder trial of Chicago police Officer Jason Van Dyke reached a verdict Friday afternoon.
The verdict will be announced at 1:45 p.m. Friday.
In anticipation of that decision, the city has geared up for a variety of responses.
"I hope that everybody heeds the advice of Laquan McDonald's family, the pastors, the community leaders to make their message heard in what they have to say and do it in a way that's respectful to the city that we all call home," Mayor Rahm Emanuel said Friday morning.
The Chicago Police Department has cancelled vacations and officers are now operating on 12-hour shifts in anticipation of possible protests across the city. The CPD has deployed 6,200 additional officers around the city including horse-mounted units in the Loop, as well as bike units. Dozens of officers gathered in Humboldt Park in a staging area to prepare.
City, county and state law enforcement and public safety agencies have developed a 116-page internal document outlining plans to coordinate on communications and logistics in preparation for a verdict.
According to CPD, no state or federal resources have been deployed yet. "They are available if we need them," said police spokesman Anthony Guglielmi.
The Building Owners and Managers Association of Chicago (BOMA) is advising members to take precautions, including securing items around buildings that can be used as projectiles.
"While most protesters simply want their message heard in a peaceful manner, experience in other cities has shown that protests can be infiltrated by instigators who deliberately want to ignite a confrontation, violence and property destruction," BOMA posted on its website.  
Chicago Public Schools has encouraged students, teachers and principals to allow for a variety of responses to a verdict, outlined in guidance documents sent to school staff this week.
"Safety is our top priority, and the district has contingency plans in place to protect students and staff in the event of external safety threats," said CPS spokesman Michael Passman.
"CPS has been in regular contact with law enforcement and emergency planning organizations to ensure schools have the strongest possible safety plans."
CPS is also encouraging school administrators to allow everyone to also be able to express themselves in limited ways, including coordinated student-led walkouts on school property if they do "not exceed 30 minutes."
Some schools may go into a "soft lockdown," meaning that students will go inside if there is any threat. Other administrators have made other plans.
CPS South Loop Elementary School principal Tara Shelton sent out an alert to parents. "If Officer Van Dyke is acquitted and the verdict is announced during school hours on Thursday or Friday, we will immediately go into lock down drill protocol for both buildings. All exterior doors will remain closed and recess will move to indoors.
At Leo High School in the Auburn-Gresham community, the administration has a plan in place. "We have been communicating with the archdiocese, as well as the 6th District police station, which is located just around the corner from Leo at 78th and Halsted," said Leo High School president, Dan McGrath. "The safety of our students and all other school personnel is our top priority.
"If circumstances suggest that it's advisable to close the school, parents will have the option of coming to Leo to pick up their sons. If they would rather not be out and about, we have all of our buses and vans available to get the students home if 6th District command tells us it's safe to travel," he said.
"Let us listen to their voice and decide to pray and not strike out. To extend our hands in friendship, not in hate," Cardinal Blase Cupich said in a statement Friday. "If we choose peace, heart by heart, house by house, block by block we will show our children and the world that hate has no place in Chicago. Let this be remembered as a turning point – when peace prevailed." 
---
Related stories:
Verdict Reached in Jason Van Dyke Murder Trial
As Jury Deliberates Van Dyke's Fate, a Closer Look at the Charges
Jury Deliberations Begin in Jason Van Dyke Murder Trial
---